Stay cosy and comfortable outdoors when entertaining over the colder months with these simple tips…
Just because the winter season is on our doorstep, doesn't mean you have to give up your outdoor entertainment. In fact, the colder weather is an excellent opportunity to host special outdoor soirees that your guests will love. Here are seven easy ideas for outdoor entertaining when the temperatures drop, that will make your guests feel warm, cosy, and comfortable:
Build a Fire
One of the most crucial things you can do for outdoor entertaining in the winter is to keep your guests warm — and you can do so in a variety of ways. A classic outdoor bonfire is an excellent way to do this. Start the fire just before guests begin to trickle in. Serve food options that can incorporate the fire as part of the experience. Such as cooking skewered kebabs, hot dogs, campfire nachos in a cast-iron skillet, or s'mores. Not only will your guests stay warm, but they will also enjoy the interactive aspect of cooking their own food over the fire.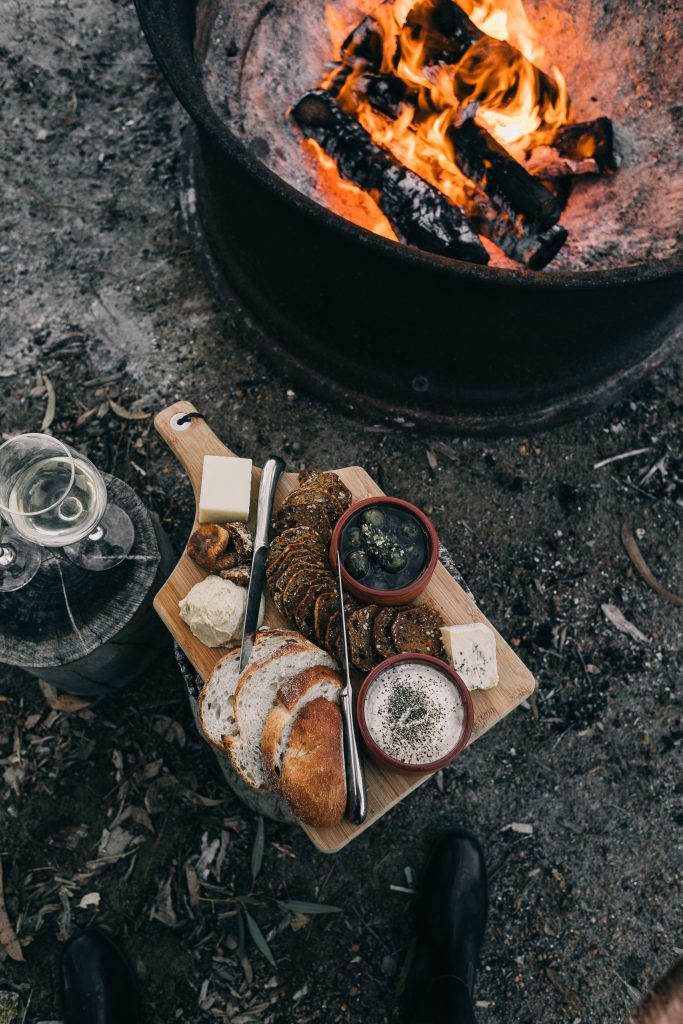 Incorporate Warmth in a Variety of Ways
Apart from the all-important bonfire, there are other ways to keep your guests warm. Consider placing heaters in the centre of your gathering area, and provide outdoor-friendly throw blankets on the back of every chair. You can also create a cosy atmosphere by using flameless decor such as lanterns and outdoor candles. As part of your winter party theme, consider also setting up a big basket of mittens, scarves, and socks for your guests to use, and then take home as party favours. Not only will these items keep everybody warm, but they will also make great souvenirs for the evening.
Get Rustic
Winter party decor is necessarily all about function and embracing the beauty of winter while staying warm. Consider a rustic après-ski aesthetic, which can be achieved by adding strings of party lights, cosy fur throws, and candelabras with real candles.  A rustic theme is a great approach for ensuring your decor not only looks beautiful but is also functional in doubling for warmth such as the layering of chair covers and blankets.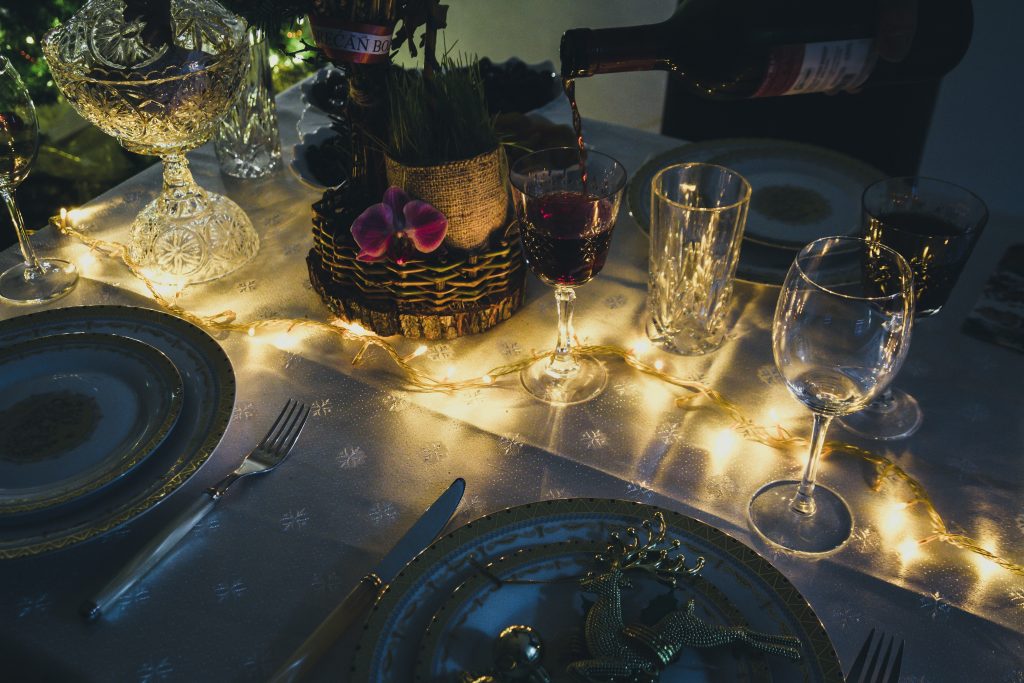 Create an Indoor-Outdoor Situation
If you have limited outdoor space or the weather is particularly harsh, consider setting up a hybrid indoor/outdoor party space. This approach is perfect for smaller gatherings or intimate parties. Set up bistro tables with tablecloths and candles, and decorate with botanicals. Portable heaters and igloos can also provide warmth and a cosy atmosphere. You can also create an indoor/outdoor dynamic if you have a nearby greenhouse or conservatory, elevating this into a party space for the evening by incorporating plants and other natural elements into your decorating. A similar idea is the use of a portable igloo. Set it up with soft seating and string lights, so your guests can have a great spot to hang out should they need some respite from the outdoor chill.
Offer Snacks in Easy Individual Servings
When planning your outdoor winter party menu, keep in mind that the food should be easy to eat, hot, and ideally, interactive. Consider serving hot mugs of smooth, dippable soup with grilled cheese toasties finished on a griddle on your barbecue or open fire. These tasty options will not only help keep guests' hands warm and can be eaten without taking off mittens, but they are also highly customisable, so you can make the meal as gourmet or classic as you want. You can also personalise your party further by making individual charcuterie plates and snack trays ahead of the party. Get creative with the mini charcuterie boards with an array of meat and cheeses, fruits, and nuts. And for those with a sweet tooth, don't forget to prepare a selection of s'mores for toasting on the fire.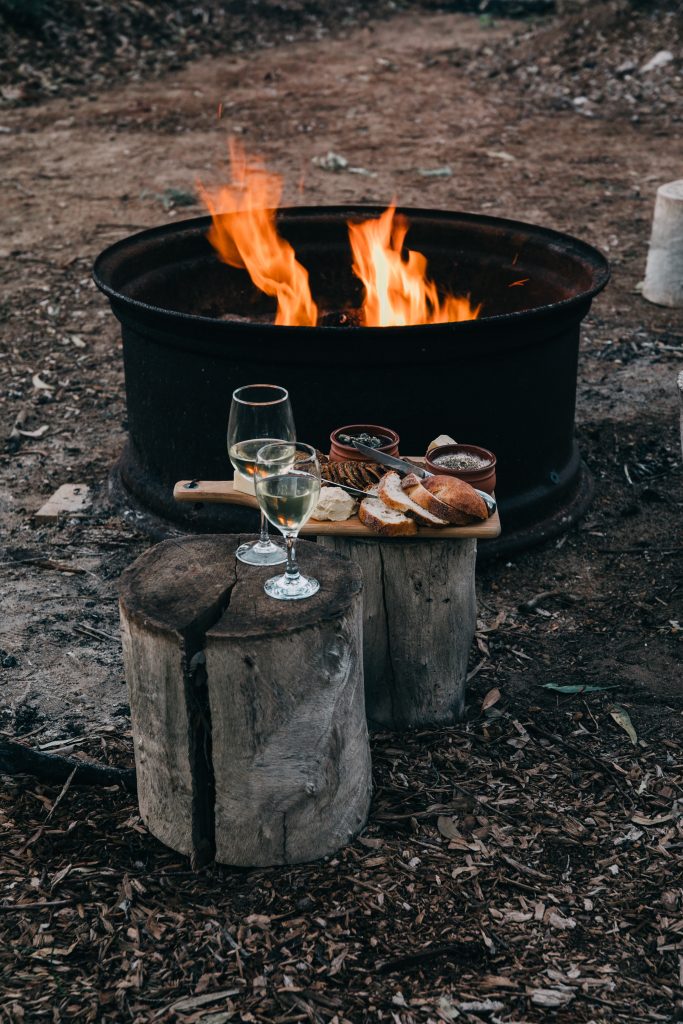 Keep Drinks Simple
Mulled wine or spiced apple cider is the perfect dessert for late nights around a cosy outdoor fire pit. You can make it ahead of time and pour it for guests throughout the evening. Alternatively, set up a table with hot drinks that guests can pour from thermoses themselves. For something a touch more robust, pour a splash of bourbon into a small mason jar, add hot apple cider and a cinnamon stick, then shake to craft the easiest-ever hot toddy. For those with a sweet tooth, pour hot chocolate into individual jars and pair them with single-serve ramekins filled with marshmallows. 
Get Guests Involved
With low temperatures, it can be all too easy for guests to get cold quickly and want to check out early. So, make sure to plan activities that will keep them involved and having fun. Use your open fire as an activity around which you can cook or prepare food as a group, such as making s'mores or decorating cookies. Outside of activities around food, consider crafting hot cocktails with a designated bartender, or set up a garden party-inspired photo area nearby or a hot cocoa station to keep guests busy but also warm. Another easy entertainment option is to set up some outdoor games such as an oversized Jenga set.