We might be a little bit biased toward the new 2023 BMW M2, but we are excited to share that this anticipated release has landed in style. We had the opportunity to explore this automotive masterpiece, courtesy of Auckland City BMW and East Auckland BMW and it really is a showstopper of a sports coupe, that flawlessly blends performance and luxury with a bit of muscle to boot.
Straight off the bat, the 2023 BMW M2's exterior exudes confidence and style with Its distinct squared-off kidney grilles and three lower square-shaped intakes adding a modern touch to the classic BMW aesthetic. The M2's athletic proportions pay homage to its predecessor and the 1M coupe, while wider arches house performance-oriented wheels, brakes, and suspension. The raised boot lid and large, square-shaped outer bumper pieces at the rear, along with the quad-exit exhaust under the rear diffuser, only add to the M2's alluring charm.
Two new paint colours, Zandvoort Blue and Toronto Red, make their debut on the 2023 M2, perfect for those seeking to make a statement.
Hop inside and you'll find yourself enveloped in a cocoon of comfort and style with a hint of attitude. This driver-centric cockpit boasts M-specific displays, controls, and options, as well as a curved screen that offers up vehicle set-up data, tire condition, and other performance-related details, all presented with the elegance and clarity that have become synonymous with BMW.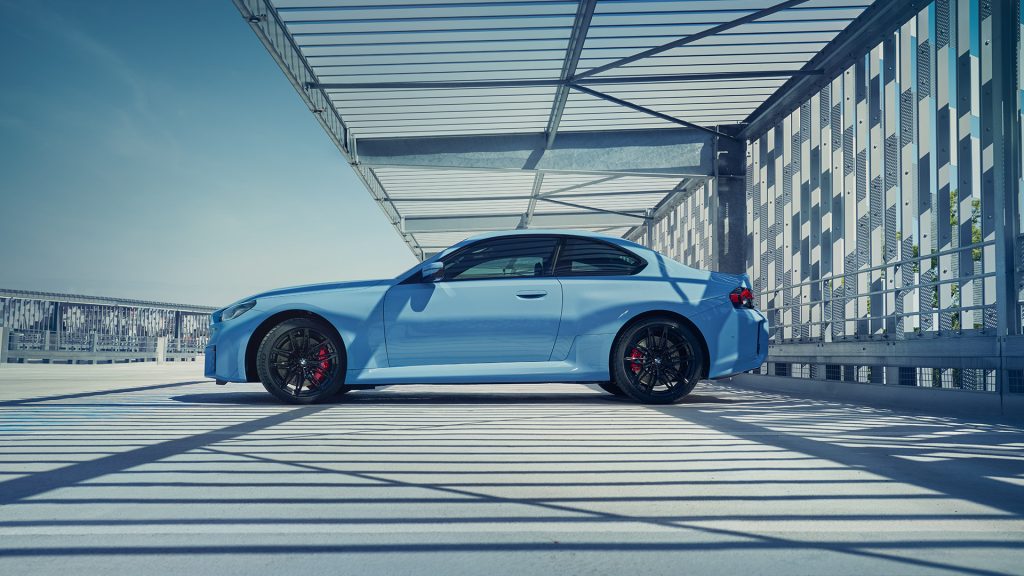 Both driver and passenger seats offer ample support, with the option to upgrade to M Sport or M Carbon bucket seats for an even more exclusive feel. Three-zone climate control, BMW'snavigation system, ambient lighting, and a Hi-Fi speaker system create an atmosphere that is equal parts relaxing and exhilarating.
The 2023 BMW M2 offers a range of customisation options that allow you to tailor things to your unique tastes. With just the press of a button, the centre console's set-up button grants direct access to engine, chassis, steering, braking, traction control, and gear shift assistant settings. Two set-ups can even be stored on the steering wheel M buttons, ensuring that your M2 always reflects your individual style and preferences.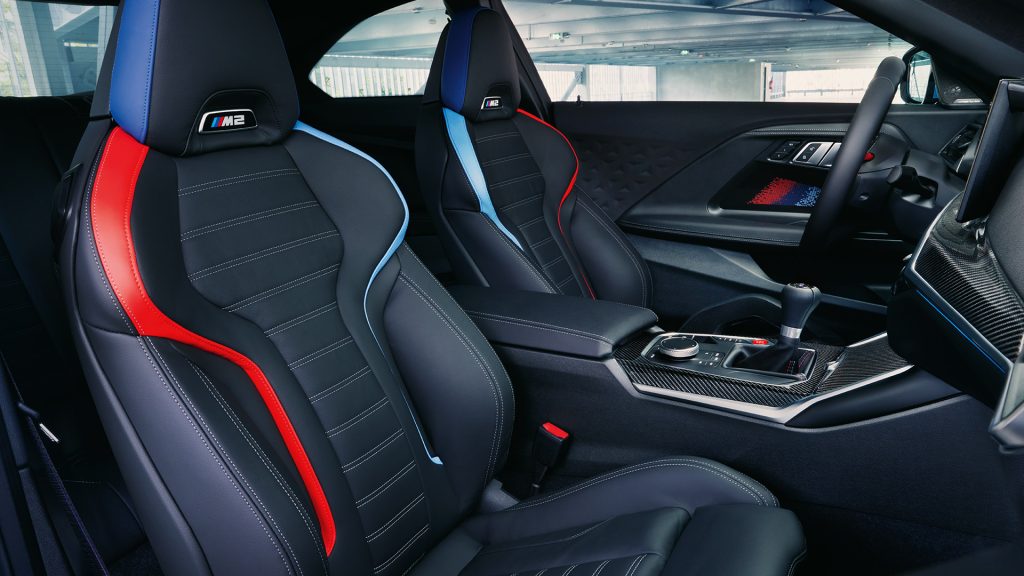 And if you want to really customise things there is a bevy of options and accessories. The optional head-up display projects vital driving information onto the windshield, allowing you to stay informed without taking your eyes off the road. Additionally, the M2 offers various interior trim choices, including carbon fibre, to accentuate its elegant cabin. And if carbon fibre happens to be your thing you can also go to town on the outside with optional carbon fibre accents, including a carbon roof and mirror cap. The BMW Individual program allows you to choose from a vast array of exclusive paint colours, upholstery, and interior trims.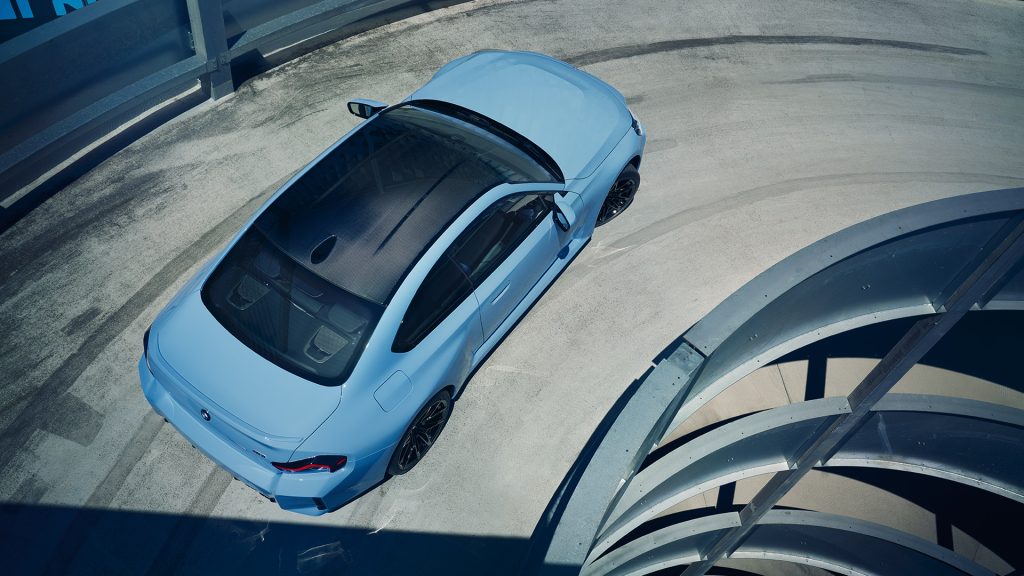 The 2023 BMW M2 isn't just a pretty face though. Its 3.0-litre twin-turbocharged inline six-cylinder engine, borrowed from the M3 and M4, produces 338 kW of power and 550 Nm of torque and comes attached to an eight-speed automatic transmission or a six-speed manual for the traditionalists out there.
With its near-perfect 50:50 weight distribution and short wheelbase, the M2 offers precise, controllable handling that is both exhilarating and refined. Adaptive suspension and adjustable brake-pedal feel, accessible through the M set-up menu, further enhance the M2's superb driving dynamics.
The 2023 BMW M2 stands as a testament to the brand's commitment to blending performance and unparalleled style.