Legend has it, there was a Persian woman who was in love with a prince. She baked him this cake, filled with magical love powers, in the hope that this would ensure a happy ever after. There are actually two endings to this tale.
Serves 6
Ingredients
360 g (12¾ oz) ground almonds
220 g (7¾ oz) raw sugar
210 g (7½ oz) brown sugar
120 g (4¼ oz) butter, softened
2 eggs
250 g (9 oz) Greek yoghurt
1 teaspoon orange blossom water
½ teaspoon freshly grated nutmeg
1½ teaspoons ground cardamom
½ teaspoon flaky salt
zest of 2 oranges
70 g (2½ oz) pistachios, roughly chopped
Greek yoghurt, to serve
Method
In the first, the plan goes off without a hitch and the lovers drive off into the sunset. In the other, and sadly far more realistic version, the gesture is brutally rebuffed and she does what every good woman does in this sort of situation and eats her feelings, i.e. the entire cake. I mean hey, we have all been there!
On a serious note, this cake is pretty spectacular. You don't see many recipes that use raw sugar and it really makes a massive difference here texturally. The combination of spices and orange blossom water almost transports you to the Middle East on smell alone. Don't be scared of the orange blossom water; it's a strong flavour but it's only perfume-like when used too liberally.
This little number is gluten-free and will keep for up to five days; not that it usually lasts that long . . .
Preheat the oven to 170°C (325°F) fan-bake. Grease and line a 20 cm (8 in) cake tin.
In a large bowl mix together the ground almonds, both sugars and butter. Using your hands, rub the mixture together until you have the texture of coarse breadcrumbs.
Spoon about one-third of this mixture into the prepared cake tin, pressing it down to form an even layer over the base; it should be about 5 mm (¼ in) thick.
Add the eggs, yoghurt, orange blossom water, spices, salt and zest into the bowl with the remaining almond mixture and mix by hand until smooth and combined.
Pour over the base and sprinkle the chopped pistachios around the border of the cake.
Bake for 45–55 minutes. The cake will colour up beautifully and the centre will have puffed up slightly and be a little firm to the touch.
Allow to cool completely in the tin.
Serve at room temperature with a dollop of Greek yoghurt.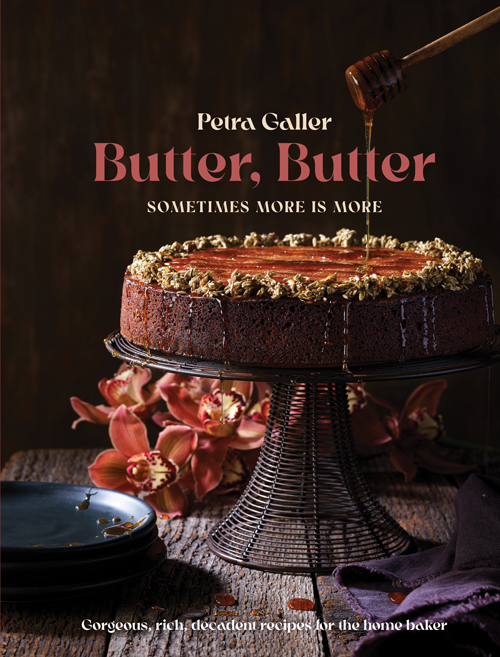 Images and text from Butter, Butter by Petra Galler, photography by Melanie Jenkins (Flash Studios), published by Allen & Unwin, RRP $49.99.