Born in 2001, Raquel Abolins-Reid grew up with music in her bones, for sure. A Churton Park-native, her early life was spent dancing and signing herself up for talent shows in the local mall. Her family (all music lovers with an eclectic mix of tastes) had massively influenced her—also Beyonce, who she adored from a young age—and her two brothers. She was a keen dancer too, a passion that took her to teach it, aged 16. Opportunities like the Smokefree Rockquest gave her a reason to start writing her own material,. It was a friendship at Massey University down in Wellington that saw Raquel embody RIIKI REID (a stage persona she created from a childhood nickname). After her first gig at a venue in Wellington called Caroline, the rest, as they say, is history.
Over the years since finding her feet as a singer, several of RIIKI REID's songs have charted highly in the NZ Hot Singles Charts then and her name is getting larger and larger on the kiwi indie-bop radar. Between 2019 and 2021, Reid has released several white-hot singles, not one but two Waiata Anthem's (Te Tāone and Karamata), which are truly outstanding. and has two EPs (Newer Oxygen and Crash & Collide, which both came out last year) to her name.
M2Woman was given the awesome chance to sit down with RIKKI REID and talk on her latest single, 'Home With You' (which was released August the 18th), lessons learnt, breaking down barriers and the beauty of connecting back to your roots through song.
What sort of things do you get up to when you're not creating music?
In a previous life, I was a dance teacher before I got into music. I've been dancing since I was five—a little, little squeak—and I did that right through to high school. When I was 16 I started coaching competitive crews and troupes in hip hop. I guess, when I'm not doing music I love reconnecting back to that community.
Did you find music through dance, then?
Yeah, definitely. That definitely had a lot of influence on it, for sure. There's a mall here—North City Plaza—and they do these talent quests for kids. They're really cringey and funny and totally an excuse for parents to push their kids up on stage. I did one with my brother when I was about seven-years-old. That was the first time when I was like oh yeah, I like this! I mean, I wasn't bad at it, per say. That was my first memory of me really enjoying music. From there, I was entering into the competitions every year. My siblings grew up being quite musical as well. I wrote my first song (it was really, really bad) when I was in Year 8. I mean, just saying 'I was in Year 8', you just know it's going to be bad. That's sorta when I fell in love with songwriting, did music throughout highschool and then enrolled myself in Commercial Music at Massey. That's where I birthed my love for music, in that first year. I had a friend who was doing a Management paper—which, as a paper, is like what does that even mean? He was putting on live shows and learning how to manage other artists and he came to me and asked if I wanted to perform. I was like oh my gosh, I've never performed my own material—I don't even know what my artist's name is or anything. Riiki had always been my nickname, so that's where the name came from. And then the rest is history.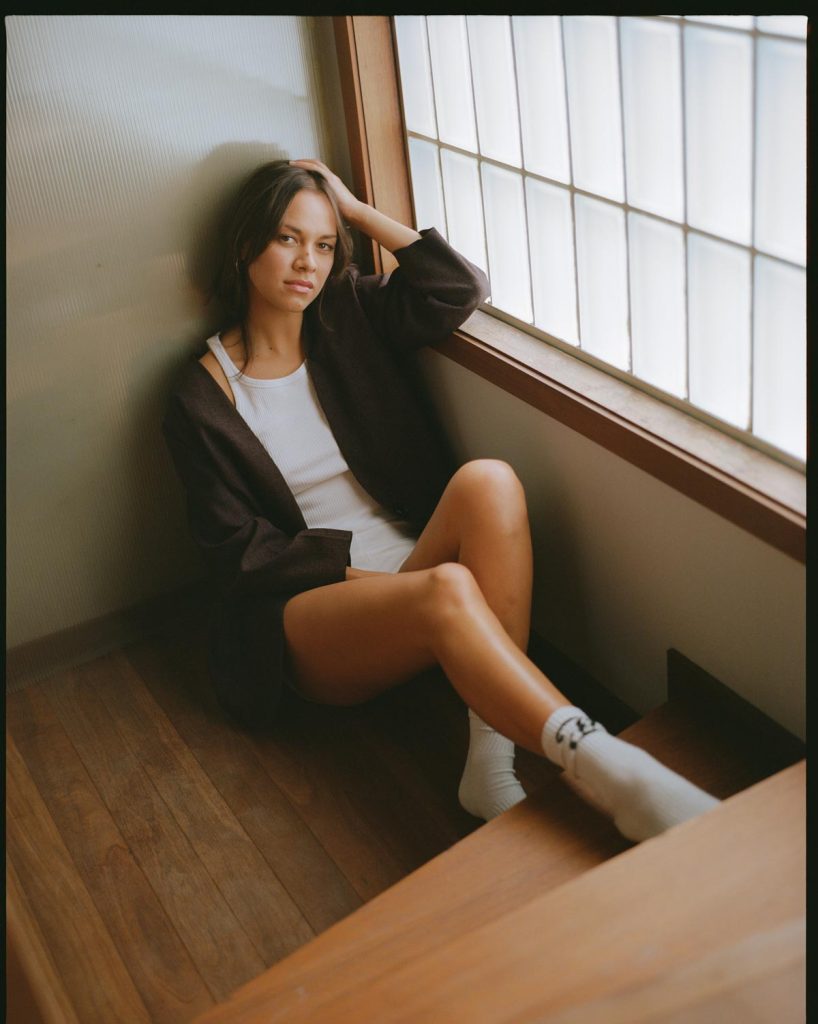 What has been the biggest lesson you've learnt from where you were then to where you are now?
For me, I get the most fulfillment from the connection making. That's what the majority of people who are in this industry will say is through connections you make. You can be the most talented person in the world but be the most horrible person at the same time. Then no one is going to want to work with you. I never think: make sure you make a good impression. It's genuinely the part I most enjoy. It's meeting new people and having interesting conversations and learning about other people and things that are happening in the world. Another big lesson is also to make sure I enjoy the process. Sometimes I'm like urgh what am I doing?, but it's all part of the learning and it helps to shape you as an artist, as a person too. That's where the good growing goodness comes from, right?
Is connection to an audience an important attribute to creating a song for you? Or does the connection happen more naturally?
I thrive off the connections I make, or the audience. How they're reacting, and the ideas that they gain, always interests me. What I write about may be entirely different to how others perceive my music and the messages they're getting. That opens my mind. There's a whole new meaning to that as well. I learn what's around me and that impacts what I write about and how I feel. That, then, feeds into other people, and they learn about me and I learn a bit about them. I feel it can often be really easy to be the artist and be like well, this is my experience and I don't know if anyone is going to get that. It's cathartic too.
What would you say your creative process looks like?
It changes all the time. I've come to realize over the past couple of years that I really have to be in the mood for it. I'm a person who's like I'm creative—there's nothing else I want to do. I have friends who will sit down and write something every day, no matter what, to continue growing, which I think is so awesome. I, on the other hand, can not do that at all. I have to be in the zone and inspire. I was a really big journal'er for a lot of my life. I haven't so much recently. Journaling my thoughts and shifting it to art is pretty cool, you know. For me, it doesn't just feel about songwriting and writing—that's one element that I get an awesome release from. I love conceptualizing what my ideas visually look like, in terms of videos or the aesthetic. I've just started creative directing which is really cool. I think, for me, my creative process is very sporadic and it happens when it feels like it needs to happen. If I shift into these roles every day that's how I make it work. I love having that creative control.
So you must've felt that in creating your new single, 'Home With You', which is coming out 18th of August?
I feel like it was a perfect example of my creative process being put to good use. The song came about in Australia. I went there last year for about six weeks and I just wanted to write and create with producers over there, which was a fun experience because I was really forcing myself to write. Even when I was just so not in the mood. So, with 'Home With Me', I went into a session with a producer, Alex Bernett (a really awesome producer and songwriter) and I went to his studio in Sydney and he has a unique way of crafting music. I went into the sessions with him and he had this idea where we will write four songs in one day—the bare bones and structure. He told me to pick my favorite four titles from this list on his laptop and I was like oh my gosh, this isn't going to work. After we ran through creating these songs (which I hated every song), we sat down and he was like how are you feeling right now? I told him that I was actually quite homesick and actually just wanted my partner and he was like okay, Home With Me. We literally then wrote the song in like 10 minutes—the bones of the song. I was just really feeling like it at that moment. I came back to New Zealand after that and I recorded a voice-memo on my phone which just had me singing vocals and Alex playing the piano chords we'd made for it. I went into a session with one of my friends, Josh (his artist name is Wells) and I showed him my idea from Australia. He ended up adding a couple more instruments—some violin with a really soft beat and an acoustic guitar instead of a piano and that was it. It felt good, what I'm going to put out. It was the most honest thing I've done. It's funny—you write a song and listen to it lots when you create it—but when it finally gets released, I don't really feel as closely as I did when I made it. But with 'Home With Me', I feel closer to the song now as I did when I wrote it. You never want to say, as an artist, that you like listening to your own music, but this song I don't see as a song released by an artist, but as a story shared by a human. It's funny, you never want to make it seem like you're tooting your own horn, but this song just represents exactly what I needed to do and say. So satisfying. Super proud.
You've also released a Waiata Anthem, which is pretty cool…
It was such an awesome experience. I re-recorded my first Waiata Anthem's track last year, and I translated my song, 'High Heights' into te reo Maori. I don't speak te reo at all. I am part Maori, so it's one of those experiences where I feel like I'm connecting with culture and language, family and song. When I got approached this year to do another one, I decided to re-record 'The City', which is quite dancey. It's not your traditional Waiata. I think, for me, I got to learn more about Maori culture and I learnt more about te reo language, which is so fulfilling. I think our country should be learning more because it'd be really special. It feels that, because 'The City' is a dance song, I'm trying to break some barriers of what's traditional and what's classic to Maori music as well. It was quite hard, but humbling. Now I can sing my songs in another language, which is crazy.
Would you like to break down more barriers in your music?
Yeah, totally. It's fun, I think. Finding the barriers you do want to break down and finding ways in which to use that to your benefit. I always like looking at the deeper reason to want to be a musician. I don't think it necessarily stems down to the fact of being this amazing artist. It's allowing yourself a way to speak and connect.
What other exciting things have you got planned for the future?
I'm actually moving to Melbourne tomorrow. I've got a couple of shows lined up which I'm super excited about. Then I've just gotta hustle. In terms of projects, I think people can just expect a new, small body of work that is going to be released throughout this year into the start of next year. I hope those show a more vulnerable, raw side to my artist project. Then who knows? Whatever the foreseeable future wants to deliver to me, I'm ready for it.