Who Runs The World, Girls!
New Zealand has amazing winemakers in every wine region of our beautiful country and many of them are women.
From the outside, the wine industry seems a male-dominated world, but in recent years it has seen a steep increase in young, talented and passionate women join its ranks. It was a hard task choosing just a handful, but each of these women have a distinctively different story and they all make sensational New Zealand wines.
Natalie Christensen
Chief Winemaker at Yealands, Marlborough
What do you get when you cross a volunteer firefighter with a Bachelor of Music, a Master of Applied Psychology and the love of brightly coloured lipstick? Natalie Christensen. And thankfully, this academic mastermind fell into the world of wine. Her passion for the industry was ignited whilst working on a harvest in Marlborough where she went on to work at St Clair Family Estate. Natalie travelled the wine regions of the world and was a winemaker in Rias Baixas, Spain making Albarino before moving back to NZ and starting at Yealands, where she has been Chief Winemaker since January.
While some people are still surprised when they learn she is a winemaker, Natalie has never had any negative experiences being a woman in wine. "There are a lot of great female role models. A lot of my friends are winemakers and there is an awesome supportive network here".
Natalie enjoys all aspects of her role, "I love all the people you meet and all the places and situations you find yourself in. I also love the seasonal nature of the winemaking process and all the nuances and memories from each season". When she has some down time you'll find her enjoying wine and food with friends and family and hanging out with her two chickens, Ellen and Portia and cat Baa.
State of Flux Sauvignon Blanc 2018, Awatere Valley Marlborough
Taken from vines on alluvial soils, this wine is fermented and aged in a concrete egg. During fermentation, the egg creates constant movement in the vessel, causing the wine to be in a State of Flux. This is a seriously powerful wine, concentrated lemon, grapefruit and gooseberry entwined with passionfruit, blossom and lemon curd are found on the nose and palate. The wine has a delicious creamy texture and finishes very dry. A mind blowing example of Sauvignon Blanc.
Jannine Rickard
Winemaker at Urlar, Gladstone and Huntress, Wairarapa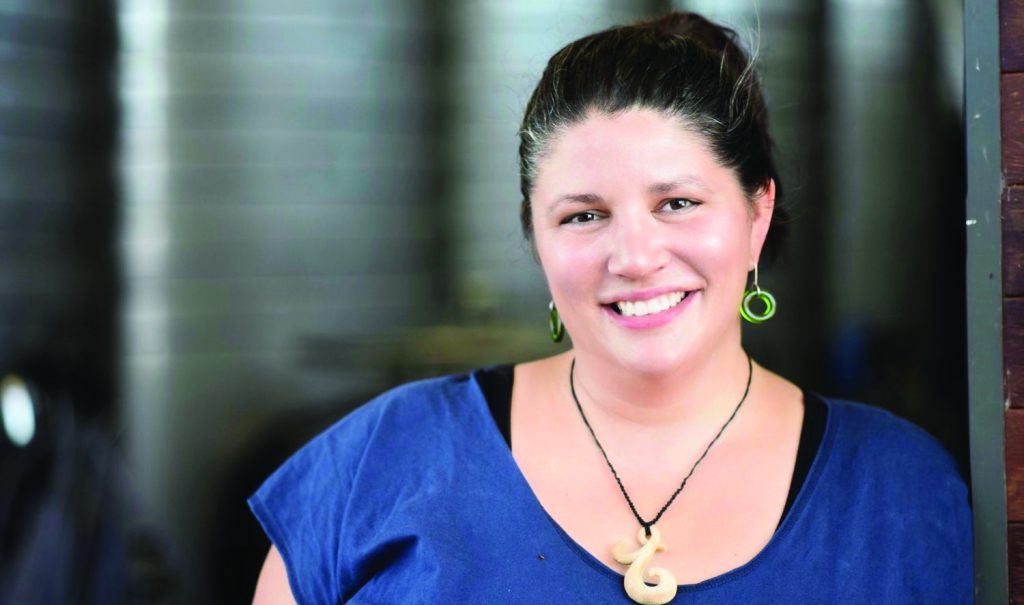 Jannine was hooked on winemaking after her first harvest in the Hawke's Bay in 2003 and has worked everywhere from the Willamette Valley and Napa in the US, and the Breede River Valley and Hermanus in South Africa, to the revered winemaking regions of Champagne, Burgundy and Beaujolais in France. Now in the Wairarapa, where she has been winemaker at Urlar for nearly two years, Jannine loves the humble and supportive community and how Wellington, the coolest little capital city, is just over the hill.
Urlar is certified organic and biodynamic and Jannine enjoys knowing she's growing grapes from living soil, "I believe that organic and biodynamic wines are wines with intention and have a vitality to them that I find very wholesome and satisfying."
Jannine's own brand, Huntress was released in Spring 2018 and instantly became a favourite of wine enthusiasts, local and beyond. The name is a representation of her passions. An avid hunter and gatherer, Jannine loves "going bush" and solidifying her connection to the land, animals, bird life, rivers and ocean – the great outdoors of Aotearoa.
Huntress Pinot Noir 2017, Martinborough

This is Jannine's favourite variety to work with and it truly shows in this wine. Hand picked fruit from vines on the Martinborough Terrace, using 20% whole bunch and aged in old oak barrels. A pretty pale ruby colour, this wine is packed with red cherry, raspberry, plum and spice finishing with fine tannins. Delicate, fresh and lively this is the perfect summer Pinot Noir.
Lynnette Hudson
Winemaker at Tongue in Groove, Consultant Winemaker and Educator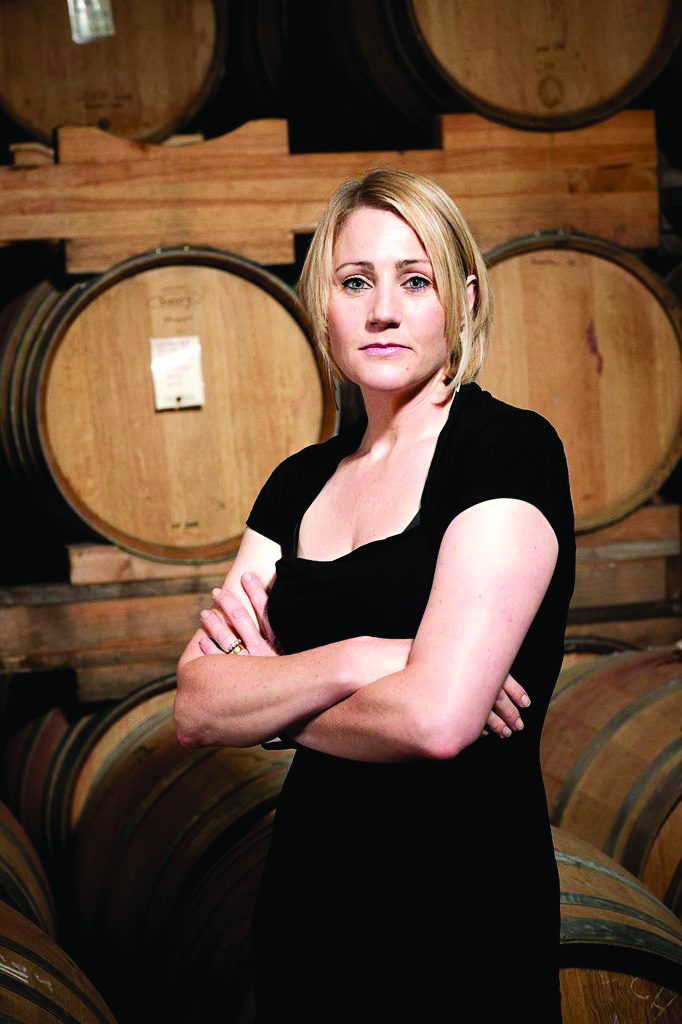 With more than thirty vintages under her belt, Lynnette has some amazing stories to tell. She has made wine in Australia, England, Romania, the US, and even Russia, but her favourite was Burgundy, where it feels like her second home. She has also produced wines for New Zealand's iconic brands; Pegasus Bay, Pyramid Valley, and Villa Maria overseeing the Pinot Noir production.
Lynnette loves sharing her wealth of knowledge and experience with others "If I could inspire even one person to love wine, then that is a great achievement. Wine is an incredible thing; to me it is a tardus of information. A bottle looks small on the outside, but there is a huge wealth of knowledge to understand within."
Lynnette's brand, Tongue in Groove, is named after the old fashion term for the needle of a record player fitting into the groove of a record and has won multiple awards for its eye catching label design. Orange and natural wines are trending and Lynnette feels this will continue, "I think the number of wineries making these styles in NZ indicates that they are important. However, I do not believe in making natural/orange wines for the sake of being natural including faults. It can put a lot of people off these wines."
Tongue in Groove Little Stomper Orange Wine 2018, Waipara

A blend of certified organic Gewurztraminer, Muscat and Pinot Gris, fermented using indigenous yeasts and 25 days skin contact. Golden in colour with a slight haze, floral aromas dominate with hints of stone fruit and spice. The wine is dry with a dusty tannin structure and a delicious savoury minerality that lingers on the palate and makes you want another sip. A super interesting wine!
Lorraine Leheny
Owner/Winemaker at Bilancia, Hawke's Bay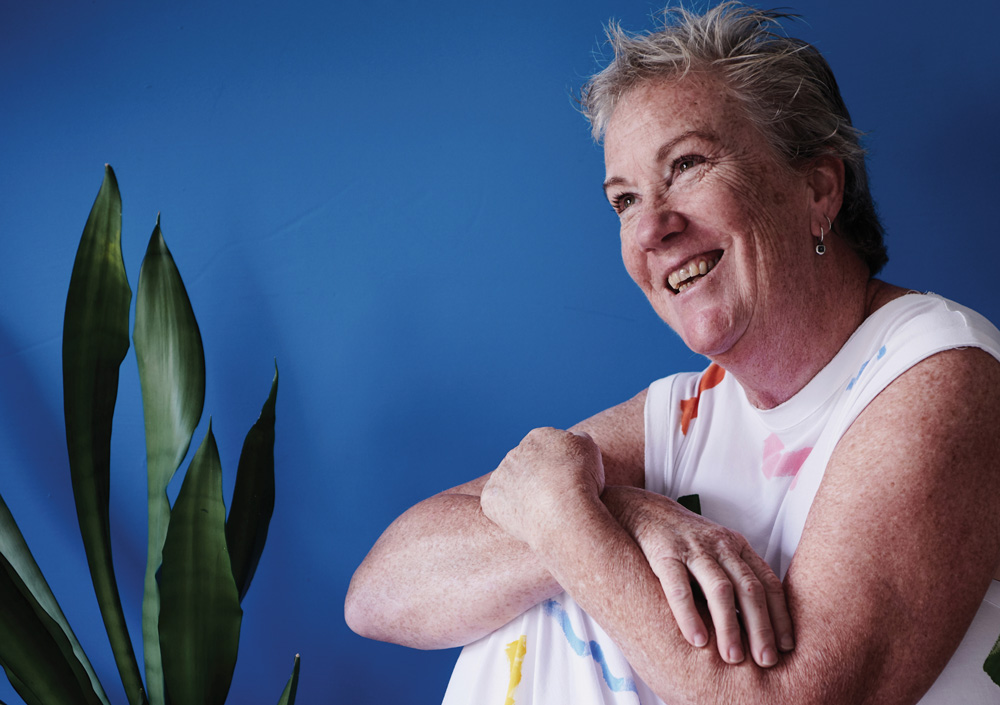 Producing one of New Zealand's top Syrah's, la collina, Lorraine was first a brewer in Melbourne, before being lured to the wine side. Moving to South Australia to study at Roseworthy Agricultural College, it was here she met her future life and winemaking partner, Warren Gibson. Having worked in the US, Australia, and Portugal, Lorraine and Warren moved to the Hawke's Bay in 1997 and produced their first wines under their label Bilancia.
Lorraine always knew that if they were going to make wine in New Zealand, it would be in the Hawke's Bay. It had the suitable climate for what they wanted to achieve and gave them the opportunity to raise their children in a great community.
Having established the original vineyards over twenty years ago with a focus on Chardonnay and Syrah, Bilancia are now working on a new blend of Viognier/Marsanne/Roussanne. With this constant evolution, it isn't surprising that Lorraine still loves the thrill of the new vintage, "[I love] the potential that is realised with each harvest. Even in difficult harvests, there are always bright spots." Her advice to young winemakers keen to start their own label? "In most cases the lure of making your own wine is born out of passion. Just follow the passion and try not to settle for second best."
Bilancia la collina Syrah 2016, Hawkes Bay

Made from the steep terraced la collina vineyard where the vines naturally produce a small but intensely flavoured crop. This is one of my favourite NZ Syrah's and if you can find it, buy it. Purple in colour with a hint of ruby, this wine has everything you want – dense and ripe black plum, blackberry, and beautiful lifted florals mixed with pepper and smoky oak. I tasted the 2010 vintage recently. If you cellar this wine, you will be rewarded!
Lucie Lawrence
Winemaker at Aurum Wines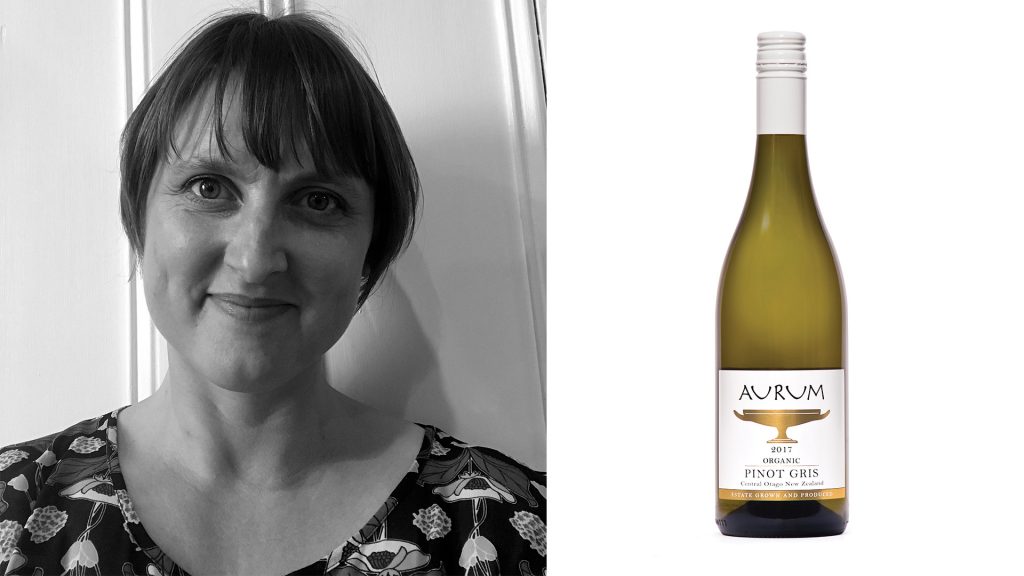 As a French-born, third generation winemaker, wine is literally in Lucie's blood. "Wine (and food) has always been an important part of my upbringing. I didn't think of becoming a winemaker until around 20 years old, but when the thought appeared, it became obvious that it was the right fit for me."
Studying in Dijon, Lucie made wine in Alsace and Burgundy, where she met her husband Brook, before moving to New Zealand and starting their brand Aurum. With vineyards that are certified organic, Lucie feels this is the future of winemaking, "There is no other way possible to move forward. To successfully farm organically, it's necessary to pay attention to details and be present in the vineyard and the winery. That attention to detail drives quality."
Lucie believes it is the people and the extreme climate of the region that make Central Otago wines so distinctive. And what does she love most about being a winemaker? "I love how it is a mix of practical farming and creativity. I love how at the end of the day, we feel like we have made something with our hands."
Aurum Pinot Gris 2017, Central Otago
Certified organic and harvested from low cropped 17 year old vines, the wine is cool fermented in stainless steel and spends extended time on lees. Ripe fruit aromas jump from the glass; pear and apple with white blossom and honeysuckle. Richly textured with concentrated apple and underlying tropical flavours. The wine is off dry, but completely balanced by the crisp acidity on the finish. A pleasure to drink.
Chloe Somerset
Winemaker at Cable Bay Vineyards, Waiheke Island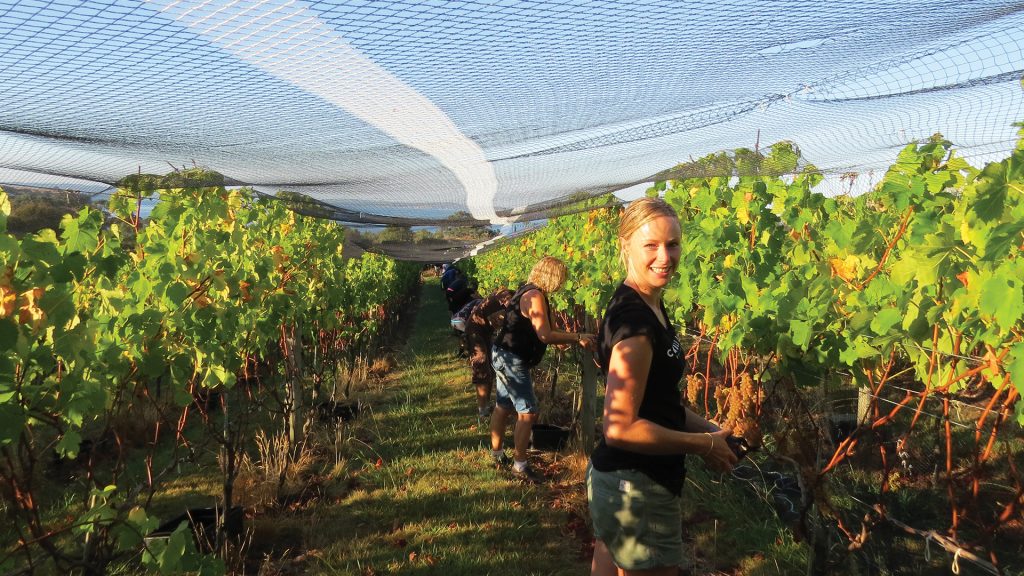 First advised by a career's councillor to enter viticulture, it wasn't until Chloe spent time in the hospitality industry, working with passionate sommeliers, that she was inspired to become a winemaker. She studied at Lincoln and then travelled the world working vintages in Canada, Greece, France, and the US, before finding herself on Waiheke Island – where she is the only female winemaker – and working at Cable Bay, where she has been for the last seven years.
Being a mum to Jude, almost two years old, and producing wines from both Waiheke Island and the Awatere Valley in Marlborough keeps Chloe on her toes. Describing herself as a "Jack of all trades", she loves the diversity of her role at Cable Bay. Spending most of her time in the vineyard and winery, she also enjoys the sales and marketing aspect of being a winemaker. Cable Bay has a restaurant with views second to none which gives Chloe the opportunity to speak directly to the consumer and see them enjoying the fruits of her labour. When asked what she believes makes Waiheke wines so special, Chloe says, "The combination of volcanic influence and coastal characters – such a thought provoking fusion."
Cable Bay Chardonnay 2017, Waiheke Island

Made from hand harvested grapes taken from the Home Block and Edwards Vineyard, fermented in French oak using natural yeast and aged in barrel for twelve months. The aromas of this wine made me salivate; stone fruit, ripe citrus and smoky oak, a wonderful combination. Medium bodied with a soft round mouthfeel, the aromas continue onto the palate and it finishes with lifted acidity. This wine is pure elegance.
Find out more about our next Journey To Excellence event here
You'll also like: