Tammy Faye sat, dressed in a flowing white gown, her memorably warm face with her iconic eyelashes beaming at the screen in front of her, and hosted the first-ever satellite interview on her own The PTL [Praise The Lord] Club network. 'The PTL Club', if you didn't already know, was co-created by her and her then-husband, Jim. Also known as the The Jim and Tammy Show, it paved the way for Tammy Faye to make a million-dollar empire with her preaching. The satellite interview was with Steve Pieters, an openly gay pastor with AIDS.
"You know how sad that we as Christians want to be the salt of the earth. And we who are supposed to be able to love everyone are afraid, so badly of an AIDS patient that we will not go up and put an arm around them and tell them that we care," Bakker tells him tearfully during the interview.
At the time, the AIDS virus was killing thousands of people worldwide, and had this jarring stigma attached to it, but Tammy Faye wasn't bothered by any ridicule. She was only showing love to the man she was talking to on the screen.
Noted for her eccentric and glamorous persona, Tammy Faye led a life unencumbered and full. Inspired by a RuPaul-narrated 2000 documentary of her life, one of Hollywood's biggest names was so moved by Tammy Faye's story she bought the rights and is playing her in an upcoming film that tells of her life, her rise and subsequent demise of fame.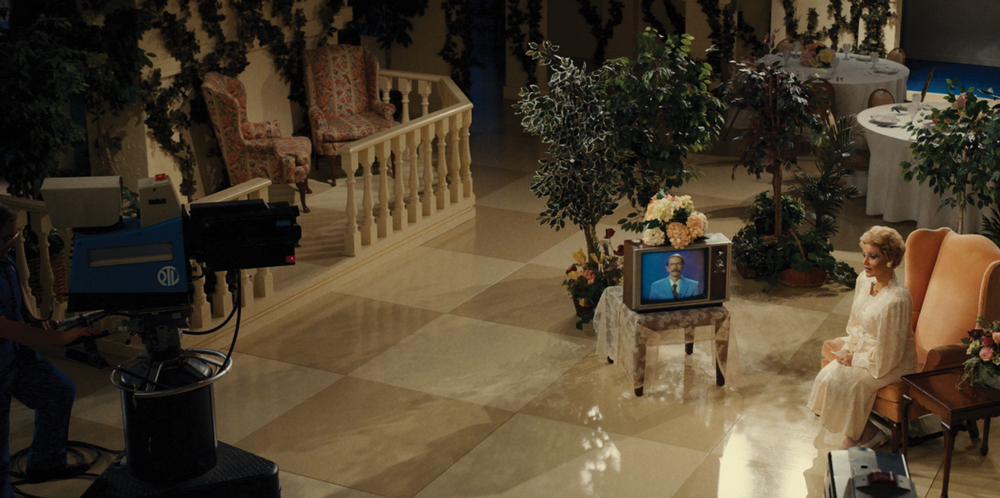 Whether she's walking along the red carpet to the premiere of one of her many films, or advocating for equality around the world, or just being a genuinely loving, good human, Jessica Chastain is a woman who has many, many feathers in her cap. In her latest up-and-coming widely-anticipated biopic, The Eyes of Tammy Faye, she got to put all of these qualities to good use. In the film she plays Tammy Faye whose only mission in life was to spread joy, God's love and acceptance. Jessica holds those moral views too so the similarities are uncanny.
Born in 1977, Jessica grew up in Sacramento, California with a single mother where money was very tight. Some nights, she told The Irish Times in 2017, she even went to sleep without food. It was at age seven that her interest in acting started when she was taken to Joseph and the Amazing Technicolour Dreamcoat by her beloved grandmother, Marilyn. After seeing other young girls dancing, singing and acting on stage, she swore to herself then and there that that was going to be her job when she was older. So she began making that dream come true by adorably setting up her own amateur theatre company at age 10 and selling lemonade to her neighbours and friends to buy props.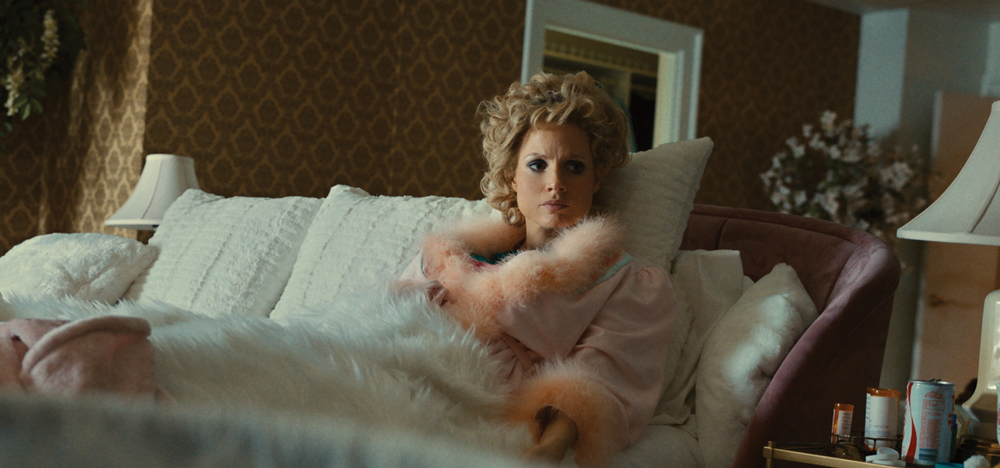 Whilst going through school, she was unfortunately dubbed a 'loner' and 'misfit', regularly missing classes to stay at home and read Shakespeare. She cited the performing arts as being the only place she truly thrived. After making her acting debut as Juliet in a local production of Romeo and Juliet (and receiving rave reviews), she was advised to audition for the prestigious Juilliard School in New York. The audition was a success (obviously) so she travelled 344km from The Golden State to The Big Apple to continue making that dream she had as a small girl come true.
After graduating with a Bachelor of Fine Arts in 2003, she went to LA and landed her first TV role in a remake of a 60's classic, Dark Shadows. Rising up the ranks and getting more and more roles on TV, she found that she was being cast in quite unusual parts, such as mentally ill patients or accident victims. She needed a change and strived to stretch her acting chops somehow, so in 2008 Jessica made her film debut as the title character in the American drama, Jolene.
Her break-out roles came in 2011 when she had a whopping six film releases in one year. Films like Take Shelter, The Tree of Life and The Help all propelled her name into the spotlight. For her role as Celia Foote in The Help, Chastain received Academy, BAFTA, Golden Globe and SAG Award nominations.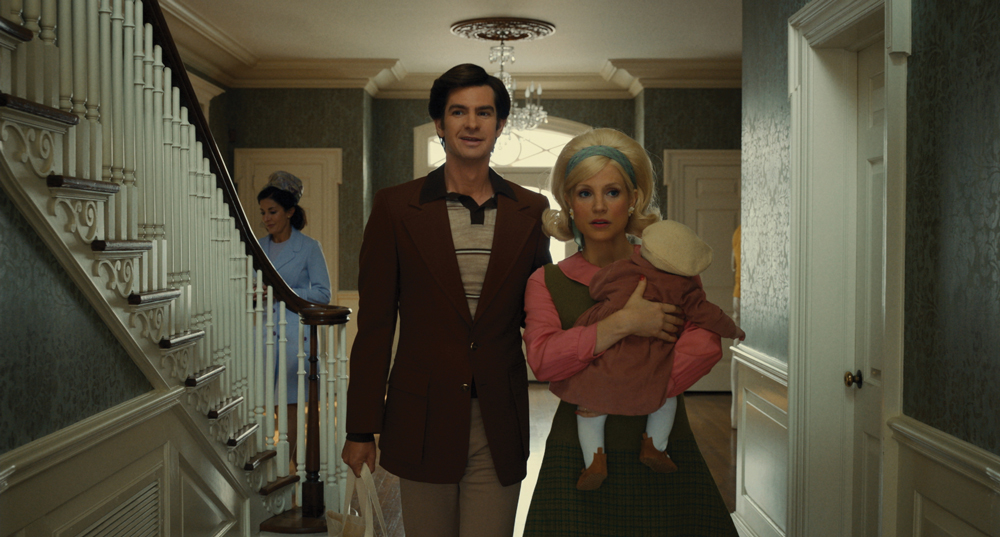 In the years following (and achieving enormous success in whatever film she's in), Chastain has become one of the world's most successful actresses, being nominated and also winning a stream of awards and accolades.
Shot in North Carolina in 2019 and in cinemas from 27th January, starring Jessica Chastain as Tammy Faye, The Eyes of Tammy Faye is a film that lifts the lens on the rise and fall of the 90's most famous televangelist. Known for her memorable eyelashes and her warm heart, Tammy Faye and her husband, Jim Bakker (played by Andrew Garfield in the film) created the world's largest religious broadcasting and theme park. Not everything was so warm behind the makeup, however, with fraud, scheming rivals and scandalous accusations toppling their empire. Nothing, though, stopped Tammy Faye spreading love. It feels like Jessica Chastain and Tammy Faye Messner embody the same beating heart. Both want nothing more than to care for the underdog, and to love.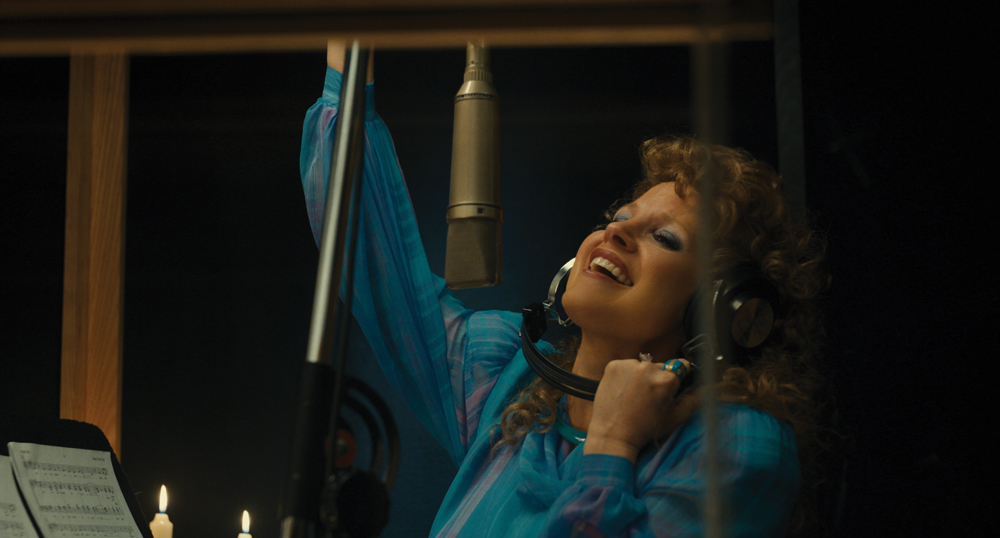 M2woman was given the unique opportunity to sit down with Jessica Chastain to have a candid chat about The Eyes of Tammy Faye, her inspirations and what empowerment looks like for her.
What can audiences expect to see in The Eyes of Tammy Faye?
Audiences can expect to see a different point of view than what the media has been fed. The film is set at a time when Tammy Faye was really made fun of. She was seen as a clown. Comedy-sketch TV shows would make fun of her and she was always on the front of tabloids. Society paid way more attention to how she presented herself in terms of her make-up—she was shamed for how much she wore—and how much space she took up in the world.
Also the things that she did, the things that she said, the clothes… and she was larger than life (which I think is a beautiful thing). We tried to stay true to a 2000 documentary about her to show the story of who she was beyond the media sensationalism.
I think you can expect to see a film about a very compassionate and loving woman who was very courageous during the AIDS epidemic and threw her arms around anyone who felt like they were shut outside a religious community.
What was the process like of getting into her character?
It was a very strange experience for me because I bought the rights to the documentary in 2012. It was always in the back of my mind that I would play her, but I didn't know when it was going to happen. Since then, I have been reading books that other people wrote about her, books about televangelism, all the interviews I could find, all of Tammy Faye's Youtube.
A month before we started shooting, I just locked myself in a room and that became my every-day-all-day job… I listened to her voice and studied her. Also that time in the make-up chair was crucial. It was an emergence. I became obsessed with her, and I can still hear her voice in my head sometimes.
I felt like I knew everything about her, which is a strange thing when you've never actually met someone in real life. For the process of this it was total immersion.
What was a unique aspect of Tammy Faye that really connected to you?
I would envision her as being someone who wore her heart on the outside of her body. It made her very sensitive and empathetic to other people. It was very easy for her to laugh because she was tickled by life, but she was also very quick to cry because she was moved quite easily. That's how I thought about her energetically with the uniqueness of how she was.
Also just how she ran into her life full-steam, no matter how much humiliation society piled on her and how much they ridiculed her. She was like: 'you know what, I'm just going to make people laugh and make them feel loved'. She knew that people would laugh at her, but that never changed who she was.
I think that's a beautiful lesson for all of us today about individualism and being uniquely who we are and connecting with someone who has completely different views than us. We're living in a society right now that is so much against the other, especially in the United States. There's so much division. Tammy connected and inspired any person she met because she didn't believe in differences.
Who would you say inspires you?
Definitely Tammy Faye as I was working on her, and (this may sound silly) my grandmother is someone who really inspires me. She has a little bit of Tammy Faye in her. She's not aloof; open-hearted and open-armed. I think anyone who is unapologetically unique and celebrates the fabulousness that is them, authentically, inspires me. Drag queens inspire me. It's allowing yourself to be true to who you are and taking whatever that is and expressing it in the world. I find that a beautiful thing.
What does female empowerment look like to you?
That's an interesting question. It's specific to one gender. Actually, I see empowerment as just anyone feeling free to be who they are and not being limited to expectations of what history expects a person to be.
We're living in a time now where you look at gender and think 'what qualities are masculine and what qualities are feminine?' I like to get rid of that whole idea.
Empowerment is being treated for who you are, to empower yourself to walk into this world and being authentically you. That, to me, is what empowerment is.
The Eyes of Tammy Faye will open in cinemas 27th of January.
Top image by Charlie Gray