Role models are such powerful figures in any female's life.
A strong mother, for example, who stands up for their children, uncompromisingly loyal. A global leader, making a difference around the world, using their voice to tackle change and real-world problems. An actor, appearing in blockbuster films, that uses their confidence, creativity and strength to shine a light on the humanity they're emitting. It is an important quality for our young girls to emulate for future generations, to stand on the shoulders of powerful, positive role-models.
An actress that has been heralded by many as a role-model of her generation and is uncompromising in her strength and values is the brilliant Florence Pugh.
---
Cover Image: Florence Pugh attends the Academy's 2019 Annual Governors Awards in The Ray Dolby Ballroom on Sunday, October 27, 2019, in Hollywood, CA. ©A.M.P.A.S.
---
It's her uniquely natural charisma and willingness to take a deep-dive into characters who project strength, either to hide their scars, mark their territories, or protect themselves emotionally that makes her truly shine. In Lady Macbeth, she's a neglected Victorian bride who murders her family in the name of womanhood; in Fighting With My Family, she's a tough, spit-and-sawdust, badass wrestler who rises to the top; in Little Women, she plays the petulant and selfish Amy who marries strategically to secure wealth and power. These head-strong women know what they want, and they'll go to any lengths to get it. Florence Pugh in a nut-shell. That's the role-model we want for our future girls. Florence embodies every role she is offered and carries that strength and versatility wherever she goes.
Born in Oxford, England in 1996, Florence grew up in a very creative household. Her mother, Deborah, was a dancer and teacher and her dad, Clinton, a restaurateur. Between the two adults, they certainly knew how to put on a marvelous show. A trait passed on to Florence in her later years. Being the loudest and most-dramatic child in their household (along with three other siblings—two sisters and one brother), Florence was destined to be in the spotlight. Unfortunately, the young Pugh was diagnosed with tracheomalacia at only age three. Her illness, which made it difficult for her to breathe with a collapsing windpipe, was certainly made worse by that frosty southern English weather. Thus, her parents then decided to move from Oxford to sunny Spain for her health.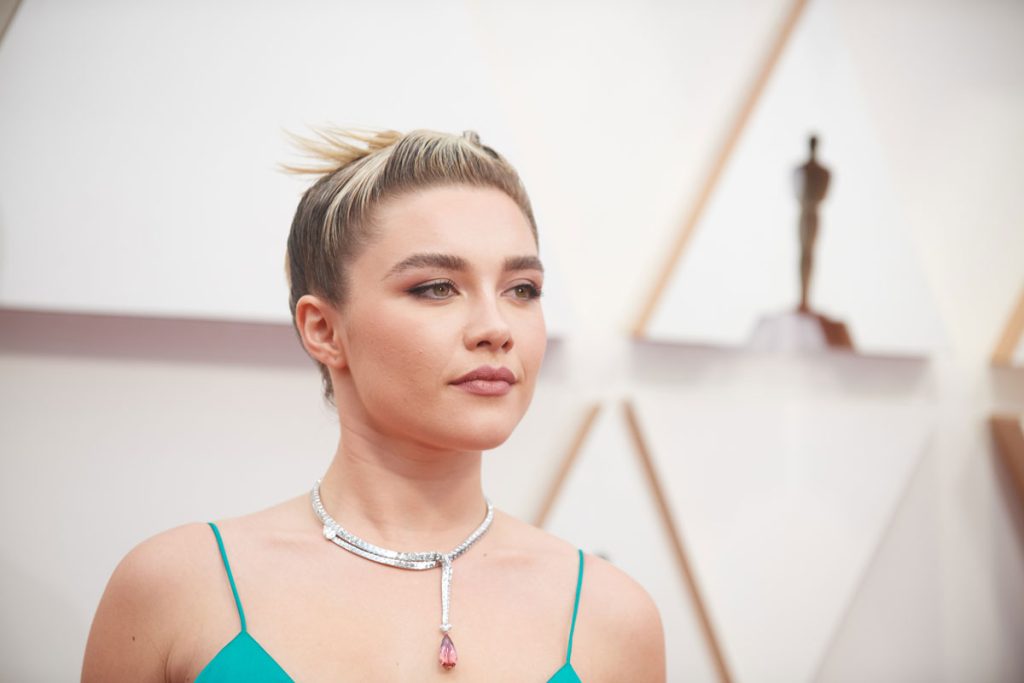 Located in the south-east of Spain, the family set-up in Sotogrande, a privately-owned residential development in the Andalusia territory. Known for its beautiful moorish and mudéjar architecture, stunning cork forests, warm climate and glitzy 'Palm Springs' feel, this was a perfect place for young Florence to grow up in. She was in and out of the sea almost every day, cycled around the streets with her siblings and got chummy with the locals—she even adorably 'bartered with the sweet shop owner'.
Around the age of six, Deborah and Clinton decided to return to Oxfordshire with the kids. It was at this point Florence's passion for acting (and especially accents) started to show.
While attending a local primary school, her first on-stage role was a 'northern Mary' in the Nativity Play.
"I remember hobbling on to the stage, going: 'Oh, me' varicose veins!' and everyone pissing themselves," Pugh told The Guardian in 2018. "It was the first time I knew the power of being on stage. I remember thinking, 'Oh God, they're waiting for me, they're listening to everything I say and I have complete control.' I still feel that now. How everyone is hanging on to your every word; how they are going to feel how you want them to feel."
Florence didn't like school that much and has said multiple times that she wasn't built for academia. Instead she wanted the bright lights and the razzmatazz of what she felt on stage.
In 2013, Pugh started up her own Youtube channel with a dream (and a guitar). Under the alias 'Flossie Rose', Pugh played acoustic covers of songs like Jack Johnson's Angel and Oasis' Wonderwall, while also putting up original works like I'll Wait and See the Signs. If you know your internet meme's, Pugh was the one who originated the classic trend: 'Anyway, here's Wonderwall…' Over the years, with her popularity growing globally, these videos have raked in millions of views.
Bright-eyed and bushy-tailed, Pugh was just a high-schooler at that time, attending St. Edwards School. It was whilst at St. Edwards Pugh heard the promising casting call of Carol Morley's mystery-drama, The Falling, making the rounds. At her mothers behest, she auditioned, eyeing up the role of Abigail Mortimer and recorded her first tape on her mum's phone before being called in to audition in person.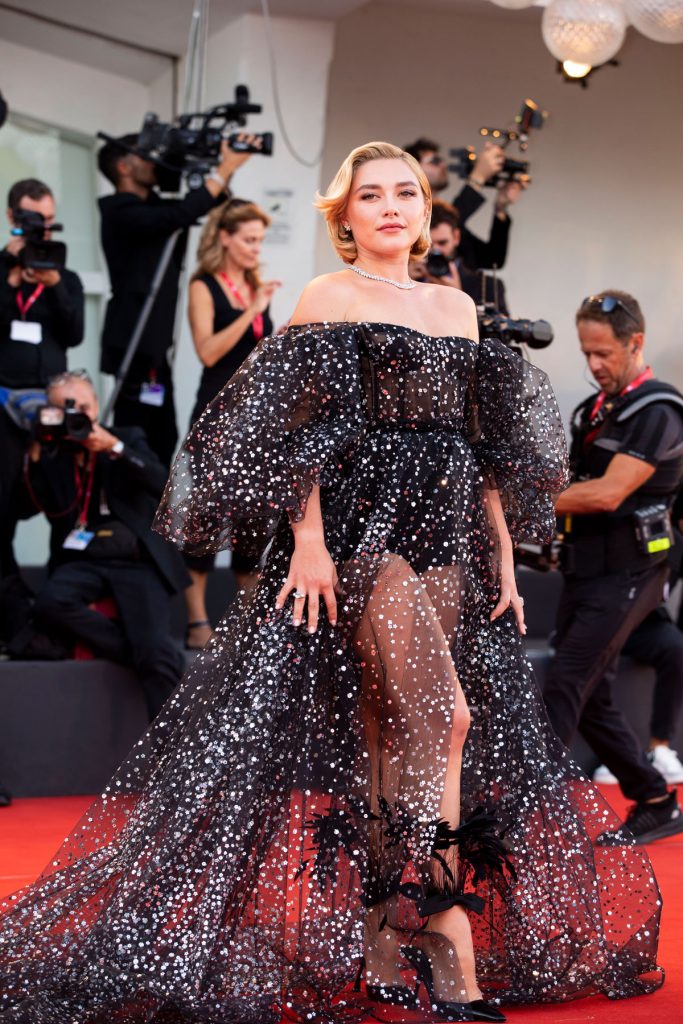 "After [Florence] left the room, I said, 'Oh wow'," recalled the director Carol Morley to Hollywood Reporter in 2014 about the audition that started it all. "All the casting people were really quiet and I just said, 'Do you not think she's amazing?' And they all went, 'We've got goosebumps; that was like a young Kate Winslet walking into the room'."
The neo-Gothic, entirely-absorbing psychological drama follows the friendship of two school girls, the tack-sharp Lydia (played by Game of Thrones' Maisie Williams) and golden-girl Abigail (Pugh), in the late 1960's. Chaos ensues. Relationships are tested and the idea of innocence falls away with a clatter. The character of Abigail would've been a hard nut to crack for any professional actor, but with Pugh's brilliant insight and the ability to take a deep-dive into the story, she portrayed this role with verve and vigor. It was as though she had successfully tapped into the female experience and refused to be silenced.
Florence received rave reviews of this character and that allowed her to flex those budding acting muscles—The Irish Times called her "remarkable" and IndieWire's Oliver Lyttleton deemed her acting ability "striking". So remarkable and striking, in fact, that she was named the Best British Newcomer at the BFI London Film Festival, as well as the Young British/Irish Performer of the Year by the London Film Critics' Circle. All whilst still sitting her GCSE exams at St. Edwards!
It was whilst Florence was on a boat holidaying in the Isle of Wight in 2015 that her agent called her out of the blue with an audition proposal for the character of Lady Macbeth. Pugh—who loathed studying Shakespeare at school—feared the worst. She took a boat back to the mainland, constantly reminding herself that she was doing this only for 'the love of acting' and attended the audition.
"It was then I realised this wasn't Shakespeare," she told RadioTimes in 2017, "—this was a very different story."
All power to her though; anyone would assume the Bard's handy-work when hearing the name 'Lady Macbeth'. They'd be breaking out in cold-sweats too. Pugh was delighted, then, when she discovered that the limited-budget, debut William Oldroyd film she was auditioning for was in fact an adaptation of a 19th century Nikolai Leskov novella titled Lady Macbeth of the Mtsensk District.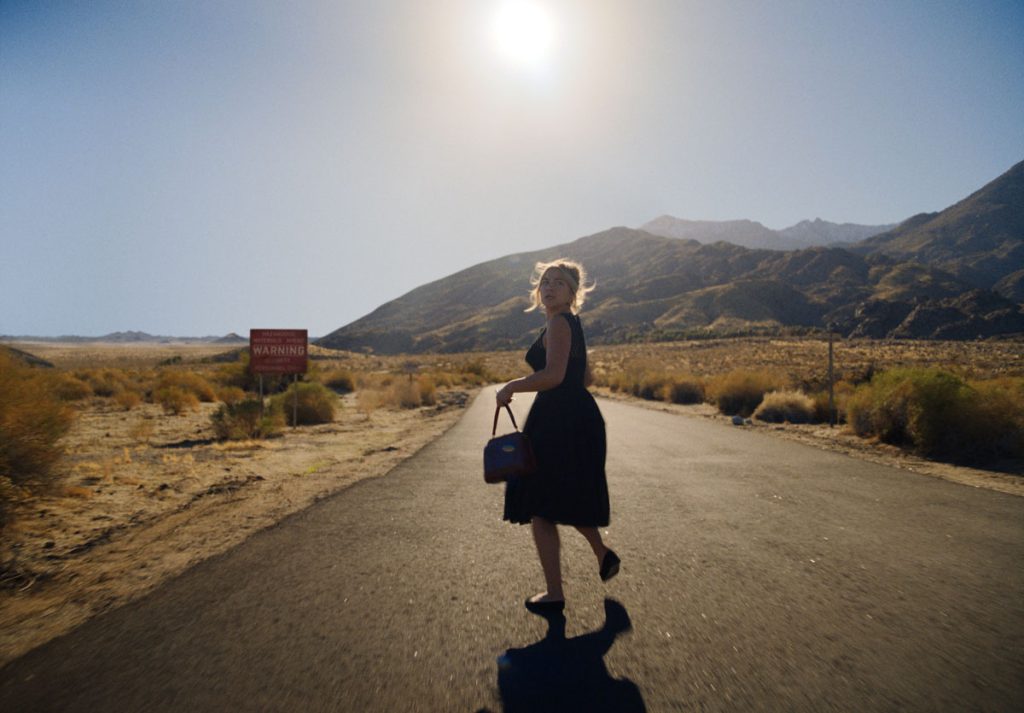 In the 2016 film, set in 1800's rural-England, this fierce, feisty and flirtatious fable follows young-bride Katherine in her loveless marriage to a much older bloke called Alexander Lester (played by English actor Paul Hilton). Owner of a dour mine, Alexander (and his creepy, flinty father, Boris) both run their estate where Katherine (Pugh) is kept as though a hostage. The expectation is that she will produce an heir through quite sadistic rituals that strip away her womanhood. It's within the cold walls of her room (that Katherine is forced to stay) that she plots her revenge and liberation. Brilliant, macabre and mesmerising, Pugh truly revealed herself as a true artist in this film. Her insolence to the cold walls of her society is captivating.
"Lady Macbeth is a great opportunity for me to prove that maybe the outcome of The Falling was not necessarily a fluke," Florence told the BBC in 2017.
It certainly wasn't a fluke as, after this leading role had garnered her with critical acclaim, she won the BIFA Award for Best Performance by an Actress in a British Independent Film and was nominated for a BAFTA Rising Star Award at the 71st British Academy Film Awards.
"For me, it was always the main character, Katherine—she was just incredible," Pugh said to WWD. "I was so amazed by everything she did. When you're given a platform and you're allowed to perform and someone's there to heighten you as opposed to dampen you, that's a nice feeling."
Maybe it was that Shakespearean title of Lady Macbeth (more likely the fact that Pugh was amazing in the role as Katherine) that pricked up the ears of film, TV and theatre legend Sir Richard Eyre who was scouting around for his modern adaptation of Shakespeare's King Lear. Queue Florence's disdain for the Bard. But she rose to the challenge, none-the-less. Set in a highly-militarised London, the 2018 film starred Florence as the youngest of Lear's daughters, Cordelia, who is denied access to her father's (played by Sir Anthony Hopkins) inheritance after he steps down from sovereignty. In the straight-to-TV film, Florence starred alongside other big names such as Emma Thompson, Emily Watson, Jim Broadbent and Andrew Scott.
Not long after King Lear hit TV screens, Pugh starred as the gutsy lead in the BBC One John le Carré adaptation, The Little Drummer Girl. Under the direction of South Korean film-director, Park Chan-wook, she played Charmian 'Charlie' Ross, a radical English actress in her early 20's who gets embroiled in espionage.
"It was such a rewarding but intense shoot," Pugh said to The Guardian in 2018. "I was scared, of course, but I always like to be. There has to be some level of fear."
2019 was a big year for her. Firstly, she played professional wrestler, Paige, in Stephen Merchant's Fighting With My Family. The film premiered at the 2019 Sundance Film Festival to a stream of positive reviews. The Independent said that she was "completely convincing as the wrestler".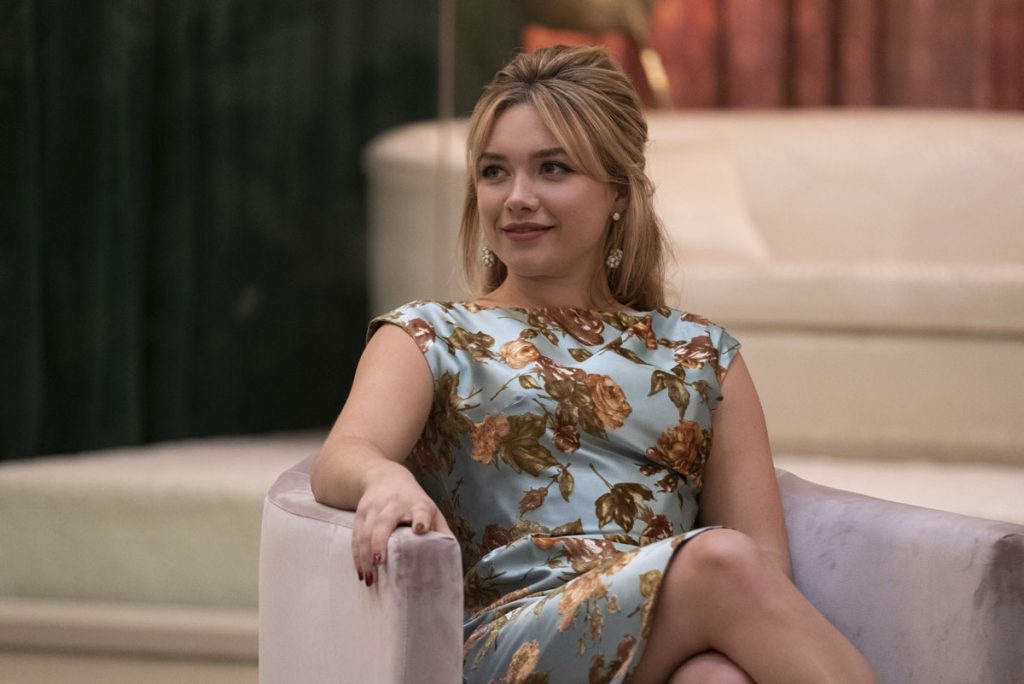 Out of the blue whilst on the press tour for The Little Drummer Girl, horror film director du jour, Ari Aster (fresh off his critically-acclaimed debut film, Hereditary) called her with the offer of starring as Dani in Midsommar. Written by Aster after a pretty brutal break-up, Midsommar, to put it lightly, is not for the faint-hearted or squeamish. It's filmed pretty much entirely in daylight, but holy-moley it gets dark. Never being a fan of the horror genre at all, Florence was a bit hesitant to read the script, but when she did she was taken by Aster's writing. The film tells of Dani, a tormented young woman who is mourning the loss of her family after a murder-suicide. Dani and her distant boyfriend, Christian, travel to a fabled Swedish festival at the Hårga, a Swedish commune in rural Hälsingland. There, the group is subject to the surreal chaos of bad drug hallucinations, flower-crowns, a lot of deaths, a lot of unsettling sex rituals and manic crying. It's bizarre, yes, yet Pugh's performance in it is bold and full of life. To get into that head-space for any actor is extraordinary. In one scene, it shows Pugh kneeling on the floor sobbing and wailing surrounded by a group of creepy Scandi women mimicking the gutteral sounds she's making.
In an Instagram post, Pugh revealed the supportive nature of that exact scene when the cameras stopped rolling. "This is THE scene" she captioned with the marketing image.
"By the end we were all in each other's laps and crying and allowing our bodies to keep heaving," she shared.
A main source of comfort and support for Florence during Midsommar was her Granny Pat.
"My gran is so cool…she is like 84, she's really fit and healthy, she goes hiking all the time!" Pugh told Good Morning America. "She sees my movies. She watched Midsommar, and at the end she kind of patted me on the knee and was like, 'I didn't know what was going on, but that was marvellous!'" It is also reported that (when Florence was younger) her favourite book to read with Granny Pat was Louisa May Alcott's Pretty Women.
Having thrilled and shocked audiences in Midsommar, Pugh went on to play the strong-willed and light-hearted Amy March in Greta Gerwig's 2019 adaptation of the book. With a cast consisting of industry heavyweights like Meryl Streep, Saoirse Ronan and Timothee Chalamet, Pugh made a huge impact as the youngest March sister.
"I remember when I first told my friends that I was playing Amy, they were like, 'Oh, that's the one I hate,' which is fine, because that's the only thing that we've known her for," said Pugh to IndieWire in 2019. "We haven't given her drive. We've never seen her with creativity. She's never had to argue as to why she needs to marry rich." It's great to see that Florence was intrigued about playing someone so many people have loathed over the years and shedding a new light on the character.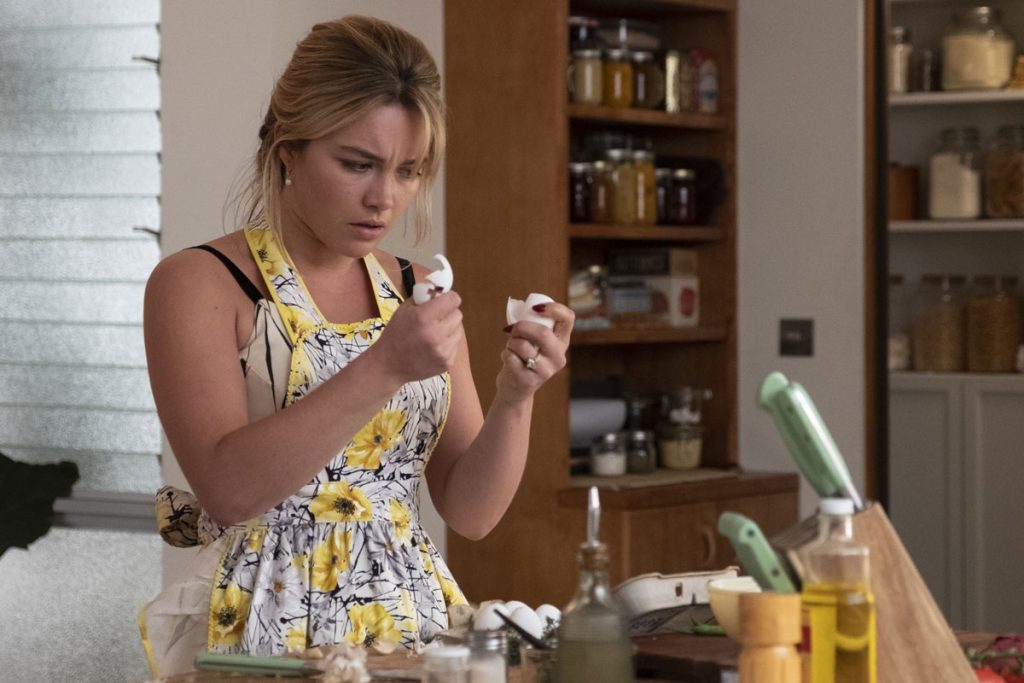 At the start of the film, Amy is portrayed as selfish and immature, and then changes to poised and witty. It was with this performance that she got her first ever Oscar nod—a nomination in 2020 for Best Supporting Actress, as well as a BAFTA nomination and the Trophée Chopard at the 2019 Cannes Film Festival.
More roles kept rolling in. Need I remind you that, in retrospect, Florence at this point was enjoying the sort of career only seen by industry legends. Her next creative move was impressive, to say the least. She went from soft-spoken Amy March to thick-accented, machine-gun-slinging Yelena Belova in Marvel Universe's Black Widow.
Those two characters couldn't be further apart. Starring alongside Scarlett Johanson, the braids were upgraded and her bratty-streak was taken over by a particularly violent edge. This being her introduction to the Marvel Cinematic Universe, Pugh took the role as a way to offer a unique perspective on the healing journey of family. In an interview with Variety, Pugh said that she found the film as "a sister story that really hones in on grief, on pain, on abuse, on being a victim—and living with being a victim." Her role as Yelena was so well done, in fact, it was reprised a year later in the Disney+ series, Hawkeye.
With her striking appearance, husky voice, vivid green eyes and zany sense of humour with every interview, Pugh has continued to become more and more a true role-model for audiences on her incredible ride to the top. She's been put on Forbes' annual 30 Under 30 list by using the power of social media to support and tackle big issues, like the Black Lives Matter movement, and was a strong advocate for voting. In 2020, during the Covid-19 pandemic, she even joined forces with the UK's poet laureate, Simon Armitage, to help raise money for the domestic abuse charity, Refuge. Time magazine even put her on their 100 Next list in 2021!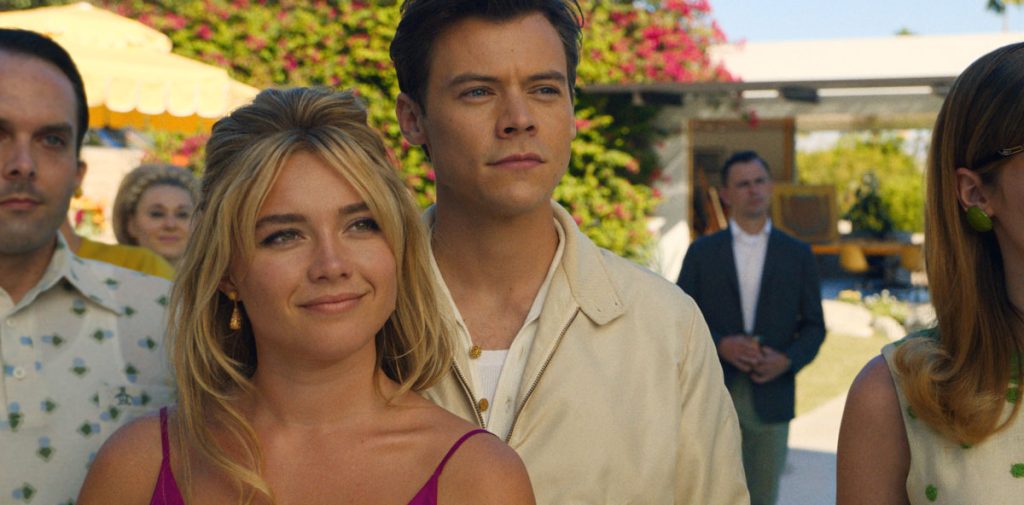 Her latest film, the 2022 psychological thriller, directed by American actress and filmmaker, Olivia Wilde, Don't Worry Darling is so many things. A mind-trip, a mystery, and a calamity all-in-one amongst ladylike cocktail dresses, convertibles and clinks of martini glasses. It's also a bit of a head-scratch. Olivia Wilde's attempt at creating a community trapped in patriarchy and misogyny falls a bit flat. The saving grace of the film is Pugh's performance in it.
It premiered at the 79th Venice International Film Festival where big critics deemed Pugh's performance superior to the actual film. Ouch!
The film stars Florence as Alice, a suburban housewife to Jack Chambers (One Direction's heart-throb Harry Styles). The 'ideal' couple live in the company town of Victory in Southern California, and as the film progresses, something's not quite right.
Ignoring the stories circulating the web about Harry Styles spitting, filming issues and feuds, Pugh saved this sinking ship, for sure. Once Florence's character starts unravelling, the connection and layers of her performance start showing, delivering a far truer performance than her other co-stars. She's committed to the role and brings in an old-fashioned Hitchcockian allure that truly steals the show.
With all her successes over the years, Florence Pugh is certainly one of those actresses that has defined hard-work, success and drive. Starting out her acting career whilst still in high-school, staying head-strong and uncompromising in her values, and talking to the press with that recognisable grin on her face, Florence stays grounded, poised and ready to tackle just about anything.
Upcoming projects will see her as the voice of Goldilocks in Puss in Boots: The Last Wish, American psychiatrist and physician, Jean Tatlock, in the biopic, Oppenheimer and Princess Irulan in the highly anticipated Dune: Part 2. We can't wait to see what Florence has planned next as she continues to serve as the role-model that has graced our screens in recent years.