Who would have thought just a few years ago that the superhero fiction genre would be such a box office hit (even without box offices). Disney via Marvel have of course have been particularly apt at growing this trend with their Marvel Cinematic Universe and a network of franchises that entails… Avengers, Iron Man, Captain America et al. And now it is the turn of Black Widow, the only original female Avenger from Phase One of the Marvel Cinematic Universe, to have her own gig.
Great! At last a blockbuster movie featuring a popular female action hero and telling her own backstory, surely everyone will be thrilled!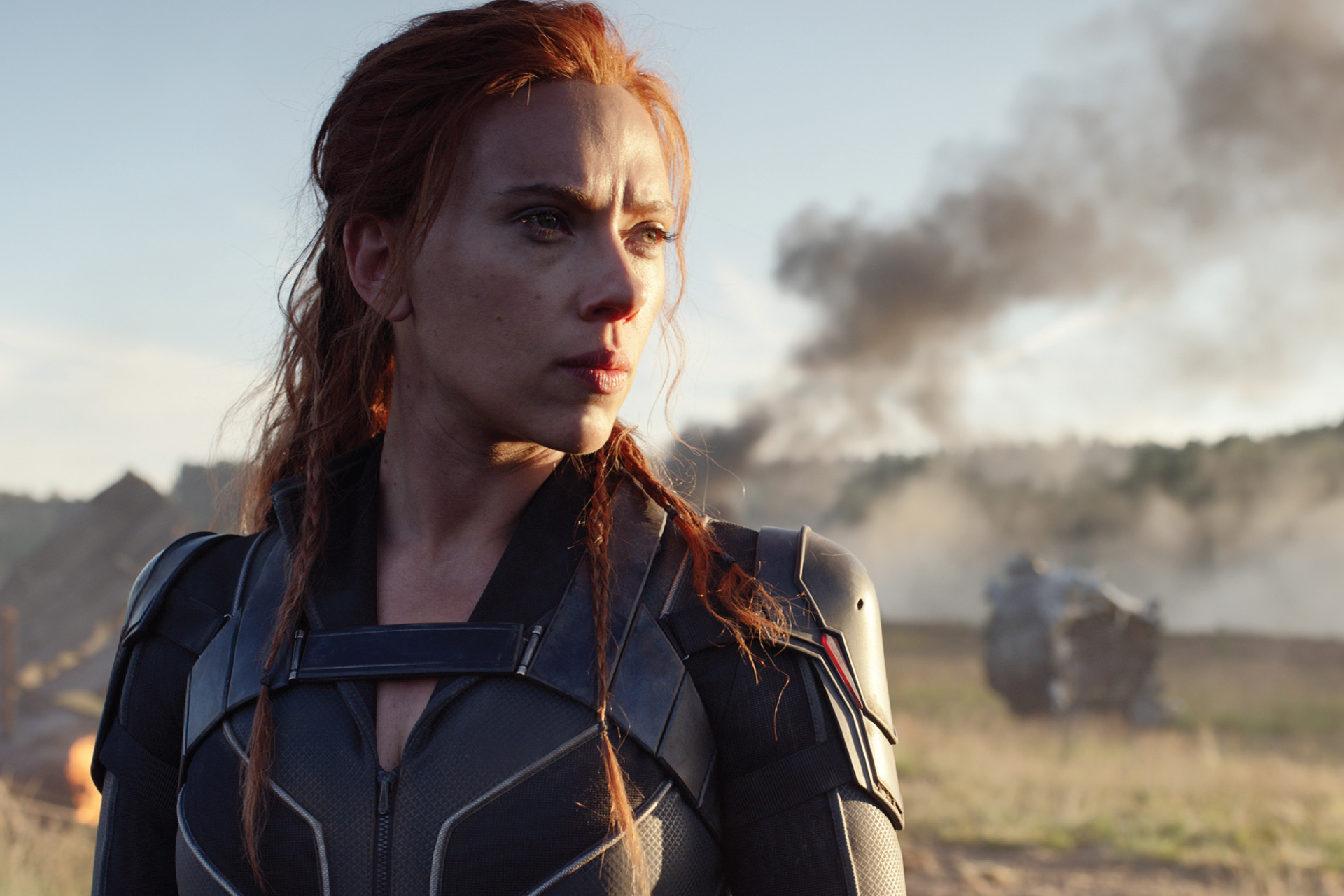 Not so much. Ask any stand-up comedian about the secret to successfully winning an audience over and they'll tell you that; "Timing is everything." So in the immediate aftermath of the exploding of the #MeToo movement, Black Widow suddenly assumed an unexpected importance in the women's movement. Its release became a really big deal to a lot of movie reviewers – and they were very, very disappointed, variously describing Black Widow as 'under the radar' and a 'crying shame'.
Huh? What were they expecting? A 200 minute lecture about sexual harassment in the workplace? A documentary about inequality in gender salaries? An expose of young girl human trafficking? In a Marvel superhero movie?
As professional movie reviewers, they really should have known better. As Black Widow's female director Cate Shortland explained; the movie had been gestating for a long time before Harvey Weinstein's exposure as a sexual abuser, and she's not exaggerating. Any movie that costs $200 million to make and requires the schedules of several in-demand stars to align, will take months if not years to prep for. The script also has to make sense not only of Black Widow's character, but also explain other Avenger characters' actions both in the past and set up new scenarios for future movies. Oh yes, and it also has to have lots of action; introduce a host of new characters; unveil a bunch of evil baddies; have an interesting storyline; and above all, be entertaining for a paying audience.
All of which Black Widow achieved – and then some. Screenwriter Eric Pearson somehow also managed to weave in some significant discussions within themes of family, sense of place and the plight of young women – within the confines of a genre that demands virtual non-stop violence, silly wisecracks, unrealistic situations plus a bunch of characters running around every day city scenes in black leather outfits. Surely a feat for the ages and one he is getting little credit for, thus far.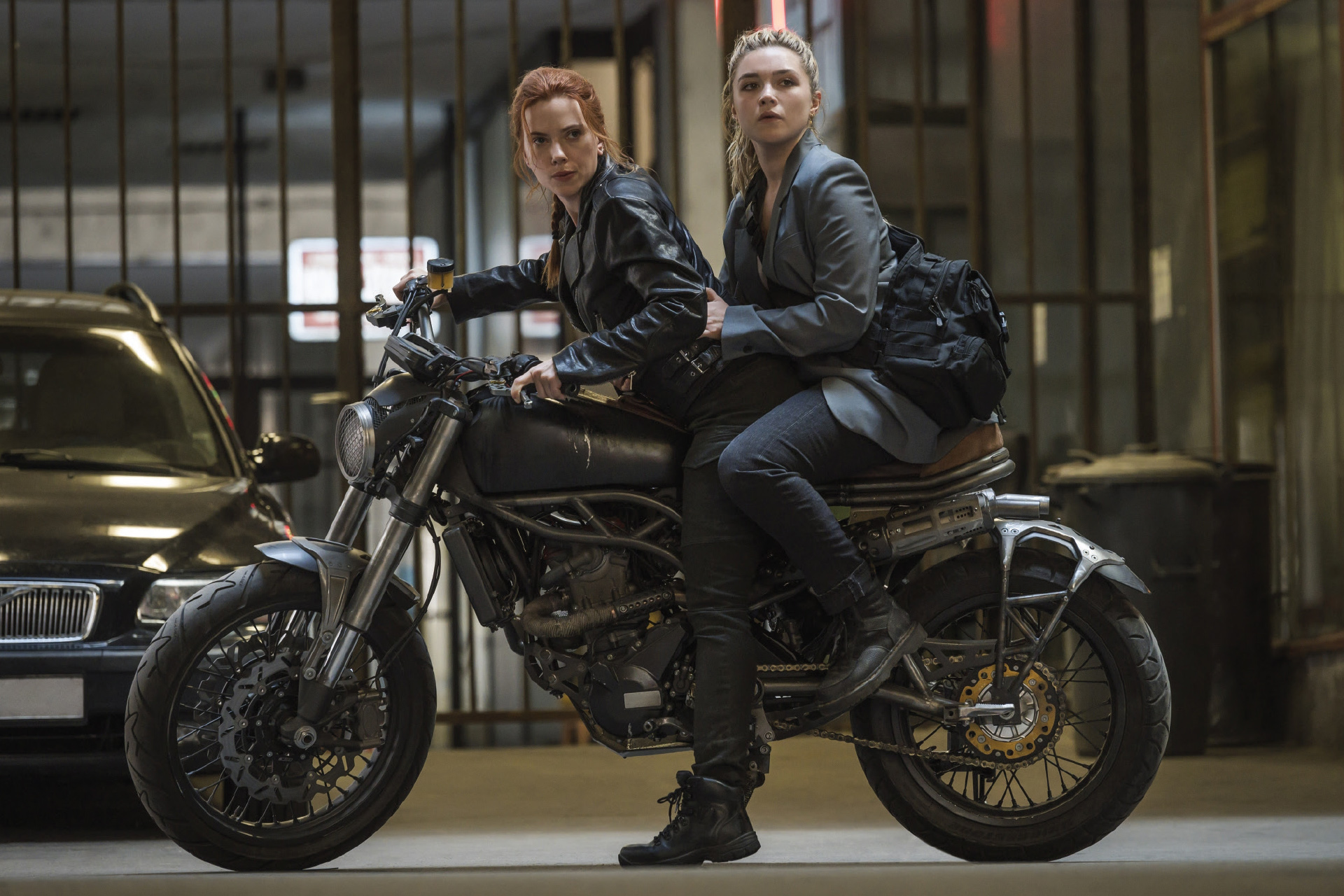 Family Ties
The family theme is explored right from the beginning with Natasha and kid sister Yelena (Florence Pugh) belonging to a The Americans-style fake family of Russian spies (Rachel Weisz and David Harbour) ensconced in Ohio. The movie starts with them being discovered and having to flee hurriedly to Cuba. The family is then broken up in an intense dramatic scene only to be reunited in a ridiculously comedic way later that makes you, the viewer, wonder if somebody had spiked your Coke with acid sometime around the end of the first act – as it definitely seems like you are watching a different movie! But in amongst the broad farce comes a profound revelation that I won't spoil but does change everything.
The Widows themselves are without true family, yet have a sisterly bond. What Pearson is suggesting, is that family is what we make it, not necessarily what we are born into. He underlines this with Natasha and Yelena bonding over the course of the movie to become 'real' sisters even though they share no blood with each other and having shared little actual time together in their lives. Both characters reject the option of carrying on living as kickass individuals tied down by no one and choose to become 'sisters' because they value the bond over having none.
Yet possibly the strongest idea in this movie is that of the Widows. Here the very real issue of vulnerable young girls around the world being snatched off the street – and sometimes even sold by friends and/or family – is broached. Now, of course, in the real world these girls are far more likely to be trafficked against their will into the sex industry than be brainwashed into becoming an elite force of ninja soldiers with no self-determination of their own – but we mustn't forget this is Hollywood. Audiences go to watch a movie to escape grim reality; they don't want to be reminded of it. Yet the makers of Black Widow haven't flinched from drawing attention to the plight of young girls around the world the best way they can given the restrictions of producing a family-friendly movie. Plus, it is an intriguing idea to have a Fight Club type of sub-culture of young women across the world all working together to achieve a common goal which could make its own movie – although the bit about obedient slaves for the patriarchy might need a tweak or two.

The Movie Itself
As a movie, Black Widow fits into the superhero genre neatly as it basically follows the usual Marvel formula; virtual non-stop action going on whilst the main characters stand around having deep and meaningfuls. Black Widow shares more than a passing resemblance to Connery-era Bond movies from; the Cold War style spy games; gratuitous use of exotic locations (including Morocco, Cuba, Hungary and Norway – just to toss a phone off a ferry!); megalomaniac villains and freakish henchmen. This fact is acknowledged by Shortland by including a clip of a Bond movie on a background TV. Like Connery who infamously played a Russian Navy submarine captain with a Scottish accent, Johansson can't do accents so the entire opening section was concocted to justify why an ostensibly-Russian Natasha speaks with an American accent throughout the Marvel series. But frankly, it was unnecessary. The audience knows this movie isn't Shakespeare and it wasn't that any of the other actors gave any convincing alternatives with a wild variety of guttural accents on display.

A New Legacy?
It has been 42 years since Sigourney Weaver delivered us the ultimate female action hero character of Warrant Officer Ripley in the movie Alien. Way back then in 1979, superb character actors like Yaphet Kotto and Harry Dean Stanton were still asked to audition for roles; Toy Love had a single in the NZ Top 50, Pink Floyd released The Wall and the original 'Iron Lady' herself, Margaret Thatcher, was elected UK Prime Minister. You would think that the impact of seeing such a genre-busting kickass heroine like Warrant Officer Ripley that long ago would've had a profound and lasting impact on cinema by now. That your average Tom Cruise action flick like Mission Impossible or Edge of Tomorrow would be just as likely to have a female lead as a male. But no, there is no Jill Reacher or Lesley Grosswoman, just more five foot seven, slightly built Tom Cruise playing big tough guys.
Black Widow is probably the best effort at a great female action hero movie since Alien. Sure, it's not perfect and Scarlett Johansson is no Sigourney Weaver but she is infinitely more popular with her fans and now has a movie she can use as a springboard should she wish to carve a new career for herself – with or without the Avengers.
Those who wish Black Widow was some other kind of movie would do well to remember that Hollywood makes entertainment to help people escape their lives for 90+ minutes at a time. Change is led by the people for the people – politicians and movie executives scurry along afterwards in their wake. There will be movies about the #MeToo movement coming out in the future but they won't be made by Marvel.
Image credits
Oscar® presenter Scarlett Johansson arrives for the live ABC Telecast of The 87th Oscars® at the Dolby® Theatre in Hollywood, CA on Sunday, February 22, 2015.
Film stills: Courtesy of Marvel Studios 2020