Transport yourself into another world with wallpaper that doubles as floor-to-ceiling art. A standout from their French Impressionist collection, this show-stopping wallpaper by Resene will be the talk of any home.
Available at Resene
Hawaiian Tropic
Switch to Island time and make the most of that annual leave. Fill the house with tropical touches such as cane and rattan furnishings, cheerful palm prints and tones of lush greens for a slice of paradise right here at home.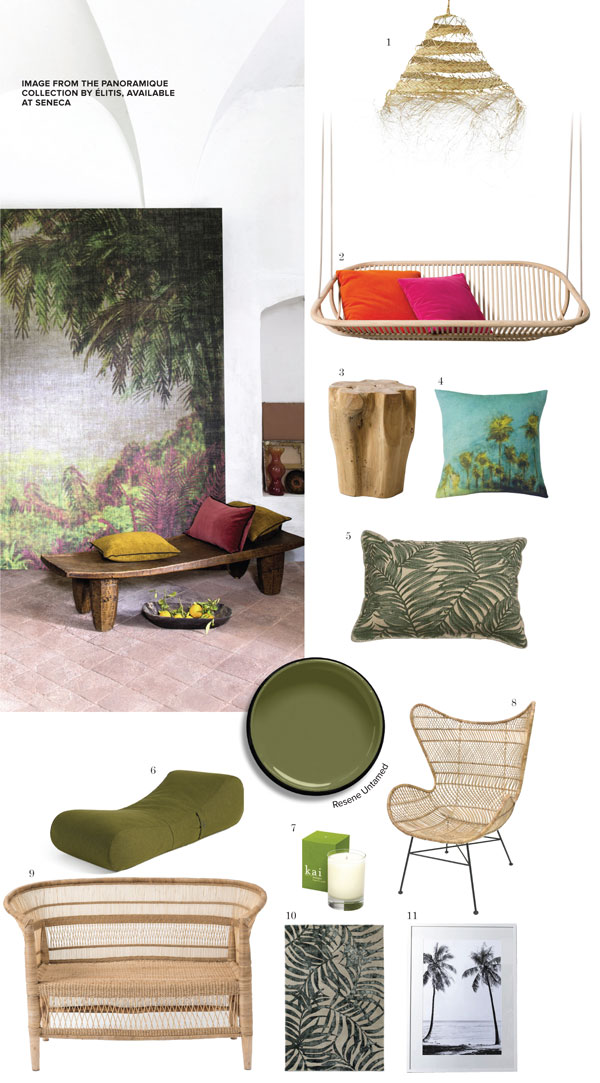 1. Light shade $349 from Nest. 2. Swing by Paola Lenti POA from ECC. 3. Teak stool $315 from Indie Home Collective. 4. Cushion by Genevieve Levy $259 from Madder & Rouge. 5. Cushion $79 from French Country Collections. 6. Beanbag lounger from $655 from Lujo. 7. Candle by Kai $76 from Mecca Beauty. 8. Armchair $999 from Nest. 9. Chair $940 from Citta. 10. Rug $4279 from Bo Concept. 11. Art Print $1195 from Indie Home Collective.
Style Tip
Keep the tropical trend looking sophisticated by sticking to a few elements per room off set by minimal pieces for the right balance.
Wedding BELLS
A beautiful yet low-key wedding requires just the right amount of practicality and special flourishes. Elegant gold accents, washes of romantic pastel and sweet detailing come together for an endearing take on a lavish scene.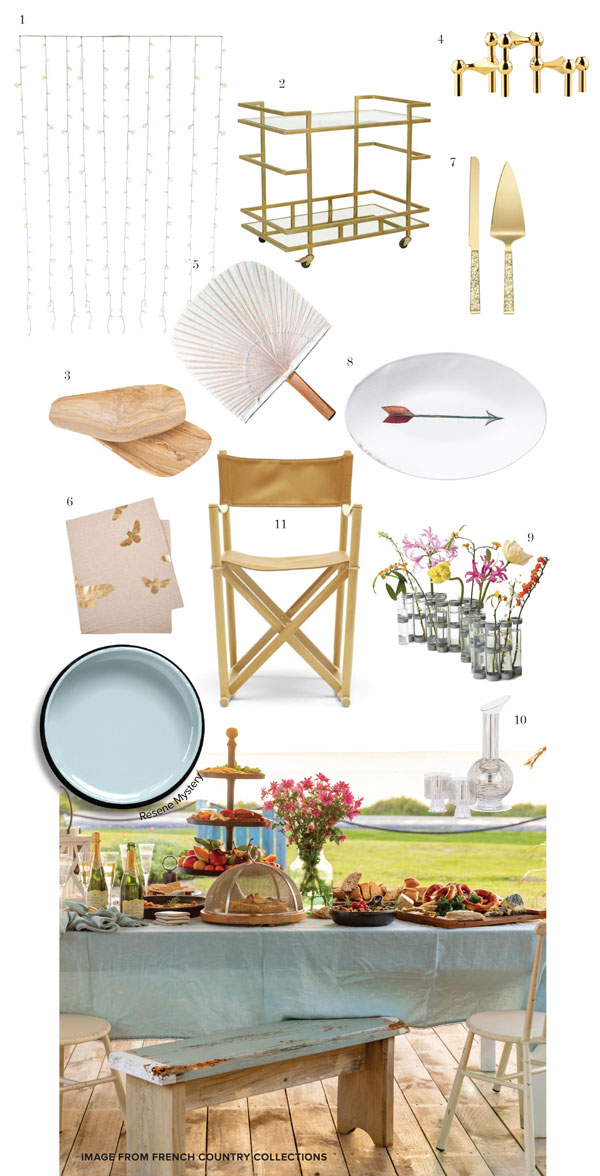 1. Curtain lights $175 from Nest. 2. Bar cart $1723 by Soren Liv. 3. Serving Boards by Cinq Étoiles $110 each from Tessuti. 4. Candle holder by Stoff $245 (for 3) from Good Form. 5. Japanese paper fan $95 from Everyday Needs. 6. Tablecloth by Bonnie & Neil $255 from Collected. 7. Cake Server Set by Kate Spade $179 from Smith & Caugheys. 8. Platter by Astier de Villate $239.90 from Corso de Fiori. 9. Vase by Tsé and Tsé Associées $359 from Madder & Rouge. 10. Jug set by Tom Dixon $554 from Simon James Concept Store. 11. Folding chair by Carl Hansen+Son POA from Cult.
Style Tip
Elevate the proceedings by investing in beautiful serving ware that can be kept and save on things such as elaborate floral centrepieces.
Pinky Promise
For a decidedly romantic colour combo, soft, dusky pinks are punctuated by lashings of bold, rich reds. In plush velvets and damask with hints of gold and brass, this pairing is perfect for transforming a drab space into a luxurious haven.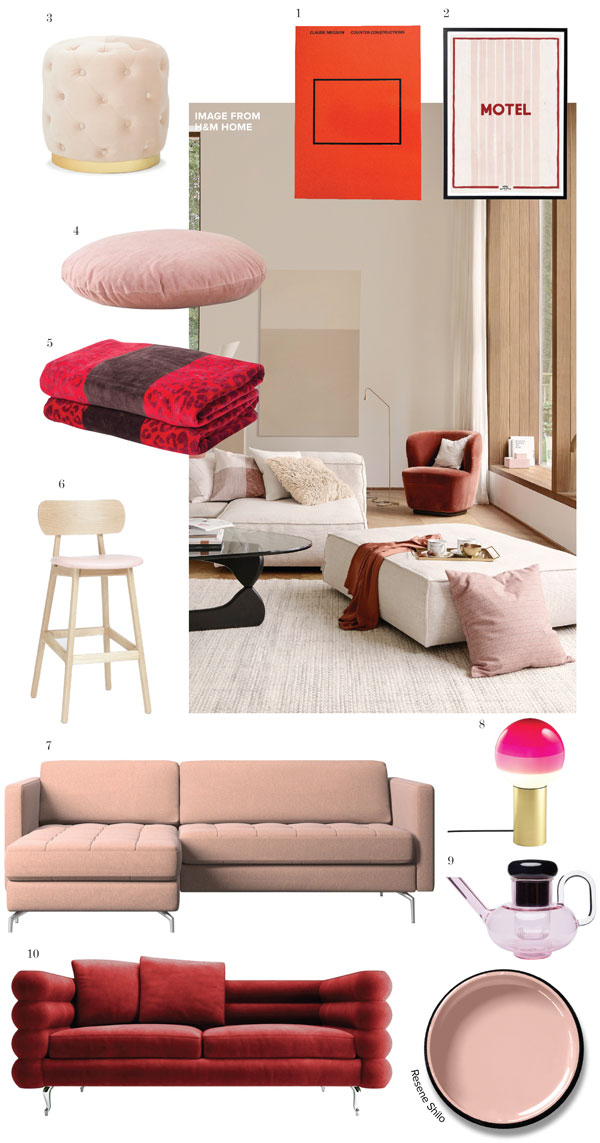 1. Claude Megson Counter Constructions by Giles Reid $105 from Everyday Needs. 2. Print by Hotel Magique $95 from Father Rabbit. 3. Ottoman $595 from Me & My Trend. 4. Cushion by KLAY from Tessuti. 5. Bath Sheets by Roberto Cavalli Home $159 each from Corso De' Fiori. 6. Chair $800 from Ben Glass Furniture. 7. Sofa $4159 from Bo Concept. 8. Table lamp by Marset POA from ECC. 9. Teapot by Tom Dixon $280 from Simon James Concept Store. 10. Sofa by Minotti POA from ECC.
Style Tip
Keep the ratios in mind when pairing the two hues, stick to one tone for the majority and use the other just as an accent.
Stars Aligned
Look heavenward for inspiration on all things celestial. Integrating futuristic, spacey elements such as geometric lines and sleek metal accents with intricate starry motifs brings a touch of whimsy and playfulness into the home.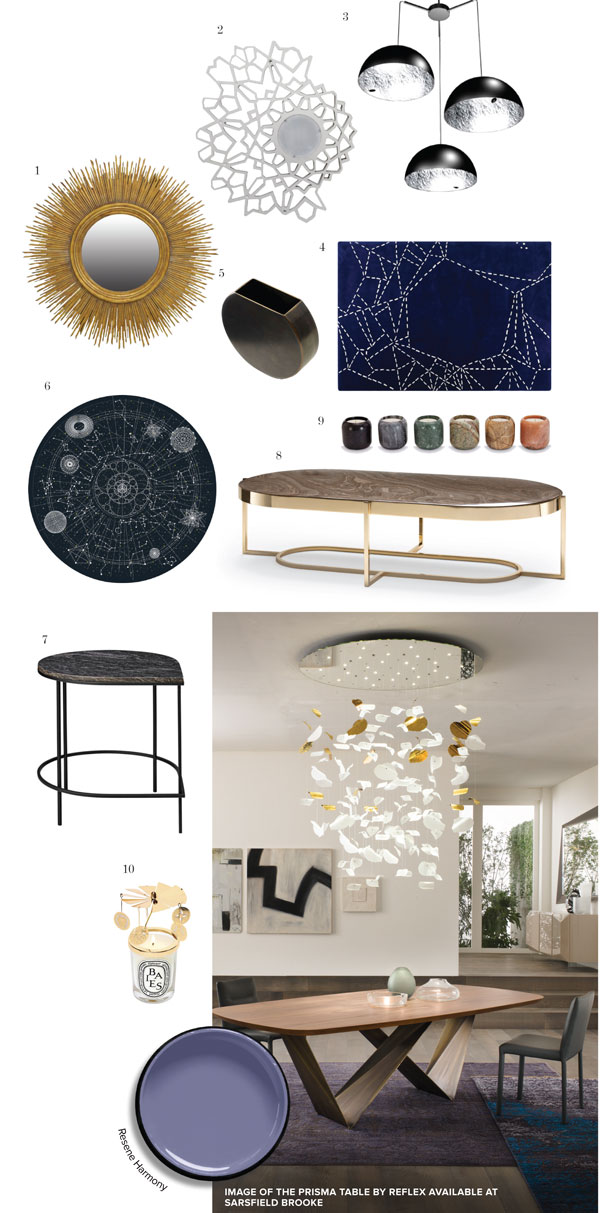 1. Mirror $1437 by Leopold Hall. 2. Wall light by Karman POA from ECC. 3. Chandelier by Catellani & Smith POA from ECC. 4. Rug by John Reynolds for Dilana $6735 from Mr Bigglesworthy. 5. Vase by Menu $344 from Simon James Concept Store. 6. Rug by Moooi POA from ECC. 7. Side table $1095 from HART by Partridge Design. 8. Coffee table by Opera Contemporary POA from Sarsfield Brooke. 9. Candle giftset by Tom Dixon $320 from Simon James Concept Store. 10. Candle by Diptyque $186 from Mecca Beauty.
Scales & SHELLS
An eclectic mix of curved detailing brings a sense of fun to a space. Coastal inspired elements such as scalloping and shell motifs look right at home for summer while quirky curved lines add an elegant yet unique spin to everyday objects.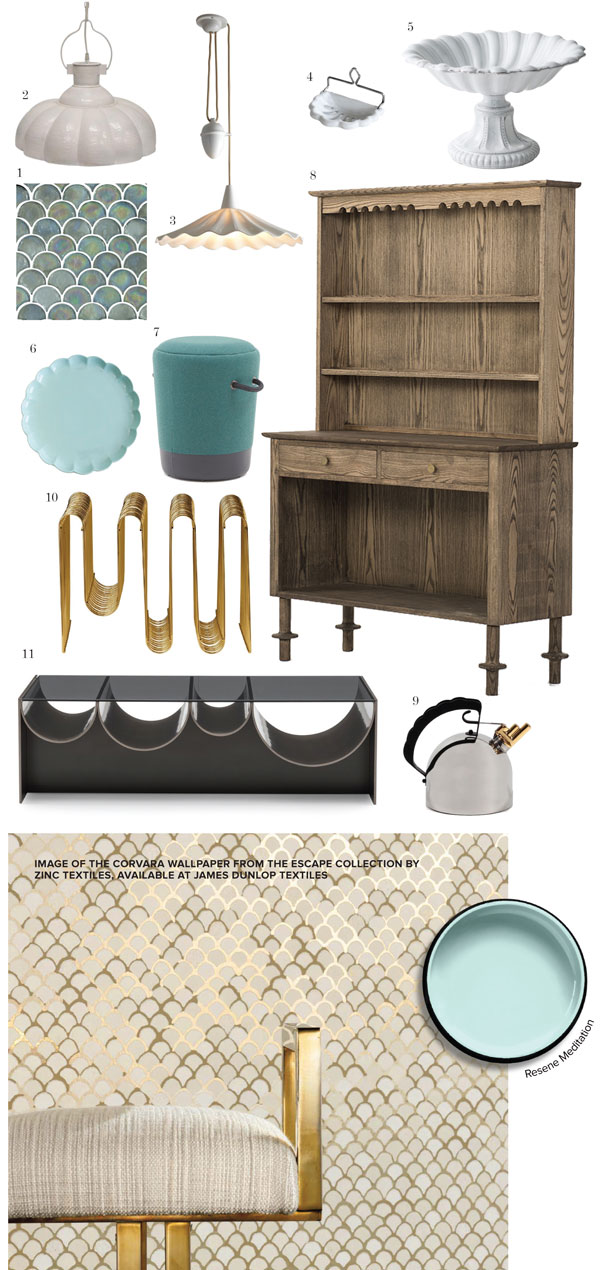 1. Mosaic tiles POA from Tile Warehouse. 2. Pendant $299 from Leopold Hall. 3. Pendant by Original BTC POA from ECC. 4. Soap dish by The Society Inc $69 from Father Rabbit. 5. Fruit stand by Astier de Villatte $424 from Corso De' Fiori. 6. Cake platter by Rachel Carley Ceramics $89 from Tessuti. 7. Duffel Stool by Tim Webber Design. 8. Dresser $5280 by Douglas & Bec. 9. Kettle by Alessi $735 from Simon James Concept Store. 10. Magazine holder by AYTM $365 from HART by Partridge Design. 11. Coffee table by Minotti POA from ECC.
Style Tip
Scalloped tiling is predicted to stay on trend for a few more seasons, to avoid an outdated façade- opt for a splashback placement in a bathroom rather than an entire wall.