Get lost in a good book this Summer with M2woman's ultimate reading list.
Love Objects
by Emily Maguire, Allen & Unwin, $24.99
Love Objects is the sixth novel from Stella Prize-shortlisted author of An Isolated Incident, Emily Maguire, promising a witty, observant and deeply compassionate story about the complexity of family dynamics, and the often fraught social and emotional repercussions of love, betrayal and forgiveness. The third-person narrative – split between 45-year-old hoarder Nic, a woman "half-buried by junk and tat", her 20-year-old university student niece, Lena and Lena's brother, Will – opens with two poignant falls on Lena's part as she literally tumbles from a dressing table while trying to employ a hook that is "tired of being alone and unused" while figuratively, also suffering a humiliating betrayal by a lover. Maguire's novel resonates with compassion for her characters and the complex family dynamics that unfold as they navigate how to regain control of critical aspects of their lives.
No Plan B
Lee Child and Andrew Child, Penguin, $37.00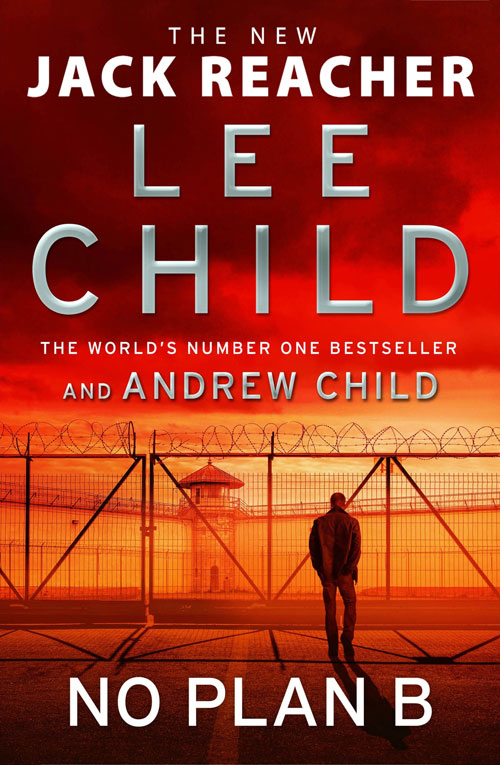 The new Jack Reacher thriller from Lee Child and Andrew Child follows the events of Better Off Dead (2021) as Jack Reacher embarks on a bus trip to Gerrardsville, Colorado. His intentions to explore the small town are thwarted when he witnesses a murder of a woman, who is pushed suddenly in front of a bus by a mystery man. Reacher, true to form, sets off to uncover the workings of this gruesome deed. Unaware that it is just one part of a larger, sinister conspiracy involving some powerful players, before Reachers knows it, he is in way too deep to back out with the only option to solve the mystery and extract himself the old-fashioned way. As we have come to expect from the sibling thriller writers, No Plan B, which is the third book co-penned by the brothers, is yet another Jack Reacher classic – a bone-crunchingly action-packed, masterfully plotted justice-seeking escapade positively bulging with bad guys that will appeal to both die-hard Reacher fans and those with a general penchant for thrillers. As we've come to expect, it's substantially more than just a guy handing out his signature type of justice; the novel deftly balances multiple and at first seemingly unrelated plot lines that leave no room for error.
Oh William!
Elizabeth Strout, Penguin, $24.00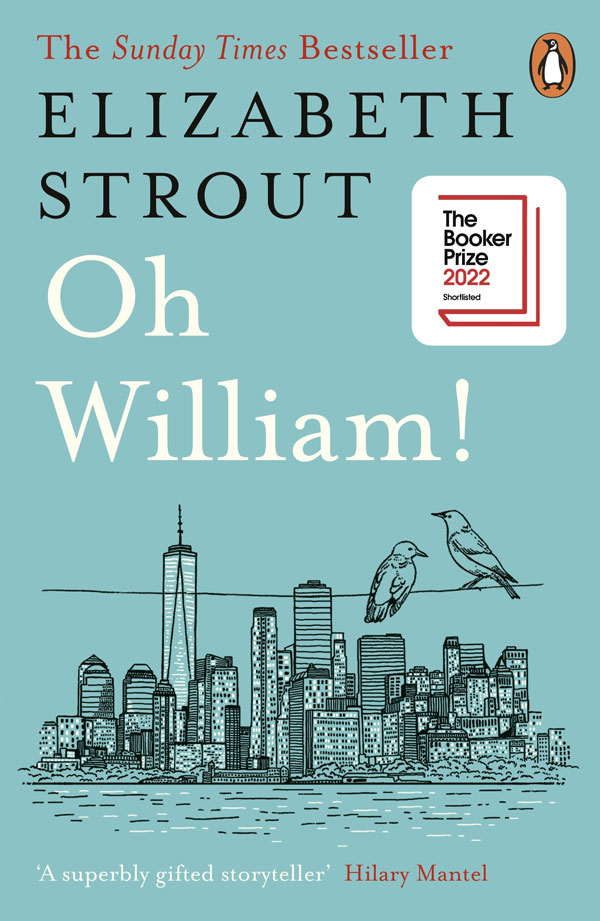 Pulitzer Prize winner, Elizabeth Strout, once again, holds our attention with her eighth book Oh William! with the indomitable voice of her charming central character, Lucy Barton. Lucy graces the storylines of Strout's previous titles, My Name is Lucy Barton (2016) and Anything is Possible (2017) over the course of which we learn of her traumatic childhood and climb to success as a writer in New York City. In Oh William!, the honest and plainspoken Lucy is mourning the death of her second husband, a cellist, named David Adramson though the novel-cum-fictional memoir centres on the entirety of Lucy's relationship with her ex-husband, William – that significant other who has remained a mystery to her. Which begs the further conundrum as to why the pair have always remained so very connected. Things get interesting when William invites her to join him on a trip to investigate a freshly unearthed family secret – one with the power to rewrite history and upturn the relationships of those closest to them. Lucy's reflection and commentary on the very nature of existence is at once profound and enduring, as her character places a magnifying glass on those latent forces that bind us to each another, prevailing over time and the ebb and flow of relationships. "This is the way of life", Lucy says: "the many things we do not know until it is too late." Odds are, Oh WIlliam!, which has been shortlisted for the coveted Booker Prize 2022, will have you at the book's very first line, "I would like to say a few things about my husband, William…"
Wild Abandon
By Emily Bitto, Allen & Unwin, $24.99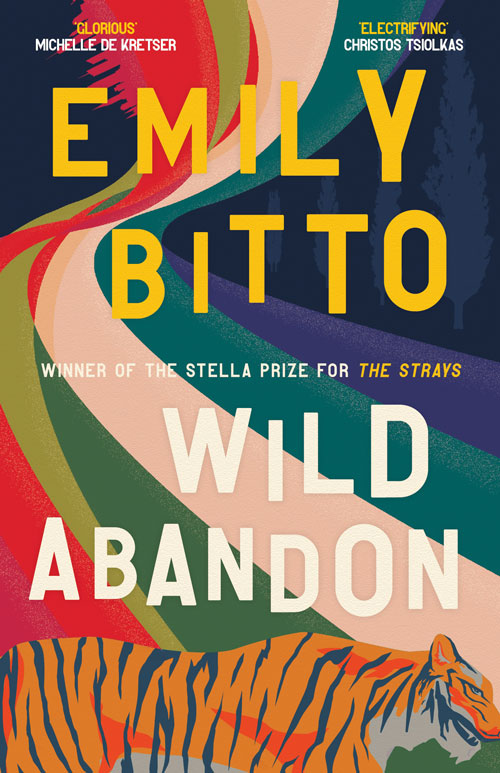 Melbourne-based writer Emily Bitto's new novel, Wild Abandon has been well worth the wait. Her first novel, The Strays won the Stella Prize in 2015 and this exhilarating coming-of-age American odyssey of a heartbroken young man who has fled to the excesses of New York in an attempt to outrun a failed relationship, has been shortlisted for the 2022 ABIA Literary Fiction Book of the Year no less. The story is set against the backdrop of two starkly different sides of America, reflected in the novel's structure being divided into two parts each titled "America". Unlikely and unstable friendships are formed as Will embarks on a doomed road trip into the depths of the America heartland, vowing to say yes to everything that crosses his path. As he hurtles toward his journey's cataclysmic end, what started as a mere escape has morphed into a thrilling and heart-breaking journey of self-discovery, which doesn't necessarily bear a better version of himself. And Bitto couldn't be more eloquent about it: "What in truth was he doing – seeking – on this knee-jerk caper? What was he? Brave explorer of the new cultural motherland? Lame desperate escapee and shirker of the debts of his various bankruptcies: material, spiritual, amorous? Or a mere touristic dandy, mass-produced surveyor of the mass-produced sites laid out for his predictable ocular and fiscal consumption, nourishing as orange soda and significant as bottle tops?"
Before You Knew My Name
By Jacqueline Bublitz, Allen & Unwin, $22.99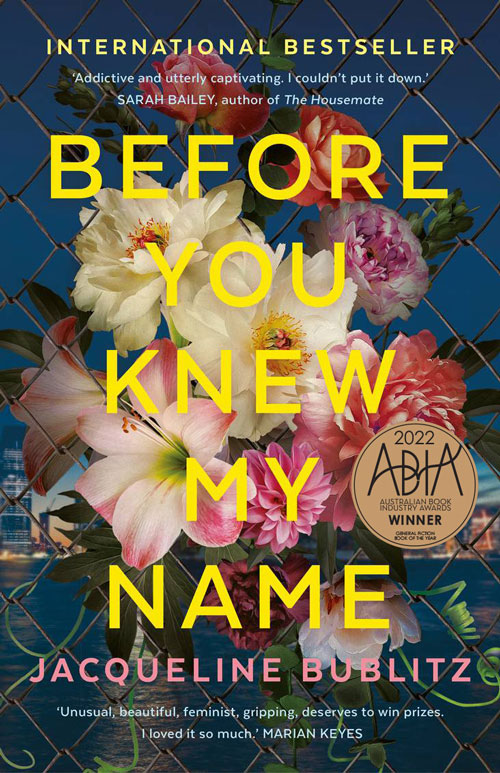 Jacqueline "Rock" Biblitz has hit one out of the park with her debut novel, Before Your Knew My Name, taking away the ABIA Award for General Fiction Book of the Year amongst a whole slew of other Australasian literary prize wins. Biblitz wrote her ambitious crime novel after spending a summer in New York where she frequented morgues and the dark recesses of city parks – as you do. Her exploration of the human psyche and the universal themes of love, loss and connection are deftly and powerfully conveyed in the story, which is far more than just a whodunnit, weaving in romance, philosophy, feminism, inequality and our cultural obsession with dead girls. Told through the charmingly naive gaze of Alice Lee, a Wisconsin teen who is struggling to get on with life in the wake of her mother committing suicide, Alice flees to New York in a bid to start her life afresh only to become the city's latest Jane Doe case. Things get interesting when Ruby Jones, also an escapee to New York, discovers her body whereupon Alice's spirit forms an unbreakable bond with her and the extraordinary story unfolds from there.
Needs Adult Supervision Lessons in Growing Up
By Emily Writes, Random House, $35.00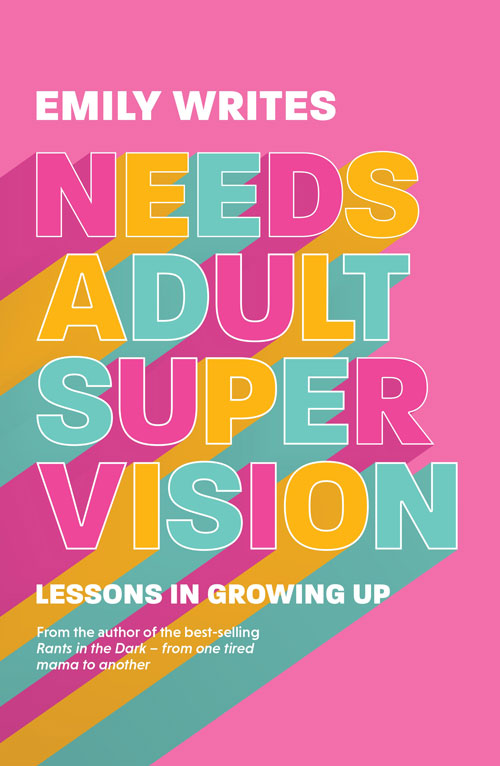 Anyone who is a parent will likely get a kick out of Emily Writes' latest book, Needs Adult Supervision, which paints an acutely insightful and hilarious picture of the trials and tribulations of soldiering on as a parent even when you are not at all feeling up to it, and the realisation that your kids aren't the only ones navigating their way through growing pains – from grappling with the illusion of an immaculately functioning home on your child's school Zoom session to staging a funeral for a sea creature with all the necessary pomp and circumstance. Emily's brutally honest stories on the challenges of growing up as your children grow up are at once funny, sad, thoughtful and ultimately, inspiring for all parents at all stages of life. And we might add, even an insightful yet irreverent heads-up for those who are parents-to-be.
Shrines of Gaiety
By Kate Atkinson, Penguin, $37.00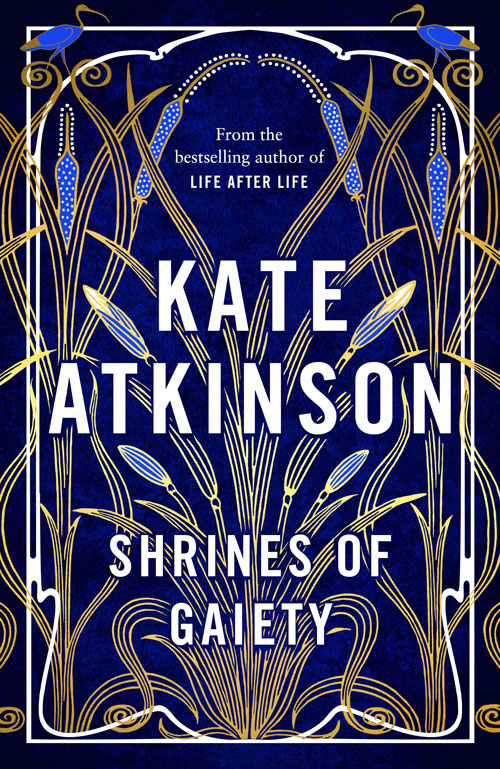 Kate Atkinson, the award-winning author of Life After Life transports us with her thirteenth outing to the glittering world of London in the Roaring Twenties, a country still recovering from the Great War yet with a burgeoning new nightlife in the dazzling clubs of Soho. At the centre of all of this is the infamous Nellie Coker, the tale opening with her release from prison to retake the reins of her empire and her brood of five devious adult children – Niven, Ramsay, Betty, Shirley and Kitty. Amid this whirlwind tale of corruption, seduction, debts due and all things dire told with Atkinson's unique Dickensian flair, there are plenty of humorous and brilliantly observant moments that are a testament to her writing prowess such as "a rancid dish that had never met the cow it claimed to be acquainted with" regarding the beef stew in prison and "Nellie disliked flowers, considering them to be too needy." As Nellie's success breeds enemies, her empire faces threats at every turn amid the dark underbelly beneath all the glitz and glamour of Soho.
The Bullet That Missed (The Thursday Murder Club 3)
By Richard Osman, Penguin, $37.00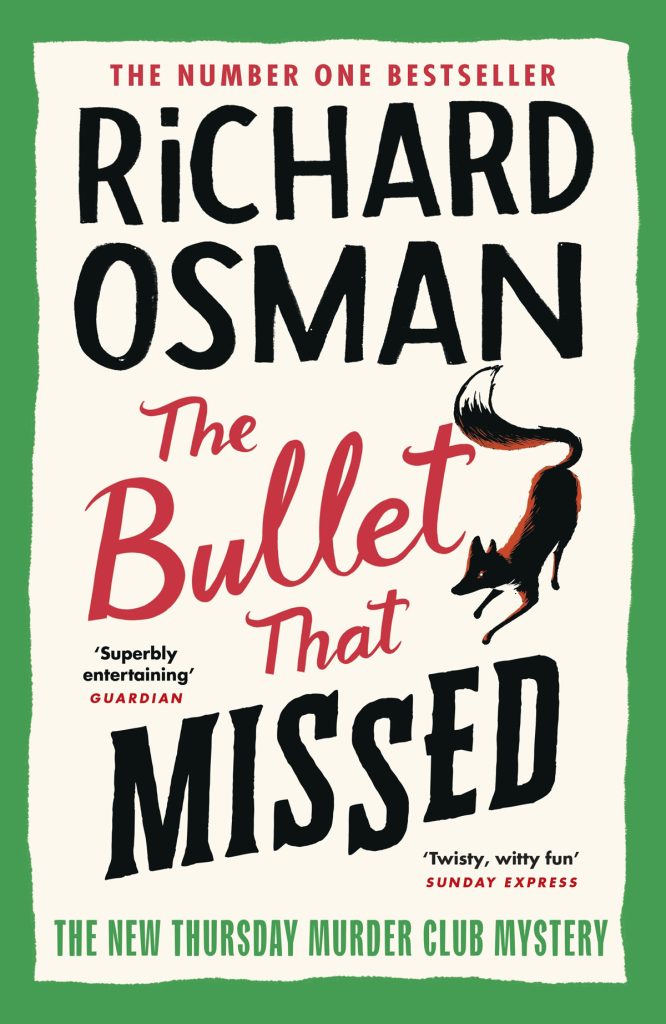 Richard Osman first introduced the delightful band of elderly sleuths in The Thursday Murder Club last year and his debut novel was a publishing phenomenon, selling millions and with Steven Spielberg promptly snapping up the film rights. The sequel, The Man Who Died Twice followed hot on its heels and now the third installment has been delivered, promising yet another ingeniously constructed tale brimming with adventure, intrigue and humour. This time, the "four harmless pensioners" who meet once a week in the Jigsaw Room in the plush confines of their retirement village to investigate unsolved crimes, focus on the case of missing and presumed dead, Bethany Waites. Ten years ago, the television legend's car went off a cliff while she was investigating a tax fraud operation. Of course, trouble is never far away and it is not long before the amateur detectives, inspired by "The A-Team", are hot on the trail of not one but two murders, ten years apart.