Whatever the weather, whether it be the winter cold or the summer heat, we can still find our skin yet again, prone to being zapped of all its moisture. And our lips are no exception. Most of the time lip care is just an afterthought. However, unlike the rest of our skin, our lips do not possess oil glands, which means they cannot produce their own moisture, making them more susceptible to drying out and becoming chapped. Reasons why lips should receive just as much if not more care and attention than the rest of our skin.
Lip care can be difficult for those who have easily irritated, sensitive lips. Luckily, our friends over at Blistex are here to help again. Dermatology tested; the new Blistex Lip Infusions Soothing has an advanced sensitive lip care formula that is gentle on your lips but tough on dryness, to soothe chapped lips and keep them soft, smooth and conditioned with maximum comfort.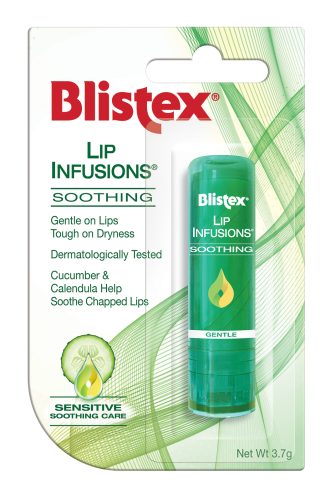 Tasked with delivering no less than outstanding moisturisation, this lip care bestie is formulated with a twist especially for sensitive lips. Blistex's Lip Infusions Soothing is infused with Cucumber Seed Oil and Calendula to help soothe chapped lips, while Coconut Oil And Natural Beeswax moisturise and protect lips. The mineral oil free formula also is SPF free. Enjoy the freshness of Cucumber and Mint flavour while maintaining soft, smooth lips no matter the season.