Need some stylish new luggage? Or are you always running low on battery at the airport? Our Travel News will sort you out.
Charging Ahead
Keeping connected while travelling can be hard. With long-haul flights and hard-to-find power points, your phone battery often dies right when you need it. Travel influencer Stephanie Lai (@thetravelkid.nz) knows this all too well, having forgotten her charger during a recent trip to Taiwan. Luckily for Stephanie, the battery on her Huawei Mate 20 Pro lasts up to two days, leaving her with plenty of time to enjoy the sites without having her phone die on her at just the wrong time. Even when you have limited time to charge your devices, the Huawei Mate 20 Pro is a lifesaver being able to reach 70 percent by only charging it for 30 minutes. The ideal companion for those who like to get exploring while on their travel adventures, rather than staying cooped up in a hotel room.
Travel Trendy
Bring so isolated from the rest of the world, New Zealanders are known for their sense of wanderlust and a desire to explore the world outside of our bubble. However, when it comes to travelling, we are often left with few stylish choices to carry all our travel essentials in. Roanne Jacobson, founder of luxury New Zealand handbag label, Saben, noticed this gap in the market and has filled it with a beautiful luggage range to satisfy even the most discerning traveller. Coming in three suitcase sizes with two colours to choose from, the luggage has a durable, moulded polycarbonate case, rose gold hardware and 360-degree dual spin wheels to get you through those international stopovers with ease.
Road Trip Ready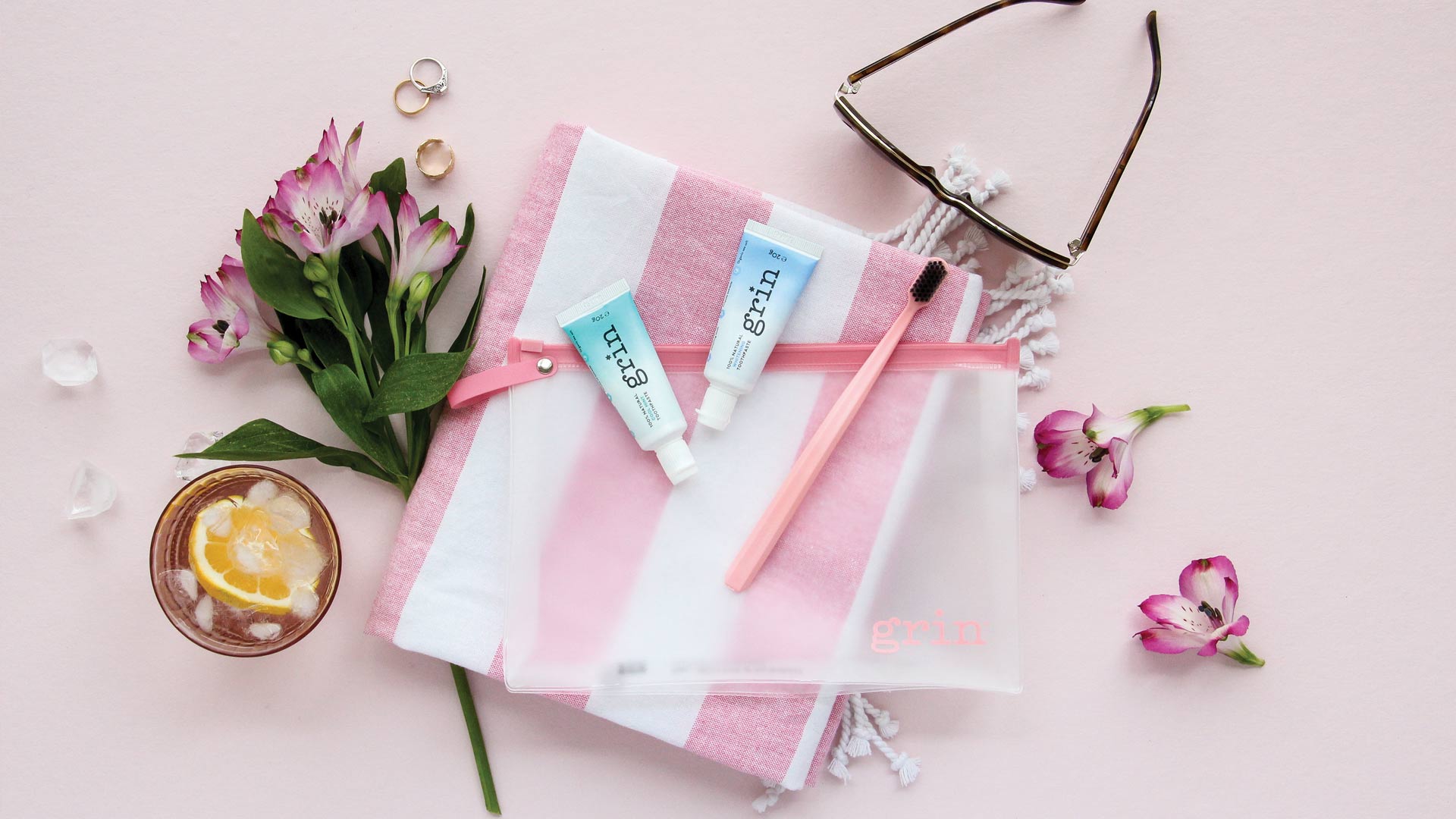 The Summer months mean days spent at the bach or on camping trips, and usually comes with the dilemma of trying to fit all the essentials in our bags without overpacking. Natural oral care company, Grin, have put together the ideal kit for those Summer road trips all contained within an eco-friendly, waterproof travel bag. Coming in either pink or blue, the kit contains a travel-sized toothpaste and a charcoal-infused biodegradable corn-starch toothbrush, with enough room to fit all your other toiletry needs.
Rave Reviews
You may think New Zealanders have to go overseas if we wanted to dine at the world's top restaurants, but it turns out we may have one of the best right here in Aotearoa. Travel site TripAdvisor have just announced the world's top rated restaurants for 2018 and Auckland's The Grove features at ninth place. Serving up modern New Zealand cuisine with French influence, The Grove sits at the top with Michelin-starred restaurants Au Crocodile in France and El Cellar de Can Roca in Spain and its rating is based on reviews on TripAdvisor from the previous 12 months. Here is the complete list of the Top 10:
Au Crocodile, Strasbourg, France
Martin Berasategui, Lasarte, Spain
El Celler de Can Roca, Girona, Spain
Restaurant Sat Bains Nottingham, United Kingdom
Restaurante Benazuza, Cancun, Mexico
La Colombe, Constantia, South Africa
TRB Hutong, Beijing, China
Ristorante Villa Crespi, Orta San Giulio, Italy
The Grove Auckland Central, New Zealand
David's Kitchen, Chiang Mai, Thailand