The renown music journalist, Steve Albini once wrote: "In heaven, after antipasti, the first course will be pasta." Italian food truly comes from the heart. It's an abundance of different tastes and flavours and it is so securely fastened in the foodies fabric around the world.
Nearly anywhere you go has an Italian restaurant or pizza shop. Up and down New Zealand, more and more establishments are serving out high-end Italian cuisine. Francesca's Italian Kitchen in Wanaka is on the top of that list.
Opened at the end of 2012, Francesca's Italian Kitchen is a gourmet twist on authentic Italian dishes, and has been highly talked about for years, being a magnet for pizza and pasta lovers alike. Francesca Vosa's vision came from family-roots. Growing up around the food industry, she really found the relationships between producer to supplier, chef to customer, enlightening.
After many years at travelling the world, she landed a job as executive chef at Whare Kea Lodge at Lake Wanaka and met James Stapley. Stapley grew up in Kent, England and was taken with a passion for cooking from his parents. He took his first career step at the Park Lane Hilton and, after years of working his way through the industry, ended up on these shores at the same Lodge as Vosa. It was there him and Francesca began collaborating about their love for Italian food. And the rest is history. Since its opening, Francesca's Italian Kitchen has taken over Wanaka, Christchurch and Dunedin and last year Vosa and Stapley released a cookbook featuring approximately 80 different recipes such as antipasti, salads, mains and dolci. We sat down with both Francesca and James and talked motivation and food. Molto, molto bene!
What motivated you both to co-write, Francesca's Italian Kitchen?
Francesca Voza: We had been asked many times over the years when we were going to write a book, most people wanted the polenta fries recipe ! We already had a trip planned for 6 weeks in Italy so thought it would be a perfect time to combine all our restaurant recipes from the last 6 years, plus new ones we picked up on our trip round Italy.
James Stapley: It's been nearly 7 years of owning the restaurant and we really wanted to share our recipes, we did a 6 week trip around Italy and got re inspired so wanted to share some of the dishes we discovered as well.
What are you hoping that readers will take away from the book?
FV: That Italian cooking is based around simplicity. As long as you use good quality ingredients and buy seasonal produce wherever possible, then you can't really go wrong!
JS: I would love it to be the kind of book that gets used often, maybe some sauce stains and olive oil marks on it, I hope it makes people realise that less is more with Italian cooking and to just use the best ingredients.
How did you both get involved and attracted to cooking?
FV: My parents had restaurants in the UK and I was brought up working in them from a very young age . I worked both front of house and in the kitchen and learnt both sides of the restaurant from my parents . My mum is an amazing cook and I was brought up eating Southern Italian food, one of the first things I learnt to cook was the melanzane that's in the cook book.
JS: I have been a chef for 26 years starting my career in London at the Park Lane Hilton. I was always fascinated by food and really enjoyed every aspect of being a chef. We travelled a lot growing up in England, we would spend time in Spain, France, Italy, etc. We would go to markets and small local restaurants so I was hooked on food from a very young age.
What is the one recipe from the book that you are most passionate about?
FV: For me it's the pizzas. I've always loved pizza and trained as a pizza chef in the UK. I love creating new flavours, using whatever is in season. One of my favourites is the Parma – made using prosciutto, roasted red peppers and vincotto
JS: There is a lot in there, I think my favourite right now is the prawn pachari. We had a very similar dish in Sicily, right in the middle of a fish market. It brings back a lot of good memories and was delicious!
Are there places you draw your inspiration from?
FV: I love visiting Italy whenever I can and I am amazed how the dishes change with each region you visit. I still remember the restaurant that started my obsession with pizzas. It's called Nonna Scheppe and is in Paestum where my family is from. I was about 8 years old and had a pizza with anchovy and courgette flower. We went back to that restaurant when we were in Italy writing the book and I was pleased to see it was still on the menu.
JS: We follow the seasons and the produce but going to Italy is always a great reminder of how good simple food can be.
Do you keep to your roots in your cooking?
FV: I still work on my food truck every day during the summer making pizzas, I absolutely love it! At home, I mainly cook Italian too as it's so quick and simple to make.
JS: We both have other restaurants/businesses so when we are in Francescas Italian Kitchen, we put that hat on and stick to our formula of simple but interesting Italian inspired dishes
If you could master another international cuisine, what would it be?
FV: Probably Chinese. I've travelled there 3 times and love the food, it is so different to the Chinese food served outside China. I love the way they can combine sweet, spicy and sour at the same time. There is always such a depth of flavour to their dishes .
JS: I love Japanese food. I would love to do a big trip around Japan and discover some of the local dishes.
What legacy do you both want to leave behind?
FV: My favourite thing is when the customers tell me that the meal takes them back to Italy. I love that on the other side of the world, we can still remind them of their travels and recreate memories for them. I hope that customers who buy our cook book while on holiday recreate our dishes and it will remind them of their trip to New Zealand.
JS: I think with Francescas, we wanted to make a restaurant that everyone feels comfortable in. It's a place to eat great food and drink great wine in a relaxed environment. Now with the book, I hope that more people will get to experience it.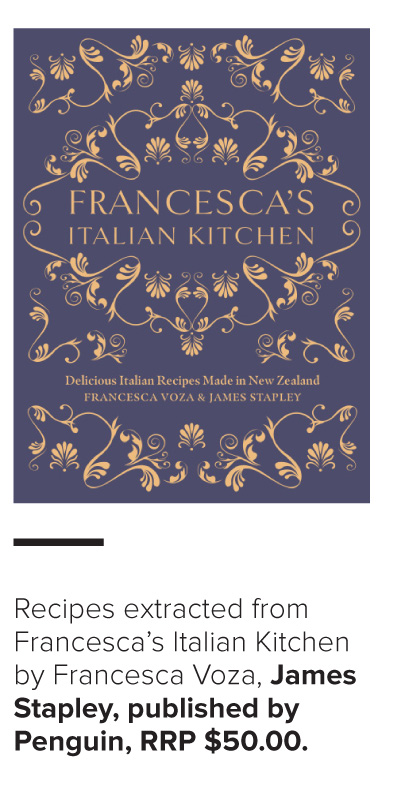 What's one ingredient that is essential and has prime position in your pantries?
FV: Balsamic vinegar! I drizzle it over everything.
JS: I think good quality extra virgin olive oil. It's the start and finish of so many dishes
Where to next? World domination?
FV: Yes, why not! I think every country should have at least one Francesca's Italian Kitchen
JS: We have a few different restaurants on the go and it's a lot of work, so this is more than enough for me at the moment! We are always excited by restaurants and hospitality so who knows what's round the corner.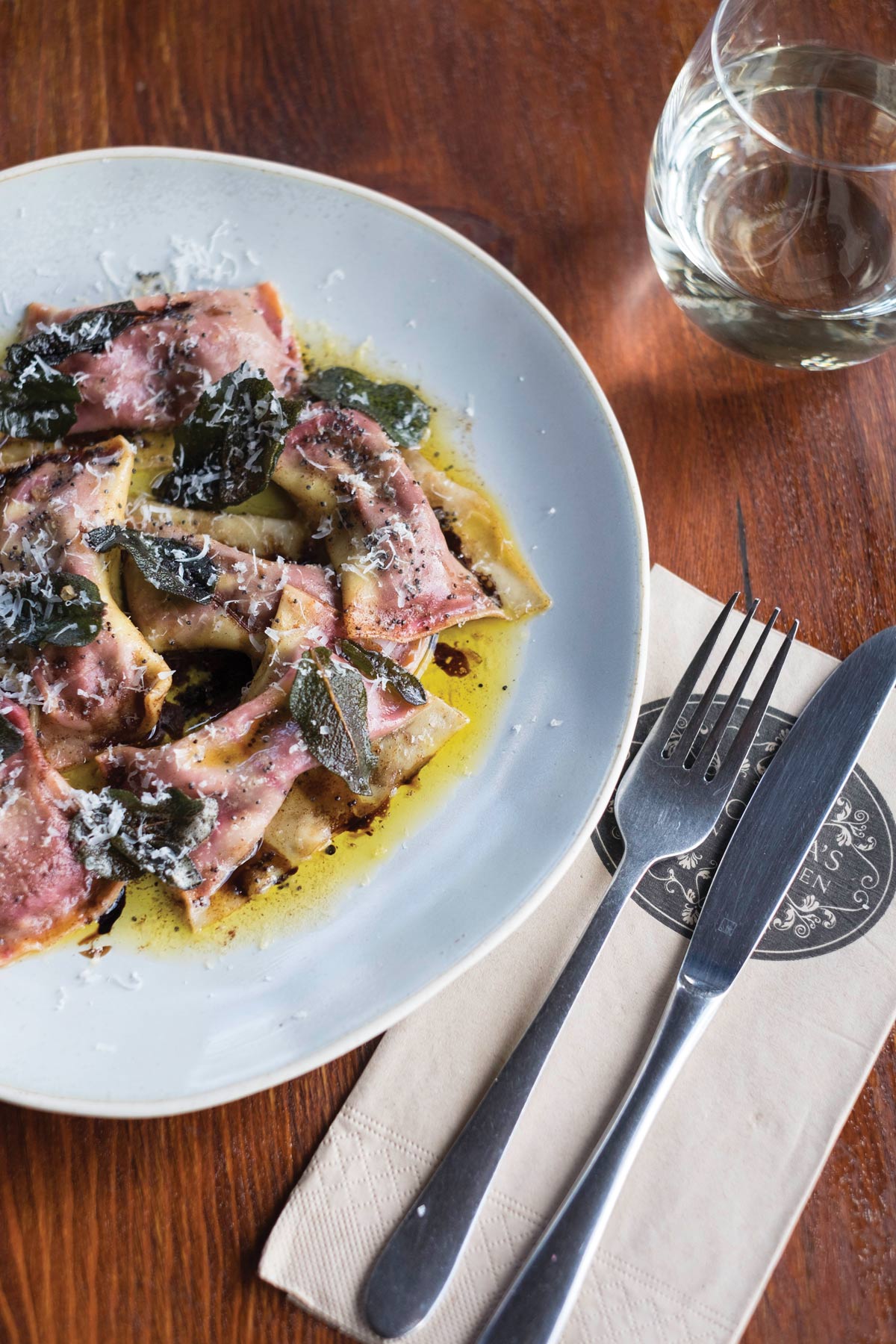 Beetroot Agnolotti with Nut Brown Sage Butter and Poppy Seeds
This dish has been on the menu since the beginning and remains one of our most popular. Agnolotti means 'pillow' – I like the ratio of pasta to filling in these 'pillows', and that you can eat them without feeling too full. The combo of beetroot and nut brown sage butter with the acidity from the vincotto makes this one of my favourite dishes. You will need a pasta machine for this recipe.
Serves 10 as an entrée
Beetroot Filling
5 medium beetroot
3 garlic cloves, peeled and crushed
50g soft goat's cheese
100g Parmesan, finely grated
1 tsp salt
½ tsp cracked black pepper
2 tsp sugar
25g breadcrumbs
20 large fresh basil leaves, chopped
olive oil, for drizzling
Nut Brown Sage Butter
250g salted butter
1 cup fresh sage leaves
1 tbsp poppy seeds
To Serve
good-quality store-bought vincotto
Parmesan
Make the pasta dough, then cover with plastic wrap and refrigerate for 1 hour minimum or overnight if you want to make the agnolotti the next day.
Preheat the oven to 180°C.
To make the filling, place the beetroot in a roasting dish and wrap tightly with foil. Roast for 45 minutes.
Allow the beetroot to cool, then peel. Put the peeled beets in a blender or food processor with all of the other filling ingredients and blend for about 30 seconds to 1 minute until very smooth.
To make the nut brown sage butter, cook the butter and sage in a saucepan over a low to medium heat for 3–5 minutes, stirring all the time, until the butter is brown with a nutty smell and the sage is crispy. Set aside.
Take the pasta dough out of the fridge, remove the plastic wrap and cut into 4 equal pieces. Working with a piece at a time, roll out with a rolling pin until thin enough to fit in the widest setting of your pasta machine. Each time you run the pasta through, decrease the width by one until you have reached the thinnest setting and you have a long, thin strip of pasta.
Put the beetroot mix into a disposable piping bag and cut the tip off with a pair of scissors so you have about a 2.5cm hole. Working with one sheet of pasta at a time, pipe the mix down the length of the pasta sheet on the edge closest to you, then brush the other side with a little water. Roll the pasta away from you onto itself, so the water sticks it together and it resembles a sausage roll shape. Leaving a 2cm gap between the roll and where you are cutting, trim the excess pasta using a pizza cutter or sharp knife. The excess can used to make another roll. Using your little finger, make indentations along the filled strip to divide it into 6cm pieces. Use a pizza cutter or sharp knife to cut along the indentations and make little agnolotti shapes (approximately 8 pieces per person as a main).
Bring a large pan of salted water to the boil. Cook the pasta for 3 minutes in batches of no more than 16, then place on a tray and drizzle with olive oil.
While the pasta is cooking, warm the sage butter in a frying pan over a low heat. Once the butter is warm, add the agnolotti to the pan and stir through until warm. Sprinkle over the poppy seeds just before you remove the pan from the heat.
To serve, divide the agnolotti between your serving dishes and spoon over the sage butter. Drizzle a small amount of vincotto over the top and a light shaving of Parmesan. Serve immediately.