At Nine Orchard, history and modernity seem to have intertwined seamlessly, creating an enchanting time warp where the essence of New York's charm resides within four walls. Here, dreams come alive, and guests find themselves living the quintessential New York experience they've always longed for.
What was once the Jarmulowsky Bank building, built in 1912, retains much of its century-old grandeur. Now it embraces a new identity as a luxurious hotel, masterfully recreated by a talented team of architects and historians. The lobby, a mesmerising tableau of maximalist Gucci wallpaper, soaring ceilings, and cascading chandeliers set the stage for an unforgettable experience.
As ornate as the façade and the public spaces might be, the rooms opt for something a little more subdued. The interiors exude warmth and charm, seamlessly blending bygone elegance with contemporary comforts. Every detail, from the painted room numbers to the cosy chairs and simple tables, evokes the essence of the New York apartment—elegant and inviting, with a touch of nostalgia. Think subdued materials of the highest quality, custom fixtures, restored moldings, and large windows that showcase generous vistas of the city and the vibrant surrounding neighbourhood.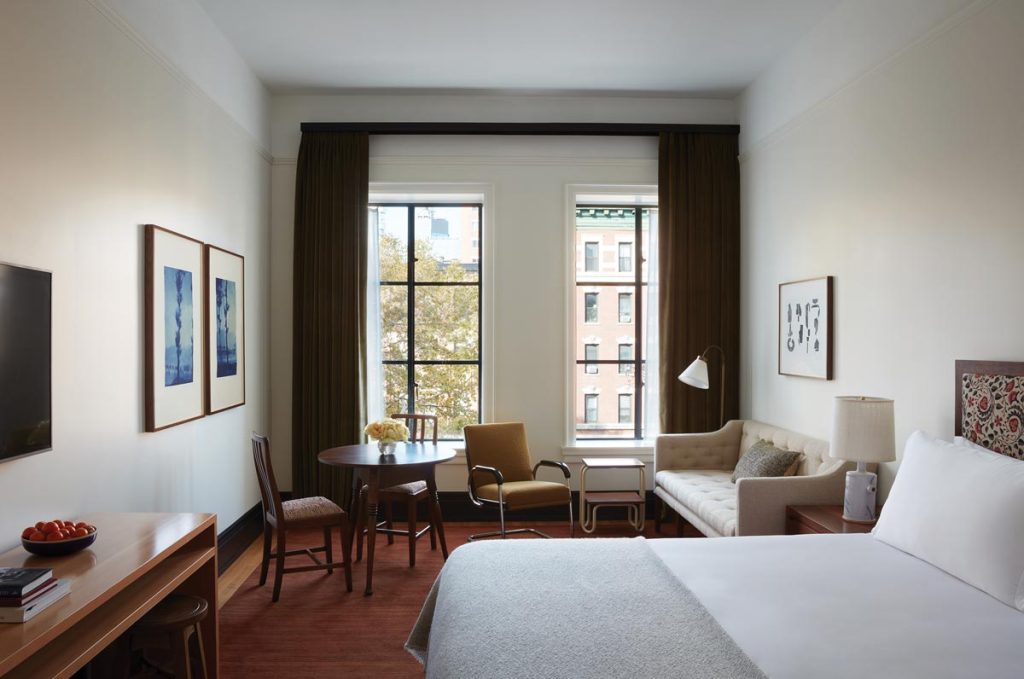 For the full experience be lucky enough to book in one of the three Terrace Suites which offers to die for views of the Big Apple's cityscape. They offer two king beds, two bathrooms, private terrace with dining table and lounge chairs, private foyer, two sitting and dining areas, a soaking tub, and skyline views.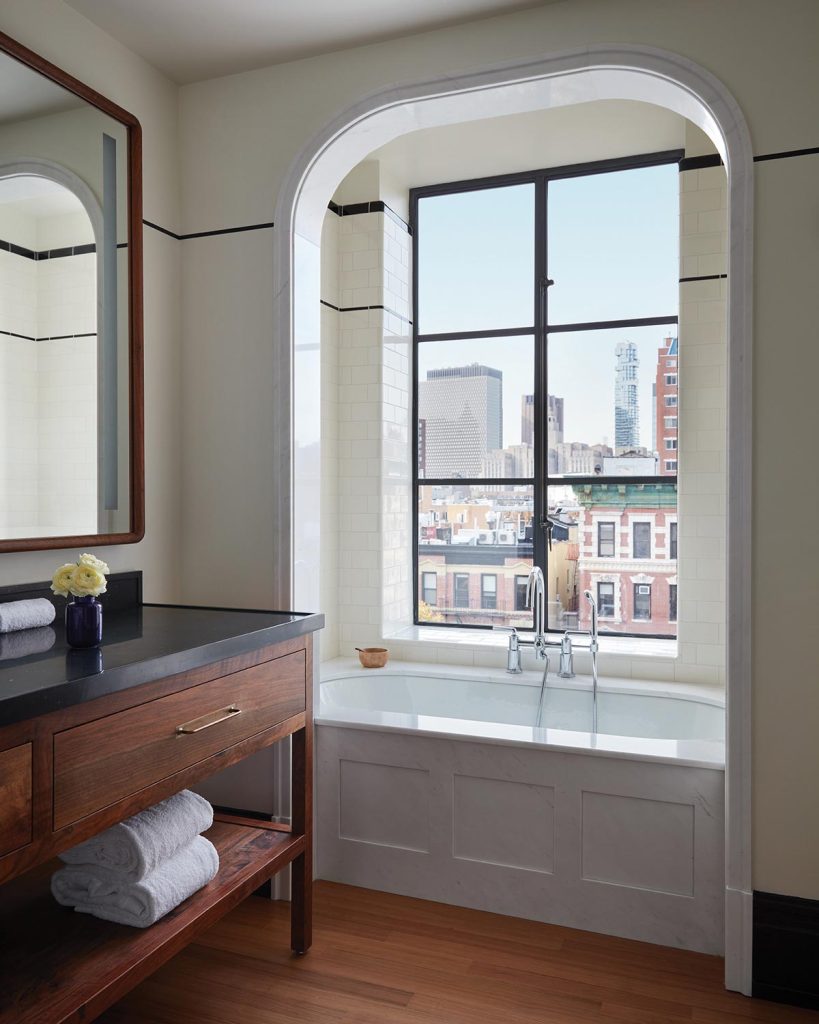 While there's plenty of dining out and about one need never leave the comfort of Nine Orchard's food & beverage offerings. They have partnered with Ignacio Mattos of Mattos Hospitality on multiple restaurants, event spaces and the hotel's room-service offering. Nine Orchard's two dining spaces are Swan Room and Corner Bar.
Found in the former bank teller room — with its luxurious booths, restored ornamental ceiling and pink Tennessee marble floors— the Swan Room is a high-end cocktail bar that offers an opulent, old-world setting in which to enjoy that quintessential New York evening. The 52-seat lounge serves aperitifs, cocktails, wine, and sophisticated small plates. Expect plenty of Martini Service and Caviar.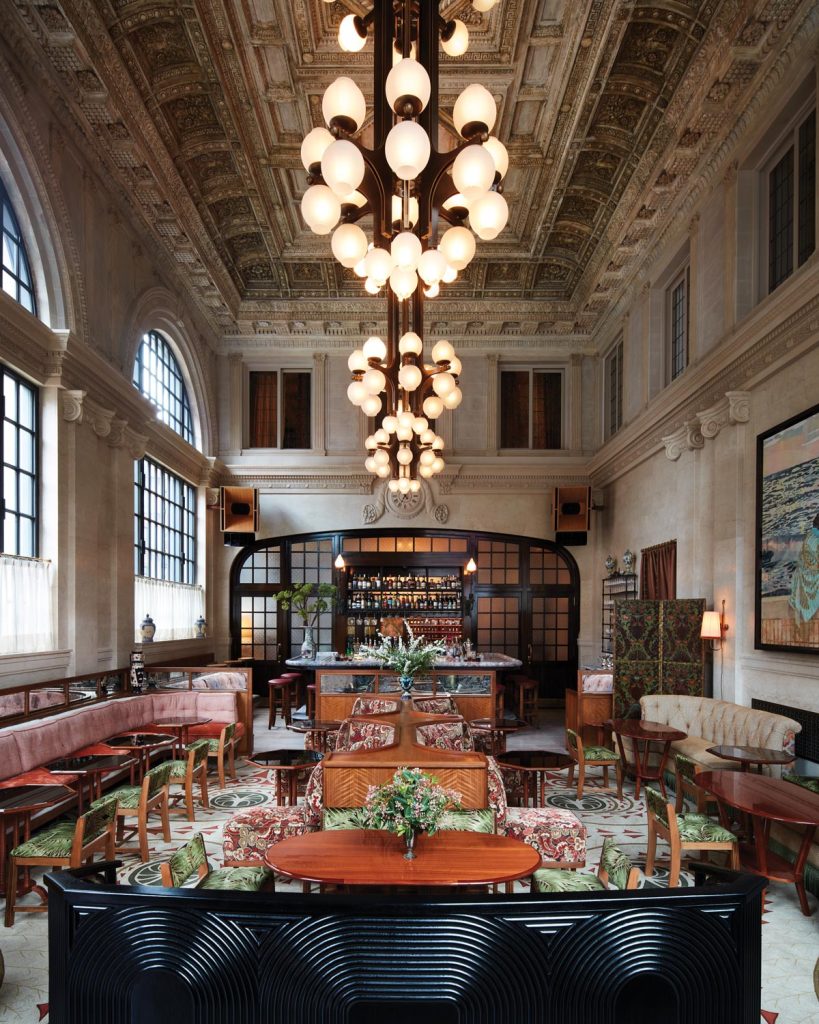 Corner Bar brings a warmer more energetic tempo to the proceedings inspired by America's legendary taverns. Open all day the menu is classic bistro fare with a focus on local suppliers.
On the outside the original clock and 60 foot-tall Tempietto on the roof has been completely recreated based on historical photographs, setting the tone of what awaits on the interior. It's touches like that imbue Nine Orchard with enough character and personality to become an iconic neighbourhood institution once again.
Photography: Stephen Kent Johnson