An exciting new opening is in our midst; an addition to the contemporary restaurant series, Gucci Osteria da Massimo Borrura. Seoul is set to welcome Gucci's fourth global restaurant, located on the top floor of the Gucci Goak flagship store in the district of Itaewon. This will herald the contemporary Italian restaurant's third global outpost outside of Italy, after Rodeo Drive in Beverly Hills, USA and Gucci Namiki in Ginza, Tokyo; each restaurant with varied and different identities.
Gucci Osteria holds the same values and principles under one Gucci Osteria umbrella. Adding creativity, elegance, playfulness and sensuality to traditional Italian cuisine, guests in Seoul will enjoy a unique dining experience that will also incorporate the diversity and identity of its location. The restaurant will welcome guests through a dedicated street-level entrance, seating 28 guests in the main dining room and 36 on the terrace, serving lunch, dinner, and Italian aperitivo.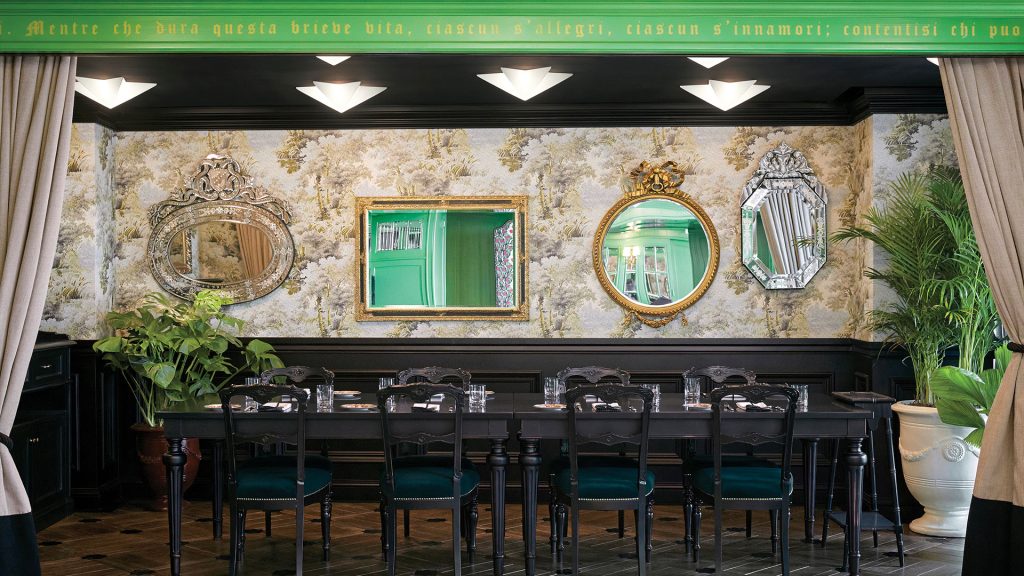 This modern restaurant set in the pulsing capital of South Korea, redefines the most typically recognised flavours of Italian cuisine, enhanced by Asian products and techniques at their most innovative heights, bringing both Italian and Korean cultures together. The irresistible menus have been developed by none other than internationally acclaimed chefs Massimo Bottura and Karime Lopez. Guests will be able to enjoy Gucci Osteria signature dishes available on the a la carte menu, such as the legendary Emilia Burger and Tortellini with Parmigiano Reggiano Cream.
The carefully crafted interiors take inspiration from the original Florence outpost, with references to the Italian Renaissance and the eclectic mix of aesthetics. On arrival, visitors will be immersed in the vibrant green palette that screams Gucci and beautifully defines the space. Every detail from the woodwork panelling to the Georgian bar patio doors framing the terrace, evoking the atmosphere of winter gardens. Gucci has delivered nothing less than perfection, of course. Just give us Gucci and a heavenly lunch and you've got the key to our hearts!