How Friendly Competition Can Push You Further
There's something to be said about the power of teamwork. Not only can collaboration bear greater ideas and stronger outputs, it can also give us as individuals the ability to push ourselves harder to reach the next level. The influence that the presence of teammates has on our individual performance has been proven, from the workplace to the sports field; positive encouragement and competitiveness from others can lift our overall performance and give us the motivation to go one step further. This is called the Köhler effect, where the individual works harder when part of a group than when alone.
Under Armour put this theory to the test earlier in the year when they gathered nine motivated women to try out their new UA Infinity Bra with a little friendly training competition. The women, who were all strangers to begin with, all found strength through each other. Within both the community they developed and the positive competition they inspired, each woman pushed harder and farther and even broke some PRs in their pursuit of better, just showing how important the presence of others can have on your performance.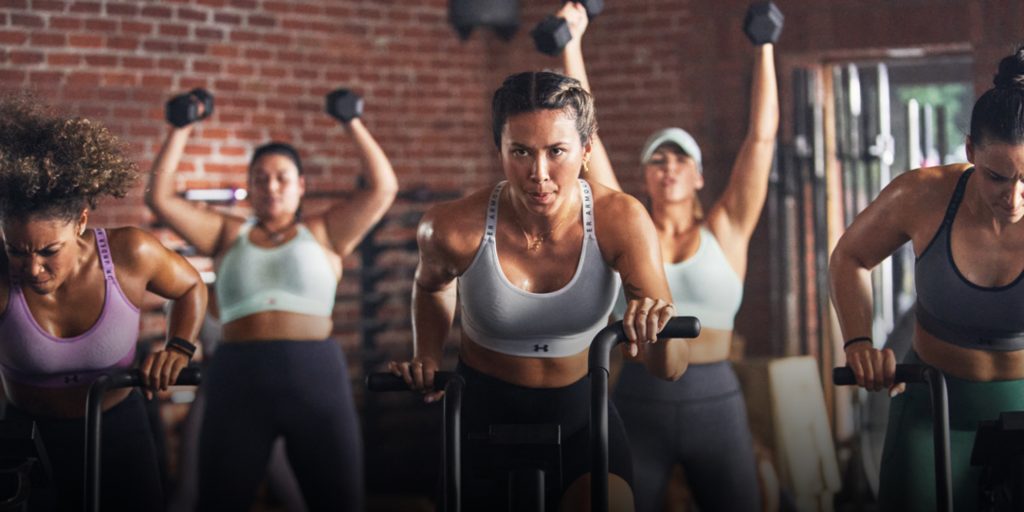 Throughout this training session, the women were all able to keep their focus and compete with each other without the distraction or discomfort of unsupportive activewear. Under Armour developed their new sports bra to work with the body, instead of fighting against it, giving you the assurance that your bra won't get in the way. 
With the UA Infinity Bra, Under Armour have forgone the typical two-pad structure for a single pad that has been liquid injected into a figure 8 to match that body's natural movement for more comfort and better control. It also has a raised neckline for extra support and fast-dry padding to reduce sweat. Testing has even shown that the UA Infinity Bra can reduce up and down movement by 68%, back and forth movement by 60% and side to side movement by 80%, giving you the confidence to push harder without having to hold back because of bounce. Available in three different levels of support, you can now push further without an uncomfortable bra getting in the way, whatever the task at hand is.
Shop the UA Infinity Bra here.
You'll also like: