Japan is a country of two extremes; modern and ancient. So for most visitors, Tokyo is the premier destination for the modernity and Kyoto has long been the go-to place to absorb all the centuries of tradition. But the problem is; so many tourists have caught onto that fact so that Kyoto has become overrun with them.
For your tradition fix, one district that is well worth the trip beyond the capital's walls is Kanazawa which is about 300km north west of Tokyo. Kanazawa features a host of traditional Japanese experiences that are just as entrancing as Kyoto but without all the heaving hordes of tourists! This is a place that used to be an autonomous area run by peasants and has its own castle, it is also where 90% of all gold leaf decoration is done in Japan and is the spiritual home of the geisha – all of which are must-sees if you want to understand just what it is that makes the Japanese people tick.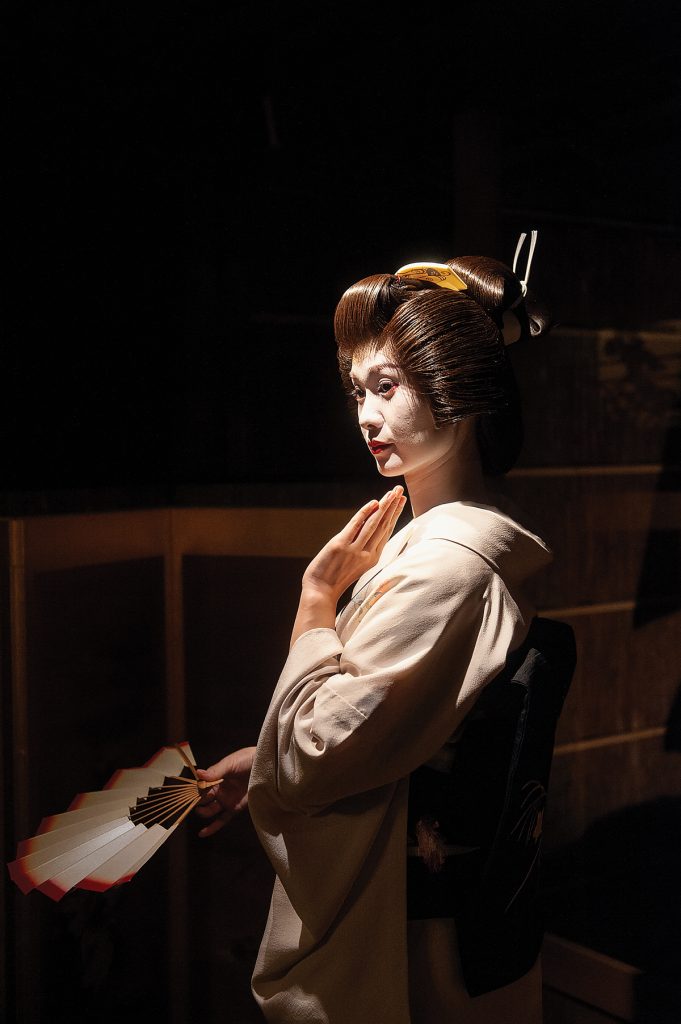 The ancient, and obscure, artform of the geisha
Despite what many people think, geisha are not courtesans. The name itself means artist or 'entertainer', from 'gei' – performing arts and 'sha' – person. What geisha do is exactly that; they sing, dance, play music and act as like a hostess for guests. They usually have their guests come to a teahouse where tea and meals are served by geisha then the artists perform a number of songs. For such an ancient art form, you might expect the songs to be centuries old but that is not necessarily the case. On the evening I attended in Kanazawa, one of the songs we enjoyed was indeed over a hundred years old but the other was written while What Does the Fox Say was being performed at every New Zealand primary school disco!
Though just about everybody in the world knows that geisha is a Japanese tradition, not many have experienced it – including most Japanese. This is partly because a geisha performance is very traditional and you can't just rock up and ask for one – you have to be invited along by someone who has been before. This has led to geisha performances becoming like a club at a workplace – businessmen will invite along people they think will enjoy the traditions and who they think deserve a reward for their loyalty or hard work. But this exclusivity has led to scarcity as the Geisha, who used to number over 300 in Kanazawa are now down to 35 – including one in her late 80s!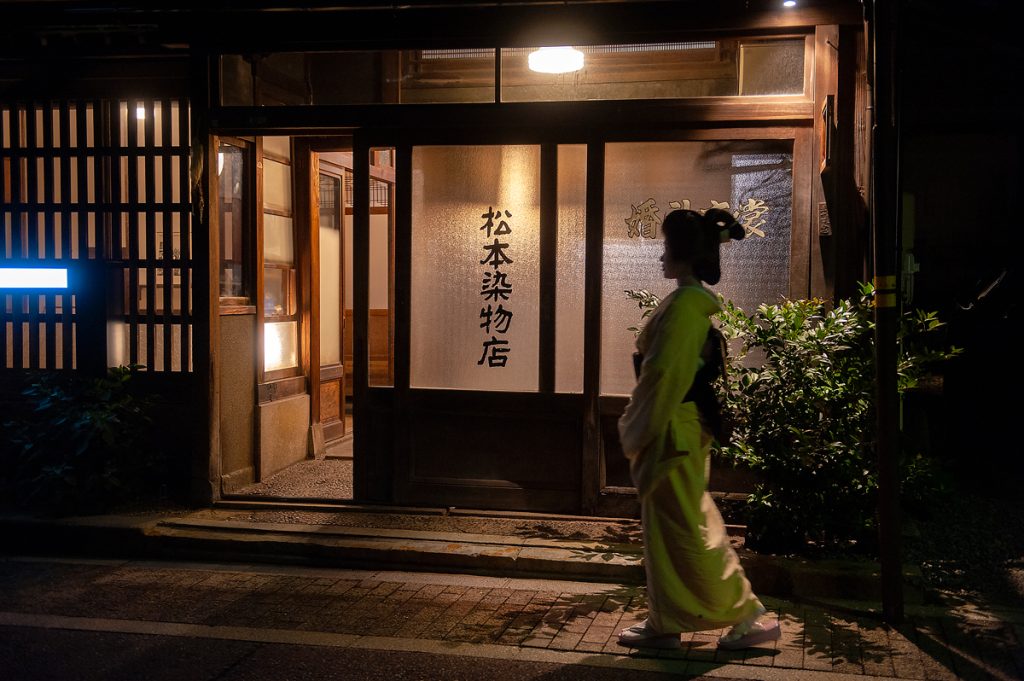 Upon arrival, we were greeted by Lady Vava – not 'Gaga' as she joked – who was our Okami-san. 'Okami' means mistress and 'san' is the common honorific applied to men or women to be polite – like 'sir'. Lady Vava acts like an event co-ordinator; she books the gig – in this case a tea house in the Lattice District of Kanazawa and the geisha. The district itself, also known as Higashi Chaya (East Tea house), is unique as it is ancient (going back to the early 17th century) cobbled and everything is painted a sort of plum colour which originally came from India. This is also quite possibly the origin of the 'red light' district concept – although absolutely nobody wanted to confirm that! All the windows are covered in narrow slats which, in pre tinted windows times, allowed the women to see out but not the men to see in. This furtiveness lives on with the back stairs, where the guests could enter without being seen, still there and eagerly pointed out by the geishas themselves.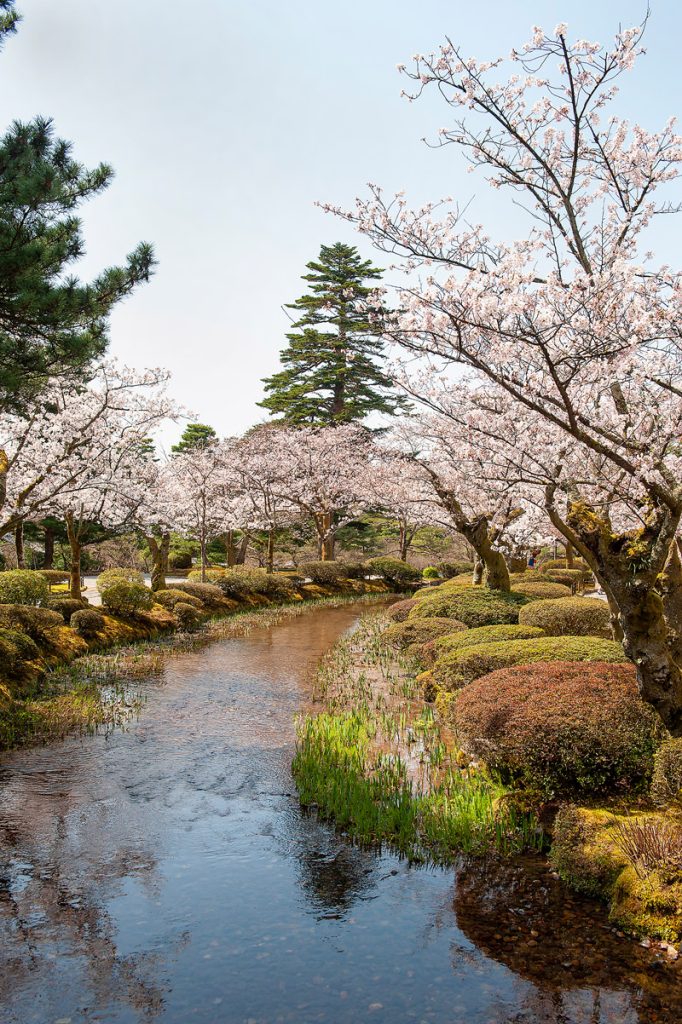 We had two geisha performing for us, one – Yuko – who played the shamisen – a three-stringed instrument that is plucked rather than strummed – and sung while the other danced. The dances are very expressive and our geisha used her fan as a prop to show everything from the physical; like hiding or running to demonstrating emotions like excitement and sorrow.
To me, the art and tradition of the geisha reminded me of how Shakespeare is regarded in Western culture; as something a little bit old and hard-to-understand to our 21st century TikTok-fuelled sensibilities yet is intensely rewarding and satisfying if we take the time to check it out properly.
The stronghold that created Kanazawa
Kanazawa Castle is a must-see when you're in town, if only to clock what a Japanese castle looks like in comparison to the European ones we've seen repeatedly in shows like Game of Thrones. Like most castles, it's had many different residents over the centuries but probably its most interesting stint was its turn as the fortress of the Peasants' Kingdom which ruled the Kanazawa area back in the 16th century. These Ikkō-ikki were followers of Rennyo, a priest of a sect, and who overthrew the local rulers to create their own surprisingly long-lived utopia. The castle itself was, and is still, surrounded by natural defences such as hills and rivers so it is easy to see how hard it was to overthrow which allowed the city of Kanazawa to prosper in its shade. Like its European cousins, this castle also boasts a moat although it has now been transformed into a highway – how 20th century!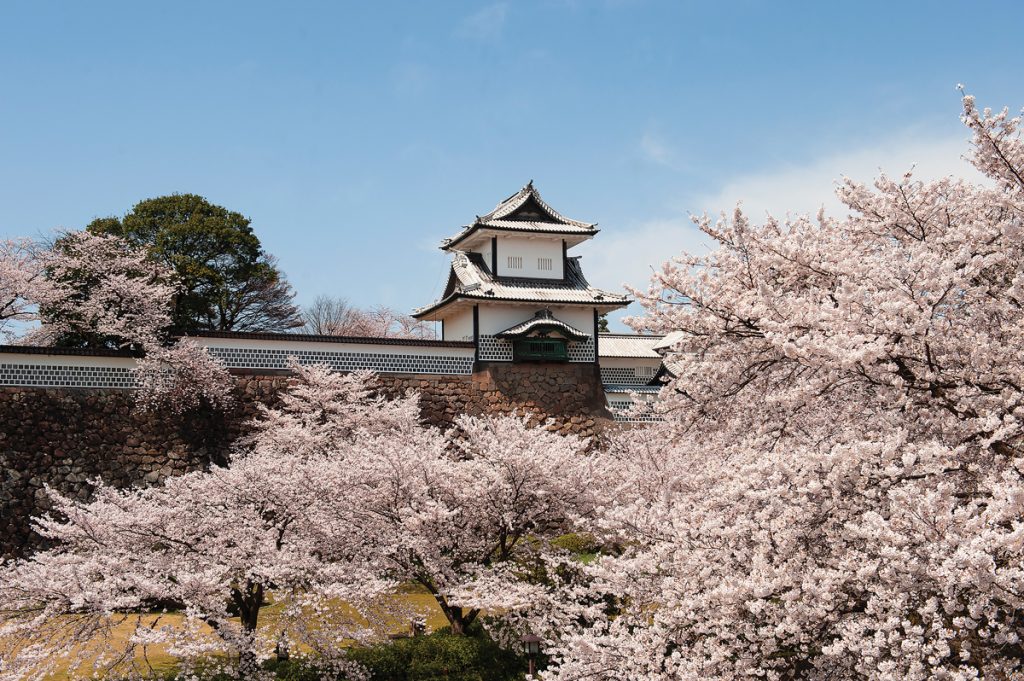 But no matter how strong a castle might be, they always get overthrown in the end and the fortifications were destroyed many times over the centuries, usually by fires. The castle today has been largely rebuilt in more modern times but it still gives off an atmosphere of ancient history. The castle grounds are very spacious and it is easy to imagine armies being housed there and using the grounds for their drills. This was still happening as late as 1871 when the castle was used as a headquarters for a section of the Japanese Imperial Army. The Tatsumi Canal was also constructed through the grounds back in the 17th century under the guise of being for the purpose of fighting fires but it also allowed the castle's resident supremo Maeda Toshitsune to control the local water supply. This canal still feeds the nearby Kenrokuen Gardens – one of the Three Great Gardens of Japan. This also has developed from the 17th century to combine the six characteristics the Japanese believe an ideal garden should have namely; spaciousness, serenity, venerability, scenic views, subtle design, and coolness.
The purity of gold
Gold, the precious metal that has had such a hold over humanity throughout time it is like our love for it is hard-wired. The same way a flickering fire lulls us into a state of calm or a baby crying gets us up off our feet, shiny gold seems to instil instant reactions that come from deep within.
You see this inherent love for gold in many cultures around the world and the Japanese are no different, but gold isn't just about wealth in Japan – it has other values that transcend the merely financial. The geisha talked about how their very special performances were done in front of gold-gilded doors and the crockery and lacquerware they use to serve their guests are all richly decorated with gold. The samurai's armour has gilding, as do their weapons but surely the best illustration of how the Japanese attitude to gold differs from most other cultures is through Buddhism.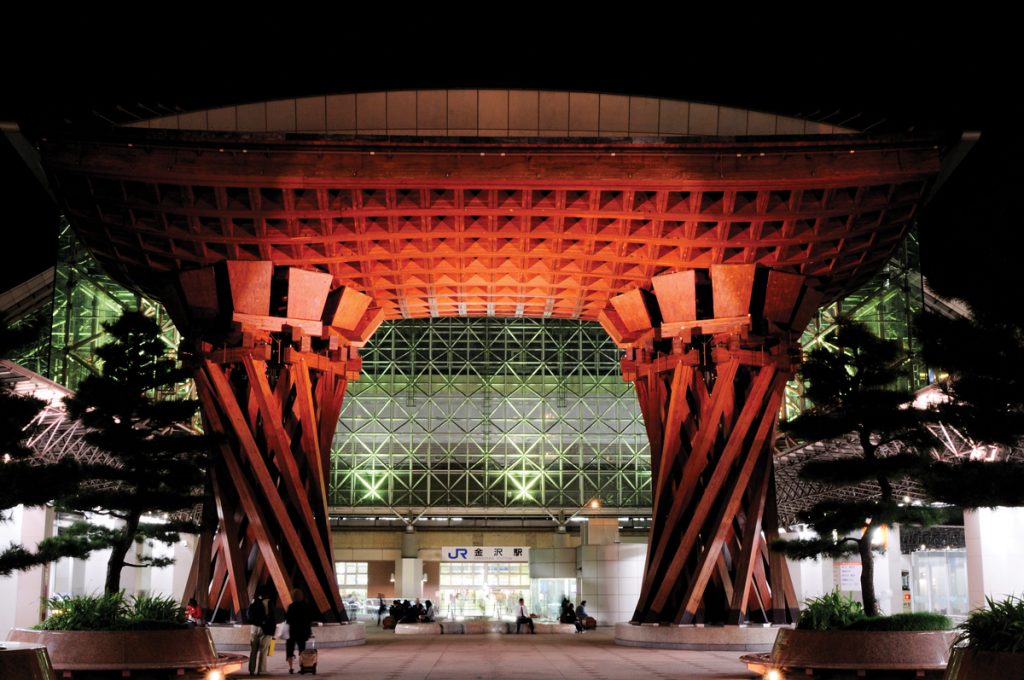 By its very nature, Buddhism eschews material wealth as it is all about shedding object worship and satisfying the spirit instead. Yet the Japanese Buddhists have used gold liberally to decorate their temples, even going so far as to completely cover all the pillars and doors as well as the statue of Buddha in the Inner Sanctum of the Hongwanji Kanazawa Betsuin temple. Surely, that is the ultimate hypocrisy?! Not at all as the Japanese Buddhists see the lustre and brilliant colour of gold as something wholesome and pure. So by covering everything in sight in gold at the heart of the temple, the Japanese Buddhists are aiming to depict the shining world of the pure land and salvation of the Buddha of Infinite Light.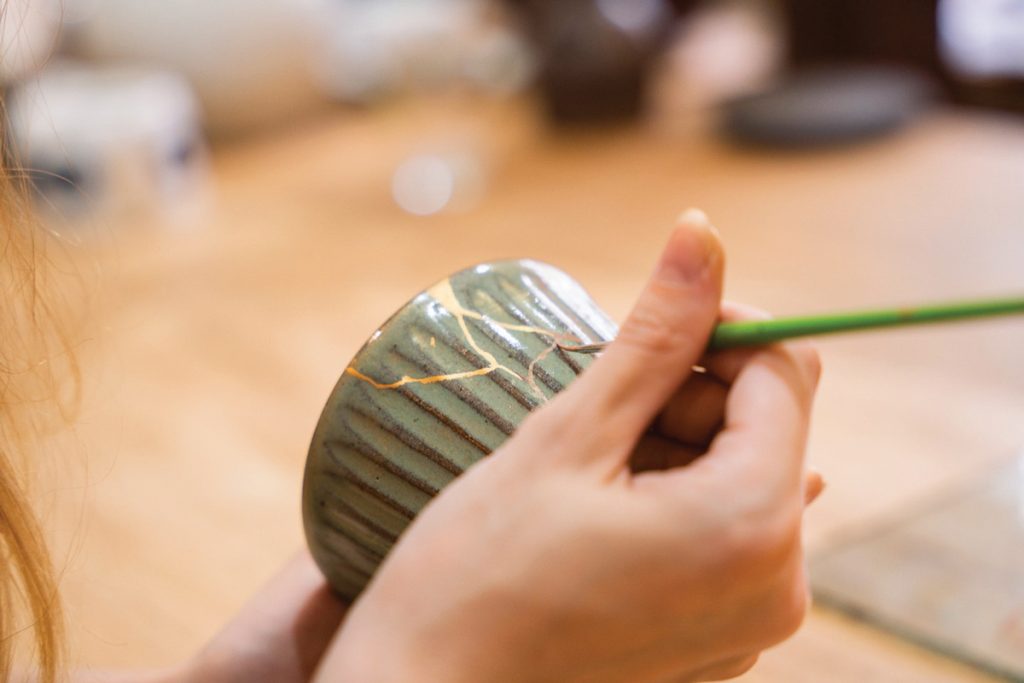 But who gilds all the samurai's weapons, the geisha's crockery and the Buddhists' temples? The craftspeople of Kanazawa do as 90% of all Japanese gold leaf decoration is made in Kanazawa – the name itself means 'Marsh of Gold'. A skill that has been passed down from parent to child for hundreds of years, the gilders beat the gold down so fine it becomes like tissue paper and almost as weightless too. One woman we saw working the gold in the Kinpakuya Sakuda workshop, a mere stroll away from the Higashi Chaya geisha district, used her breath to blow the gold leaf rather than touch it with her fingers or even use a tool. This is because the leaf is so fine it could easily be torn with the slightest false move. This workshop is well worth a visit to see such a rare and unique skill in action as well as the nearby Kanazawa Yasue Gold Leaf Museum – which is also the only one in Japan completely devoted to gold leaf and its production.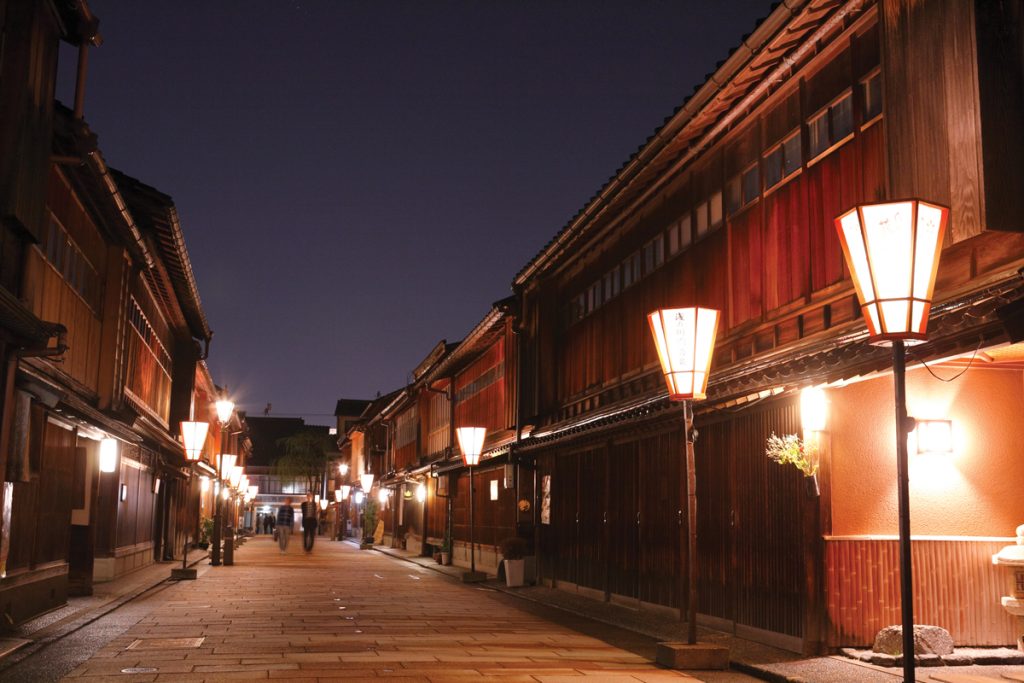 Getting there
Traveling to Kanazawa from Tokyo used to be a bit of a mission; you needed to catch a series of trains on an arduous journey of at least four hours. Then everything changed once the extension of the Hokuriku Shinkansen to Kanazawa was completed in 2015. Suddenly it only took a couple of hours on the Kagayaki or Hakutaka Shinkansen – or 'bullet trains', which made Kanazawa a destination as easy to get to as Hiroshima or Nagano.