We go through life, our lifestyle priorities change and evolve, however, there are some constants necessary to thrive and one of these is to have a place you can always feel at home. We have a mental list of the things our dream home would have, if and when we build one – a haven flooded with natural light with cosy spaces that flow seamlessly into one another and open-plan spaces that draw the outdoors in. Be it a lifelong dream, an initial idea or even a sketch on a piece of paper, there is nothing more rewarding than one day seeing this come to life.
So you can picture it in your mind – a custom home built to suit the way you live your life. Now, how do you take that vision and turn it into reality? Accumulating a wishlist for your dream home that encompasses all of your wants and needs is one thing, but executing this is a complex path that requires an experienced, dynamic team around you, who can take your brief and do justice to your vision.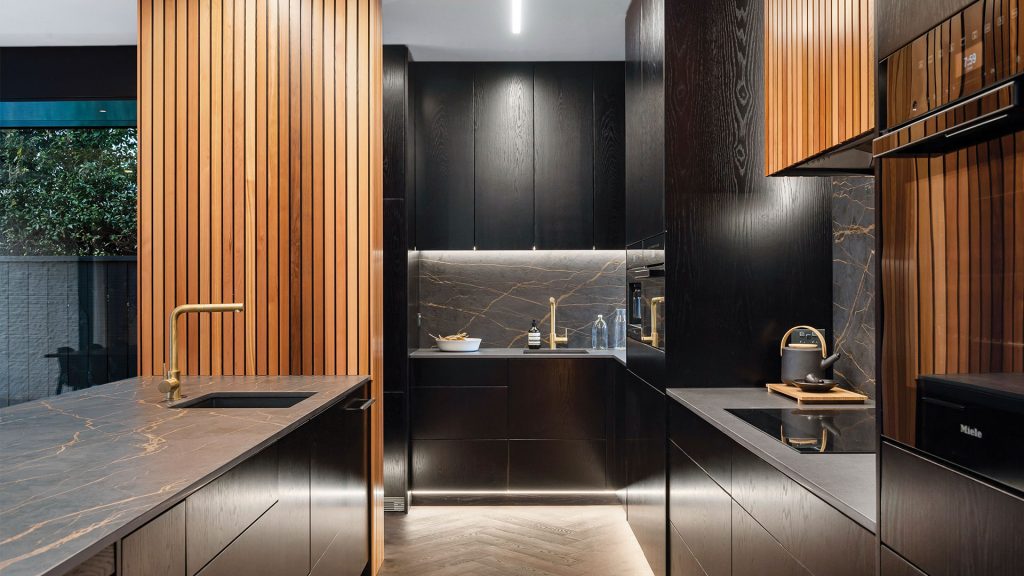 The Bennetts had lived in their O'Neill's Avenue home for more than 25 years on the picturesque Pohutukawa-lined "Golden Mile" in the heart of Takapuna. They had successfully added to their house over the years and while these adjustments have served them well, their residence had aged and reached the point where it just wasn't fitting their lifestyle any longer. The relaxed coastal living in the vibrant beachside suburb of Takapuna, however, still suited them to a tee, their home being just a few minutes' walk from the beach, which meant moving on wasn't an option.
The couple's revised notion of what an ideal home would encompass called for a new build with minimal maintenance, part of the solution of which would mean downsizing their 1,250-square-metre section by way of a subdivision, favouring the development of three new houses sporting a cohesive look and feel – one of which would be their forever home. This, conveniently, would also be a move that would finance their new residence. Importantly, downsizing in this way would still accommodate what the Bennetts ultimately wanted – a spacious 300-square-metre upscale home with a small swimming pool, which retained the street frontage.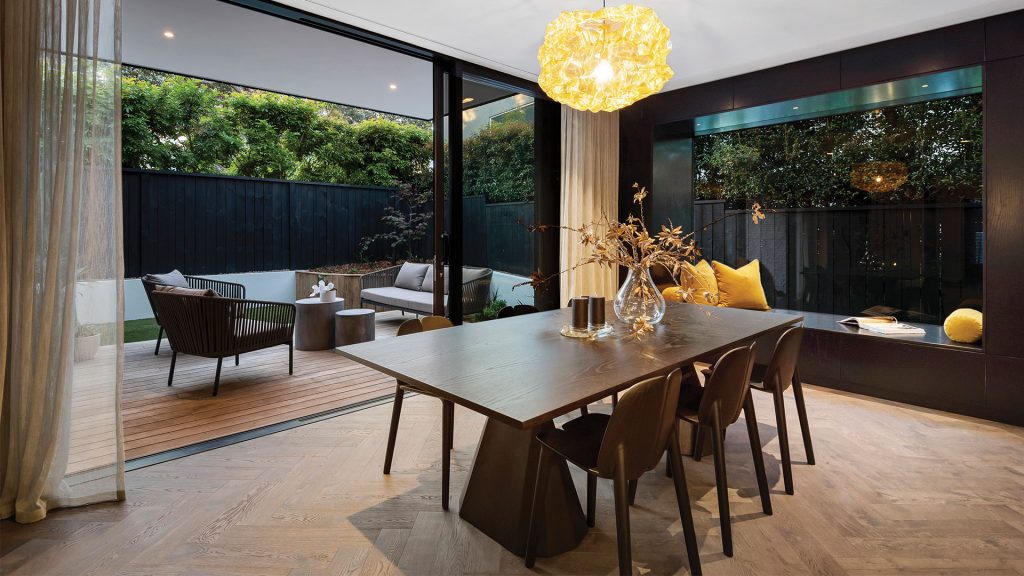 As this was their first foray into a new build, the Bennetts knew they had to find a team who produced work that they loved and whom they felt excited to collaborate with and to create a home that was conducive to their way of life. Their dream team needed to understand their needs and wants; and great communication and trust being essential to the success of the project.
To take care of the whole process from concept to completion, the Bennetts found Paul Brett and the team at Landmark Homes North Shore/Rodney to make their dream home a reality. Their decision to engage with a building company specialising in new builds such as Landmark Homes converged on the experience, knowledge and collaborative prowess of the team there, including franchise owners Paul and Debbie, Senior Designer Wendy King and Interior Designer Shannon Pepper. "It's very satisfying to work as a team to achieve something very high-end that showcases the quality workmanship we strive for," says Paul. "It's also a very creative process, which is fun and enjoyable. It's hard work but when everything starts to come together, it's very rewarding."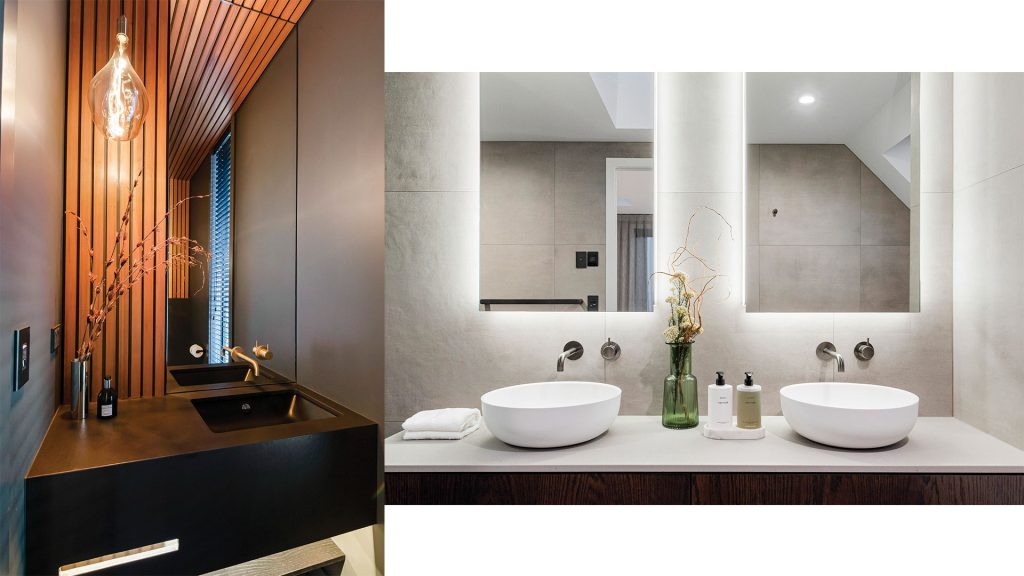 And come together it did for the Bennetts – their dream home, true to brief, showcasing a sharp, modern and edgy aesthetic, which set itself apart from the all-too-common cookie-cutter norm. "Builds like these that showcase something a little edgy and different can help people who are thinking about their own build to consider something they might never have thought of," says Paul.
When considering the view from the street, the Bennetts wanted something modern and flat-roofed, settling for an understated silhouette flaunting an exterior finished in a monochromatic blend of split stone and dark-stained cedar. Setting foot inside, the interior is a similarly slick, modern and minimalist affair with the showcasing of herringbone oak parquetry lending an extra sense of depth and luxury to the interior design while setting the bar high in terms of the level of quality materials, skilled workmanship and design detail employed throughout the home.
The ground floor features an expansive open-plan living area with casual entertaining spaces and a media room or second living space. The meticulously designed kitchen is all about entertaining and cooking up a storm in absolute style with a showcase of jet-black timber veneer throughout, lending the space a warm, luxurious ambiance. This is finished with top-of-the-line Miele appliances and thoughtful details such as an integrated fridge and the requisite coffee machine housed in a slick, dark minimalist design. Ebony tiling and benchtops featuring black marble texturing with golden streaks elevate the sophisticated feel of the space while complementing the vertical cedar features, which counter the darker tones perfectly.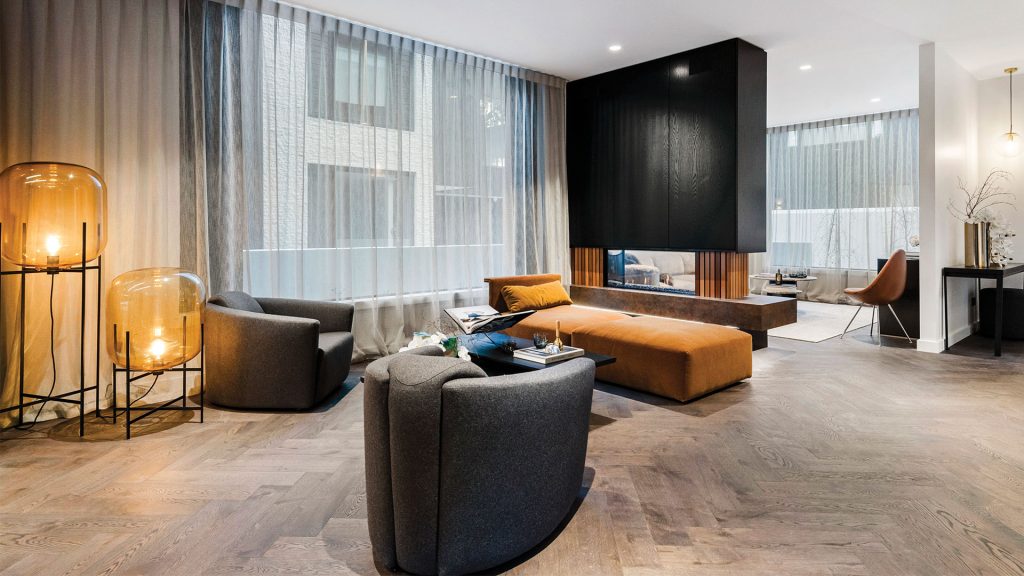 Meanwhile, the piece de resistance in terms of sleeping quarters is the sumptuous master bedroom suite, exuding luxury with a spacious, fully-fittted walk-in wardrobe and an equally generous five-star-plus ensuite bathroom finished with luminous white marble swept with contrasting grey veins, speaking volumes of elegance. "These homes not only showcase the ultimate in luxury with the finest appliances and materials, they also demonstrate a sophisticated use of space," says Paul.
In keeping with the modern but minimalist look the Bennetts were after, the home is furthermore a showcase of integrated solutions across lighting, shading and lighting control for every space. Natural light has been thoughtfully maximised and the ambiance of each space, enhanced with considered lighting design throughout the home, is the key element that ties the décor together. This included the use of subtle, soft backlighting around key points of focus such as cabinetry and benchtops.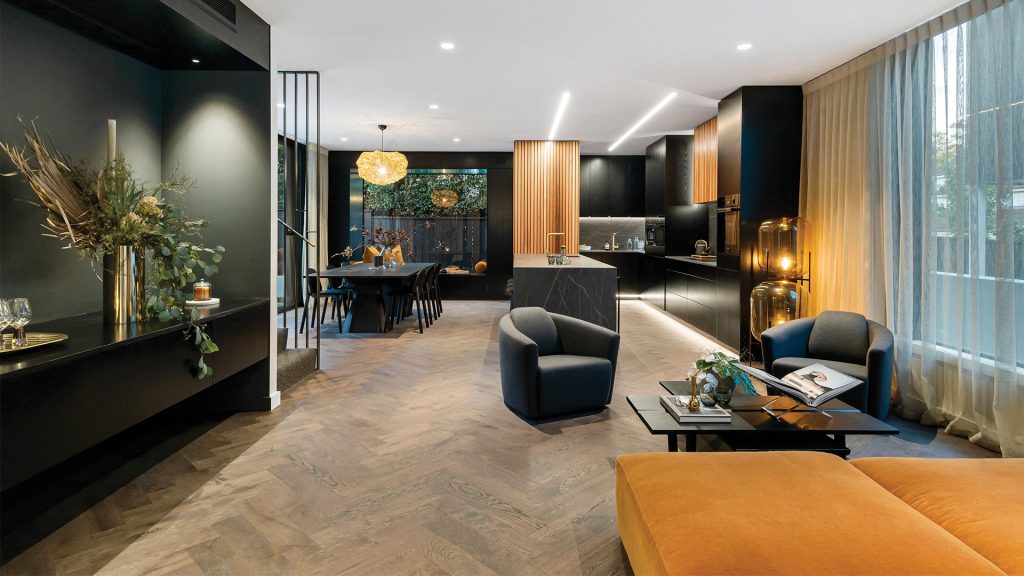 For the Bennetts, articulating the many facets of their dream home, with the guidance of the Landmark team, into a tangible structure has been a one-of-a-kind exploration into modern simplicity and upscale refinement that speaks of who they are today. Brought to life with the sophisticated use of space, colour palettes, luxury materials and lighting, it is a home that exhibits a timeless design. A place where they can well and truly feel at home.
For more information, call: 0800 477 110