Fashion Designer, Business Founder, Seminal Overachiever, Claudia Li has cemented herself as an icon within the international fashion scene, with the likes of Michelle Obama, Kendall Jenner and Bella Hadid wearing her designs. Now back in New Zealand and collaborating with Comvita, Claudia Li shares with us her process of creativity, building an international brand and the power of your grandmother's stories. 
Can you talk about your family and the ultra-creative scene that you were brought into? How did that set the foundation for everything that you went on to do?
My background definitely dictated what my path would be like. I've been drawing and painting since I was a child. In high school, all my classes were art-related: photography, printmaking, painting, and my parents were very supportive of it, and I think that support helped shape me into who I am.
My dad is an art dealer, so my house was always filled with a circulation of paintings and art pieces growing up. I was always surrounded by a place filled with art, so I think that also had a lot to do with what path I chose. I was going to become a painter, so I did one year of painting major in uni and then decided that wasn't right for me.
How did you decide that one form of art wasn't for you and what was the catalyst for you to get into the fashion side?
I've always loved fashion. Growing up, my parents would dress up to go to art auctions and visit galleries; my parents always dressed very well. I would see my mom getting ready and all dressed up. She always had the most unique expression. It made her happy rather than an obligation to dress up. I think that was baked into the way I think about clothing as a child. To me, fashion is something that makes me happy, that I have fun with; it is never forced. This had become a fantasy of mine as a child; not only did I want to feel like that, I wanted to see that same expression my mom had dressing up on other people's faces.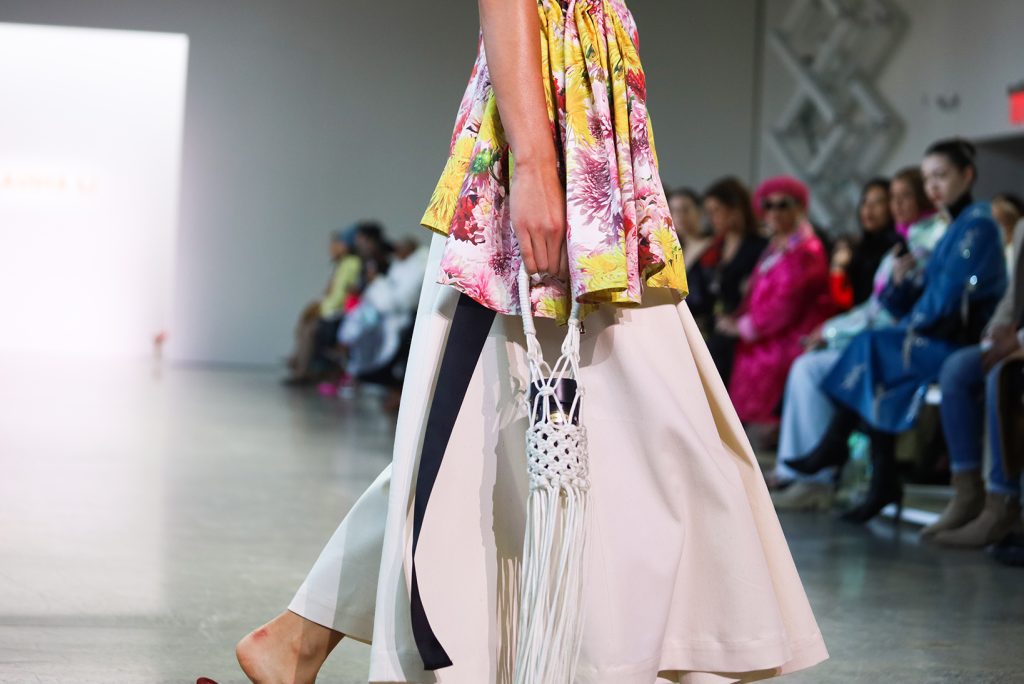 You're talking about the emotional side of fashion, how it makes people feel when they wear something. Is that something that still drives you?
Definitely, that was also one of the reasons I switched majors as well. 
To me, both painting and fashion are outlets for creativity and self-expression. But when you're painting, once you've finished a piece, it's finished. It belongs to the world. You hang it on a gallery wall, then people engage and have their own thoughts and interpretation of the piece, but all the interactions are intangible. Fashion is similar in its starting point, an expression. But it's not just the creator's expression, the wearer interprets the piece in their own way, and it becomes an expression of their own. It belongs to them.
Have you been surprised at something that has come from a very personal space within yourself and then someone else has to interpret their idea onto it? 
Yes. I can't say I always agree, but that's why I love fashion; it is subjective and an expression of the wearer; it belongs to them.
I also see and discover things I never thought of. There are times when I'm like, 'Oh, you can actually wear it this way. That's pretty cool'. 
You mentioned the prospects of doing a whole lot of random stuff if you weren't reigned in by that core concept. Can you talk a little bit about the importance of having that framework? When you start a collection, is it important for you, as part of the creative process, to give yourself a parameter?
I think it is important because having that framework keeps you on track. But you've got to be quite flexible with it. Sometimes, when you dig deeper into your thoughts or stumble on things that you didn't think of initially, great ideas would come to you. And it's not wise to throw that all away just because it doesn't fit into the parameter.
With your relationship with Comvita and also your collection inspired by your grandmother, it seems like we've got two cases where there's legacy and heritage translated into a modern age. Is that something you are conscious of?
Yeah, definitely. And that's one of the main ideas behind everything I do, the constant juxtaposition of the opposites. And in this case, the past and the present. 
For example, there was something that happened very recently. There was a social media comment about the quilted floral pink fabric we made. It said, "Oh! That reminds me of my grandmother's blanket." And I LOVED it. Because 'That's exactly what I want you to feel!"
It was inspired by my grandmother's blanket, but the shape was a hooded poncho. 
With this collection, you can feel the heritage and traditions, but at the same time, it's modernized in a way that you can still have a connection to it without knowing the story behind it.
Can you talk a little bit about the fashion show with Comvita, how it went and the idea behind it? 
I've always been interested in doing crossovers. It was great partnering with a brand like Comvita that has a rich history behind it and is so focused on heritage. The importance of heritage was what brought us together for New York Fashion Week, where Comvita was our main sponsor. Their brand ethos suited the idea behind this collection perfectly since it was based on my grandmother's bedtime stories and my perspective on my Chinese heritage.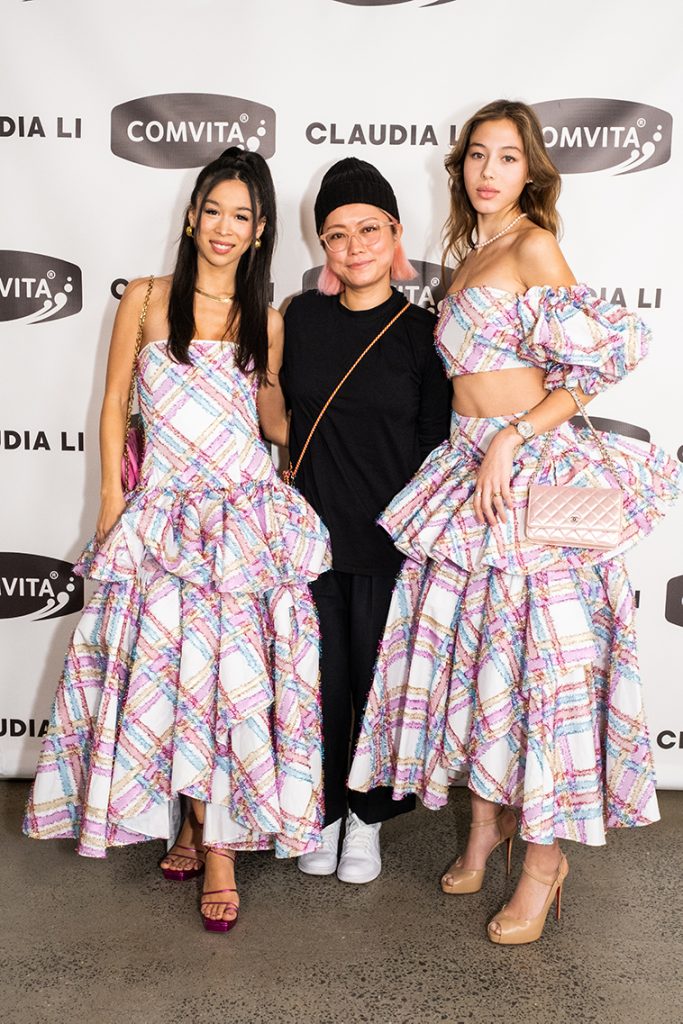 Creativity is not one of those things that you can switch on just at any given moment. How do you kickstart yourself?
This is something that many people probably won't agree with me on, but I'm not one of the people who can find inspiration just anywhere; I keep notes. I have voice memos and jot things down when an idea hits. My inspirations are always formed by memory and nostalgia. A photograph, a piece of paper with my handwriting, a dried flower kept inside a book I never finished. 
What's involved in then taking those notes into the process of forming a collection?
The starting point is always from a single "seed" – a photograph, a note… Usually, I sit down with my team, and then we expand our research, and it can be anything, words, images, sounds, colours, movies, anything that springs from the initial idea. 
Once you've got this tree and there are all these branches of connected creativity, what happens then? Do you have to start pruning it?
Exactly, that's actually a perfect way of putting it. Forming a collection is like growing a small tree; the seed would be the initial idea, and then it starts growing little branches, which are the research; and the experimentations are like the stems and leaves. Because after the research stages, we would go off to do draping, crafts, and experiments, so the studio sometimes is filled with water buckets, paints, yarns, and flowers… this experimental stage is more like going wild with expanding ideas. So you have to prune it. You have to pick and select things that you want to develop more on and edit things out. 
And during this fertile creative time, do you have to counter that with some discipline? Is that a hard thing for you to balance?
We actually set the calendar really tight from the beginning. Every season we follow a specific schedule and try to hit every deadline. We can go crazy and keep adding more for research and experimentations between the deadlines, but when the due day comes, we just have to stop and make decisions. Otherwise, things will never get done.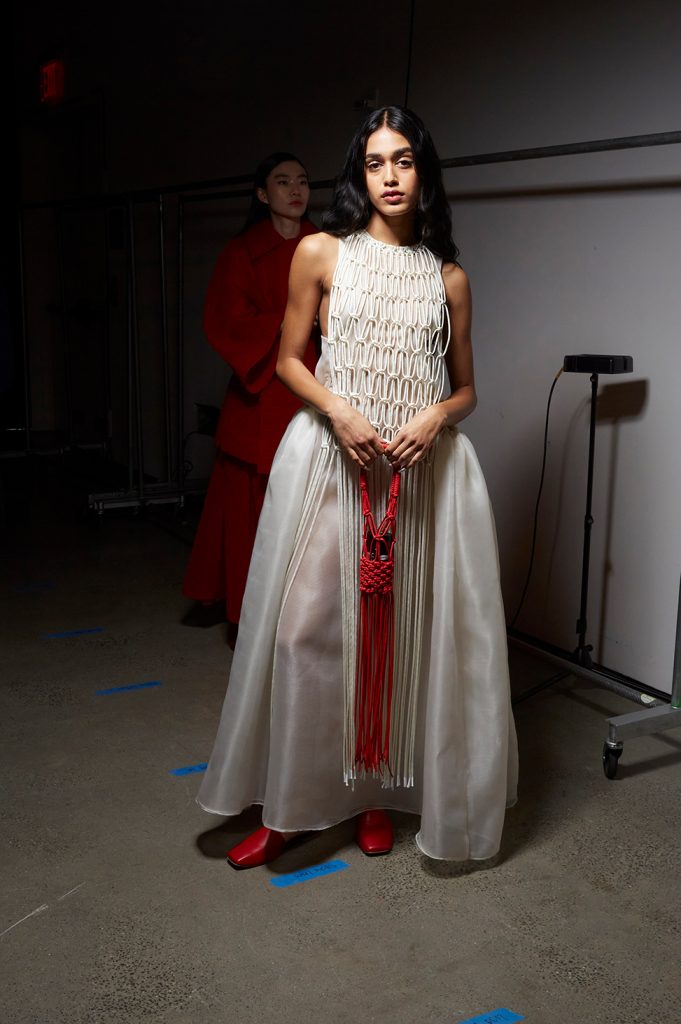 Going back to when you were a teenager, could you have ever imagined that you'd be where you are today, that you would have the global impact that you have? 
I personally don't think I have that big of an impact yet. I am honored to have accomplished everything so far, it's humbling, but I think I could have achieved more by this stage of my career. I think it may also be because I didn't really have a plan, everything kind of just happened. 
Do you think that part of your success has really been about not necessarily having this plan or focusing so much on the commercial side of things, but actually following a dream as it is, and not trying to put too much pressure on it?
I still hope that my brand will become much more significant than right now, but nothing is a part of a plan. I've been fortunate because I wasn't strategic about getting any of these achievements. I was just very open to opportunities when they were presented to me; I always said yes. Saying yes to possibilities, I think it's imperative to success. 
I think planning and strategising every single little thing actually doesn't help because you put too much pressure on yourself, and then you forget why you're even doing it anymore. The 'why' for me is very important. We all need goals in life, I get it, and I support that 100% – but things don't always happen as planned, so I think being too strategic on plans takes the love and passion out of your goals, for me, at least.
Can you articulate your 'why'?
Because I love what I do, and it makes me so happy. And because my goal in life is to be happy.
You've lived in a lot of places around the world, how has that influenced your creativity?
I moved around a lot when I was little. As a child, your brain is like a sponge, so growing up in many countries and amongst many different cultures has made my perspective and ideas more diverse. I had things thrown at me that were unfamiliar and foreign all the time, which would have been different if I had just stayed in one place, and my surroundings would have always been constant. This has impacted my creativity and the way I think so much because I first saw things from many different perspectives and angles before forming my own as an adult.
Can you describe yourself as a leader?
I'm fun! Most of the time. I created different characters for myself because I play different roles within the team. I'm a friend when we're creating; I'm the mum when it comes to HR, and I always make sure everyone eats their lunch. I'm also the older brother because I fix most computer issues at the office.
You've had this global impact. Can you talk about some of the people that have been wearing your clothes?
We have been very fortunate in getting the opportunities to dress a diverse group of strong, intelligent, and beautiful women like Michelle Obama, Simone Biles, Ava DuVernay, Cynthia Nixon, Jenny Han, and Tiffany Haddish, to name a few.
Usually, when stylists borrow for a client, they borrow from many brands and designers. So the chances of their client wearing my pieces are sometimes 1/50 or even 1/100. So when my pieces get chosen, it's more like a surprise. 
The first time Bella Hadid wore my pieces was for Paris and London Fashion Weeks; she wore almost one look per day from me, which was crazy because usually, even if we get 1 look, that would be an extremely fantastic press day!
One of the most significant moments for me was dressing Michelle Obama. And I love that she wore it in her Netflix film "Becoming" because I can replay it over and over again! And it meant a lot to my team and me because it came out when Trump was in office, and we really missed the Obama days.
What does it mean for the brand to have someone like Michelle Obama representing you in a way? Do you start getting phone calls and big orders?
From a business perspective, the reality is that the "who wore what" phenomenon doesn't really have the same impact as before. But without a doubt, it is an integral part of building the brand from a PR perspective.
I feel honored to have dressed someone as important and influential as Michelle Obama. On a personal level, it made me incredibly proud of my team and myself because we all look up to her. 
I do love it when we get to dress someone influential and famous; who wouldn't! Especially when it's a person I admire and an inspirational role model for young people. That's something that I'm very proud of.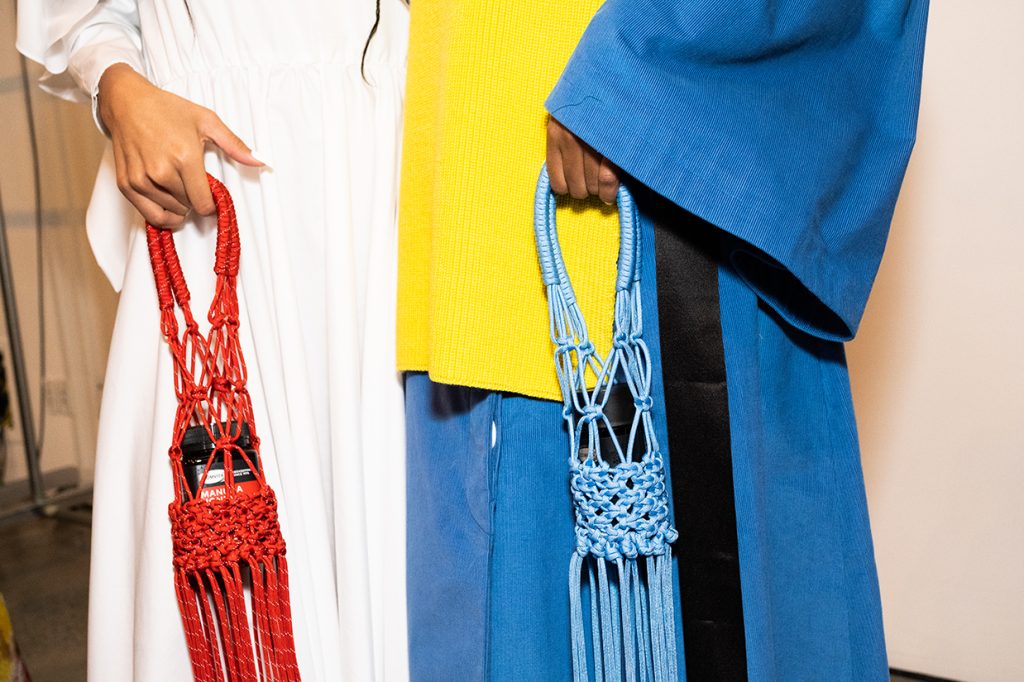 How did the collab with Comvita come about?
I was surprised when Comvita got in touch with me because I had just come back to New Zealand, and I had not done any press here. 
At that point in my life, I was working through a lot of personal issues, and I came back to focus more on self-care and concentrate on physical and mental health. To be more present, to focus more on being. 
And when Comvita contacted me, I felt like it was the right partnership for what I'm working through and that I can relate to the brand personally.
The Honey Bags look amazing. Can you also talk about the thinking behind them? 
I thought about how one would travel with the honey jar. Instead of just putting it inside a bag, can we make a bag that's made just for honey jars?
We have always used paracords in our collections. We reinterpreted traditional Chinese Knots, which symbolises good luck and prosperity, by crocheting them into the honey jar carriers for this season.
Can you talk a little bit about the process of working together and making the bags for the jars of honey? How does that compare as a canvas to the world of fashion?
The packaging design was a really fun thing to work on for me. I did a lot of research on honey packaging. From my research, I noticed that most of them have prints designed based on the packaging itself. So I wanted to create a print that can be used for both packaging and fashion.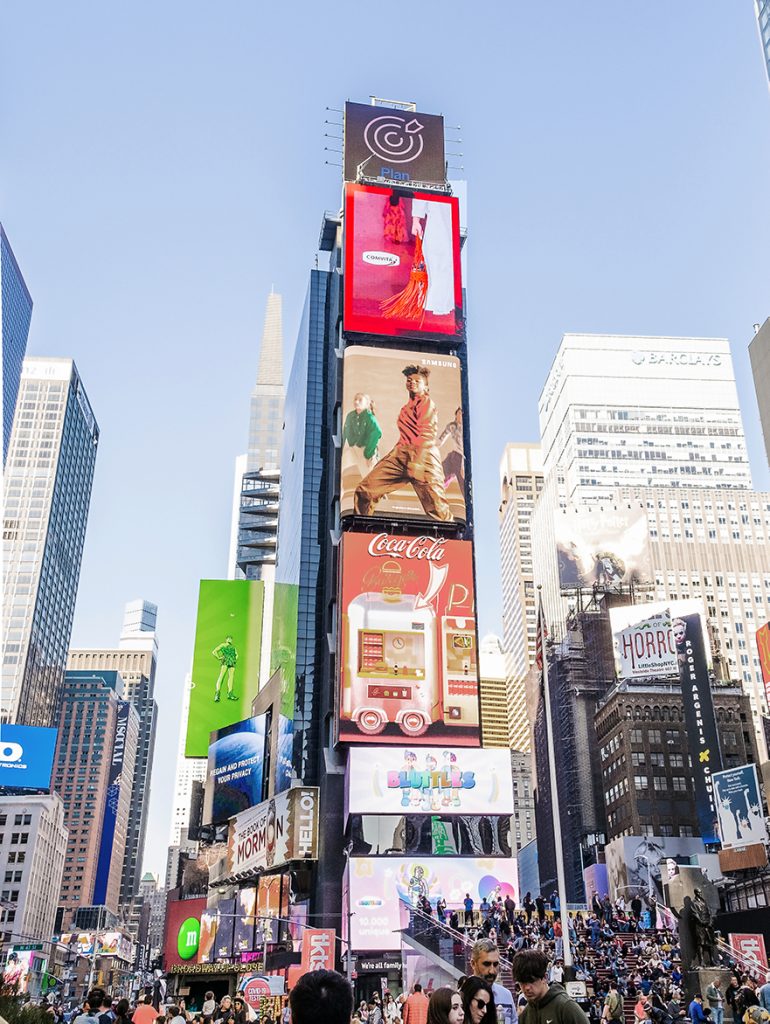 You and Comvita are both outward-looking and have this global reach. Would you have any advice for other New Zealand companies wanting to go global? 
My advice is to be more open to possibilities because sometimes many brands or companies think, 'Well, we want to keep doing the same things because we've been doing fine just is." While I think it's crucial to keep the company's core values, thinking outside the box and having crossovers can reach audiences that your industry can't reach otherwise. It's simple math.
It is interesting how you started talking about that emotional element with Comvita. Did that lead into some of the creativity as well? Thinking more of it, not as a product necessarily, but how it makes people feel and what it does for people.
The print for Comvita is made with the same technique as this latest collection's prints. We arranged and photographed real-life chrysanthemums in different colours, then carved out each individual flower and rearranged them again to make the final print. The vibrant colours and blossoming flowers created a positive impression on people; they were very cheerful. I felt that the process of making this print is very similar to the process of honey-making, from flower to hive to honey; it is done with so much care and detail. So I decided to use the same method for Comvita's packaging design with Manuka flowers, which is what Comvita's UMF Manuka Honey is made of. I wanted people to feel joyous and special when holding this limited edition honey.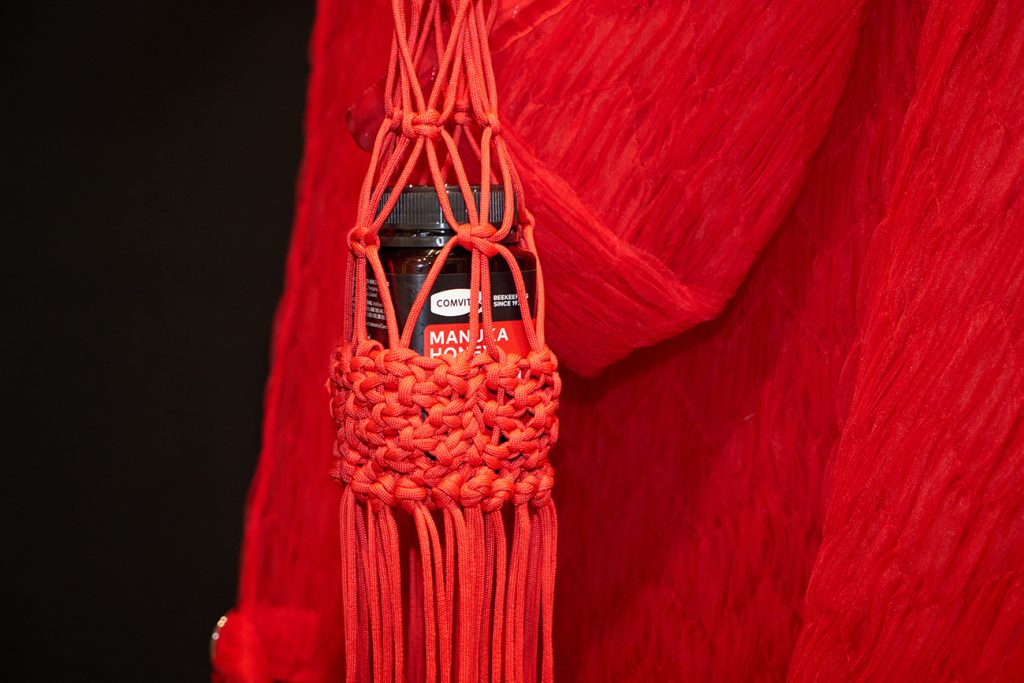 At the moment, there seems to be this rise of angst and anxiety in the world. How do you deal with that and still remain optimistic and happy?
To be very honest, I do have moments when I feel depressed. I'm pretty sure everybody does. I went through a lot of personal problems over the past 3 years, but I think it made me stronger and, surprisingly, even more positive. Because if I focus on what's bad and just keep digging into that hole, I'll never crawl out of it. I'm probably not out of that hole entirely just yet, but I am making my way up and getting more positive every day. I think being positive is the most important form of self-care. 
Is it important as well to confront certain things that might be getting you down, as well as having that optimistic side? Is there a little bit of a balance?
You do have to confront the bad stuff before you can move forward. That's precisely what I did. I was angry, sad, and depressed, but I had to deal with that. I had to admit that it was ok to be angry, sad, and depressed and that this was only temporary; I won't feel like that forever. As soon as you confront that, then you can move forward.
What is the best advice that you've been given along the way?
Never give up.
About Comvita:  Since 1974, Comvita® have been sharing the wonders of pure New Zealand Mānuka Honey with the world. Treading lightly on the land, they have vision of a world where bees and nature thrive together in harmony. Today, they continue this passion for being better, working at the forefront of science to deepen our understanding of the hive's healing power. Comvita® source the highest quality natural ingredients from remote corners of New Zealand, and use leading science to verify their purity and potency. Better Mānuka honey for better health – that's their sweet spot.