I don't know about you, but I struggle to cast my mind back to a time when Rihanna didn't exist in our collective lives. She's always been there. My foot taps on the ground and my head starts to bob as I remember listening to her debut hit, 'Pon de Replay' on repeat back in 2005. I start to jiggle all over as I remember dancing to her music in clubs, or bars—her song would be the only one everyone knew all the words to. I get excited remembering how I watched her in films in the cinema with my friends (in Peter Berg's 2012 blockbuster, Battleship or the 2018 American heist-comedy, Ocean's 8). Any time you visit Instagram, or Twitter, she's there—her dazzling green eyes piercing at you on the screen—promoting her next brand, or releasing a new album, or supporting a new fashion house with her flawless style.
It's true, there's a positive physical reaction people get with Rihanna. It's like seeing an old friend again, full of fire, sass and refreshing humility. Rihanna is that childhood friend who's knocked down every barrier in her way and has had a hell of a time doing it. No surprises, she's currently taking over the world yet-again as a musician with an upcoming album, rumoured to be called R9. She's also wowing us all on a daily basis with her Fenty Beauty, Fenty Skin, and Savage X Fenty products and has recently announced her pregnancy to rapper and record-producer, A$AP Rocky. Recently she's even been announced by Forbes to have joined the exclusive billionaires club, being worth a staggering 1.7 billion USD. A line from her 2016 banger-of-a-track springs to mind: 'So me put in work, work, work, work, work, work…' The understatement of the century. Rihanna works. She works hard. Really hard. And the result is this endless legacy of beauty.
Born in 1988, Robyn Rihanna Fenty spent her childhood years living in Bridgetown, the glistening heart of Barbados. The eldest of three children (she also has two younger brothers, Rajad and Rorrey), Rihanna had hard work and 'tough love' instilled in her growing up. During the early years, her strong mother, Monica, worked as a make-up artist and accountant. Her dad, Ronald, was a warehouse supervisor for a clothing factory. Home life wasn't as wholesome as you'd expect, however. Unfortunately, her parents fought regularly, which caused a toxic environment for the young Robyn and her siblings to grow up in. Most days, her father would come home from his job drunk, having spent half his paycheck on alcohol, marijuana and crack cocaine.
"It's not great memories," she recalled to Entertainment Weekly in 2007. "But it helped to build me and make me stronger."
Her parents' strained marriage and domestic abuse really affected Rihanna, causing her to suffer from insane headaches. Reportedly, on several occasions, she even bore the brunt of her father's rage, standing between her parents to prevent Ronald from hitting Monica. Her headaches got so bad that she had been rushed to hospital countless times. Doctors performed several CAT scans on her, fearing she had a tumor. After her father lost his job, the abuse around her childhood home worsened, and food became scarce. To make ends meet and to help with the finances, even on the weekends, young Rihanna sold clothes at a stall in a local market. Money was low, morality was even lower, but Rihanna made sure that her siblings were cared for and fed. Her dad was unemployed, her childhood home littered with drug paraphernalia; on one recorded occasion, Robyn even walked in on her father smoking crack.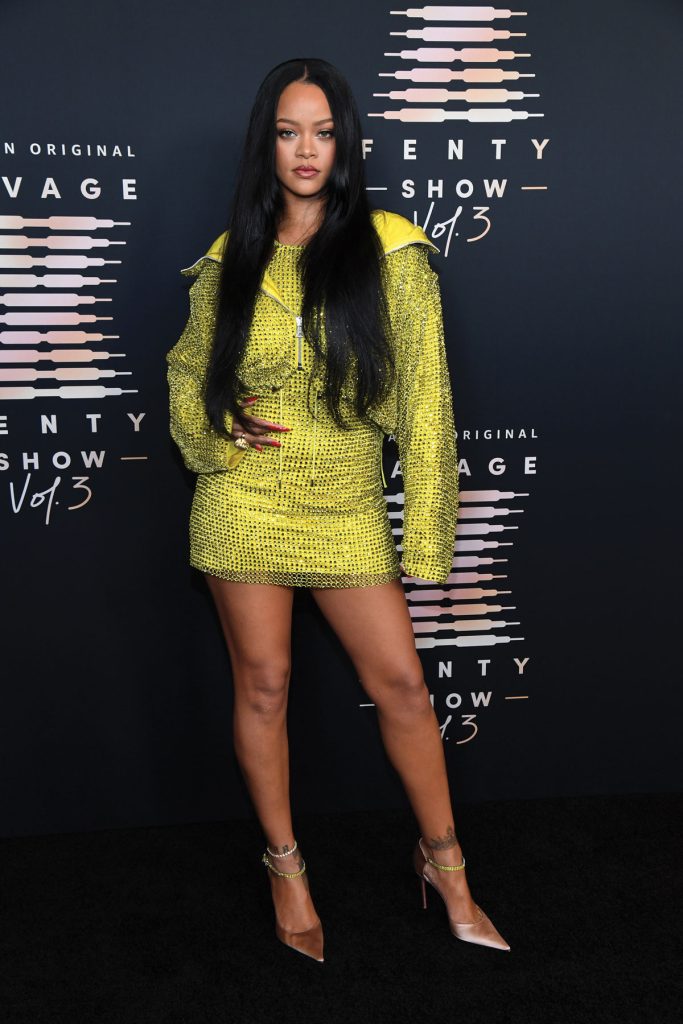 As a way to make sense of the chaos of living in an abusive home, Rihanna became an Army Cadet in a Barbadian sub-military program when she was aged 11. It was during the program she was put through her paces by her best friend and drill-officer, Shontelle Layne. Rising through the ranks to Corporal status, with Shontelle pushing her through, the discipline Rihanna learnt as a Cadet member was crucial to her later in life. After experiencing and seeing firsthand her father's abusive behaviour, Rihanna refused to come across vulnerable to anyone—an attitude she upholds to this day.
"It wasn't compulsory or anything," reminisced Shontelle to the BBC in 2009. "But picture me and Rihanna in combat boots and fatigues crawling through mud and things like that. We boss Cadets around, we make them do push-ups…"
Alongside her Cadet career, Rihanna found solace in reggae music (she idolised Bob Marley), American hip-hop and R&B. She had started singing at the age of seven, whilst attending Charles F. Broome Memorial Primary School and, after transferring to high school, won a talent show with her rendition of 'Hero' by Mariah Carey. It was with this win that it was settled—she swore to herself that she would become a singing superstar later in life. She just loved the limelight, and her singing (obviously) was next-level. At age 15, Rihanna formed a music group with her high school friends for fun, mostly covering hits by Destiny's Child. One of the members, weeks into rehearsals, revealed that she was the goddaughter to the wife of record producer and songwriter, Evan Rogers, who was conveniently on holiday in Barbados at the time. Rihanna's ears pricked up in excitement, and she jumped at the chance, penciling in an audition with the music exec, hoping for her chance to shine and make her dreams come true.
Though her mother was a professional make-up artist, Rihanna was never allowed to wear the stuff in her normal life. For this audition, however, the 15 year-old broke the rules. Her make-up, according to Rogers himself in a 2016 interview with Business Insider, was perfect. "She had such a presence!" the producer said. "I said to myself, 'If that girl can sing, then holy s**t!'" Dressed in capri pants, matching trainers, her signature green eyes glistening, she entered the room with that confidence we've all come to know and love. Obviously, she nailed it. Rogers recounted what really connected the young singer, to him and cemented that she'd be a superstar later in life. "That desire," he said, "more than any inborn talent, is what fans will connect to, and that is what [record] producers look for in a new artist. It's the one thing they can't manufacture."
Over the next year, 16 year-old Rihanna recorded her debut opus hit with Rogers, Pon de Replay. A demo of the song was, along with three others, cast into the wide net of record labels. The first fish to bite was Def Jam Recordings, with hip-hop legend, Shawn 'Jay-Z' Carter, at the helm as CEO. According to online sources, as she was so excited (and also very nervous) at the opportunity, Rihanna couldn't sleep a wink the night before, busily choosing an outfit and shaking at the thought of singing for Jay-Z. When the moment came, however, she belted out Whitney Houston, and Carter signed her almost instantly. With his initial help, Pon de Replay became an instant hit. Rihanna's debut album, Music of the Sun, with the favourite track as the lead single, was released in 2005 and scaled up the US Billboard Charts. It peaked at number 10, and was certified Gold within the first five weeks.
"The song is just so much fun," Rihanna told MTV News upon its release. "It almost feels too good—my dream is actually coming true. It's amazing."
Her second and third albums were hits, of course. It was with the third album, titled Good Girl Gone Bad, which featured the chart-topping single, Umbrella that Rihanna was presented her first Grammy Award for Best Rap/Sung Collaboration with Jay-Z by her side. – the first of many accolades. Funny how that song was originally supposed to be written for and performed by Britney Spears. Good thing that Rihanna got her hands on it, along with her unique style and character.
"When I won the first Grammy, there was no other feeling like that feeling. It just made me feel like I came so far, like that was just a dream a few years before that, and then it was happening right then."
Her music career then escalated to new heights. With sales of over 250 million records worldwide—Rihanna has been crowned one of the best-selling music artists of all time. She has earned herself 14 number-one and 31 top-ten singles. She has been garnered with nine Grammy Awards, 13 American Music Awards (including the prestigious Icon Award), 12 Billboard Music Awards, six Guinness World Records and was named one of Time Magazine's 100 most influential people in the world in 2012 and 2018.
Three years after her first Grammy win, Rihanna launched her first fragrance, Reb'l Fleur, which heralded the tag-line 'Good feels so bad, bad feels so good.' A year later, two other perfumes followed with Rebelle and Nude and a year later, Rogue was launched.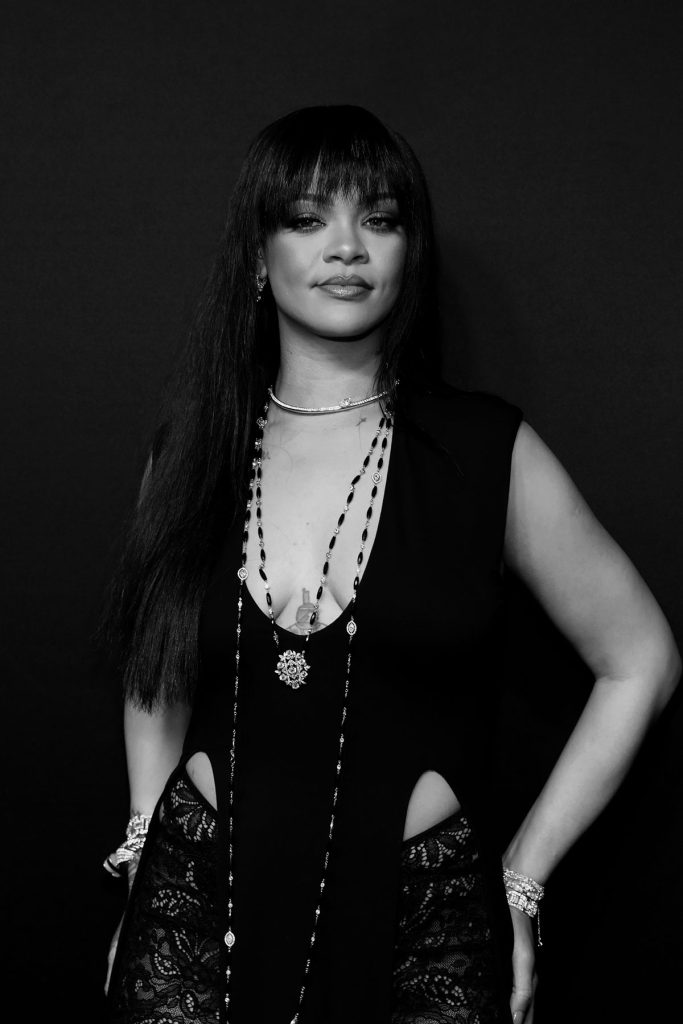 People would expect, when hitting those sorts of numbers, that artists (and even perfumers) would lay back, put their feet up and enjoy their fame. Not Rihanna. She wanted to do more and more for the world and so became a most lucrative businesswoman. Rihanna's glowing reputation exceeds her both in and out the studio, it seems. Launched in 2017 under luxury-goods giant LVMH, the highly recognised and celebrated Fenty Beauty is one of the world's top-selling, highly regarded foundation, lipstick, body glitter and make-up producers. Many think that Fenty Beauty is Rihanna's first foray into make-up, but it really isn't. In 2013, she signed a deal with MAC Cosmetics and launched her first red lipstick, RiRi. It consequently sold out within three hours. That's the level of influence she has.
So when her own beauty empire started out she knew exactly who to call and what buttons to press in the industry. With its famous tagline, 'Beauty for All', Fenty Beauty—with Rihanna at the helm and devoting 100 percent to each product—distributes worldwide. So no surprise that just 40 days after Fenty Beauty's initial start, it had already generated a staggering $100 million and had completely sold out.
"Makeup is like a secret weapon," she told Cady Lang of Time magazine in 2017. "Depending on my mood, my look, or the occasion, makeup can go from very subtle to a complete transformation, and that's the fun in makeup: being able to play and create in endless ways."
It was with the mixture of raved reviews, quality-to-affordability, and its emphasis on inclusion that it was no surprise that Time named Rihanna's love-child brand as one of the 25 Best Inventions of 2017. Thus the uniqueness of Fenty Beauty, back when more and more actors, singers, models, and athletes doubled as beauty brand ambassadors, thrived. And it thrived not just because Rihanna's name was connected to it. Over the years, Fenty has been committed to offering high-end quality products at lower prices, featuring mainly Black, Asian and minority ethnic models to showcase their products. It also has a keen eye on sustainability by removing any excess packaging. She's even made a $15 million dollar pledge with her own not-for-profit organisation, Clara Lionel Foundation, to help communities of colour that are effected by climate crisis.
"Nobody is perfect," said Rihanna last year regarding her brands commitment to the environment. "But I really believe we can try our best to do right, and we'll keep evolving as we go."
So in 2018, Rhianna launched Savage X Fenty, an affordable lingerie line in partnership with TechStyle. With a range of 90 different styles in 36 sizes, from 32A to 44DD in bras, and XS to 3X in underwear, Savage X Fenty is Rihanna taking over the world. She's showing that everyone deserves to be in the spotlight. In her campaigns for Savage X Fenty, Rihanna has included everyone with no judgment of sexuality, gender, creed or shape.
She approaches the beauty and fashion industry like no other on the market—as not some white-washed thing—but also as an inviting commonplace for all.
"It's important for me to push boundaries," Rihanna said in a press release, "but also create a line that people can see themselves in.
"We had people from all walks of life together on set;" Shaholly Ayers, a disabled model, told Forbes in 2021 about a fashion show she was a part of for Savage X Fenty, "almost every body type, race, sex, and celebrity all mixed. We were all treated equally, and no one was more special than the next."
It's in looking at Rihanna's truly inspirational career trajectory that we can take away many life lessons from our friend. To be true to yourself, know what makes you happy, work hard (and play harder), trust your gut, and strive for that ultimate perfection. It's to no surprise that Rihanna has enjoyed such a successful career up to this point in our lives. She's worked hard for it. She's always coming out with a new album or launching a new brand. From a small-town girl from Barbados, to famous musician, to actor, to fashion mogul, her empire has grown and grown to exceptional lengths. She's a dream-runner, and a superstar in her own right. And I bet she'll achieve so much more in the years to come. Watch this space. Rihanna is back (well, had she ever left?) and she's bringing her legacy of beauty with her.
"[I took] control of my vision, my sound, my clothes. I've embraced change along the way—things that make me a better woman, a better human being. Even the way I communicate: I'm really proud of my growth. I'm proud to walk into any building as this person. Nothing about me makes me embarrassed to be me."