We had and have it good here in New Zealand. Our bubble has kept us safe and pushed us back into "regular programming" much sooner than the rest of the world. Festivals, concerts, road trips, wining and dining, hugging… we've done it all, sans masks. But all of the good doesn't necessarily negate the bad. Lockdown fatigue was real and the Trans-Tasman Bubble could not have come at a more perfect time. For the most part, Kiwis have enjoyed and loved having our slice of heaven here on Earth to ourselves. The state of it all has made us collectively grateful to call NZ home, but there's no denying many of us miss breathing foreign air. Fortunately, we can do something about this now. Travel to and from Australia has officially resumed and vacations across the ditch could be less of a dream now, and more of a reality. With that said, Airbnb has released 10 of the most wish-listed stays by Aussies* to inspire Kiwis planning their next trans-Tasman adventure:
The Scientist Studio (Melbourne, Vic)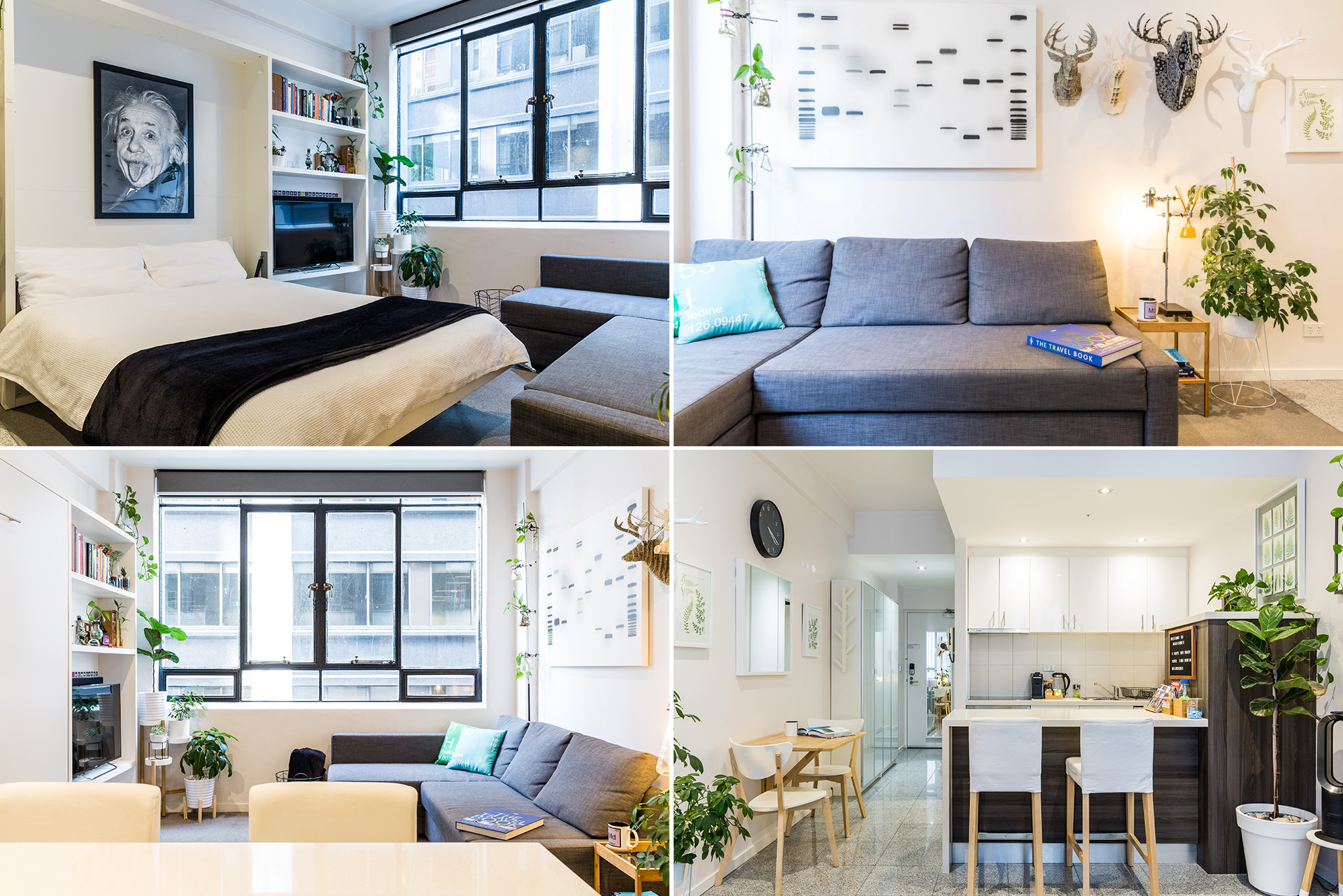 Staying in a cosy studio is ideal, but a thoughtfully themed one? Incredible. Staying true to its name, The Scientist Studio is bursting with creativity, with spices stored in test tubes and plants growing from beakers. Pardon the pun but this space has the right chemistry to make any trip a success!
Secluded Magical Rainforest Retreat (Main Arm, NSW)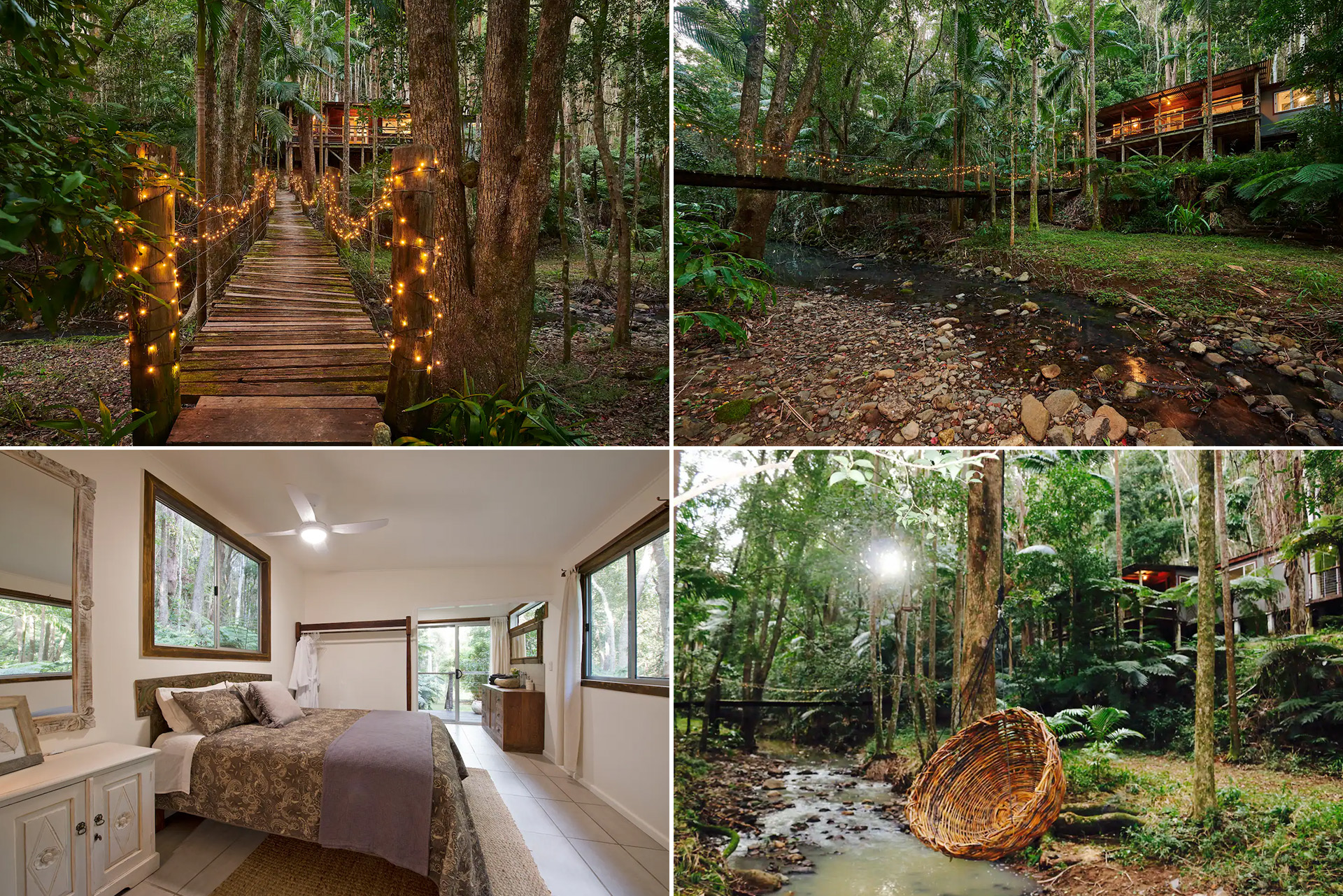 When the owners branded this property 'Magical Rainforest Retreat', they meant what they said. This piece of paradise screams magic and wonder and it's impossible to not feel that "vacation high" when you stay here. This romantic and secluded cabin set amongst treetops perched in a tropical oasis is located on a 24-acre property, with an abundance of nature just outside your doorstep and interiors that's reminiscent of Bali. If you're wanting the ultimate holiday to rest, recharge and/or reset, we highly recommend hitting that book button.
Luxury Gold Coast Hinterland Villa (Mount Nathan, Qld)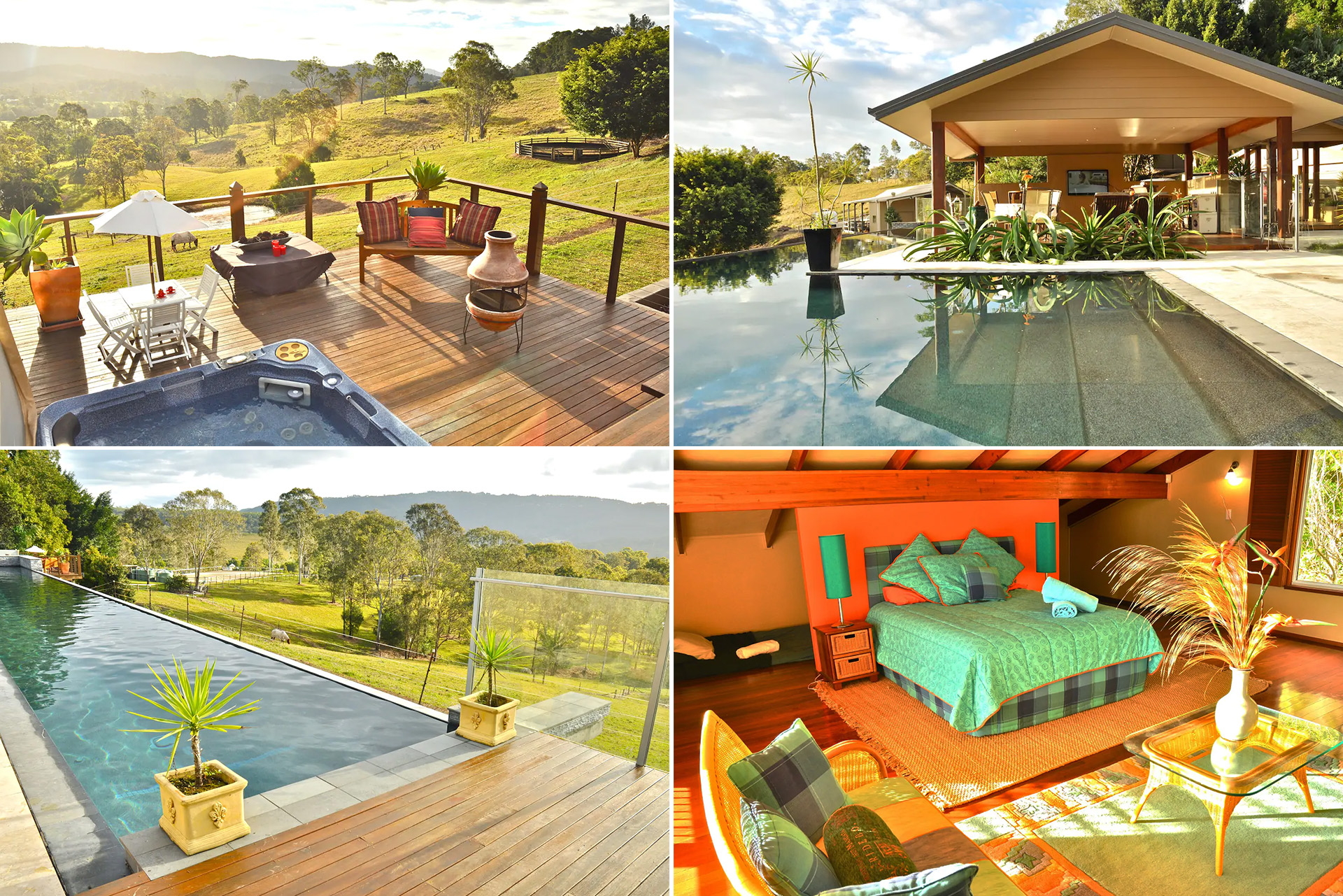 Surely there's a good number of people daydreaming of Bali adventures, and while a trip over the tropics could take a little longer, this accommodation could be the closest thing to it. Embrace the villa life with this ultra-luxe space. By luxe, we mean hot tub with an open fireplace and 25m lap pool equipped with a pavillion for dive-in movies, and stunning views to boot. This property sleeps 10 people in loft-style rooms, which makes it the perfect destination for family/friend getaways.
Bodhi Treehouse (Byron Bay, NSW)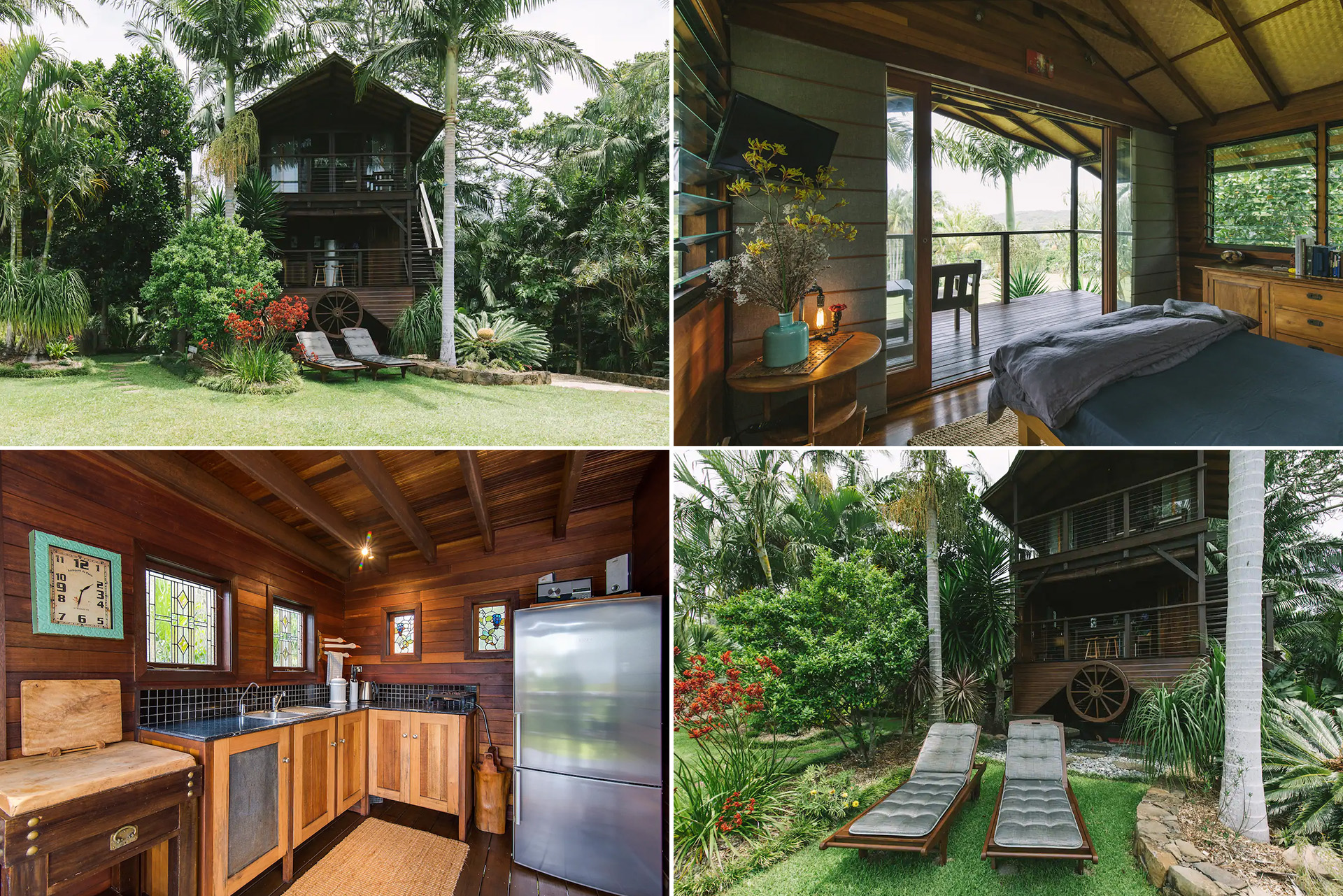 The idea of going on a holiday in Byron Bay is a no-brainer. This coastal town sells itself with zero effort. If you're one of the many wanting to book a trip over there, it's worth considering staying at one of the most unique places in the region. This beautiful treehouse with ocean and rainforest views nestled amongst 17 acres of subtropical rainforest and organic gardens is the perfect place to relax and rejuvenate. Make the most out of your stay by taking up a yoga class in the beautiful on site Yoga Shala or enjoying a drink while bathing in naturally filtered rainwater.
Romantic Orchard Escape in the Blue Mountains (Blackheath, NSW)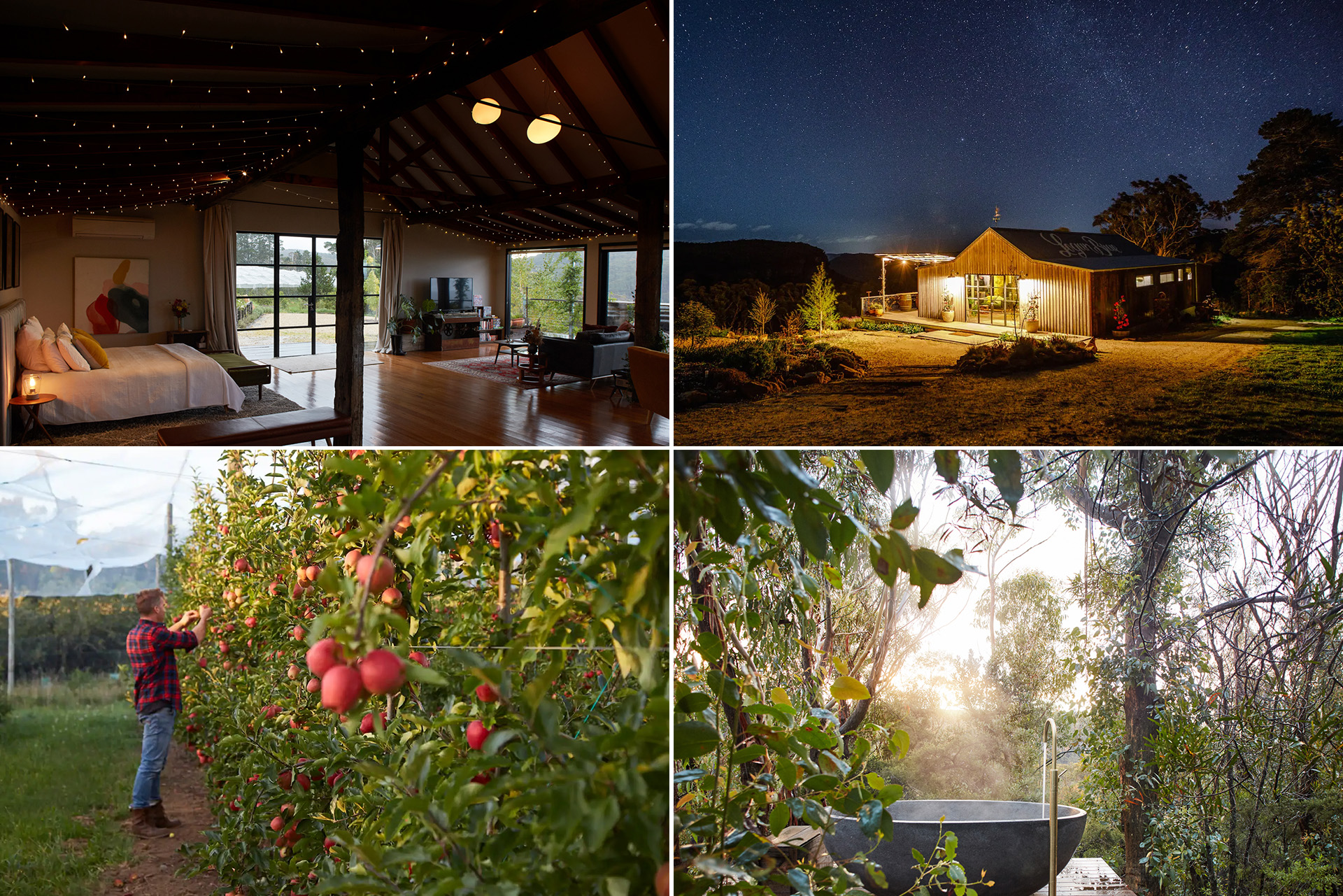 This stunning space is Airbnb's top 3 most wish-listed in Australia for a reason. Wondering what it's like to live on a picturesque Apple Orchard? Wonder no more because you can book a few nights here and experience that firsthand. Every second of your stay here is guaranteed to be luxurious in every sense of the word. Indulgent moments include sitting by the cosy fireplace with a platter of your choosing, wandering through the Orchard and the secret lookout, or enjoying a bottle of champagne as you soak in one of the freestanding bathtubs looking out onto the view and bush. If unwinding is on your to-do list, this is the place to be.
Waterdragon Studio Apartment (Byron Bay, NSW)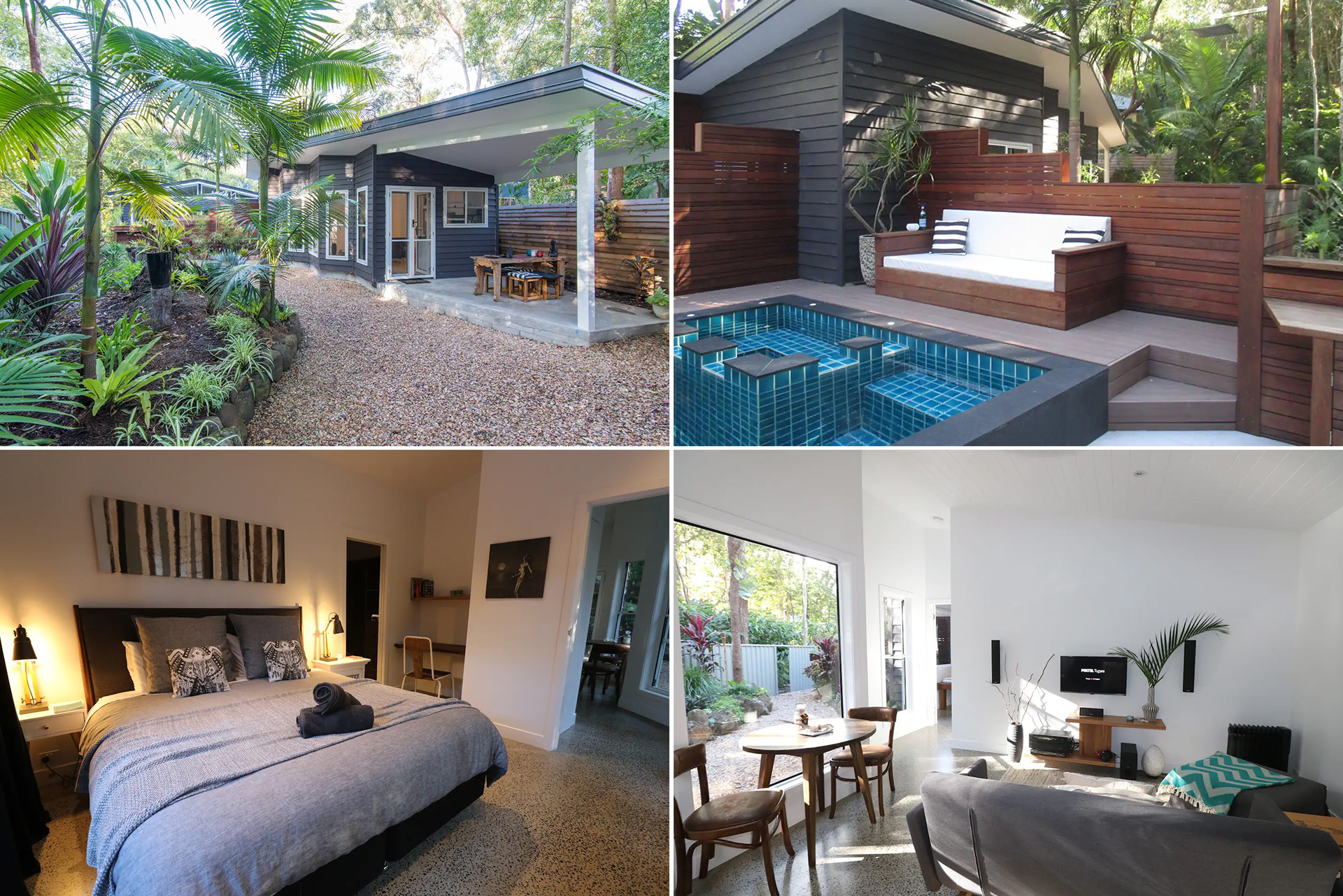 Here's another gem from Bryon – a self-contained apartment, with a shared pool, nestled in lush rainforest that's only a minute's drive from the beach and town. What a find?! As soon as you step through the door of this newly renovated beach house, expect the feeling of calm to take over.
Treehouse Blue Mountains (Bilpin, NSW)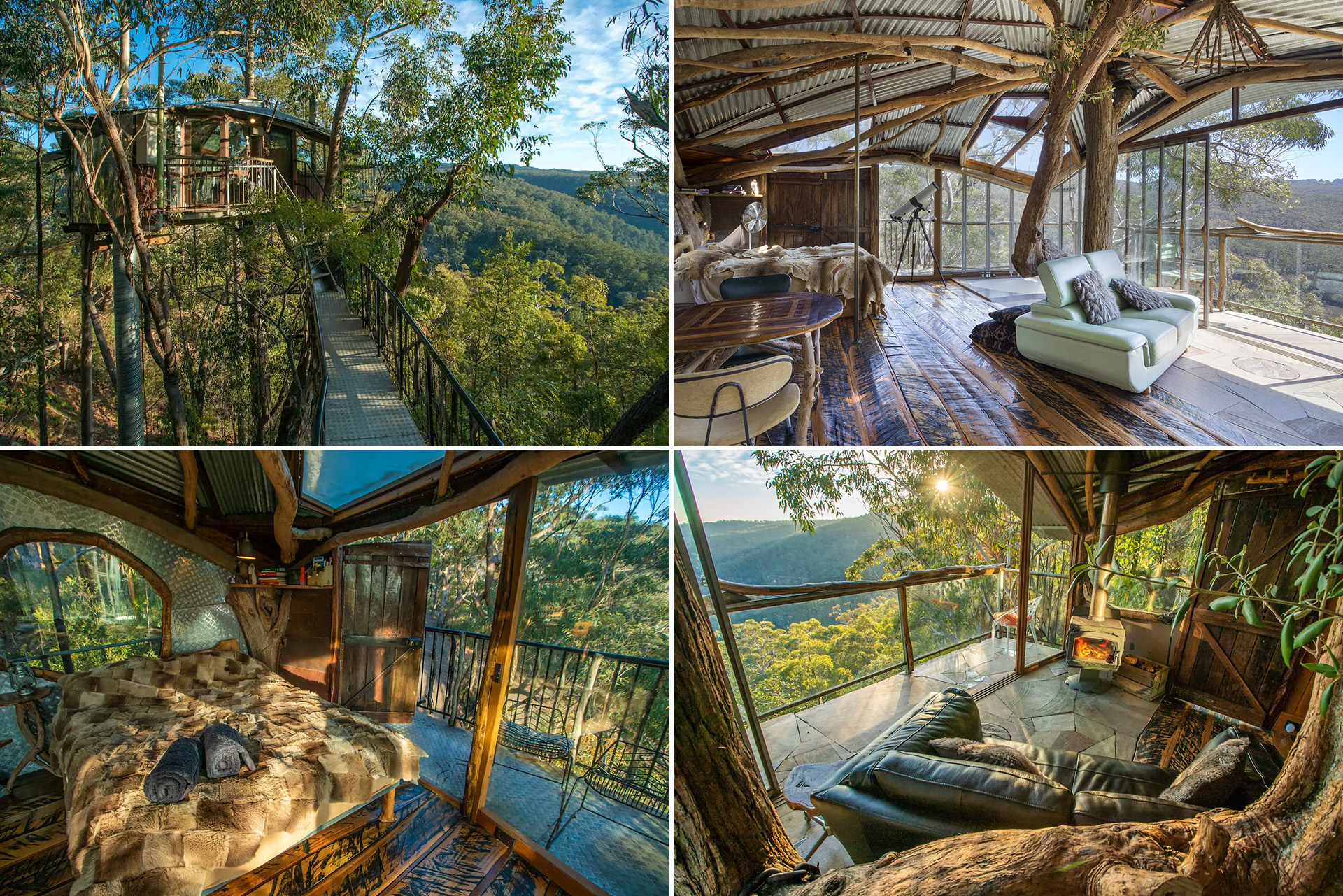 The majority of the couples that wed during lockdown have postponed honeymoon plans and opted for the obvious alternative – a trip down the South Island. But now that the scope of places we can travel to has grown, it might be worth revisiting honeymoon plans and this could be the perfect place for it. This secluded treehouse offers a back-to-nature experience in style, nestled between two National Parks and a World Heritage-listed rainforest. Want stunning views to go with the dreamy accommodation? Well, you've got it! The Treehouse has picturesque views of the deep Bowen's Creek Gorge and the Blue Mountains rainforest. 
The Barn (Hobart, Tas)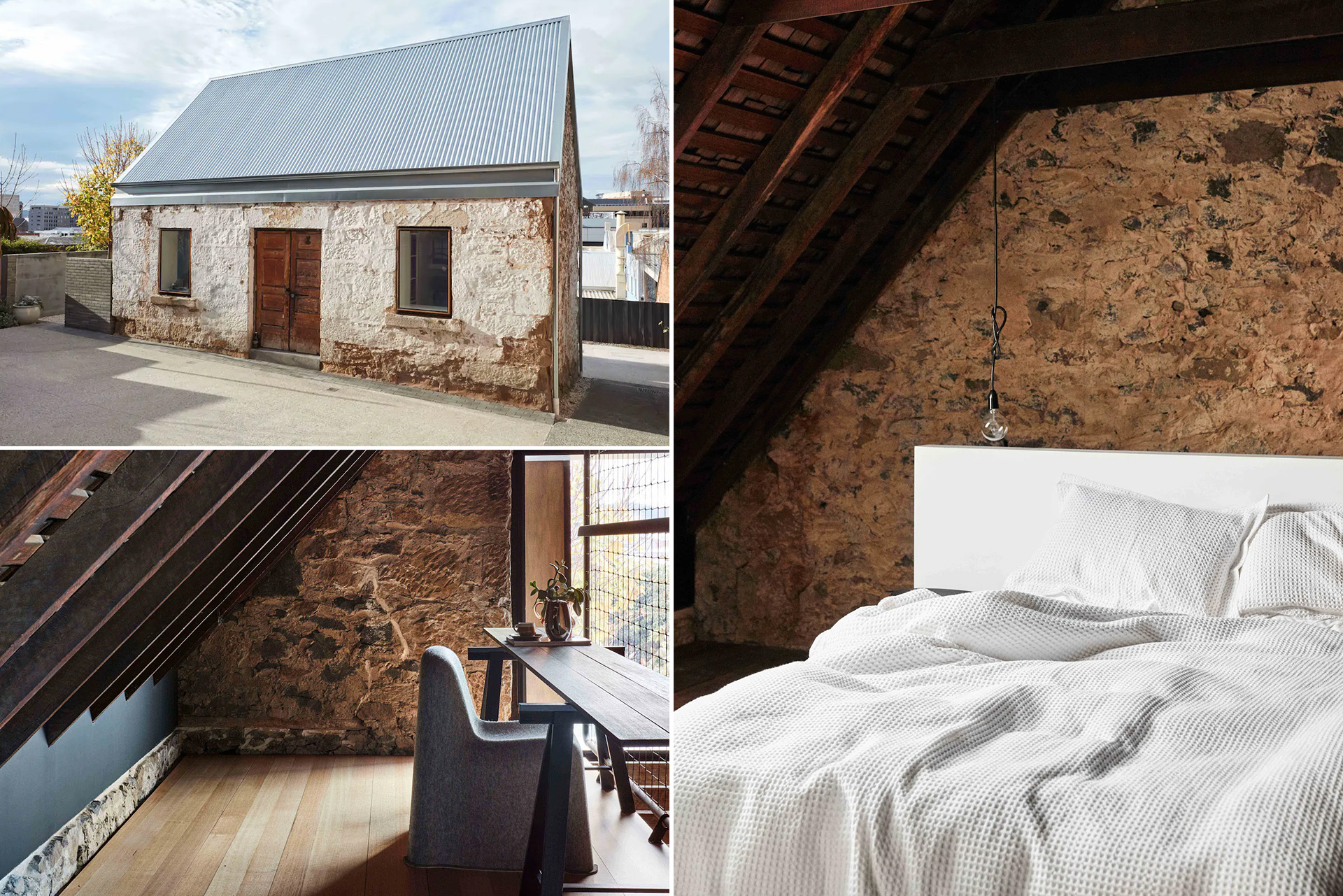 There is no hard-selling necessary when talking about a multi-award-winning space. Booking a stay at The Barn is an experience like no other. For the architecture and style aficionados, and to those who truly enjoy the finer things in life, hitting that book button is a must. This space is bursting with so much charm and could easily make you forget there is a world outside it. It'll be hard to fathom you're situated right in the heart of Hobart's CBD, just mere minutes from the city's major cultural and gastronomic attractions.
Mountain Tiny House (Warburton, Vic)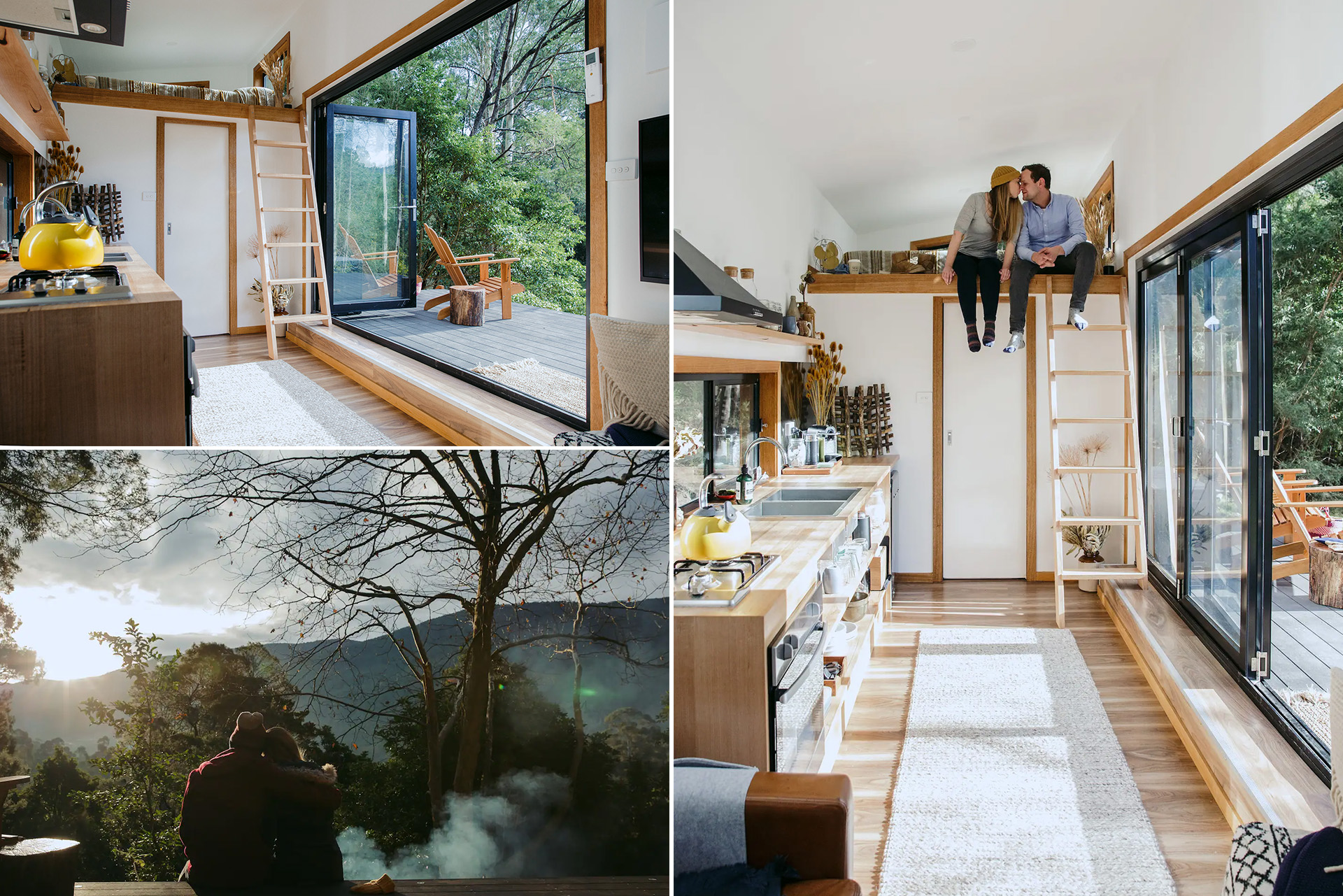 Good things come in small packages, or in this case, a tiny house nestled between the Redwood Forest and La La Falls. The stark contrast between the properties previously mentioned and this wee space is rather obvious, but do not be fooled by its size. This tiny house is surrounded by mountain views and other natural wonders topped off with the complete luxury off-grid experience.
Strawbale Cottage (Leura, NSW)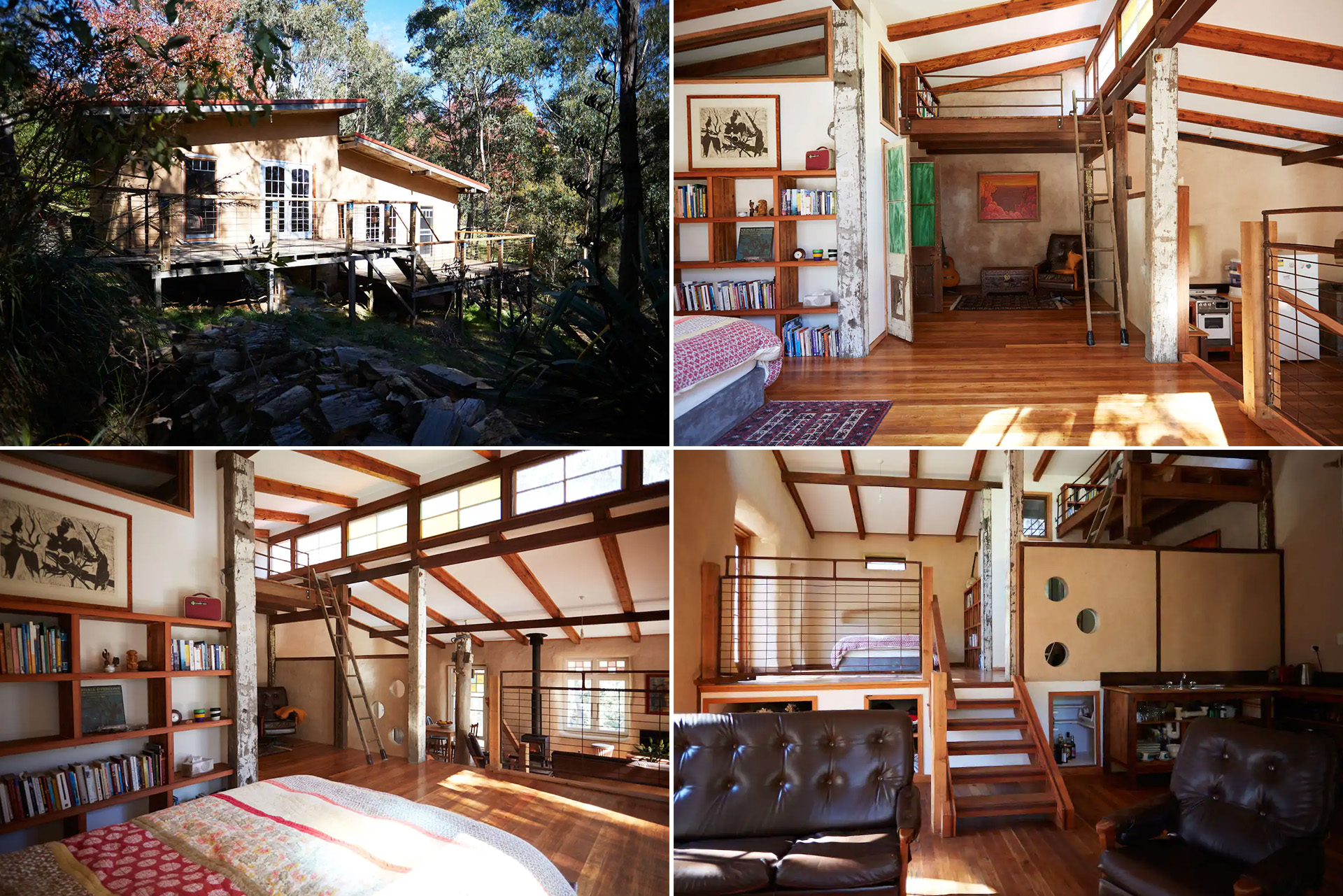 Is it still counted a vacation if you're traveling somewhere that feels like home? Probably? Definitely! This cottage, filled with natural light during the day, promises comfort to the max. If you're after a holiday that requires a lot of doing nothing, this cottage is the place to be. On really good days, this place gets a lot of afternoon sun, which is music to the ears of those who love midday naps. And some positive news for the bibliophiles out there, The Cottage is stocked with books – lots of them. If eventually, you do decide to leave the property, shops and other undiscovered gems are just a stone's throw away.
*Internal Airbnb data shows travellers were particularly keen to take advantage of the new trans-Tasman arrangements, with searches by Kiwis for Australian trips almost doubling in the day leading up to the hotly anticipated milestone announcement. Meanwhile, searches by Aussies planning New Zealand getaways almost tripled that same day.