From the moment you step off the cobbled lane into the rough-hewn mass punctuated with a constellation of sleek, irregularly-shaped windows, it's clear that The Hotel Britomart is much, much more than just your regular city hotel. It seems its creators – the same folks that curated the heritage precinct of brick laneways and dockside warehouses in which the hotel takes pride of place – have been on a singular quest to leave no stone unturned in creating a deep sense of place that you will be hard-pressed to discover elsewhere.
From the locally-sourced materials such as the 150,000 hand-made bricks cladding the building's exterior to the custom artworks from esteemed tangata whenua such as Ralph Hotere and Shane Cotton, every inch of this proudly New Zealand-owned and operated travellers' haven has drawn from the Whenua (surrounds) and talent of an immaculately curated pool of leading New Zealand architects and designers, furniture makers, artists, textile artists, and other artisans and suppliers, who have all played a part in uplifting the establishment's Kaupapa underpinned by the important Maori values of Manaakitanga and Wakawhanaungatanga.
A celebration of the sensory, The Hotel Britomart is a meld of the new with the refurbished heritage buildings it shares its footprint with, comprising 99 exquisitely appointed timber-lined guestrooms and five stunning suites exuding personalised comfort that's all about relaxed, upscale warmth. Just steps from the hotel lobby on the ground floor of the heritage Masonic Buckland Building and very much a restaurant in its own right, kingi is similarly committed to creating direct connections for guests with some of the hidden taonga of Aotearoa.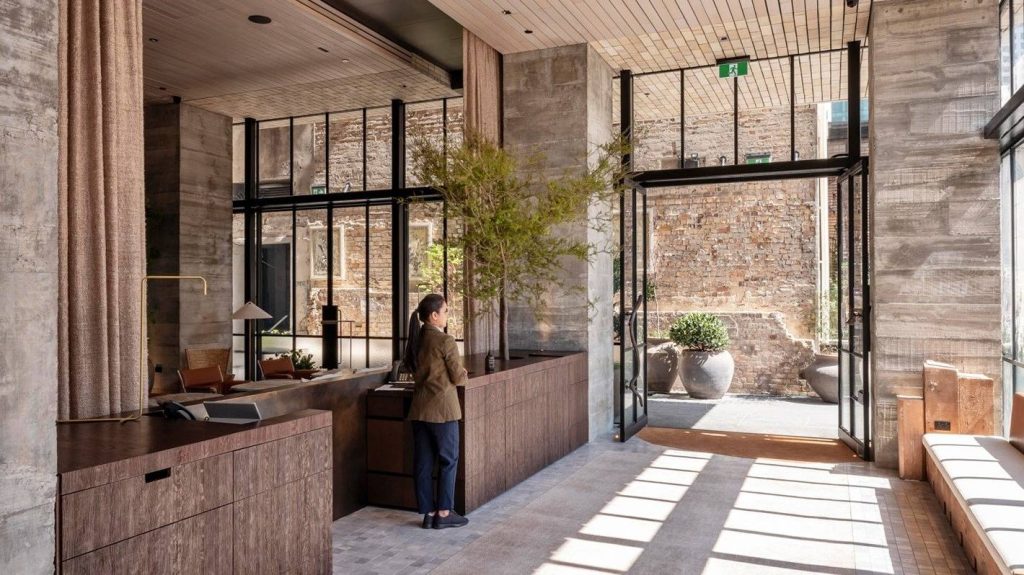 Presided over by a striking 1,800 piece glass "fish-scale" chandelier, the dining establishment with multi-award-winning chef and kingi co-founder, Tom Hishon, is yet another immersive experience where everything you can see, touch, and taste has been painstakingly considered – this time, a celebration of "the terroir of New Zealand's oceans, dunes, river mouths and reefs," culminating in such culinary delights as the Blue Cod Wings with burnt lime and ranch from the Chatham Islands, Snapper belly croquettes, sauce gribiche, citrus salt from Leigh, and Yellow belly flounder, almond, citrus, capers from Kaipara Harbour. Kingi prides itself no less on working with independent local fisher-men and -women who share the same values in ensuring all fish is sustainably line-caught from our surrounding waters while actively protecting the other marine life.
For those wanting to get a more up-close-and-personal dining experience, kingi's signature celebration of the sensory is taken to new heights with the recent unveiling of its private dining room, kingi Private. With the feel of an elegant private home, this intimate light-filled dining room designed by Cheshire Architects features a glass-boxed "larder kitchen" from which guests can catch glimpses of the chefs whipping up a seasonal tasting menu to die for. Drawing on the relaxed warmth of kingi and the refined elegance of The Libraries' one-of-a-kind function spaces, kingi Private offers yet another sophisticated private dining or meeting space, brought to life by an expansive raw-edge swamp Kauri slab table set beneath a shimmering fish-scale chandelier.
It's certainly not a stretch to describe the creators of The Hotel Britomart as connoisseurs of the notion of harmony as a powerful source of emotion, with its layers of history, art, and design combining to foster a unique sense of belonging that connects guests with the precinct and the city at large. And when it comes to dining and connecting, the realm of kingi has proved to be the perfect opportunity for an exclusive collaboration with the renowned Champagne Dom Pérignon. "The Hotel Britomart is delighted to host this partnership between Dom Pérignon and kingi and kingi Private," says The Hotel Britomart general manager Clinton Farley. "There is a wonderful alignment of premium craftsmanship and valuing heritage between our brands, and we're excited to see these brought together to create an unforgettable experience for our guests."
The two-hat-rated kingi and kingi Private will be the only places in New Zealand where diners can experience the elegance and precision of the highly anticipated Dom Pérignon Vintage 2013 by the glass or alongside an exquisite five-course gastronomic tasting menu specially crafted by chef and kingi co-founder, Tom Hishon to bring to life the sensory values of the Vintage 2013 – to be more specific, that of intensity, precision, tactile sensation, complexity, and minerality. Take our word for it – the resonance achieved between Pinot Noir and Chardonnay is quite the match made in heaven paired with the minerality and seasonal freshness of the seafood heroed in kingi's degustation. "Creating a tasting menu to match with the Vintage 2013 was great fun," says chef Tom Hishon. "The tension and balance this wine holds is extraordinary and is a dream pairing for the style of food I like to cook."
Just as Dom Pérignon is synonymous with an absolute commitment to creative and harmonious assemblage, so too is The Hotel Britomart experience an utterly immersive one, unyielding in its expression of the sense of craft and connection with place as a source of emotion that is nothing less than the very best of everything Aotearoa.
Book your kingi Private x Dom Pérignon Degustation Experience here