When it comes to zeroing in on your specific goals for your skin, serums are one of the most effective tools with which to ensure you are getting the most powerful results possible. Offering a concentrated dose of active ingredients, which can help to address a variety of skin concerns, they are an essential part of any skincare regimen if you are looking to give your skin that extra level of treatment it needs to look and feel its absolute best.
One of the key benefits of serums is that they are highly targeted, meaning they can be formulated to address a variety of specific skin concerns such as fine lines, wrinkles, hyperpigmentation, and dullness. Purveyors of powerhouse ingredients designed to amplify the overall health and appearance of your skin, Dr. LeWinn's, has recently upped the ante in this sphere with the launch of a new Serum Series, featuring three clinically-proven beauties: Hydrate, Renew, and Glow.
The high-performing range is formulated with star skincare ingredients including Vitamin C, Retinol, and Hyaluronic Acid with each serum designed to target a specific skincare concern such as hydration, skin cell renewal, and skin radiance. Renowned for their innovations in treating changing skin and anti-ageing products, which take into consideration varying factors of hormones, lifestyle, and environment, this new trio of serums from Dr. LeWinn's is also supercharged with their signature  state-of-the-art ingredients to amplify the results.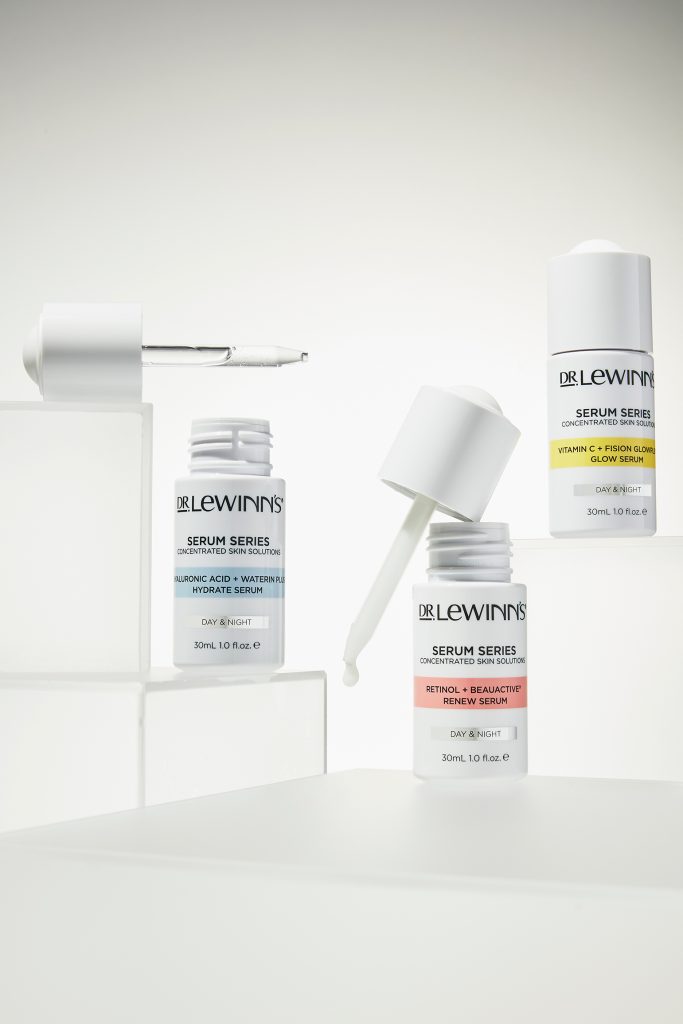 The Retinol + Beauactive Renew Serum is dedicated to treating rough, dull, and sun-damaged skin. Targeting lines, wrinkles, and age spots, the uniquely encapsulated Retinol penetrates the skin without irritation, visibly reducing lines and wrinkles and renewing the complexion.
The Hyaluronic Acid + Waterin Plus Hydrate Serum touts a laser focus on dry and dehydrated skin, targeting lines, wrinkles, loss of volume, and tired-looking skin. This lightweight gem is formulated with a potent duo of Hyaluronic Acid, the ultimate antioxidant protector, and Waterin Plus, a plant-derived moisturiser with water-holding capacity that works hard to amplify the skin's Hyaluronic Acid levels for hydrated, ultra-plump skin.
For those concerned about dull and uneven skin tone, the Vitamin C + Fision Glowplex Glow Serum offers an effective solution. This concentrated featherlight  serum is formulated with Niacinamide and Hyaluronic Acid to target lines and wrinkles, pigmentation, and lacklustre skin. Vitamin C and Fision Glowplex, created with gold-standard niacinamide and natural peptide technologies, work together to boost skin radiance.
If you're looking to take your skincare regimen to the next level, consider incorporating a quality serum that aligns with your skin goals after cleansing and before moisturising. These potent go-tos from Dr. LeWinn's can also be used separately or in combination with each other to give an extra boost to achieving a smoother, brighter, and more youthful-looking complexion.