1. Change Your Mind
Lion's mane, bacopa, L-Theanine and siberian ginseng are brought together in Two Islands Brain Wave, $79, to give you mental clarity.
2. Botanical Healing
Designed to be minimal and adaptable, Kaea the rejuvenator Multi-Nutrient Face Balm, $205, is a plant-powered concentrate that calms inflammation and strengthens the skin's barrier.
3. Smooth Operator
In the spirit of self-care, it's time to take it into our hands. Ultraceuticals Ultra Rejuvenating Night Hand Complex, $89, is infused with acetyl zingerone, AHA and vitamins B3 and B5 to visibly rejuvenate aging skin.
4. Galactic Vision
Drawing from sparkling galaxies, Anastasia Beverly Hills Cosmos Eyeshadow Palette, $99, has a dozen multi-dimensional shades from neutral mattes to iridescent shimmers and metallics for any eye creation.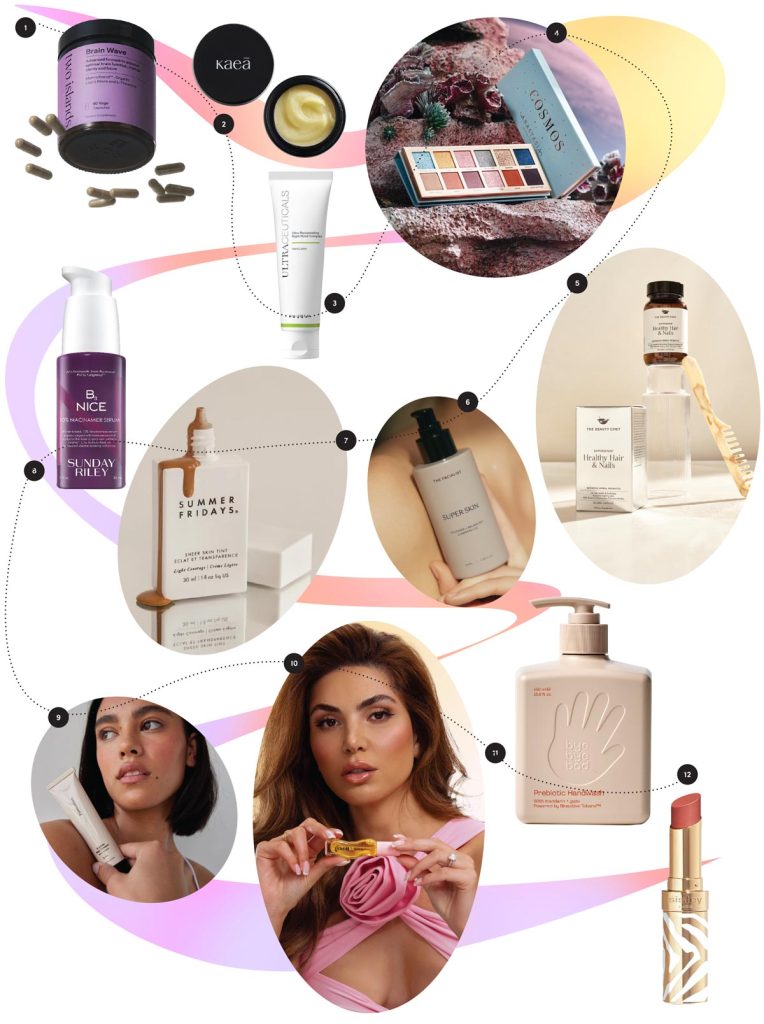 5. Gut Feeling
Beauty Chef Supergenes Healthy Hair & Nails, $65, harnesses the power of evidence-based herbs such as saw palmetto, kelp iodine and their GUT5Y-4 probiotic to support the growth of hair and nails.
6. Holistic Action
The second product from The Facialist's Ashleigh Scott, Super Skin Cleanser, $69, is a powerful yet gentle cocktail of oils to soothe and balance the skin with every cleanse.
7. Always Fridays
Leave it to one of our favorite skin-care brands to jump on the "skin tint" train with a sheer, layer-able serum that's brilliant for barely-there coverage. Summer Fridays Sheer Skin Tint, $76, isn't technically a foundation, but rather a subtly shaded serum even the pickiest makeup wearers will want to put on their faces.
8. Make a B Line
Designed to play nice with your existing routine, Sunday Riley B3 Nice, $126, is a 10% niacinamide serum with trans-resveratrol and EGCG that brightens the skin, reduces pore size and soothes redness.
9. Thoughtfully Formed
Making luxury affordable, Formation Peptide Night Cream, $30, is rich in omega oils and argireline peptide to nourish and restore the skin.
10. Golden Glow
Following its virality overseas for its non-sticky high-shine finish, Gisou Honey Infused Lip Oil, $54, has finally launched on our shores.
11. Hello, Good
Powered by the antibacterial and anti-inflammatory properties of sustainably sourced totarol, Bye Bye Bad Prebiotic Handwash, $18, gets rid of bad bacteria while acting as a food source for your skin's natural probiotics.
12. Plump 'n Shine
For a swipe of flattering glossy pigment, Sisley Phyto-Rouge Shine, $80, is infused with hyaluronic acid to give a youthful pout.