I was at my most glamorous, dressed head to toe in oversized wet weather gear; navy pants, a giant-sized jacket, gloves, gumboots, and a fancy helmet that is halfway between a bike helmet and a motorbike helmet. I'm feeling pretty sexy. It's grey and cold, but apparently not "West Coast South Island cold". It's definitely cold for this Aucklander though. I was waiting to see if I passed the test so I can go quad biking for the very first time.
I passed, along with my 11 new friends. We roared out of Franz Josef into the rainforest, through mud, over boulders, and into the wide-open glacial riverbed. We criss-crossed the river, stopping now and again to gaze at Franz Josef Glacier, which is playing hide and seek with the clouds. We opened the quad bikes up on the flat ground and really FLY. I was grinning so hard my face is almost spasming. I can't remember when I last felt this joyful.
Holy heck. I can't believe I'm doing this on a Wellness Retreat!
Wellness holidays have been growing in popularity post-Covid with many people feeling burnt out, and in desperate need of a reprieve. No one knows this more than Wellness Retreats NZ Founder Mel Carroll. Mel started the premium retreat and wellness events company seven years ago after her own life-changing experience with chronic fatigue. After dividing her time between Bali and New Zealand, Covid has seen her based full-time in New Zealand and developing more luxury retreats around the country. She's partnered exclusively with Rainforest Retreat for her Retreat into the Rainforest Adventure and Wellness Retreats, and already has two more retreats planned there for later this year, and five for 2022.
I'm no stranger to a retreat as I've been on a number of them over the years, mostly in Bali involving yoga and surfing. A good retreat is a powerful tool to help jolt you out of your bad habits and offer a bit of perspective and a reset.
Retreat into the Rainforest offered me something a little different though. All of the retreats I have been on were 'women only'. This is the first retreat I've been on that has men along for the transformation ride. MEN. Will they ruin the "we're all in this together"-vibe? What will they bring to the retreat table?
Arrival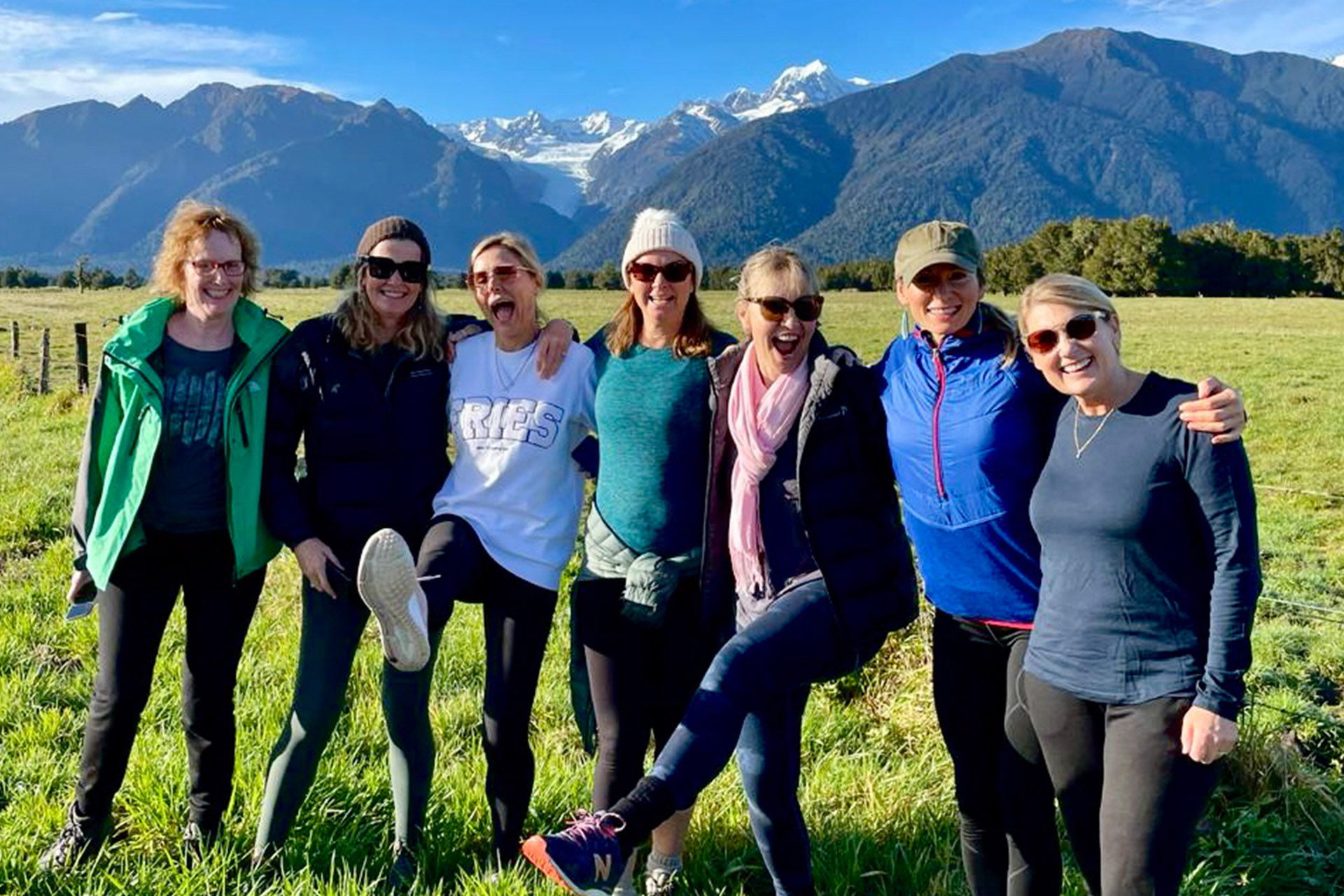 We arrived in Hokitika off the 6.30 am flight from Auckland via Christchurch. Some of the retreat crew are more bleary-eyed than others – there are a few nursing fairly decent-sized hangovers after a night out in Auckland pre-flight. The 1 hour 40 min drive along a fairly windy road to Franz Josef proved to be a bit challenging for some.
Altogether, this wellness journey was shared by three couples, two sisters, and the rest of us are traveling solo – a nearly 50/50 split of the sexes.
Feeling either burnt out or in need of a reset, it's immediately clear that everyone is ready for this retreat. It's also obvious that many are retreat virgins and unsure of what to expect. Will it be mung beans at dawn and 3-hour yoga sessions? The answer, thankfully, is no.
Mel Carroll made it very clear when welcoming us into the Rainforest Retreat that this is OUR retreat and we can take part in as many, or as few activities as we liked. If we wanted to sleep in every morning and miss breakfast or yoga, that's fine. If we chose afternoon napping over a walk or a seminar, no problem. There were also sighs of relief when we realised that this retreat is not caffeine nor alcohol-free. Some chose not to drink for the week, others enjoyed a cocktail at the end of the day. It was a judgment-free zone.
And this, being New Zealand, meant that I knew some of my fellow retreaters like Sean and Mandy, who were old flatmates of mine. We haven't seen each other since I moved to Hong Kong in 1998. What are the odds?
Surrounds
Franz Josef is deep in glacier country. A township of only 300 people which mainly relies on tourism, it's suffered deeply throughout the pandemic. There are signs of the slowdown everywhere; the hot pools only open on weekends and directly across from where we are staying, the Scenic Hotel has shut down shop until the borders reopen. The locals are wonderfully friendly and it feels good to spend some tourism dollars here as many of these are family-run businesses.
If you spend a night in Franz Josef, be sure to walk up to the old gold mine tunnels in the hills behind the town. The Tatare Tunnel Walk is about an 80-minute roundtrip walk with stunning bush and river scenery. Make sure to take a torch so you can explore the tunnel, the flashlight on your phone won't be bright enough.
Wellness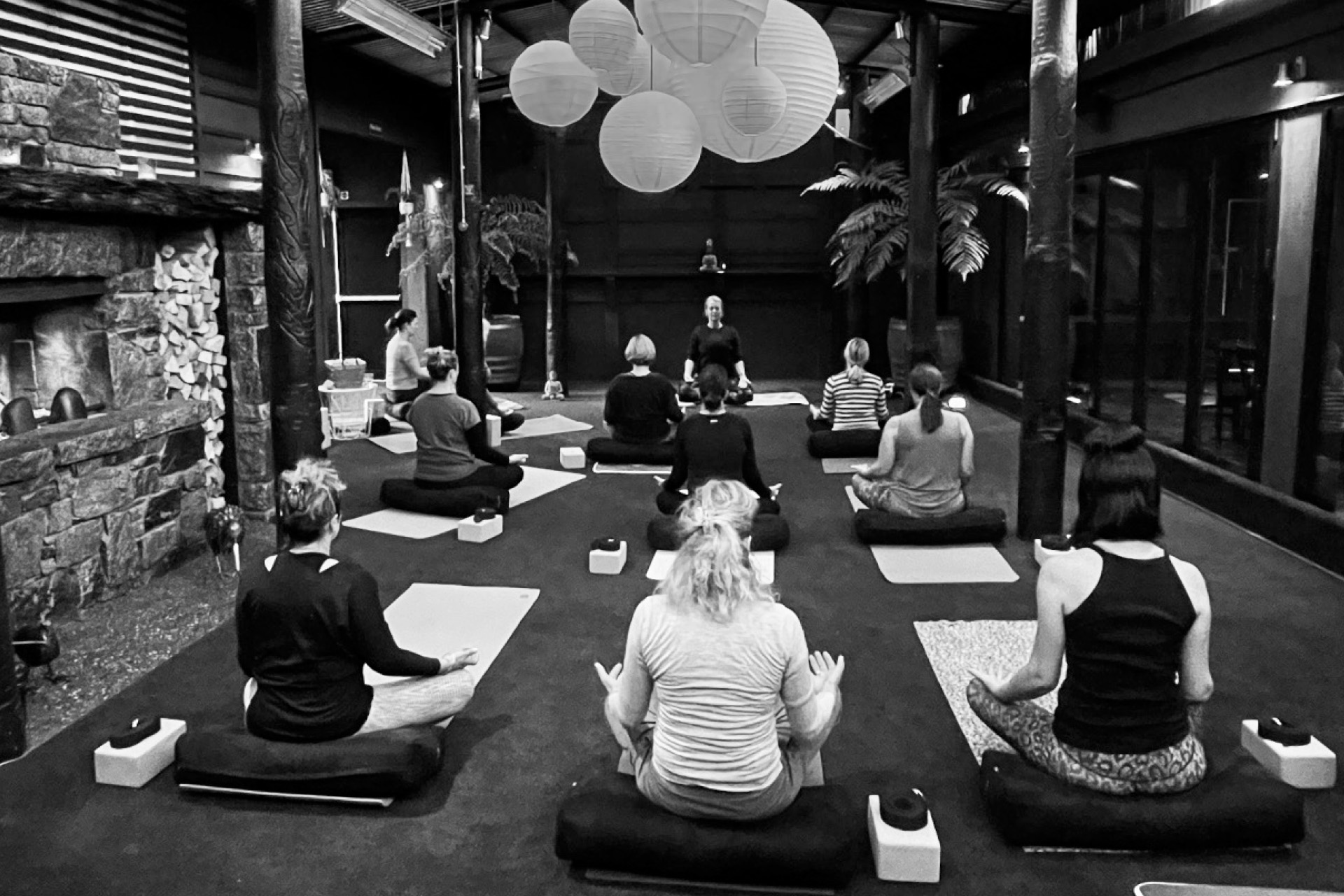 Wellness Retreats NZ founder Mel Carroll is hosting the retreat, and she's brought in special guest practitioners and co-hosts Integrative Nutritionist Kaytee Boyd and Exercise Mentor Paddy Flavell.
Just being surrounded by this incredibly dense rainforest does wonders for your sense of wellbeing. Is it the oxygen? Is it the quiet? I don't know, but the West Coast is already weaving its magic around us.
Mel takes us through an almost daily yoga practise. She has a wonderfully soothing voice and sense of calm, and the yoga varies from slow flows to Yin. Many of the men on the retreat have never attempted yoga, but Mel makes it achievable for all levels. The room we practise in has been newly carpeted, and has a giant roaring log fire. This beats sitting in the office.
Paddy Flavell has been in the fitness industry for years and there is nothing the man doesn't know about working out. He tailors exercise sessions for us, and also doubles as our coach driver and all round nice guy. He's full of great stories and fun to share a pre-dinner gin with.
Kaytee Boyd is in charge of the retreat seminars. Seminars on a retreat might sound boring, but they are anything but. Kaytee has been involved in the health and wellness industry for over 25 years. With a double degree from Otago University in Human Nutrition and Sports Science, she is an absolute mine of information. She covers everything from Hormones to the benefits of fasting, and even touches on prostate health for the men. She shares her knowledge with vibrancy and a few f bombs here and there. No one ever misses one of her talks.
Massages are included in the retreat, and provided by the talented Sadhana. She lost her job as a masseuse at the hot pools due to Covid, so has branched out on her own. The pool's loss is our gain; she's wonderful, and knows just how to work those knots out.
Fuel
It's a running joke with the crew that we're on a retreat and there's not a mung bean in sight. This is not a weight loss retreat, it's about healthy, nourishing whole food. Breakfast includes cinnamon porridge jars, buckwheat pancakes, and freshly baked bread still warm from the oven. There is a vast smoothie station set up each morning and ginger and turmeric shots on offer.
Lunch is rainbow salads and soups, and warming curries and lamb shanks are on the dinner menu. On our first night, we start the meal with the local delicacy of whitebait fritters and finish with a chocolate mousse so good it can't possibly be healthy. Turns out it is, though. Wellness retreats email the recipe to us post-retreat.
Decent coffee can be found at Snakebite Cafe on the main road in Franz Josef, a few minutes walk from the Rainforest Retreat. They also have Lamingtons as big as your head, if you're in need of a sweet treat.
Monsoon Restaurant and Bar at the Rainforest Retreat is popular with the locals (you have to be early to nab the pool table), and offers a huge variety of gins. I can recommend the local West Coast Little Biddy Gin. Superb.
It's worth a trip to the Matheson Cafe, about half an hour's drive from Franz Josef just to try their gluten free fruit and nut biscuits which they bake on site. It's also the cafe with quite possibly the best view in New Zealand, offering a stunning vista of Aoraki/Mt Cook to enjoy with your eggs bene.
Stay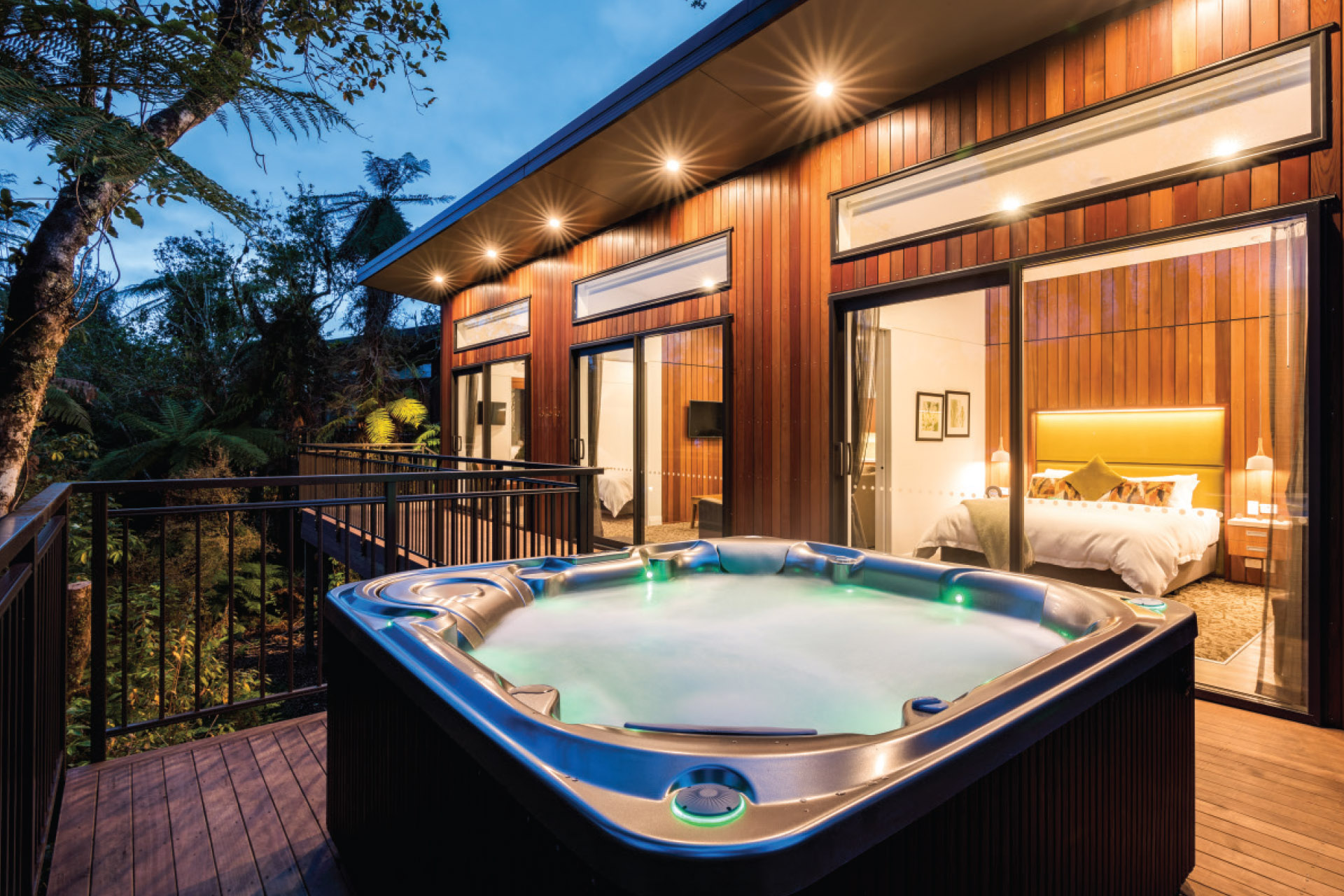 There are different levels of accommodation at Rainforest Retreat, covering 5 hectares of native bush. Unlike other retreats, this one, in particular, is about luxury so we're staying in the deluxe spa treehouses. The two-bedroom apartment I'm sharing has a beautiful lounge and kitchen, complete with a Nespresso coffee machine (thank gawd this retreat isn't caffeine-free), and the double rooms have stylish ensuites with enormous walk-in showers.
Lying in bed and gazing out at the bush and the snow-capped peaks are things I could easily do all day. The rooms are nestled into the rainforest offering complete privacy, which is good because the two-bedroom apartments also come with their private spa on the deck, and we don't want to frighten the neighbours. Here's a wellbeing tip for you – throw your clothes on the heated bathroom floor at night – then they're nice and toasty to put on in the morning.
Adventure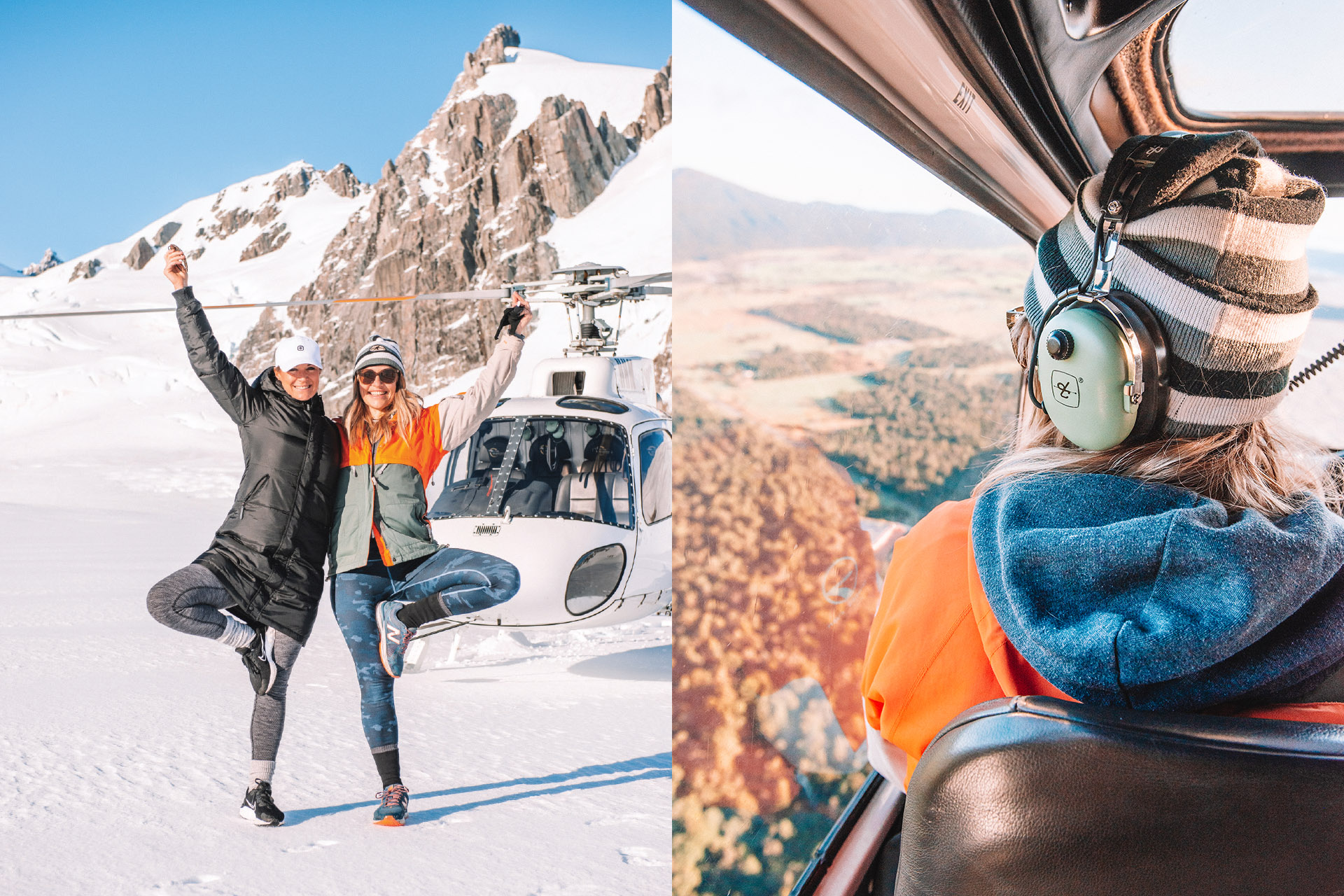 You can't come to Franz Josef without taking a helicopter ride to land at the top of the glacier. The whole experience is heavily dependent on the weather, but waiting for a blue sky day was rewarded with only the most astounding views. We flew up and over Franz Josef Glacier and landed at the top of Fox Glacier. It's a little disheartening to see from the sky how far they've retreated in recent years. Come and see them while you can.
Quad biking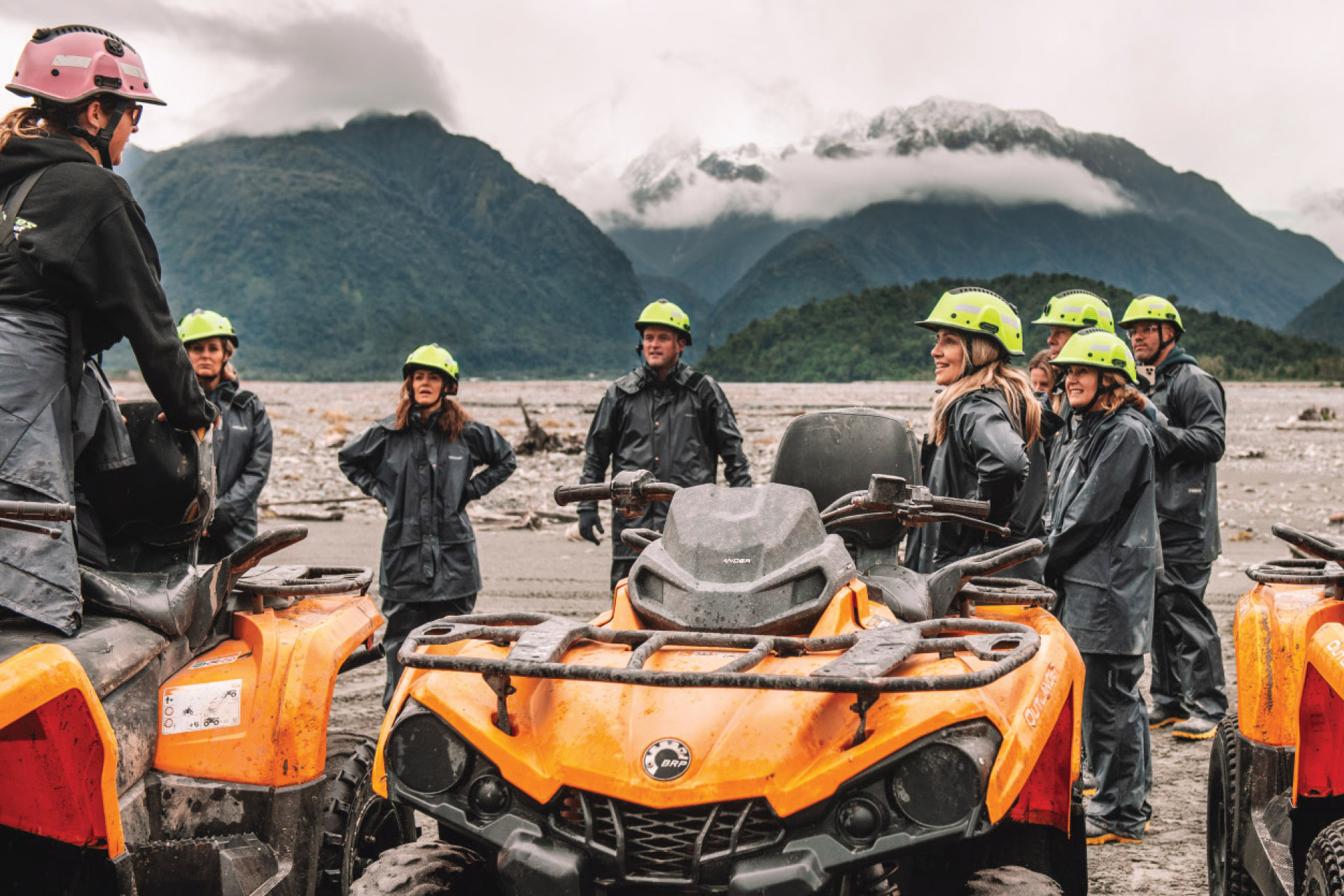 Quad biking is never something I thought I'd want to do, but now I can't wait to do it again.
Across Country Quad Biking is a family business that has been running in Franz Josef for years. Extremely competent daughter Liv took us out after our brief test to see if we were okay to be let loose in control of a quad bike. The two hour round trip took us through a stunning rainforest, rivers and out onto the enormous glacial riverbed. Simply put, it was stunning and totally exhilarating.
Kayaking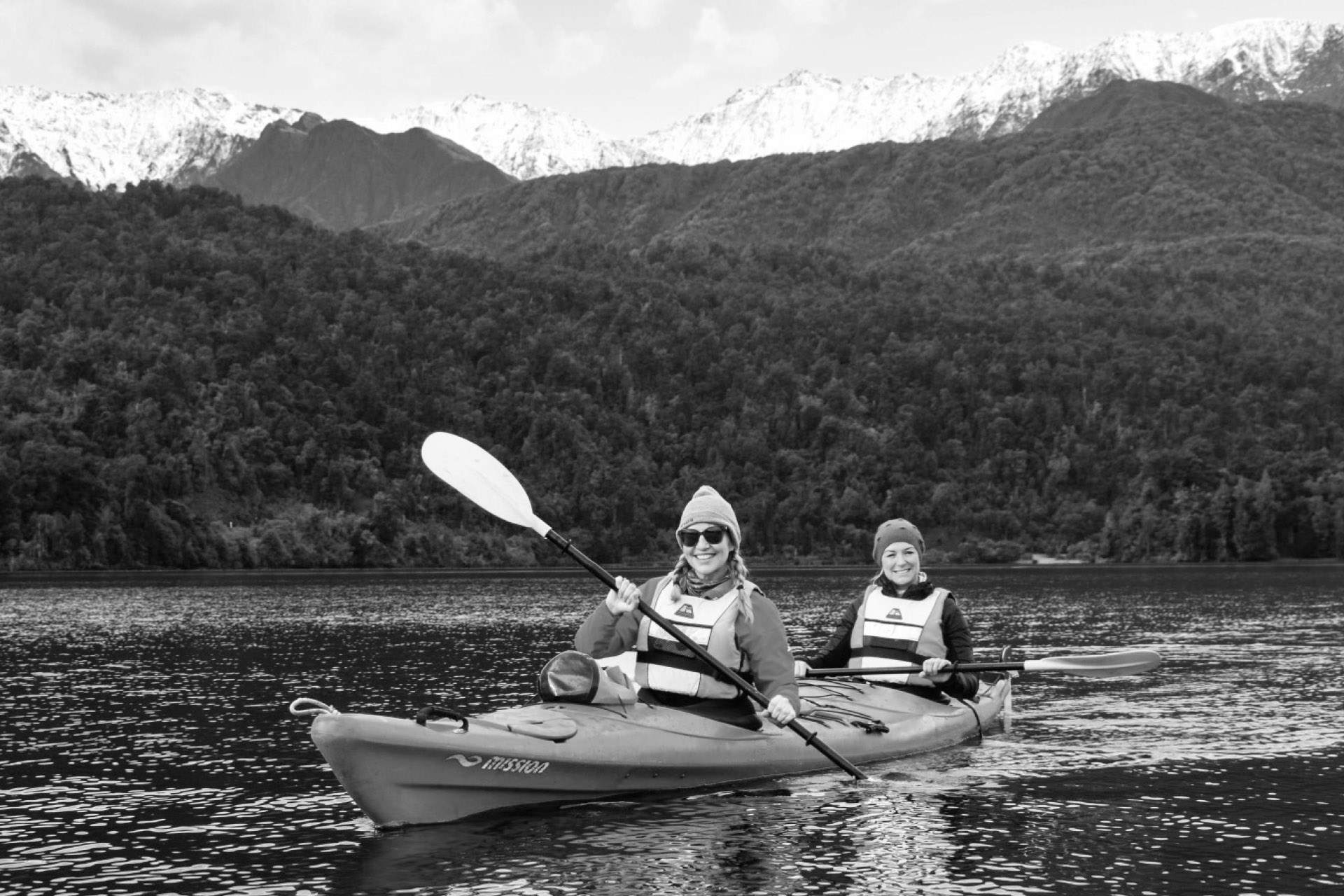 A mere 10-minute drive from Franz Josef is Lake Mapourika. It's completely calm without a breath of wind as we clambered into our 2-person kayaks. The backdrop of the lush bush and the rugged Southern Alps is so ridiculously stunning it caused us to stop frequently as we paddled out to marvel at the sheer magnificence of what was before us.
Our guide, Kaylin from Franz Josef Wilderness Tours, is full of local information as we glided across the lake. When we got out to stretch our legs on the other side, he pointed out kiwi burrows, and we spotted a bright blue mushroom completely out of place in the lush dark greens of the rainforest. You can see a picture of it on our fifty-dollar note if you actually use cash anymore. This is the densest bush I have ever walked through. The trees are thick with moss and it's very, very quiet. Eerily quiet. In my head, I've already planned the horror movie that knocks the stragglers of the group off one by one as we try to reach the kayaks. That's an incentive to keep up.
Skydiving
An option for the adrenaline junkies of the group is a tandem skydive from 20,000 feet. Usually, I'm first in line for throwing myself off or out of things, but my inner ear is playing up, and my inner voice told me that this is not for me. In the end, I did miss out on the 90 SECONDS(!!!) freefall. All of those who did jump with Skydive Franz Josef and Fox Glacier said it was the most incredible – terrifying but hands down the most incredible thing they'd ever done.
Whether you're a couple, a solo wellness warrior, or if you like a little adventure and luxury mixed in with your downward dog, this six-day retreat is for you. We've ended our stay with new friendships, some useful tools to sort our lives out, and a yearning for just a few more days in this piece of West Coast paradise.
And now… back to reality.
---
Mel took part in Retreat into the Rainforest courtesy of Wellness Retreats NZ.
Image Credit: Helicopter Ride & Quad Biking Photos by Annika Pfitzinger