Jungle, Mayan temples And Lagoons – Welcome To Tulum
South Beach, Tulum feels otherworldly. The entire stretch of unpaved road is lined with palm trees, fashion boutiques and health-oriented restaurants on the jungle side and bohemian luxe hotels on the beach side. Occasionally you'll spot road signs encouraging you to "follow that dream", "stay present" or "know thyself".
They do nothing for the flow of traffic but really amplify the hip and spiritual atmosphere. Add in the turquoise waters lapping pearly white sand and the strip feels like it's a world away from the city -but not from its luxuries. It's where modern luxe meets a yearning for a simpler life in harmony with nature. Tulum breeds a desire for holistic health, away from the partying that vexes other parts of the Yucatan coast. The hotels in Tulum have character, each of them with a distinctive personality, a huge shift from the all too common copy and paste resort towns.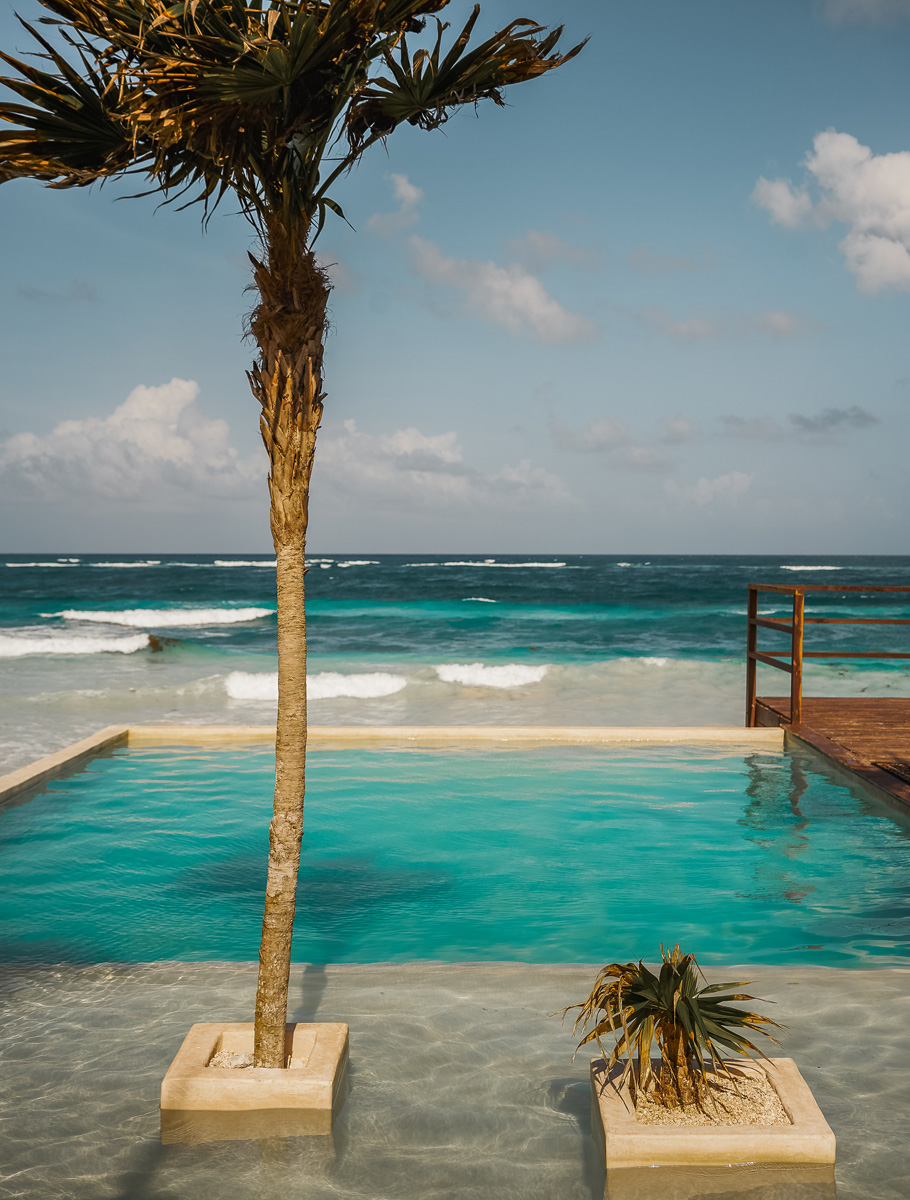 Photo by Adrian Gaut
The eco-boho-chic style of the beach strip has attracted millions from around the globe. But with the current infrastructure, this is putting a strain on the surrounding environment. Despite many hotels branding themselves to be eco-friendly, it often is more a marketing strategy than sustainable practice. That is why the following hotels featured here were selected in part because they are among the most sustainably minded. They do not merely greenwash their advertising to attract guests, but are genuinely invested in pioneering best practices for the Tulum hotel industry.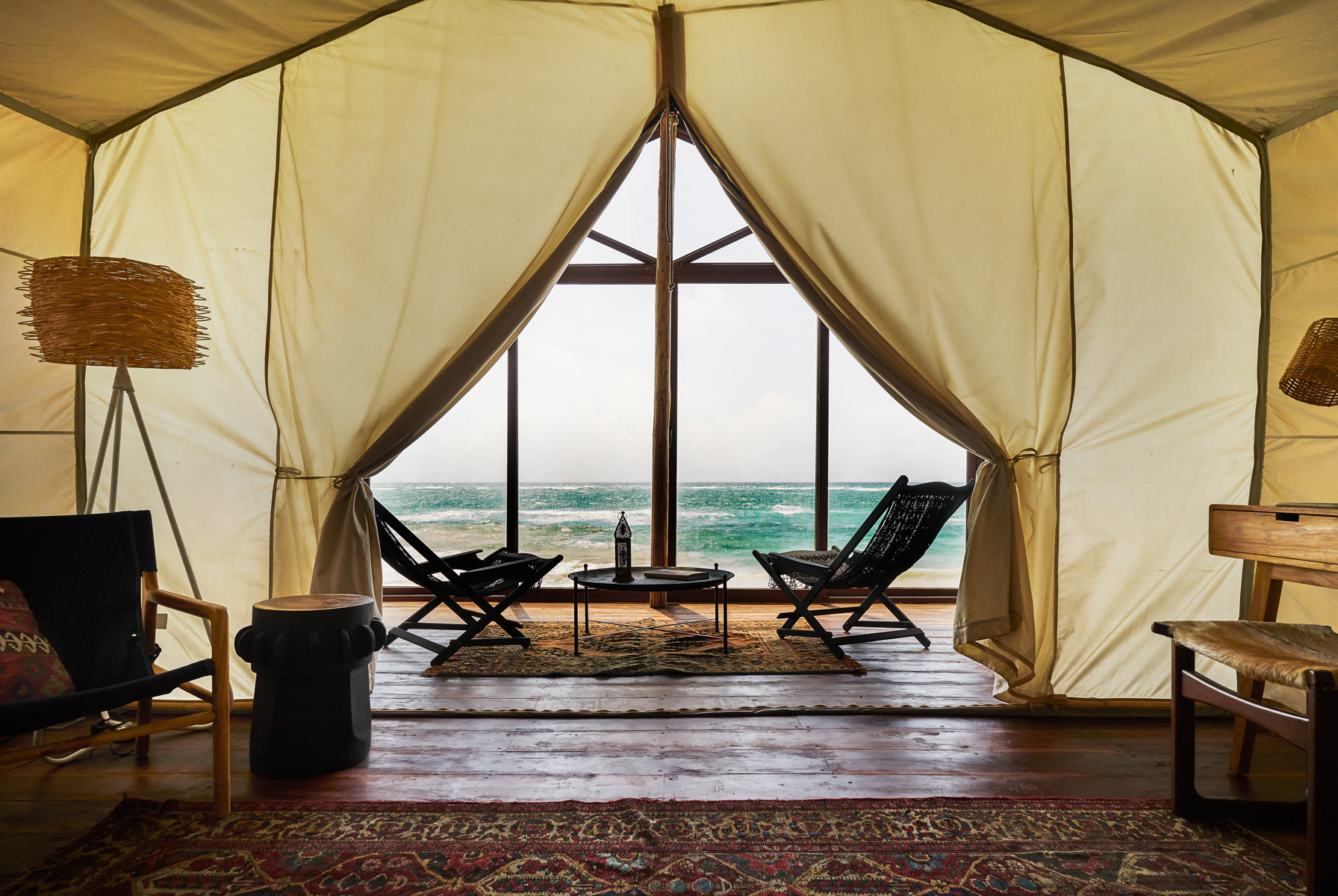 Photo by Adrian Gaut
Stay
Sanara
A sanctuary nestled among the sand, palms and jungle, Sanara is designed with the guest in mind. The emphasis on a customized wellness experience is instilled in every detail from design to service. As soon as you enter the free-flowing lobby you feel that this place is designed to relax and heal you.
The rooms are designed to provide privacy whilst fostering an appreciation of the natural beach-side environment by using greenery as natural partitions with small pockets to see the ocean. The interiors are designed to be minimalist with industrial foundations made cosy by wooden, modern and local accents. At Sanara you'll find a dark wood bedside table beneath a geometric bulb light next to a whimsical dream catcher.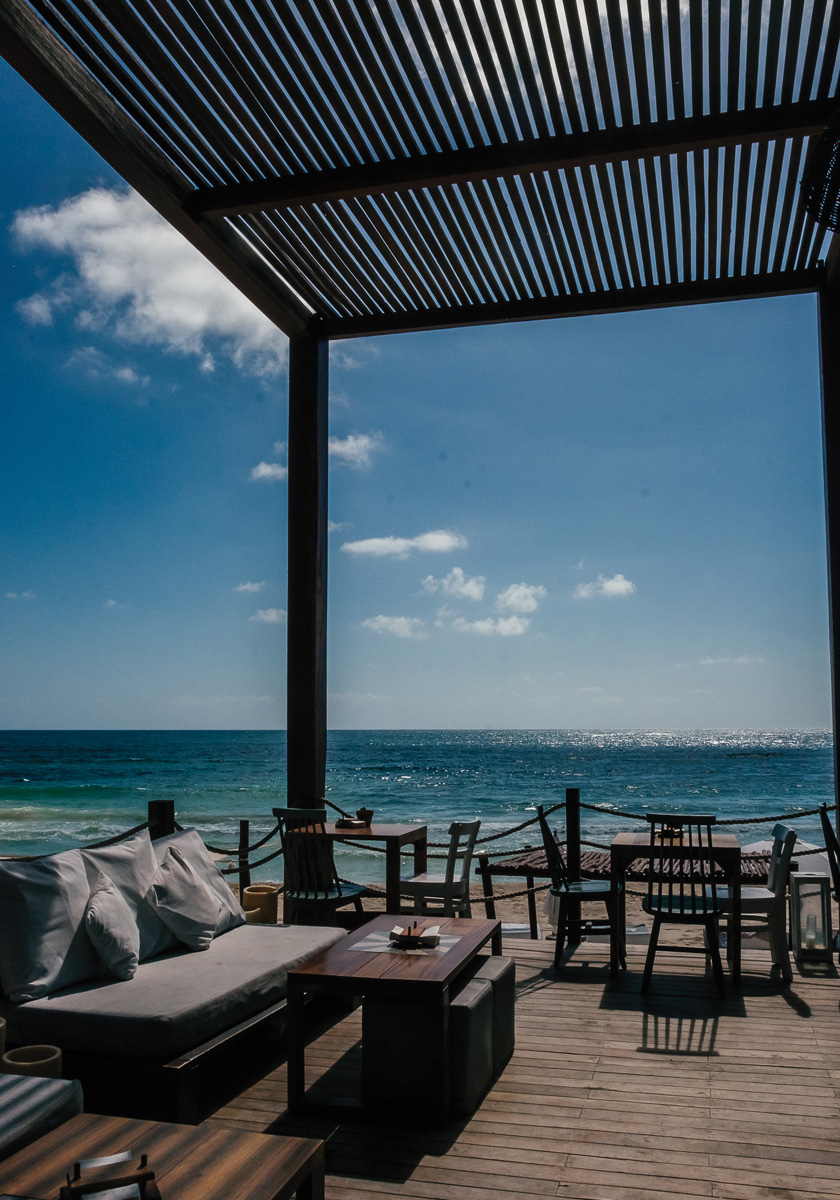 One of the property's main attractions to guests and visitors alike is the ocean-facing yoga studio, localising your experience at any of the daily yoga classes. The holistic features also include sound healing, body awareness as well as a traditional spa that uses its own brand of products. You can then relax further on a beach bed, with each guest having a reserved spot for their stay – a rarity in a setting where beach clubs are prevalent.
Part of being well is eating well and this is where The Real Coconut comes in. A concept by the hotelier, Daniella Hunter, the restaurant crafts mouth-watering dishes that support your well-being with sustainably sourced ingredients. There are no wrong choices on a menu when every item is a flawless example of their holistic health philosophy.
Outwardly, Sanara invests in the Tulum community through environmental education initiatives. They teach local children about sustainability and also practice environmental responsibility that manifests itself in their building design, energy and waste management. They also operate on a plastic-free, chemical-free ideology, which makes relaxing at Sanara even easier.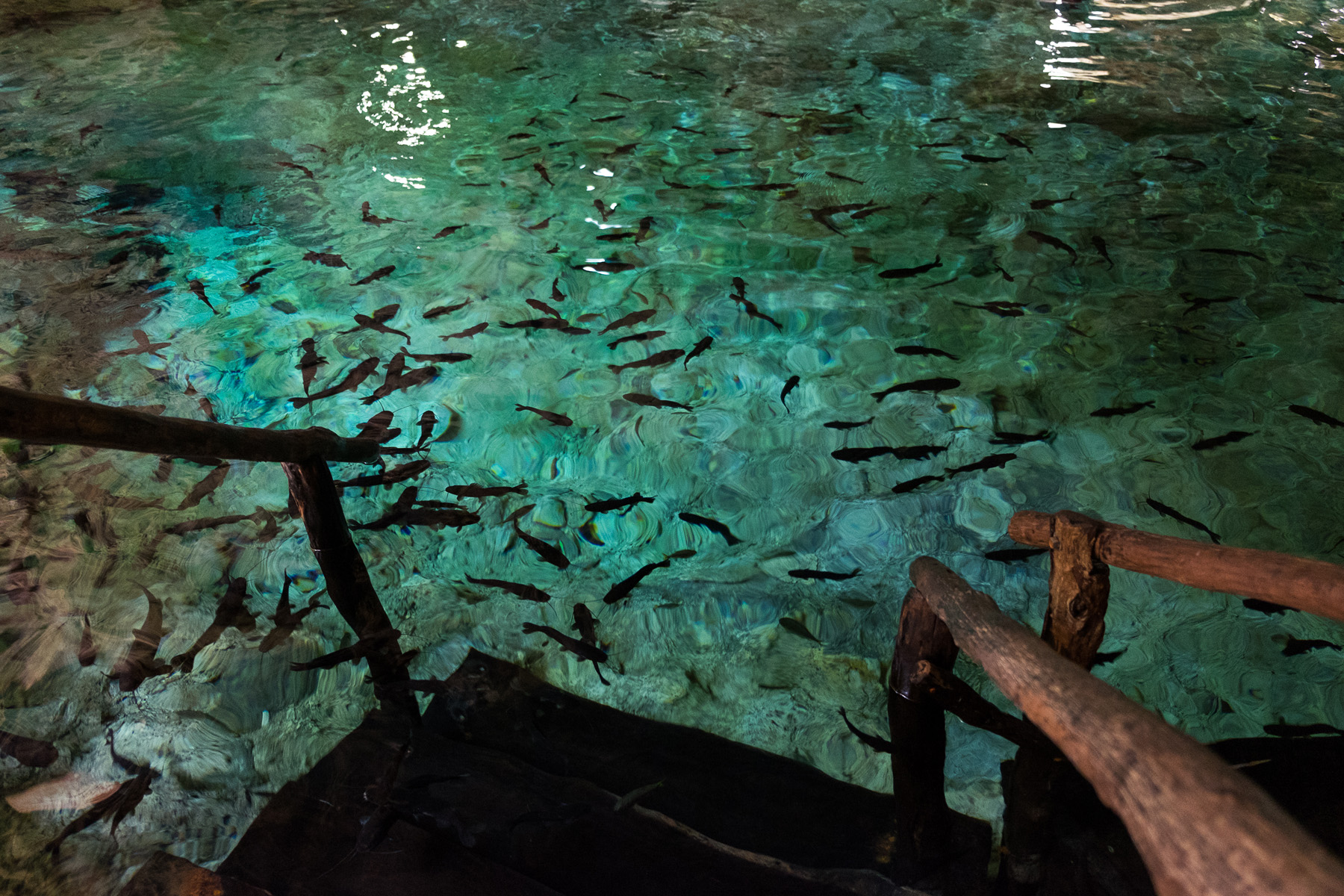 Photo by Carolyn Zou
Habitas
Habitas is situated for both the jungle and beach to be at your doorstep. Each private suite is off on its own little trail, but upon leaving your room, the windy paths converge into open communal spaces. Between the jungle and beach is a three storey metal and glass structure that serves as a restaurant and yoga refuge. The open-sided structure allows for light and air to flow freely through the entire space whilst the outdoors areas are peppered with hammocks and rustically upcycled furnishings.
The rooms at Habitas have glamping feel to them because of the cloth walls and palapa roofs, and are localized by objects from the Tulum area. The most magical rooms are the oceanfront suites that provide an elevated view from a rocky outcrop of the sunrise over the waves. Most structures on are impermanent and raised from the ground, a reminder of the sustainable mindset that the hoteliers pursue. All rooms have outdoor terrace showers that are stocked with all natural toiletries.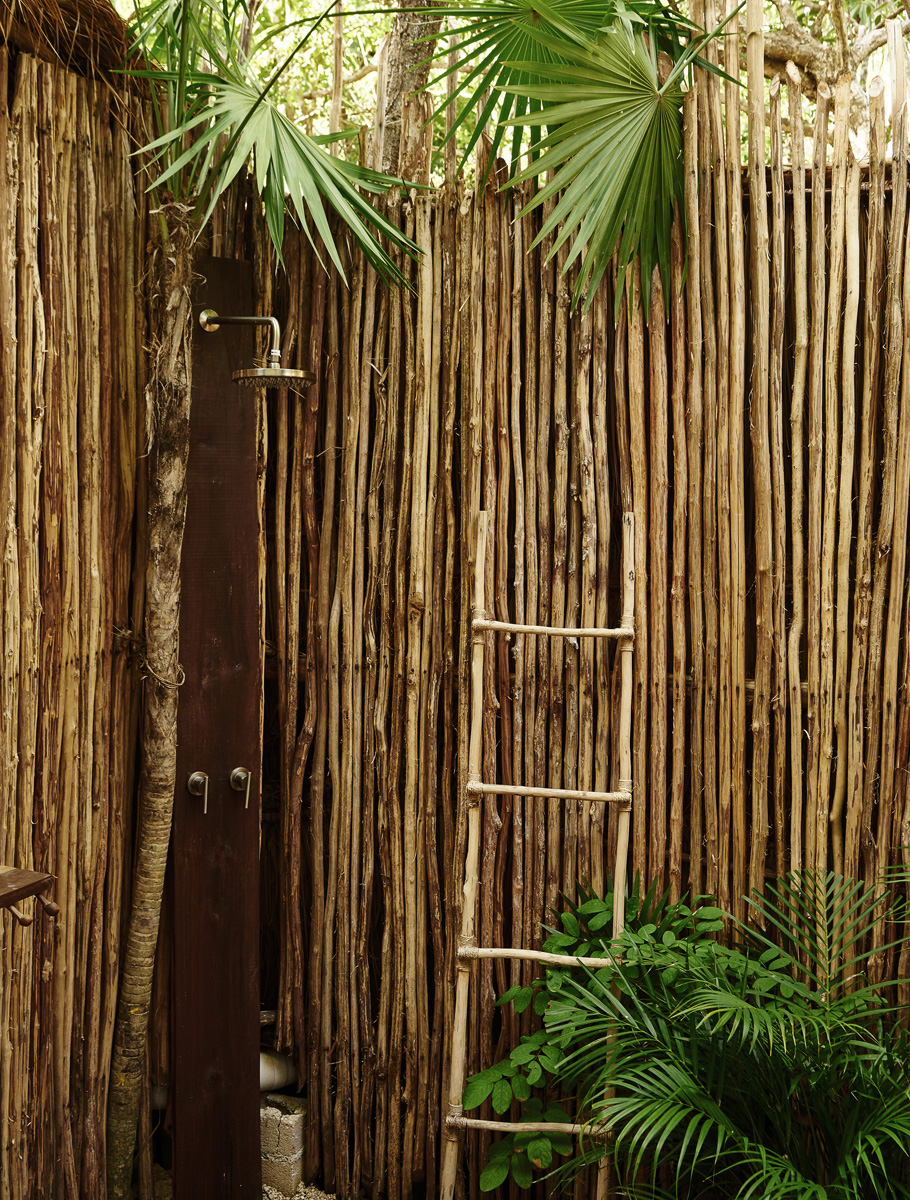 Tulum Ruins
Seaside on the northern beach of Tulum are remnants of a Mayan city. The ruins include well-preserved parts of a castle and temple of what was a major port city. Although you can marvel at the ruins on your own, history-buffs will appreciate the extra knowledge that guided tours would provide.
On the beach is an infinity pool, naturally a shade of tan to meld with the sand and sea that surrounds it. The communal area also features an area dedicated to traditional Mexican healing treatments, including a ceremony that you partake in as you begin your stay at Habitas.
Moro, the onsite restaurant, crafts hearty, Spanish-inspired cuisine out of an industrial style setting. The menu revolves around local offerings and head chef Frederico Cappi continues the sustainability-focused mindfulness by aiming to make the most out of each ingredient to reduce food waste.
Towel & Togs
There is a beach right below the ruins so bring your togs and a towel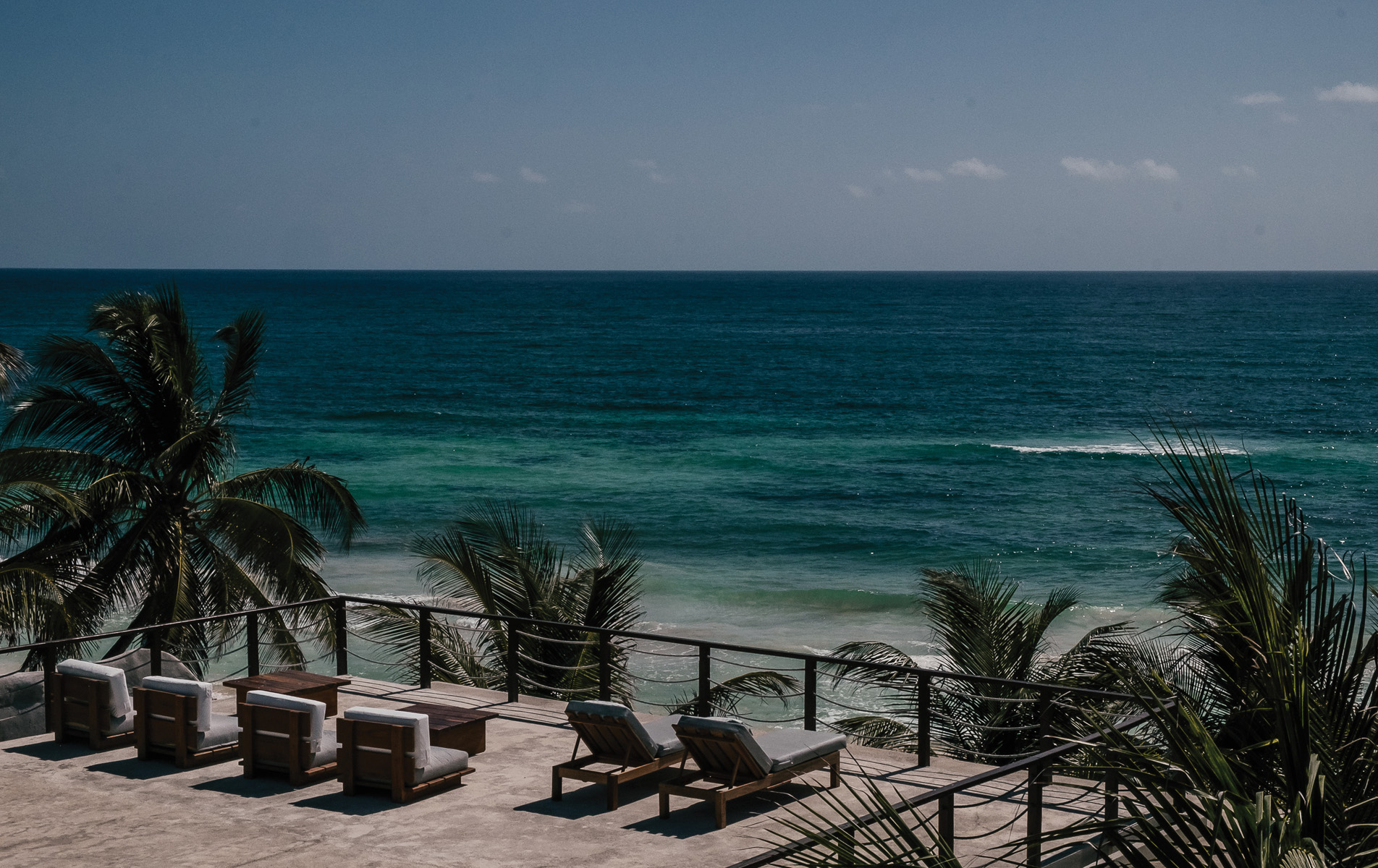 Photo by Azulik Team
Azulik
With an epic matrix of treehouses and nests, Azulik brings a nature-informed quirk of fantasy to life. The treehouses hold Mayan-inspired tiling in the tubs that juxtapose the almost entirely wooden rooms and swinging day beds that make the place feel paradoxically grounded in nature and like a castle in the air at the same time. The nests are perched atop the property as dining areas that let you look over the Tulum jungle and sea.
The rooms are designed to minimize modern day disturbances with the only light at night being from candles, for the safety of turtles on the shore, and with bathtubs completely replacing showers, for a slow-living experience and reduced water usage. Each of their different villas comes with a different delight from swings above shallow pools on the deck to outdoor hot tubs.
Cash is king in Tulum
so bring enough pesos ahead of time and pay for the hotels online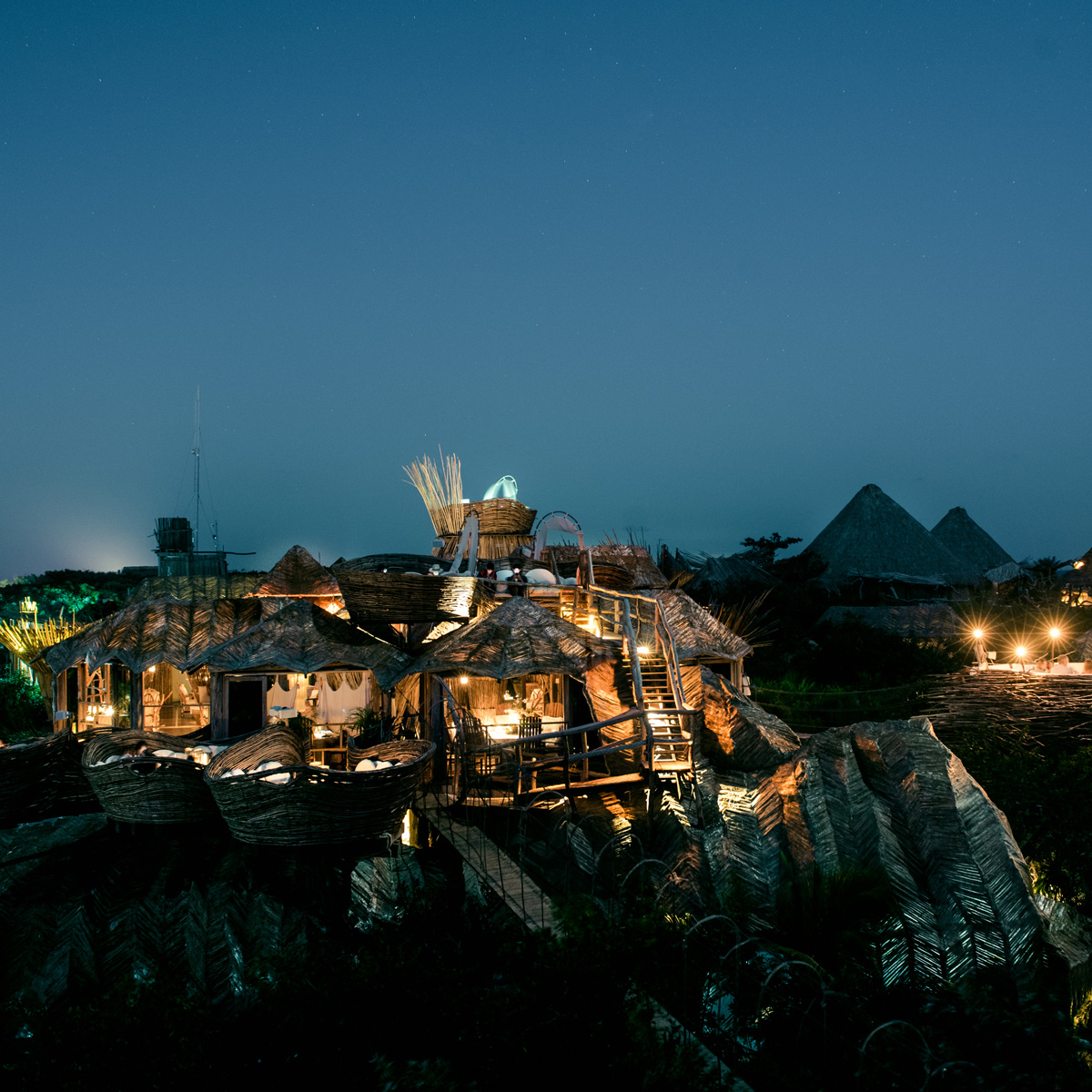 Photo by Azulik Team
On the property, you will also find a contemporary art gallery, IK LAB, which follows the unmistakable Azulik design style. Next door is ZAK IK and IK_RAUM, fashion boutiques that focus on sustainable and fair-trade garments influenced by the moon, sea, jungle and notions of the future. There are also three onsite restaurants that specialize in farm-to-table cuisine.
Another notable offering at Azulik is their Mystical Experiences, which are curated adventures into the sea, caves, ruins and lagoons of the Tulum area. They mostly combine regional gems with a relaxing, spiritual or even adventurous experience. Take a deeper dive into cultural history with the House of Ancestral Medicine for traditional ways to heal and explore the mind-body connection at the dome.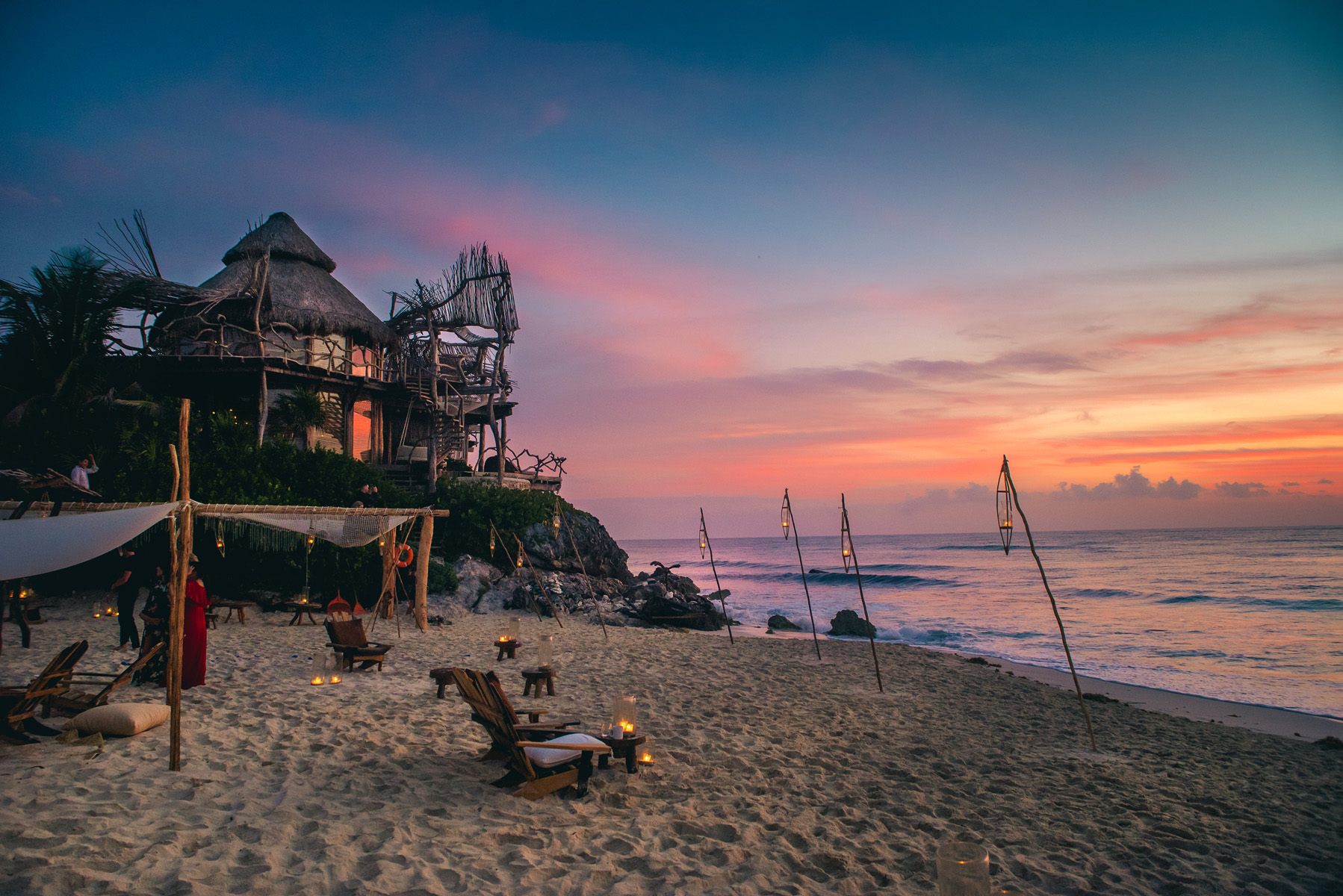 Photo by Azulik Team
Explore
Cenotes
Natural sinkholes over time have revealed underground river systems all along the Yucatan coast. The limestone rock holds fresh water and often marine life as well.
Cenotes get crowded
towards midday and early afternoon so arriving at opening time or an hour out from closing is recommended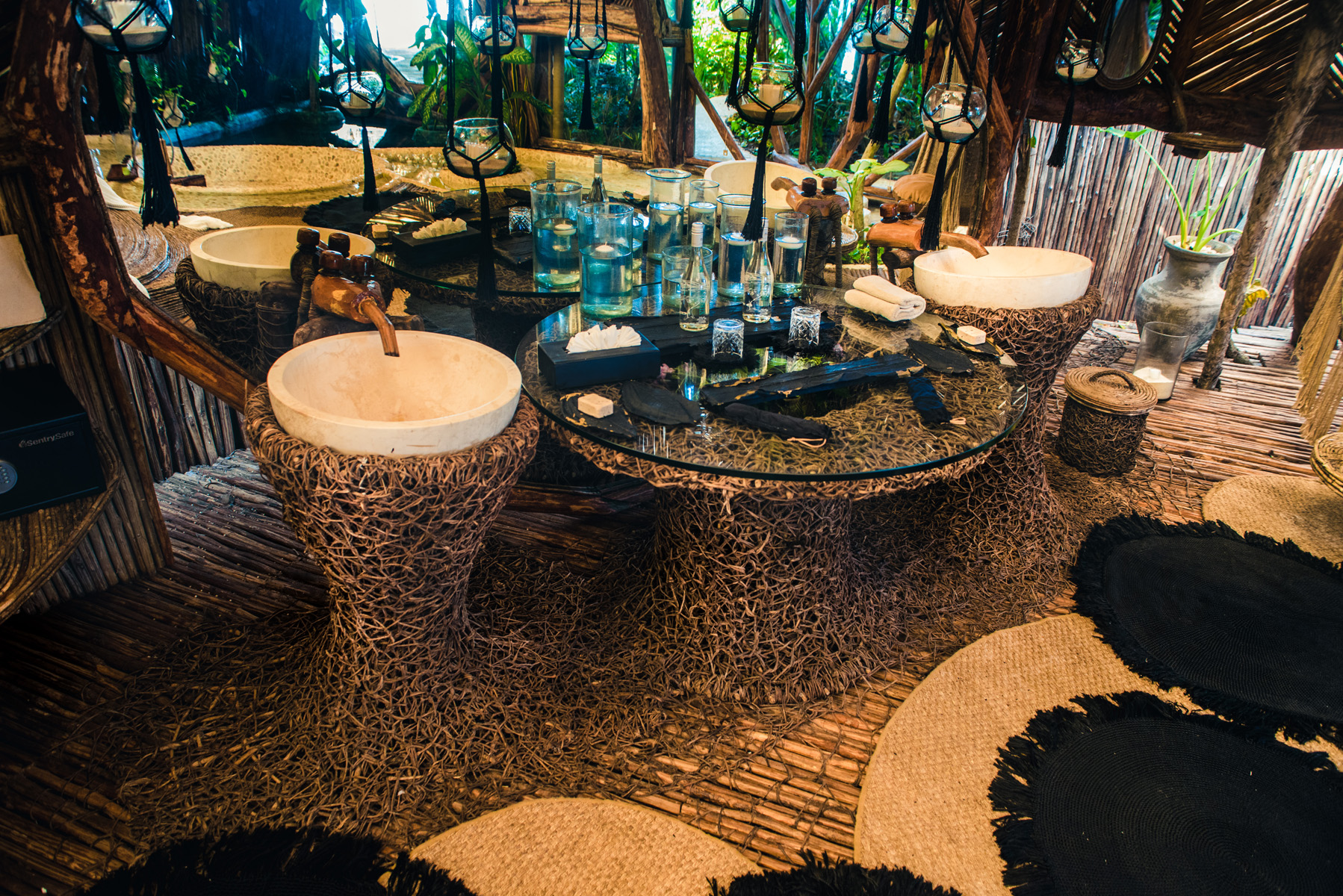 Photo by Azulik Team
The three essential cenotes
Cenote Aktun Chen
A 25-minute drive from the main town, Aktun Chen is an adventure park that offers zip lining, cave walks and most uniquely, an underground cave cenote experience. Underground, you will find stalactites and stalagmites covering the cave along with teal water and schools of catfish. You can snorkel through the water with few disturbances as its location makes it less popular. It is by far most enchanting cenote because of the tranquil atmosphere and natural setting.
Cenote Calavera
Calavera translates to skull, which is what divers see when they look up from the depths. The access and skull of this cenote are through two small jump holes and one larger hole that is equipped with a ladder and rope swing. After taking a short plunge into the water you will be surrounded by small fish and be able to spot the occasional flying bat. The two smaller holes are fun but not for the faint-hearted because it's like jumping through a narrow, rocky rabbit hole.
Photo by Azulik Team
El Gran Cenote
By far the most popular of the three cenotes, the gran cenote is the most open and large cenote with the shallow waters. The depth gives the appearance of lighter water which you can enjoy by snorkelling or wading through.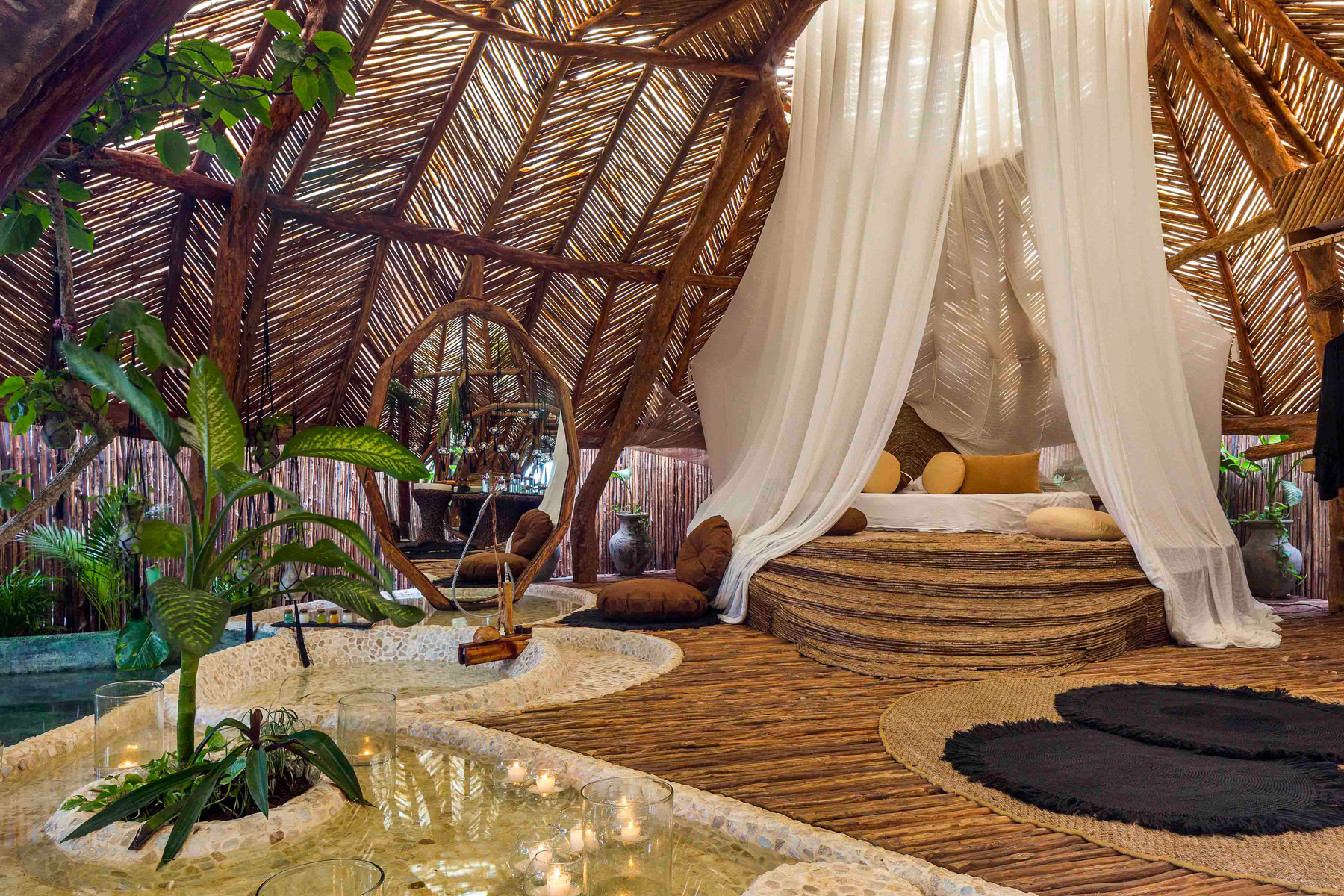 Photo by Azulik Team
Sian Ka'an Reserve

Directly south of Tulum is a UNESCO World Heritage site that covers over half a million hectares on the Yucatan Peninsula. From tropical jungle and Maya temples to mangrove-lined lagoons, this biosphere is a diverse wonderland that's home to thousands of species including crocodiles, turtles and manatees. Take a boat tour with a local operator to make the most of your time there and consider staying overnight in Punta Allen for the full Sian Ka'an experience.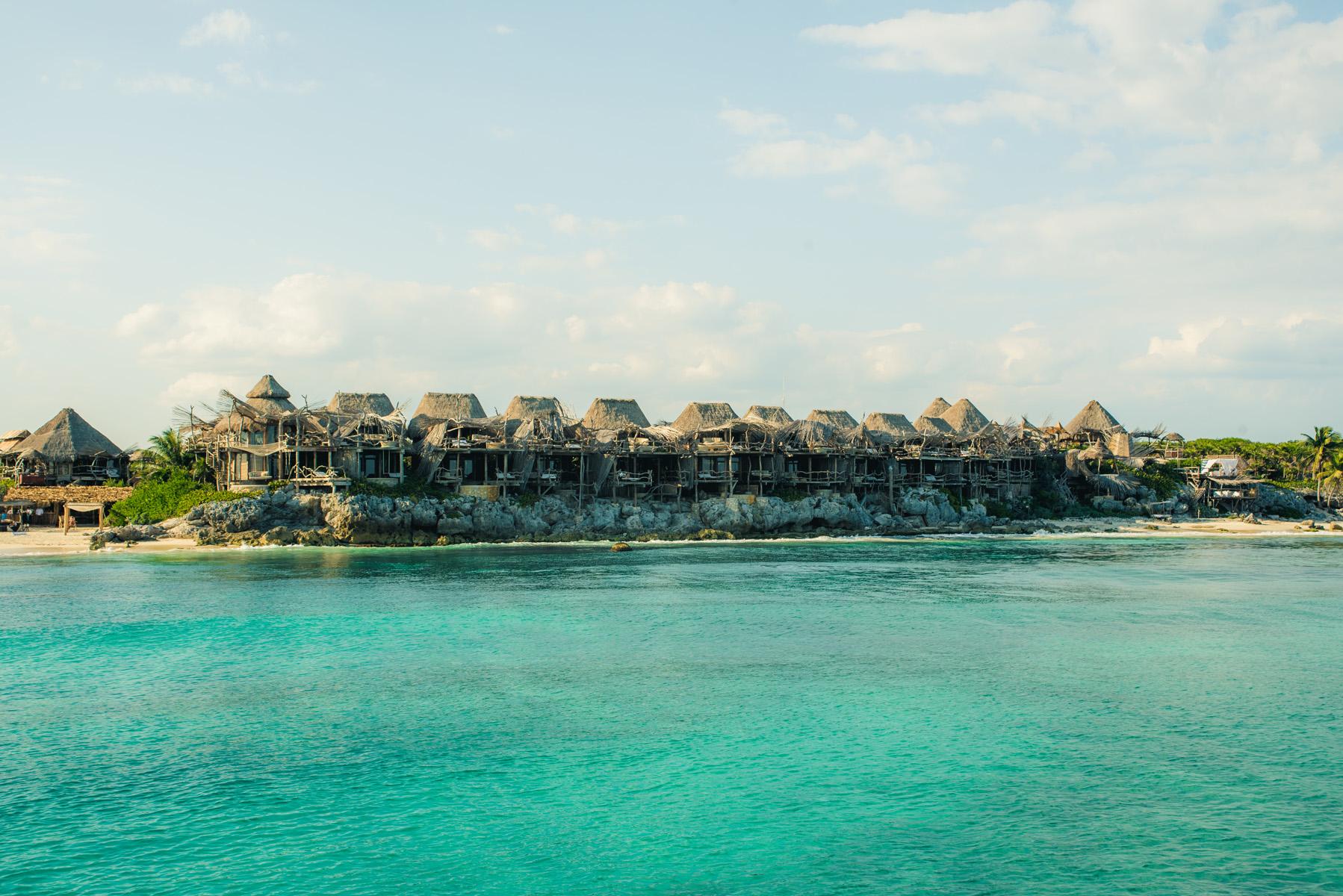 Photo by Azulik Team
You'll also like: