The stories we've brought you so far have all been forward looking, this one is no exception as BMW looks ahead at the features their future cars will be packed with at the latest CES 2023. The vehicle of change as it were is the BMW I Vision DEE which reimagines everything a car is capable of doing from the inside out.
Immediately on the outside is perhaps my favourite feature, the ability to entirely change your cars colour via an app on your phone. This is made possible via tiny E-Ink plates covering the car. Sending a small voltage through the plates is enough to call certain colour pigments to the surface. It's a very cool effect that's able to quickly call up 32 different colours. It also seems like a perfect way to always stay unfamiliar with your car enough to lose it in a carpark.
"What colour is your car? What are we looking for?"
"Dunno."
The dashboard is sleek and almost completely unrecognisable as a screen until it lights up. So while the software picks up more of the slack, the hardware can fade away into the background. That's almost literal as well. The glass of the car is capable of displaying augmented reality on five different levels. At the highest level your windows become a completely immersive experience in VR. Maybe just don't drive around with this mode on though.
Lower settings are much more reasonable with one of the lowest just offering light driving aid and navigation. Increasingly higher levels deliver not so necessary info such as ways to contact friends and family while you're on the road. Many of these heads up display options are already well on their way. The standard-production version of this will be used in the models of the NEUE KLASSE from 2025 onwards.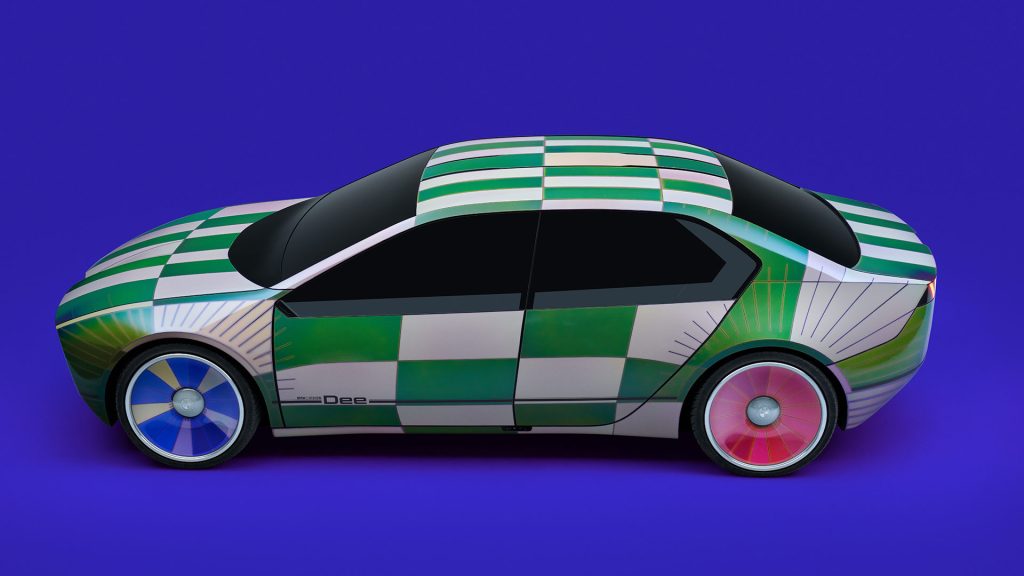 DEE can also emote to a certain degree using phygital (physical plus digital, yes I'm sorry, I didn't coin this word) technology. In practical terms, this means she can speak and create expressions via her kidney grill and headlights. I'm not entirely sure when I'll ever need to know a car's opinion on anything, let alone its inaudible feelings on the matter. Other than perhaps getting it to do a grumpy face at someone who's just cut in front of me in traffic.
"It becomes your portal to the digital world – with the driver always in control. Implemented in the right way, technology will create worthwhile experiences, make you a better driver and simply bring humans and machines closer together," BMW's design boss, Adrian von Hooydonk says.