The term "holistic" has become an ubiquitous buzzword peddled on every corner of the wellbeing and beauty scene in today's fast-paced, consumer-driven world. But it is one, for obvious reasons, that optimists would envisage is here to stay as an all-encompassing treating-the-whole approach to a healthy body, mind and soul not only from the outside-in but more importantly, the inside-out.
As the holistic wellness concept has burgeoned over the years, so has one product – that goes more than skin deep – gone on to become one of the wellness products of the moment, feeding into the important relationship between our diet and healthy aging. Collagen is the beauty-from-within powerhouse supplement that is shaping up to be very much worth its weight in full-body wellness and beautiful glowing skin, not to mention stronger nails and hair, and increased joint mobility.
Collagen is the most abundant protein in the human body and plays a number of essential protective roles including being one of the major building blocks – and basically the "glue" that holds everything together – of bones, skin, muscles, tendons and ligament, as well as many other areas such as blood vessels, corneas and teeth. As plentiful as it is, however, the problem is that as we age, the body's process of producing collagen slows down and the quality lessens. This shows not only in our skin but in the mobility of our joints and the repairing process of the body.
There is a caveat, however, to collagen's ability to be that essential missing link to modern health, and that is that not all collagen is created equal – a fact not lost on collagen company Adashiko, whose very formation was based on its creator, Japanese cosmetics developer Yuko Arquette, observing a significant gap in the market for top-quality ingestible collagen that was capable of effectively maintaining and restoring the skin and body from the inside out.
Working in partnership with a leading Japanese pharmaceutical company, the ensuing formula of this vital protein that would ride a new wave of collagen-based supplementation came down to two crucial elements – molecule size and strength for optimum dosage. This resulted in what is now known as Super Collagen; in other words, the best-absorbed version of collagen on the market and the only sort worth taking. To tease this out further, Adashiko's collagen is a next-generation iteration of the "peptide" sort, boasting an especially low molecular weight of 3,000 Daltons as a result of undergoing a process called hydrolysation, which reduces its molecular weight to just 1/60th of the size of the original molecule.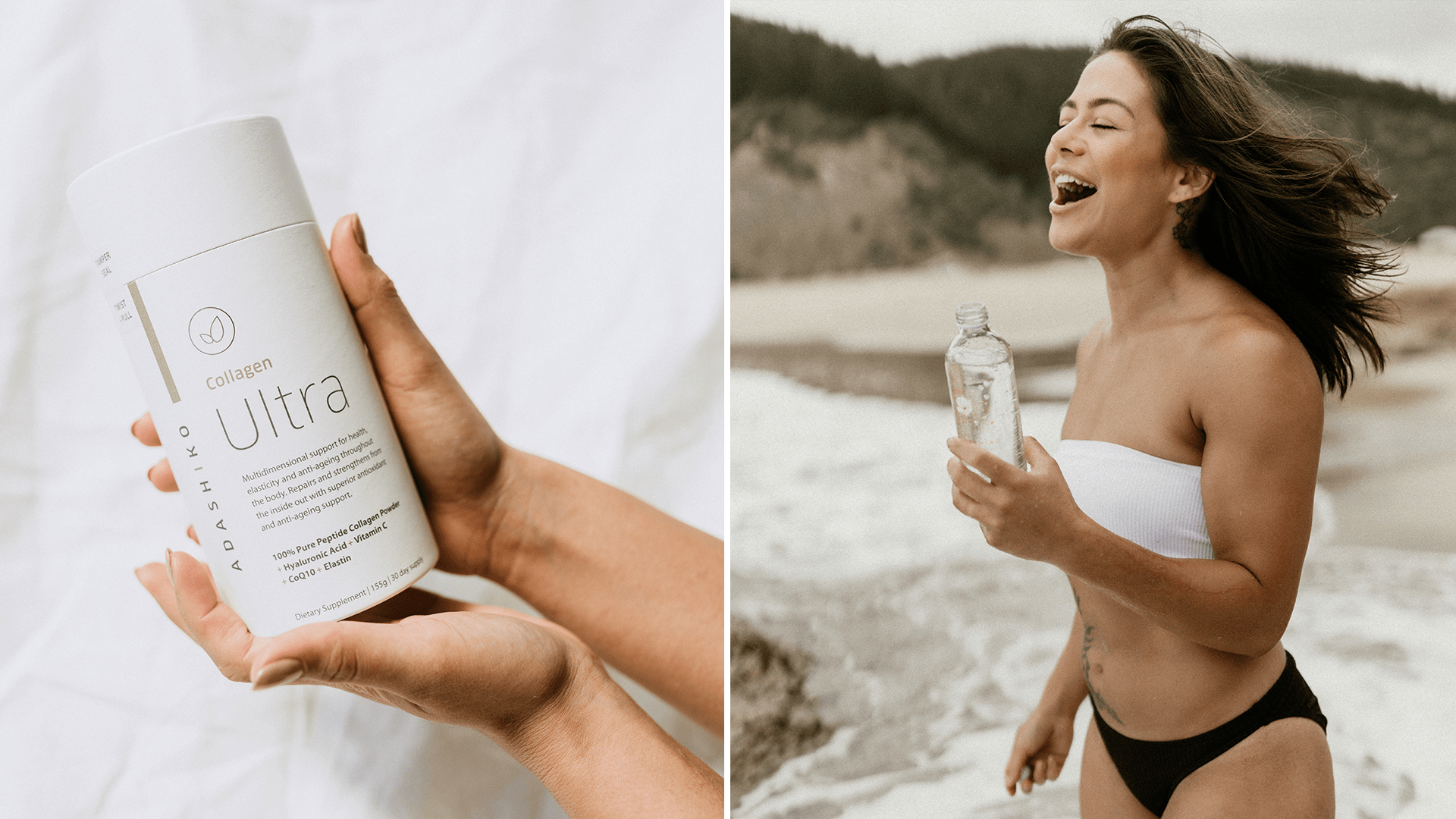 At 3,000 Daltons, this Super Collagen is able to be effectively absorbed through the digestive tract, into the bloodstream and ferried to cells in the body where it gets to work stimulating fibroblast and cartilage cells to promote the formation of new collagen. To put it in perspective, other marine collagen can have a molecular weight of up to 450,000 Daltons, which essentially means it will just end up being expelled from the body. As part and parcel of being a pioneer of the collagen industry in New Zealand, Adashiko is also the only company in New Zealand that discloses the molecule size of this vital building block of our bodies.
In terms of optimum strength and dosage of collagen, the latest clinical research presented at the OARSI World Congress – the leading international organisation dedicated to the prevention and treatment of osteoarthritis – has revealed that 5gm or 5,000mgs of collagen daily is the best dosage for efficacy. In Adashiko speak, this equates to just two small scoops of all their powders comprising three unique formulas – Pure, Ultra and Joint. It also follows that lower dosages in capsule or powder form are simply unlikely to have the ability to provide much in the way of collagen's desired effects.
Adashiko Collagen is furthermore formulated with supporting ingredients to help maximise the delivery. Alongside their 100 percent Pure formula, the Ultra formula is bolstered with Vitamin C to help optimise absorption and production, as well as Hyaluronic Acid to hydrate the skin and body from within. It also has the support of Elastin, a protein that promotes full body elasticity, firmness and resilience, and potent antioxidant CoQ10 to help boost energy and support the entire body as well as generate collagen and elastin fibres. Completing the trio of Adashiko's unique formulas, their Joint formula has the added benefits of Glucosamine, Chondroitin and MSM – all key ingredients specific for the support of healthy, mobile joints.
Backed with state-of-the-art biotechnology and cosmeceutical research and development to the highest international standards, the quality and purity of Adashiko's powders is such that they are highly dissolvable, tasteless and have no aroma. They are also heat-resistant, ensuring they remain stable when used in hot beverages and food.
Ideal for long-term use, the recommended period of intake is at least three to six months with it being possible within the first two to four weeks to see the nails start to get stronger; and by weeks six to eight, a visible improvement in skin firmness and texture, and also in joint comfort.
Now owned and run by Hawke's Bay-based entrepreneur and health enthusiast, Luci Firth, Adashiko has cemented its place at the forefront of the collagen movement in New Zealand. Though for Luci, it was not just an acquisition of a viable wellness product but a reflection of her passions, and a legacy for both the industry and holistic wellness enthusiasts, "For me, Adashiko isn't just a business, it's a huge passion of mine. I love hearing and seeing results from Adashiko customers – the response has been amazing, and I'm so thrilled that we're able to deliver this next generation supplement to New Zealanders. We've had ground-breaking results in people with arthritis and joint issues. Knowing that we're helping people live their best lives pain-free is such a rewarding feeling."