While most businesses have now had a taste of adopting new ways of working, including functioning through a surge of virtual meetings, ultimately it's those regular in-person business meetings and functions that remain crucial for creating new strategies to truly grow, evolve and expand, and for building meaningful partnerships and networking.
At the centre of any successful business meeting or networking soiree is an exceptional venue – perfectly suited for the purpose and the atmosphere you are trying to build. Choosing the right location is key to crafting a memorable experience and setting up your event for success; whether it be a clean-cut corporate meeting space or a stunning product launch venue with sweeping views of the city skyline, your venue will set the tone for the entire occasion.
One particular locale that stands out on the New Zealand business event scene is the Chairman Suite of the stylish Cordis Auckland, which has just recently taken centre-stage for a new Cordis event offer. Located on the Pinnacle Tower's highest level, this upscale space replete with outstanding interior elements offers a luxurious and intimate atmosphere that can elevate any business meeting or networking event.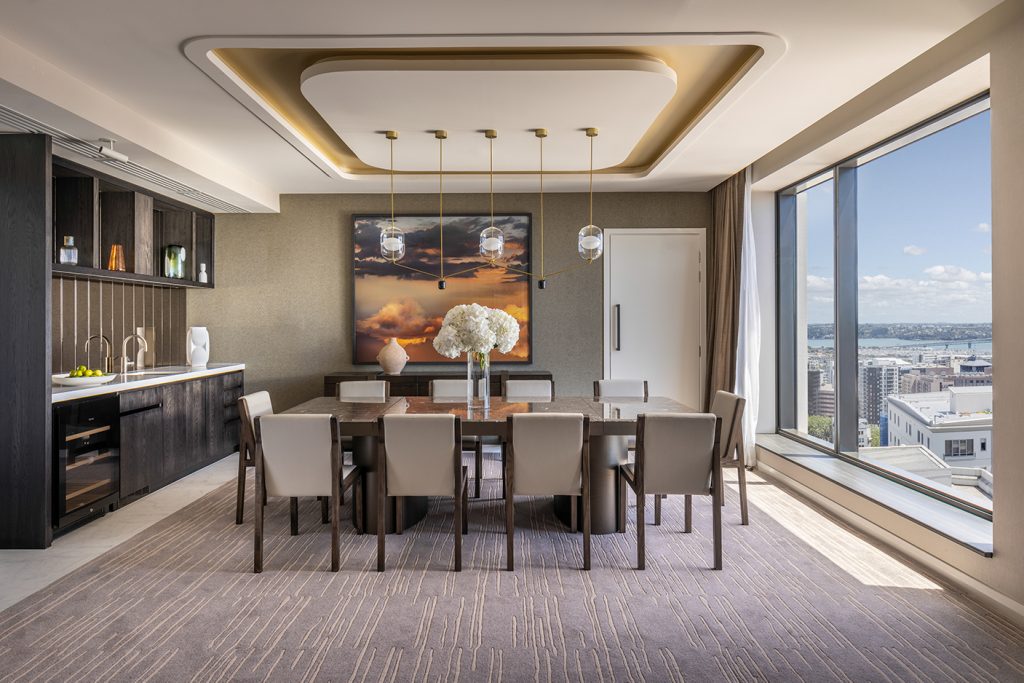 Guests are greeted with a lightbox installation of the clouds, lending the sense of being aloft, alongside stunning views of the Auckland City skyline. The layout of a venue is also an important consideration, particularly when accommodating larger crowds. The Chairman Suite is designed for versatility with a layout that can be adapted to suit the needs of a variety of events, including all-important guest flow and accessibility. A corporate meeting, for example, may require a more formal setting with appropriate amenities for presentations, in which case seated meetings, lunches and dinners can accommodate up to ten people with the option to gather around the Chairman Suite's impressive ten-seat dining table. 
A networking event, on the other hand, may require more open space for mingling and conversation. For cocktail-style events, the Chairman Suite can cater up to 18 people and offers varied seating options between the dining table, sofa and balcony for the opportunity to mix and mingle while imbibing your favourite beverage. In addition to the outdoor balcony space, the full lounge and study areas, and guest restroom facilities are also included in your booking.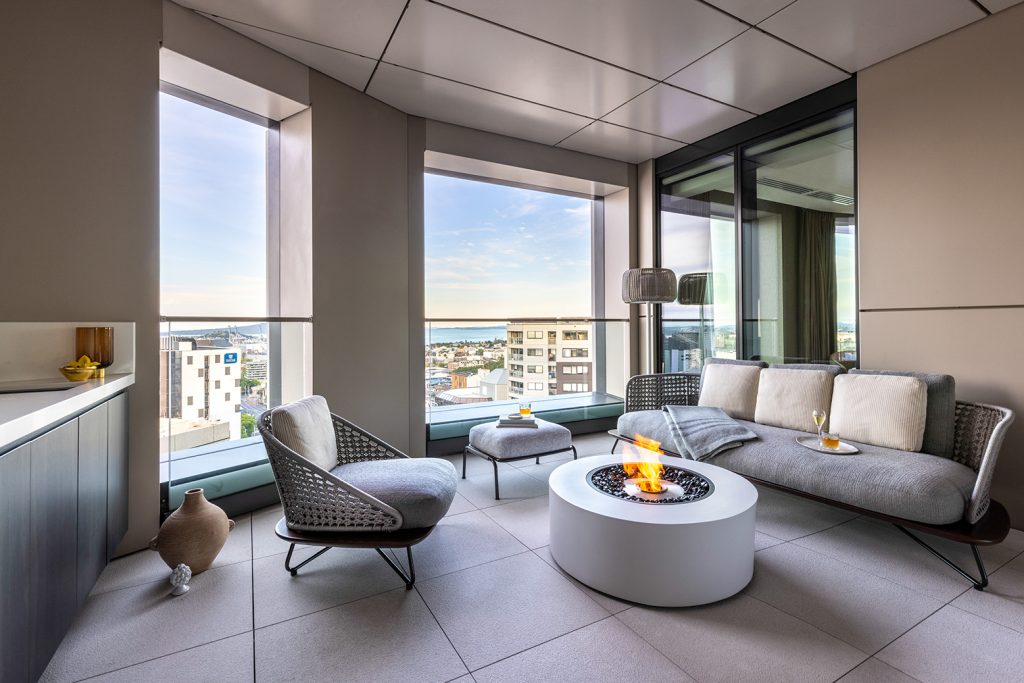 Not one to leave any stone unturned, on top of the luxury amenities and versatile layout, the Cordis Auckland offers Chairman Suite event packages that are fully organised and customisable. Options for catering, audio-visual equipment, and theming can be tailored to the specific needs of your event with the assistance of the Cordis Auckland's event team. In terms of value for investment, a half-day meeting or a cocktail party of up to four hours is $2,000 with a full-day meeting of up to eight hours priced at $2,500. If you wish to kick it up a notch with a full-day meeting followed by a cocktail party of up to 12 hours, the pricing is $3,000.
Convenience and ease of access are also key considerations when it comes to perfecting your event. The Cordis Auckland's Chairman Suite is handily located in the heart of Auckland, providing easy access for attendees from all over the city, not to mention the availability of on-site guestrooms offering a hassle-free option for those who need to stay overnight.
The importance of choosing the right venue for a business meeting or networking soiree cannot be understated. It is, after all, what will drive the success of the occasion, setting the tone and creating the springboard for opportunity, for professionals to create value, gain value and share value. The Cordis Auckland's upscale Chairman Suite is that veritable one-stop shop in the event sphere, offering a luxurious and versatile option that can elevate any event.