Your Staycation Guide
While international travel is still on hold, it's time to explore our own backyards. Us Kiwis are often focused on having a wild OE or jetting off to a nearby island and forget about thoroughly traversing our own country. New Zealand has a vast range of heavenly hotels, lodges and retreats that are worth a gander. Let's take a north to south look at some of our domestic tourism treasures.
North Island
Te Arai Lodge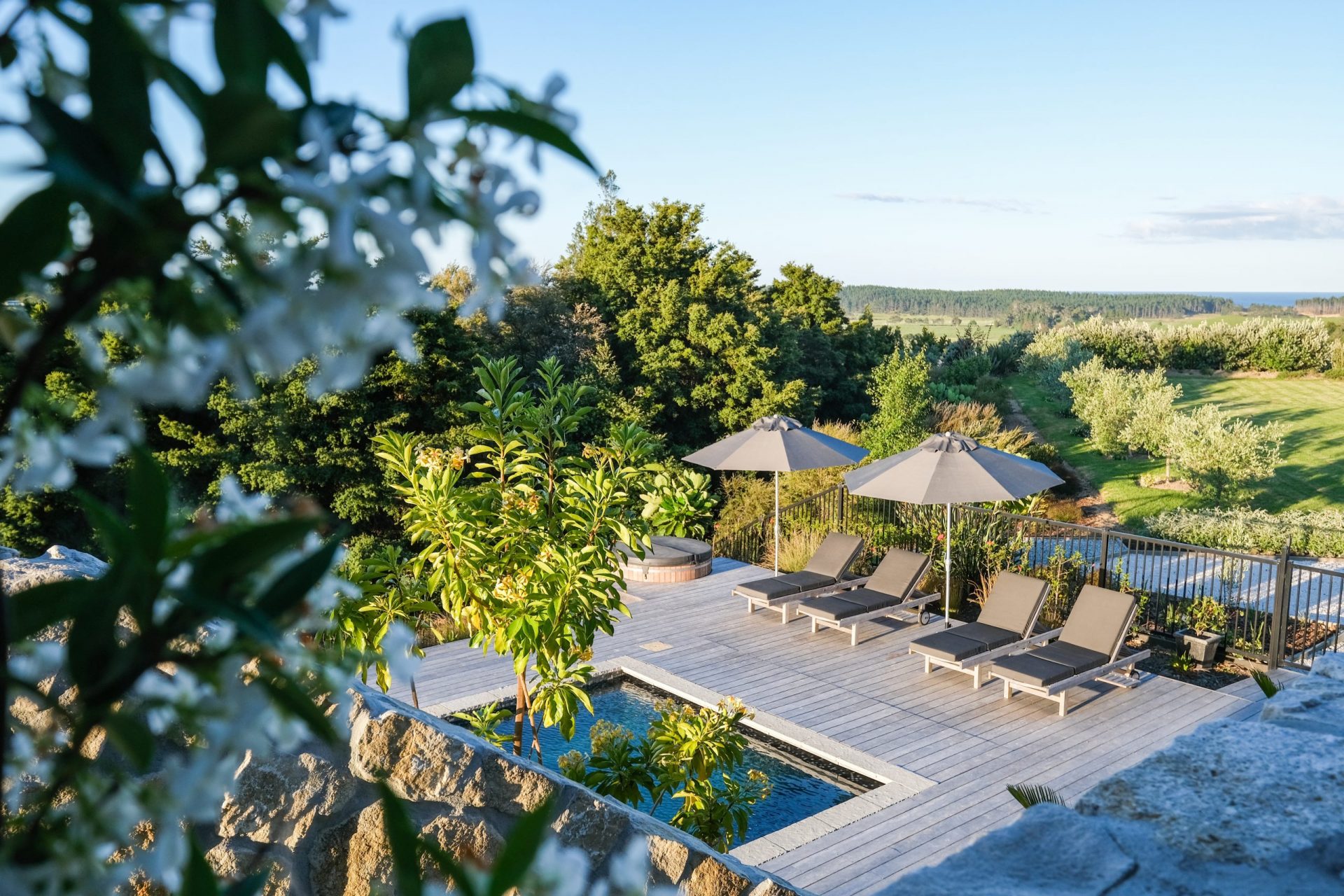 Tucked away on the East coast between Auckland and Northland is a family-run lodge that has perfected the art of nourishing mind, body and soul. Although they're not specifically a wellness retreat, the passionate and sincere hospitality will leave you relaxed and revitalised. The Moore family bring their range of expertise to the lodge. Chef and entrepreneur, Vince, brought his property development experience to bring to life his vision for Te Arai. His wife, Kathy, has a passion for sustainability and gardening that is seen throughout the property. Their daughter, Nicola, serves as the Lodge Manager and has extensive experience developing recipes all over Europe and New Zealand at retreats. Their son, Doug, takes care of bookings and runs yoga classes for guests.
Accommodation:
There are three rooms on the property regularly available and additional rooms and capacity if you want the whole place to yourself. Two of the rooms connected to the main lodge area and the remaining one is in a stylish barn directly across from everything else. The rooms have been designed and adorned in an extremely thoughtful manner – paying respect to native birds with art and the environment with sustainable products. The calming tones that surround you in the rooms bring peace so you can kick back, birdwatch or read one of the excellent coffee table books in their selection.
Amenities:
The lodge faces a long heated pool – well-suited to a morning dip. The pool is adjacent to a fitness and yoga studio equipped with machinery and mats. Across the room, there is a sauna for if you want to detox. One of the best parts of the property is the gardens, which are lovingly maintained by Kathy. She and Vince have planted more than 4,000 shrubs, trees and plants. They are a mix of practical and aesthetic, with vegetables and herbs that are used at the lodge, as well as flowers and lavender that keep the on-site bees happy. The gardens have utility and are great for a stroll around.
Dining:
Breakfast and dinner are created by Nicola and fully embrace the garden-to-table spirit. She brings influences from her time crafting healthy and delicious food at top health retreats. Every ingredient that graces the kitchen has an origin that is remembered, with a focus on drawing from local produce sources to accompany what is grown at Te Arai. Nicola designs menus that prove there is no need for compromise between flavour and healthiness. All of the meals are served from the main lodge area with more private options available.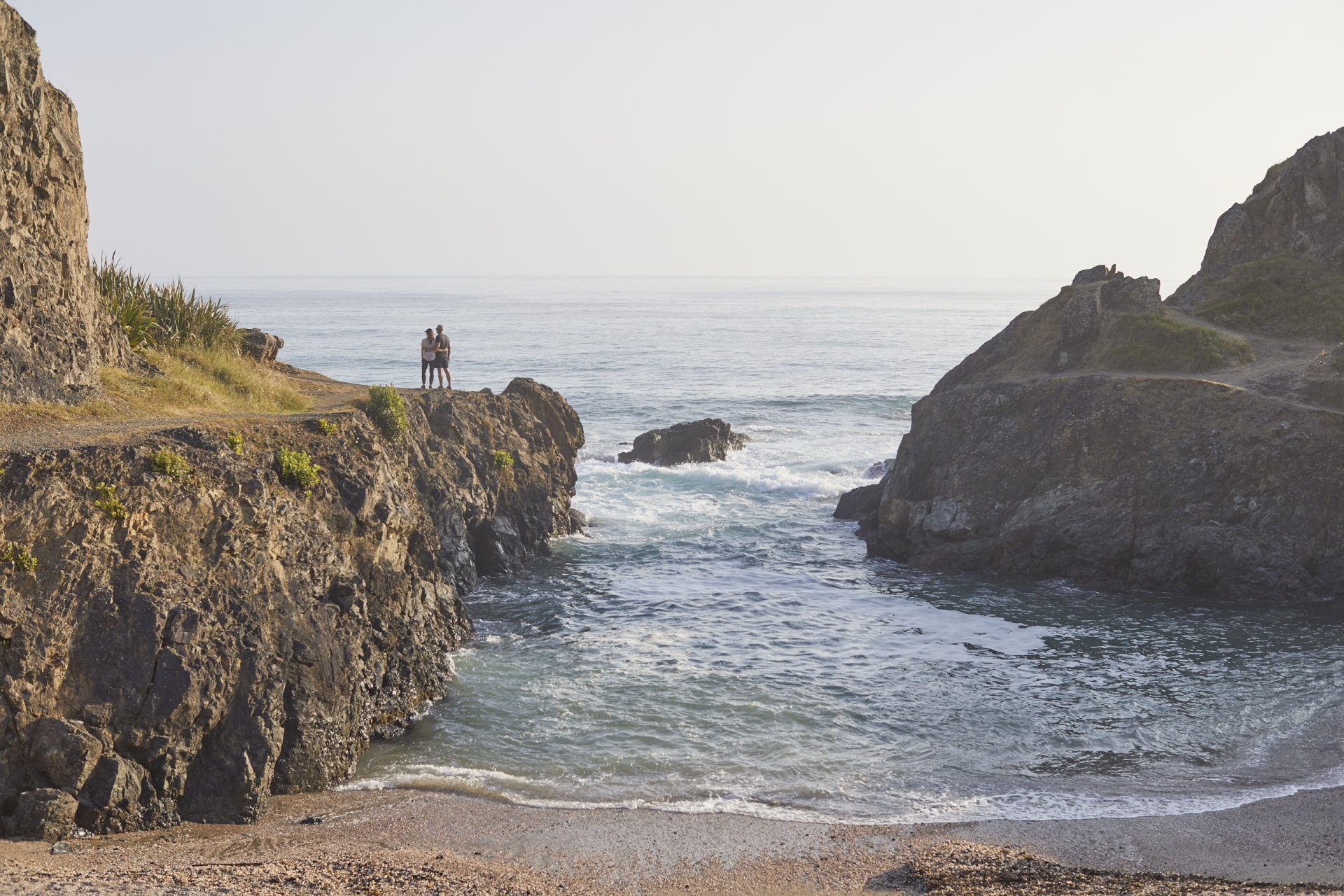 Things To Do In the Area
Mangawhai Cliff Walk
Take in the coastline by doing the Mangawhai Cliff Walk. The walk provides panoramic views from Bream Head all the way to the Coromandel Peninsula. It's a journey punctuated by native trees and lookout points. There are a few different loops and tracks to choose from depending on how much time you have, but all-in-all it's a well-walked route at an easy to moderate level with stairs thrown in to challenge your fitness.
Te Arai Point
This beach features a long stretch of white sand with small coves. With consistently good surf and swimming conditions (please check day to day), it is a popular beach where surfers and swimmers mingle seamlessly. While the beach is the main attraction, the first cove south of it serves as a great place to take a dip without the trouble of sweeping you away. If learning to surf has been on your to-do list but has never been ticked off, this is an appropriate place to learn how with companies like Aotearoa Surf.
Sofitel Auckland Viaduct, Auckland CBD
Renovated, elegant and embracing of an art-de-vivre heritage, the Sofitel Auckland has re-established itself as a top hotel choice for vacationers and business travellers alike. The Sofitel has re-emerged with a peaceful and graceful energy. The staff provide unparalleled service and do everything to improve the experiences of the guests and make the stay a breeze. All you have to do as a guest is relax as you frolic through the hotel while appreciating the internal water features and cozy nooks.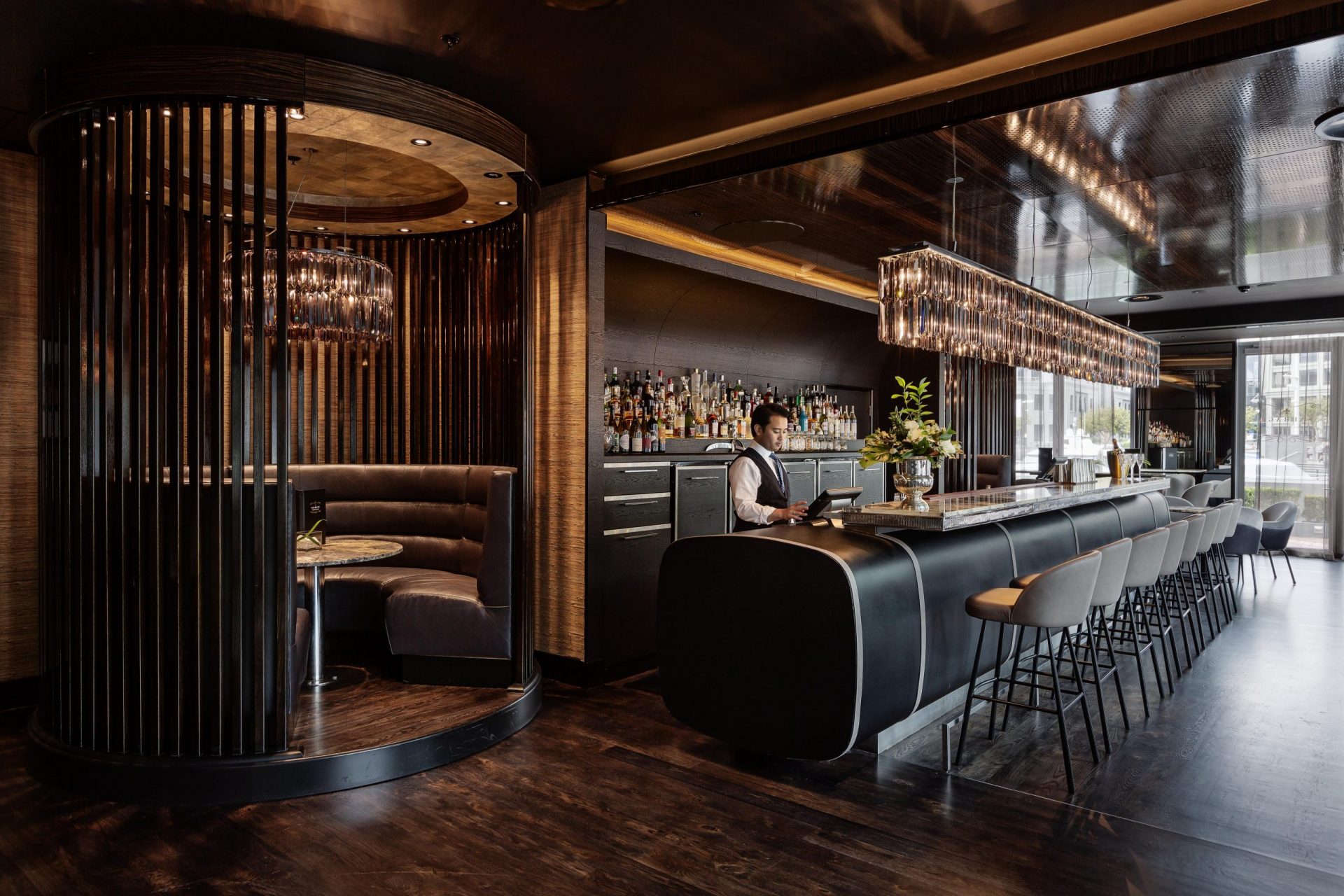 Accommodation:
The rooms in the Sofitel have varied views with some facing towards the Viaduct and others facing towards the tranquil manmade water features around the hotel. Decor is a refined mix between a classically appointed room and a pop of French fun. The plush headboards and the Balmain toiletries will mean you wake up knowing you are in Auckland but feeling like all day-to-day bothers are a world away.
Amenities:
The gym could truly be mistaken for the world's neatest underground dance club, with lights lining the walls and a giant screen. Directly next to the gym is the re-tiled pool with lights fashioned into a scene from the night sky.
The spa is an ambitiously curated experience from the designed space to the selective products to the personalised service. They have included local skincare brand, Nellie Tier, as well as incorporating French skincare icons, Biologique Recherche and Sothys in their treatments to help you achieve your dream skin. The spa staff are wonderfully attentive and you would be remiss to not go in for a day of pampering.
The renovation included the creation of a Club Millésime lounge in the hotel. The lounge is for the use of guests staying in upper tier rooms and is a stylishly decked out place where you can indulge in canapés, actually read a coffee table book or play a game of chess.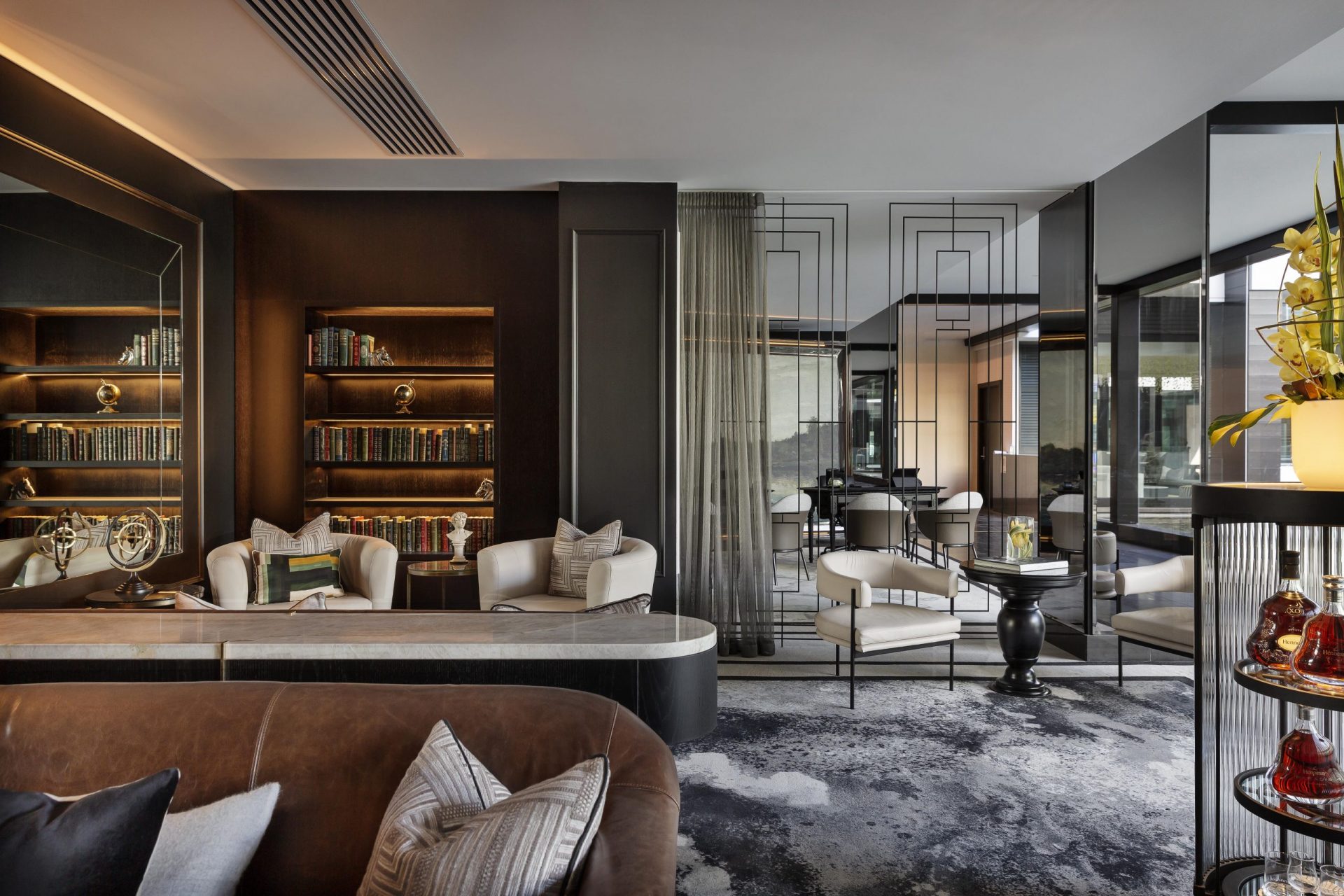 Dining:
La Marée
The restaurant, headed by Michelin-starred chef Marc de Passorio is the coupling between French culinary technique and New Zealand seafood. De Passorio is working with NZ MasterChef winner, Tim Read, which cements the 'French cuisine in New Zealand' aspect of the restaurant. Passorio has focused on crafting a menu that serves as a testament to the use of seasonal and fine ingredients. The result has been a series of classics with a Kiwi twist. Recommendation: try the lobster, it does not disappoint.
Sabrage Bar
Down the hall from La Marée is a hotel bar that feels nothing like a hotel bar. With circular booths and a line of crystalline lights, the champagne bar produces an effortlessly sexy atmosphere. The beauty of the entire place lies in the considerate attention to detail and service. It is a fabulous follow up after a dinner at La Marée.
Things to do in the area
Being in the CBD, the Softiel Auckland is close to great urban spaces like Silo Park. It's a perfect starting off point to explore the western fringe of the city and neighborhoods like Ponsonby and Herne Bay. Take a walk, stop by a cafe, explore boutiques – take the time to wander.
Te Whau, Waiheke Island
This is one of those times where "million dollar view" would be an understatement. Te Whau lodge sits at a vantage point on Waiheke Island where you have panoramic views of the layers of land and sea that coalesce into a stunning portrait of New Zealand life. From the East Auckland beaches to the city centre to Rangitoto, this view has got it all. Your hosts on this unique point of the island, Chris and Teara, hold a lot of local knowledge and ensure that your stay will allow you to enjoy the best of the island's offerings.
Accommodation:
Each of the four suites on the property share the same perfect view from both inside the room and outside on the private balconies. The limited number of suites and private setting make Te Whau the ideal location to book out for a larger family gathering or an escape from town with pairs of friends. The suites themselve are lined with wooden panelling, which gives the space a grounded and peaceful ambiance. The walls are decorated with subtle nautical themes that pay tribute to the parade of sails that can be seen from the lodge. The space includes an intimate serenade by the tuis outside your window, an incredible treat for city ears.
Amenities:
Te Whau has a common lounge and an abundance of deck space. They serve as the perfect place on the property to relax, take in the views and sip some local wine. I highly recommend using the large deck to drink in the sunset as you get the visual pleasure of seeing the colours of the skies and seas change between the sheets of land.
Dining:
One of the owners of the lodge, Teara, is a phenomenal professional chef and you are in expert hands if you fancy a night in. Our meal included scallops seared to perfection and maple lamb – memorable and mouth-watering dishes. She also cooks a four couse breakfast in the mornings that serve as a delectable send off before check-out.
If you're in the mood for a night out, Te Whau is a short drive away from Onetangi Bay. It is home to restaurants such as Three Seven Two, a beachside establishment that Chris, Teara and I can all vouch for. If you do visit, try the creamed paua. Alternatively, head a bit further down the bay to find Casita Miro, a tapa-style restaurant serving delicious fare amidst a vineyard.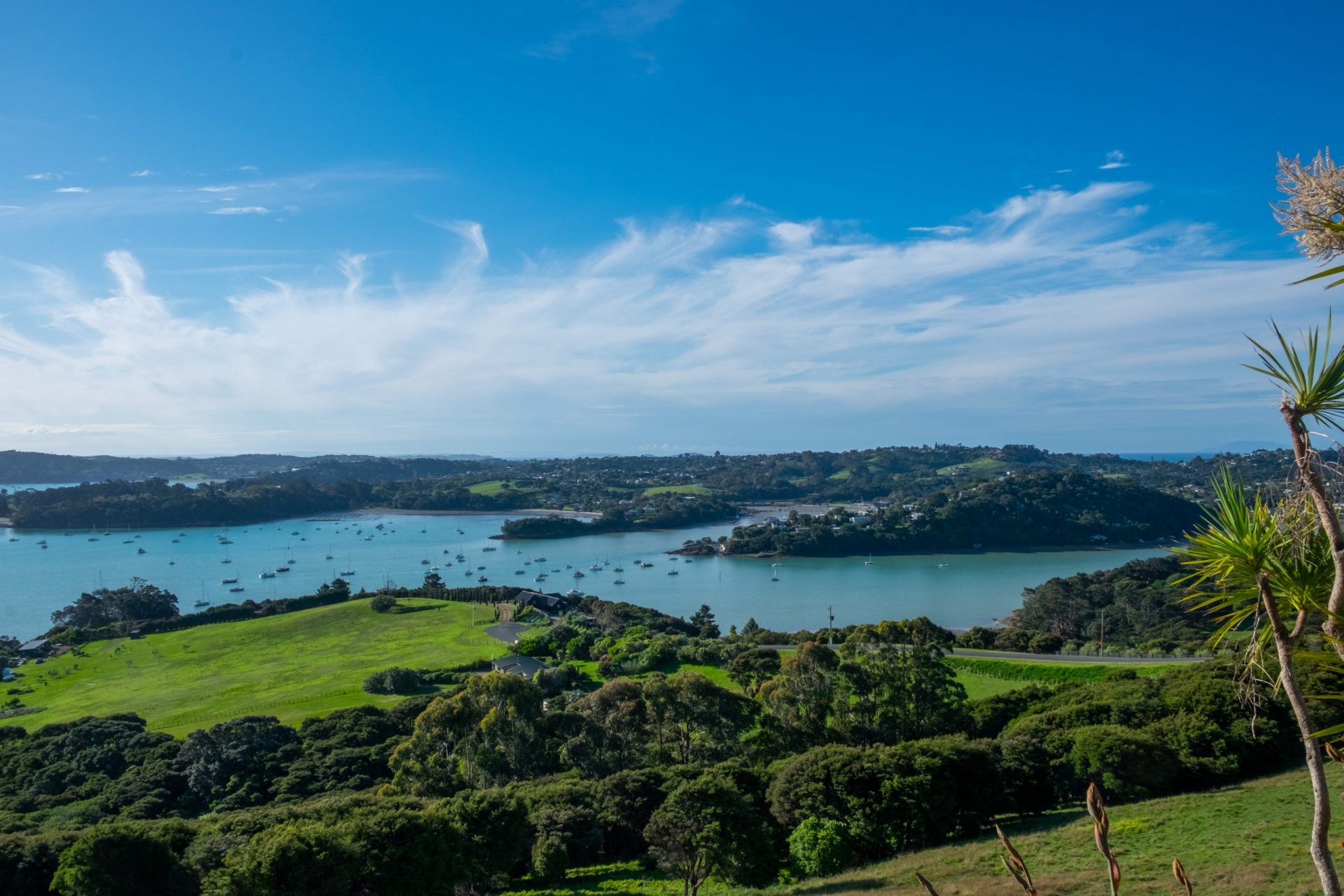 Things to do in the area
Stonyridge Vineyard
Unsurprisingly, vineyards are a popular option on Waiheke Island. Stonyridge is located in a vine-covered building and is an enchanting spot to relax with a glass. The restaurant area directly faces the vines and is adjacent to an olive grove. There is a mix of shaded and sun-drenched seating for you to choose from as well as a lovely selection of wines to sip.
Onetangi Reserve
Inland from the beach, this reserve has a series of walkways that will allow you to sight a ton of native trees. There is a mixture of short walks, roughly 20 minutes round trip, to longer walks, taking about 4 hours. Any of one of them will give you an escape into the New Zealand bush.
Get On The Water
For an adrenaline-filled way to explore the island, hire a jet ski, which provides a way to efficiently explore the coves of the island. There are both guide-operated and self-guided tours available on the island for you to choose based on your sense of direction and jet skiing ability.
South Island
Azur Lodge, Queenstown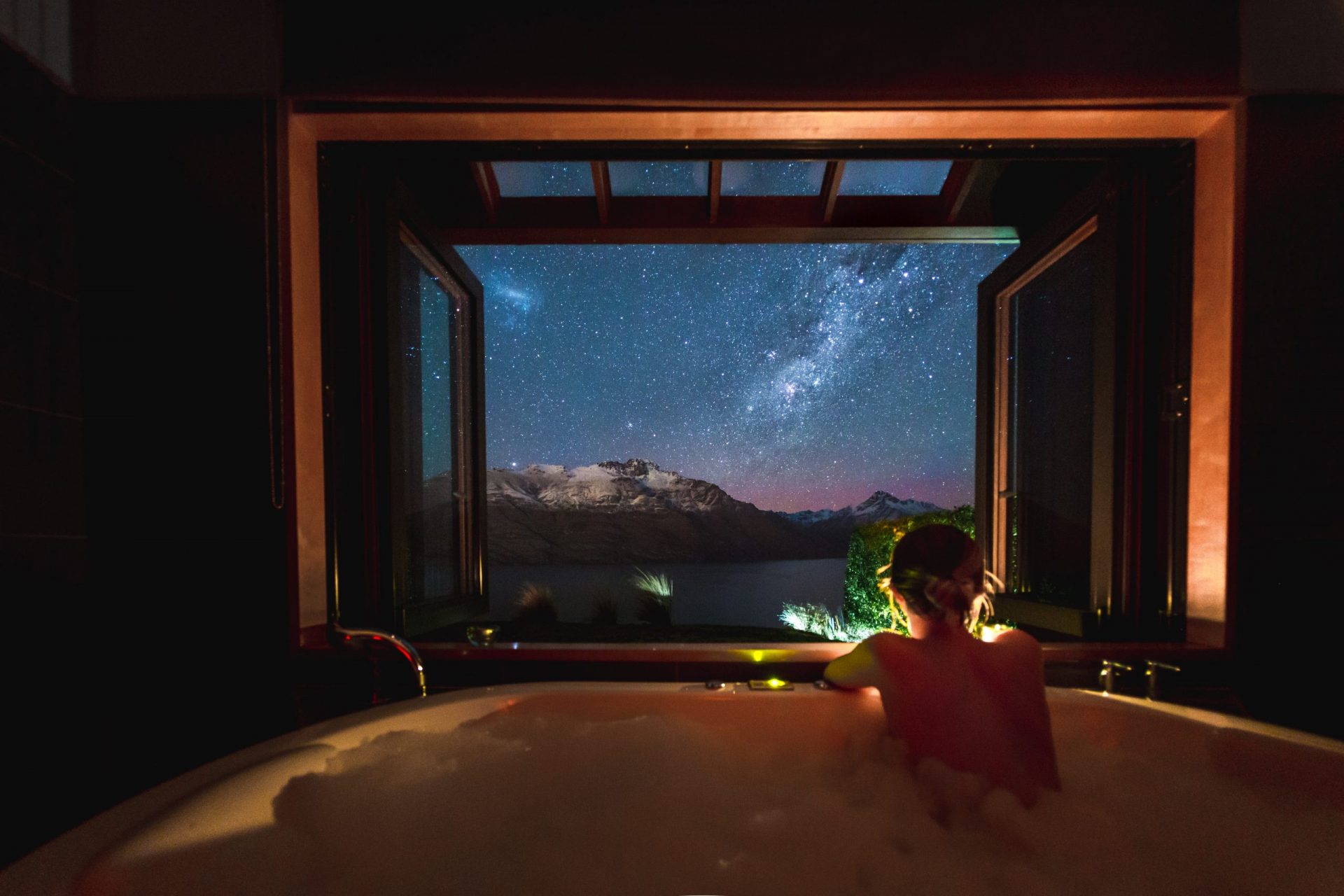 Private and well-appointed, the Azur Lodge is the crème de la crème when it comes to Queenstown accommodations. Even if we're only accounting for pragmatic factors like location and views, Azur comes out on top. The villas are all located on a slope in Sunshine Bay and are arranged in a way that allows each villa privacy as well as the ability to delight in the sweeping views of Lake Wakatipu and Cecil Peak. Azur is located a short drive away from the town centre and the warm and friendly staff will transfer you to and from town for meals and activities to give you the freedom to enjoy Queenstown while staying in paradise.
Accomodation:
All of the nine villas have unobstructed views of the lake and are positioned for each to maintain both privacy and panorama. Each spacious villa has a segmented, open-plan styled layout with the bedroom, dining area and lounge sharing the remarkable view. The bathroom features a gorgeous bathtub below accordion windows to enjoy the night stars or morning sun during your soak. The villas also feature balconies with sun loungers and a dining set up in case you enjoy dining al fresco.
Amenities:
The main lodge has a library on the end of the main building that gives you great accessibility to staff and snacks while allowing you to escape from the outside world for a brief rest. Outside the library is the patio area fully decked out with lights, a fireplace and seating area. The patio pairs well with a glass of wine and a slice of cake.
Transfers to and from town are included and along the way you can tap into the wealth of knowledge that the staff hold. They are all such personable and sincere people, it makes the experience 10 times better and leaving 100 times worse.
Dining:
Breakfast at Azur Lodge is free-form in the best way possible. The day before, let the staff know what you are wanting, from continental breakfasts to eggs benedict to fluffy pancakes, they have got you covered. You can choose to dine in your villa or up in the main lodge. The rest of the meals can be arranged for you from local restaurants and the Azur staff will help to plate and heat everything to perfection before bringing it to your villa.
If you're looking for a night out, the staff can bring you to and from town. Rātā, an establishment that serves New Zealand fare in the centre of town, is a great pick for fresh and well curated menus. Alternatively, Tatsumi, also in town, creates notable Japanese food.
Things to do in the area:
The staff at Azur are knowledgeable and prepared to help with any bookings, reservations or activities should you need it.
Fly and Cruise to Milford Sound
This half day trip gives you the best of both worlds with a 30 minute flight to Milford Sound, providing you with the aerial view of the natural wonder, and a 2 hour boat cruise, for a more intimate look at the sounds. The tour operator will pick you up straight from Azur and it is focused on delivering the best views possible.
Wilderness Jet Boating
A river safari on a jet boat is an exhilarating way to see incredibly scenic spots, like Dart River Valley and Mount Aspiring National Park. Again, the operators will pick you up from the lodge and will set off from Glenorchy – a charming township 45 minutes away from Queenstown. The half day includes a nature walk, 4×4 drive and of course a jet boat ride.
Custom Tours
4WD Expeditions offers tours for different crowds. For example, they offer a photography locations tour for amateurs and experts alike. It's a good way to hit all of the most memorable, striking and quality spots for a great snap with locals that have deep knowledge of the region. It's the perfect way to discover hidden gems.
Peak View Retreat, Whangamoa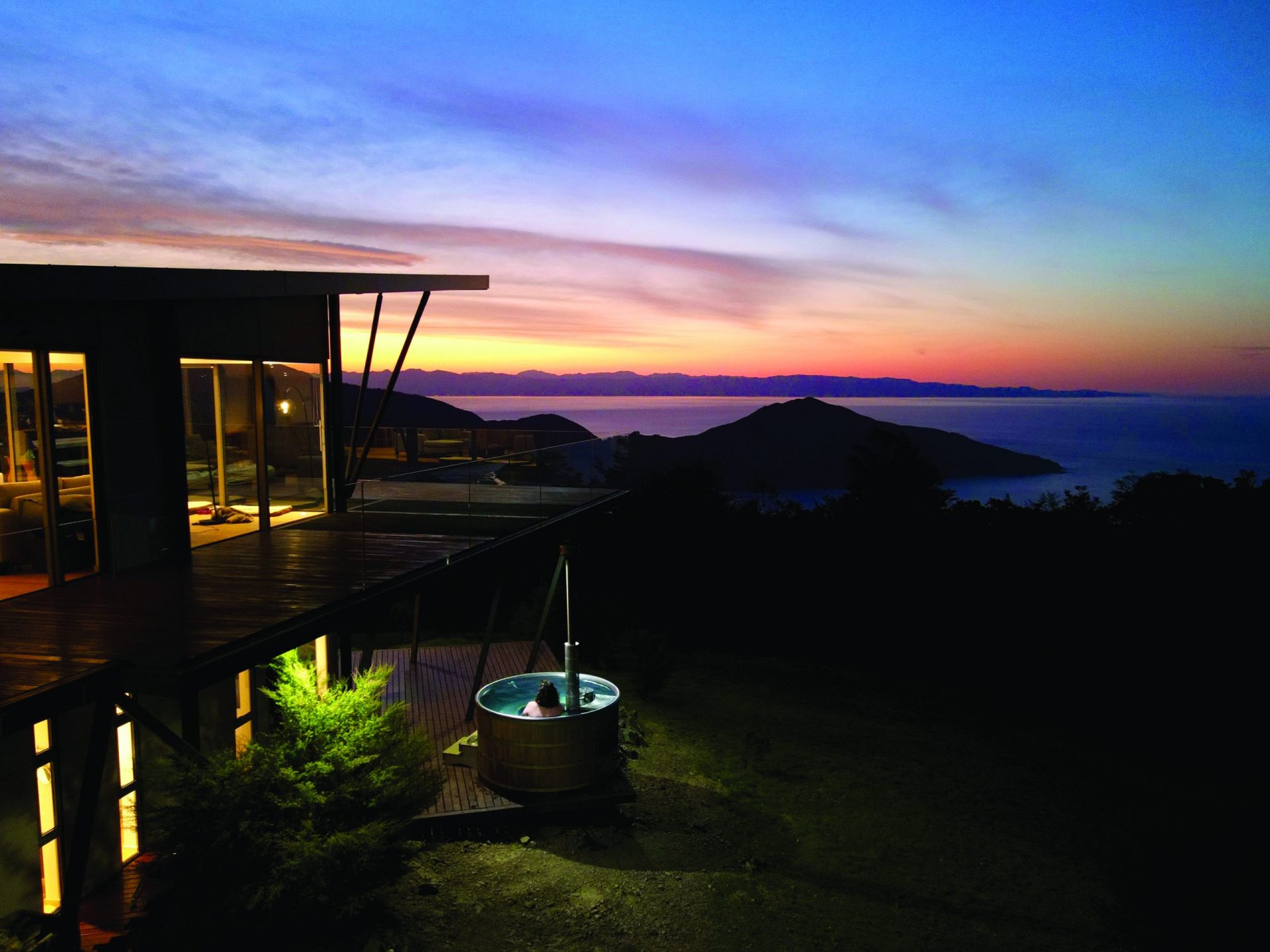 Located 40 minutes out of Nelson, Peak View Retreat exemplifies the idea of a hidden gem. Tucked in the peaks near the Nelson-Marlborough border, the property is a beautifully modern construction crafted to make good use of the stunning and extensive views. It is a contemporary take on a mountain cabin with glass in all the right places and every corner is fashioned into a stylish nook. Large decks that wrap around both floors of the haven allow you to enjoy to luxuriate in the view, especially on calm and sunny days. The Retreat is secluded from any semblance of a city and is only accessible via a 15 minute drive up through private property surrounded by DOC land. It ticks all the boxes of a place to refresh, reset and reinvigorate.
Accommodation:
The property has two bedrooms with ensuites and both are almost identical mirror copies of each other on the lower floor. Both have sliding door access to the outside deck that connects directly to the hot tub. The rooms are both spacious and include walk-in wardrobes so you can unpack and make yourself at home. Each bathroom includes a bathtub if the outdoor one is not your thing.
Amenities:
The entire upper floor of the retreat consists of spacious open plan kitchen, dining room and living room areas. All the living areas have an outlook towards the view. The outdoor Stoked tub, located on the bottom floor deck in a quiet corner, is the perfect place to relax. Peak View is perfect for any season, given that there is central heating, multiple fireplaces and ways to adjust the temperature to your liking. For practical reasons, there is also a laundry room equipped with everything you could need for a short or extended stay.
Dining:
Peak View is 40 minutes away from the nearest supermarket, which leaves you with two options: 1) Take the time to cook for yourself or 2) Have a local chef come and create a full-service meal or prepare food for you to enjoy at your leisure. Both options are appealing as the kitchen is well-prepared for most things you'd want to cook with all the usual appliances and utensils. You can cook and enjoy the vast views at the same time so it's really a win-win.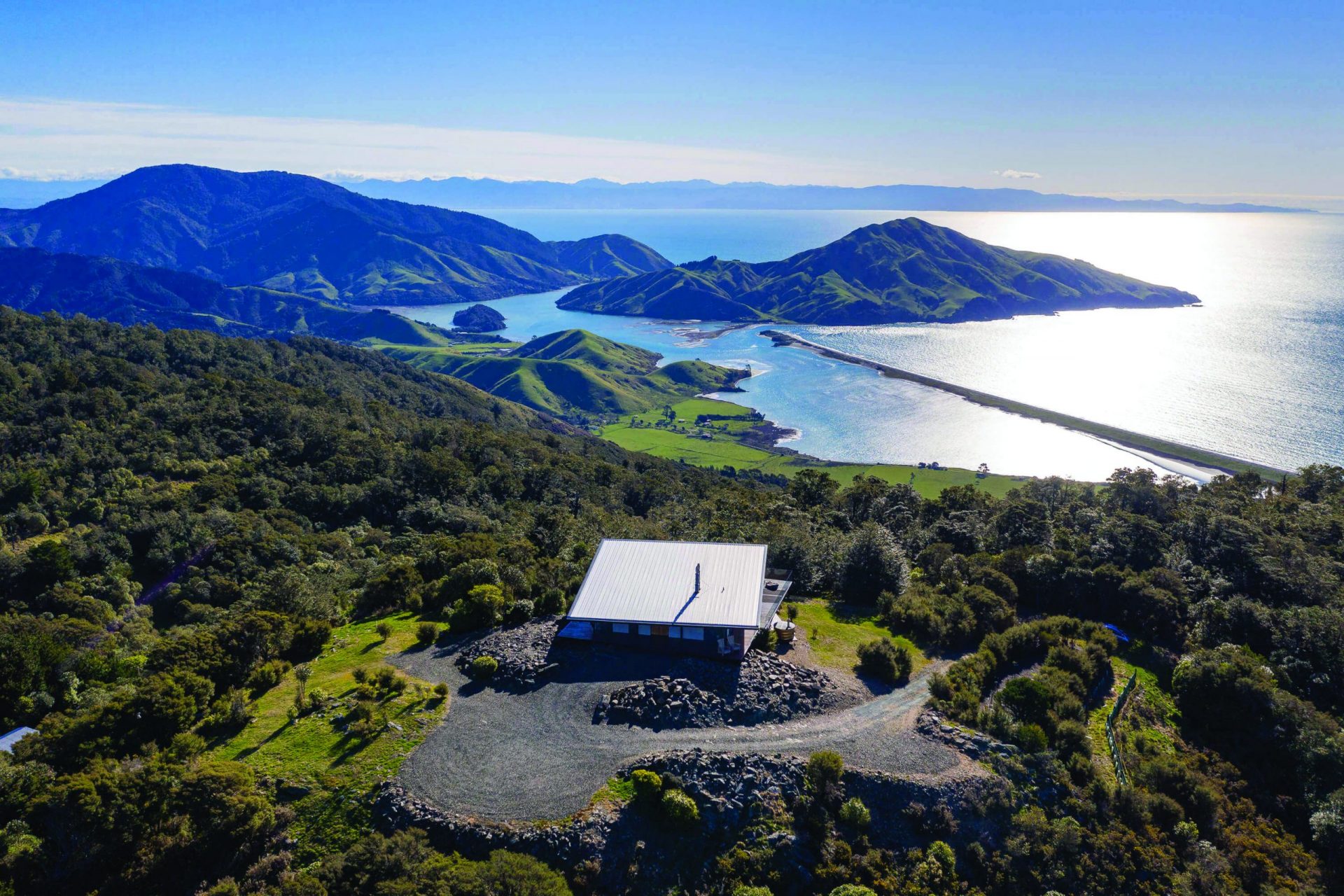 Things to do in the area
Cable Bay
A short 30 minute drive away is Cable Bay, a slice of heaven on earth. Although the bay is visible from Peak View, being there is a whole different experience. If you drive over to Cable Bay Lookout, you can park your car and follow the walkway up the hill. You'll be walking among sheep and turn back to discover an increasingly surreal and pure New Zealand view.
Abel Tasman Charters
Although it is a 1.5 hour drive from the retreat, I highly recommend a trip with this local tour company. They offer a day trip from Stephens Bay that will show you the highlights along the Abel Tasman National Park including Split Apple Rock – nature's art piece, Adele Island – a conservation effort rife with birdsong and Tonga Island Marine Reserve – a place to snorkel. The operators are all experienced and know all the hidden gems in the area.
A new place is exciting, but Peak View Retreat is one of the unique locations where I would recommend doing less. The place is well-equipped with entertainment, a hot tub and a highly secluded location. It is a place to take care of yourself and enjoy a brief escape from the outside world.
IONIQ 5
The IONIQ 5 marks the beginning of a new era of clean mobility for Hyundai. Blurring the line between digital and analogue, the new battery electric midsize SUV is the flagship model behind Hyundai's new signature dedicated EV architecture. This is just a small taste of what's to come in the new IONIQ range.
i30 N Series II
Hyundai has unveiled the new i30 N Series II, which comes with an enhanced design, a new wet-type eight-speed dual clutch transmission (N DCT), and new advanced SmartSense driver assistance and safety features. With a variety of new features to improve both every day and high-performance driving situations, the i30 N Series II is truly a racetrack-capable everyday sports car.