Equal parts flamboyant and serene, this show stopping, panoramic wallpaper from Resene will certainly speak volumes in any space. Part of their tropically influenced "Vivid" collection, the bold statement pairs well with plush textiles and decadent touches.
Available at Resene Colorshops
True Blue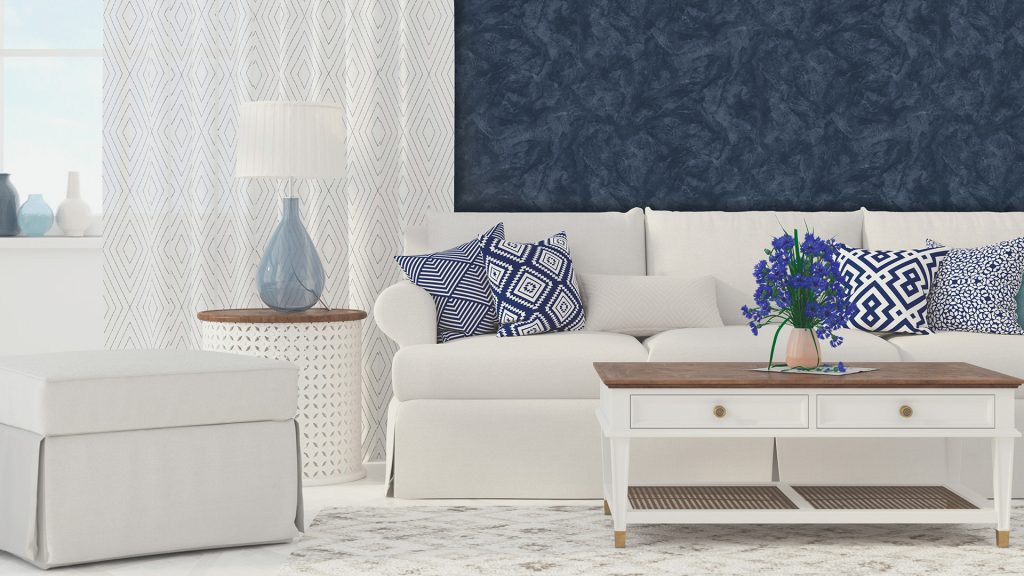 Holding the coveted title of Pantone Colour of the Year, "Classic Blue" takes center stage as we embark into a milestone decade. With qualities of elegance, tranquility and resonance, this versatile hue brings a sense of style and stability against the backdrop of an everchanging world.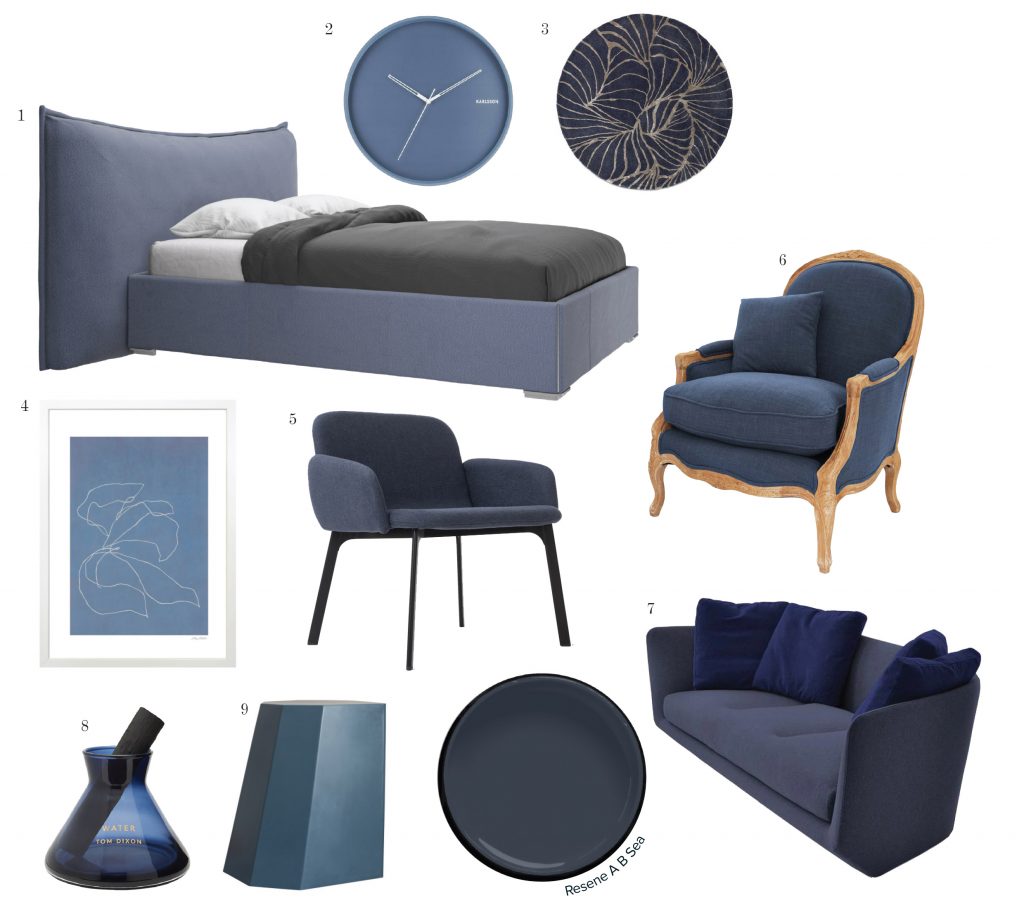 1. Bed frame $5899 from Bo Concept. 2. Wall clock by Karlsson, $199 from Father Rabbit. 3. Rug $739 from Bo Concept. 4. Print $89 from Paper Plane. 5. Armchair $1600.50 from Citta. 6. Armchair $1590 from French Country Collections. 7. Sofa $6526 from Tim Webber Design. 8. Diffuser by Tom Dixon $220 from ECC. 9. Stool by Martino Gamper, $250 from Paper Plane
Style Tip: Thought to aid rest as well as concentration, home offices, reading nooks and bedrooms may indeed be transformed by such tones.
Modern French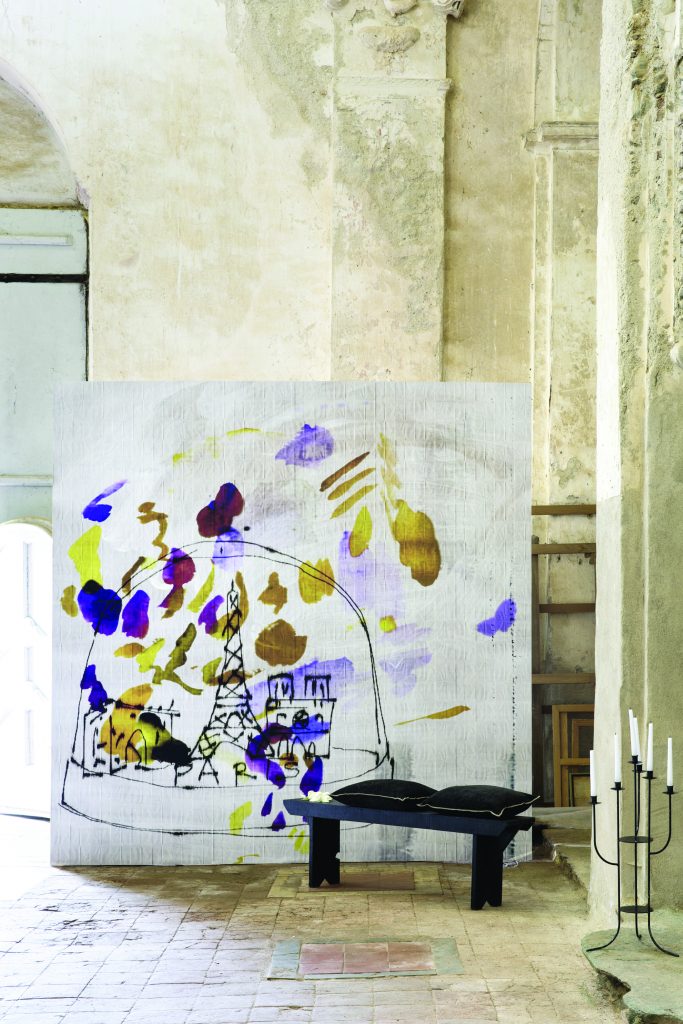 The obsession with Parisian chic-ness continues. Throwing out the rulebook on just-so interiors, modern French style is full of perfectly imperfect choices. Ornate, gilded accents sit against industrial elements while pops of dusky velvet and abstract prints bring life to classic linen pieces.
1. Mirror $1286 from Leopold Hall. 2. Sofa $5775 from Father Rabbit. 3. Wall lamp by Menu, $760 from Partridge Design. 4. Cushion $269 from Nest. 5. Linen duvet set by Cultiver, from $428 at Father Rabbit. 6. Armchair by Vitra, $740 from Citta. 7. Cushion by Tom Dixon, $325 from ECC. 8. "The New Paris" by Lindsey Tramuta, $49.99 from Whitcoulls. 9. Fruit stand by Astier de Villatte, $424 from Corso De' Fiori. 10. Tray $165 from French Country Collections. 11. Bust by Cire Trudon $399 from World Beauty
Style Tip: There's nothing more passé than a thematic room, incorporate details that work with your existing style rather than a complete overhaul.
Down To Earth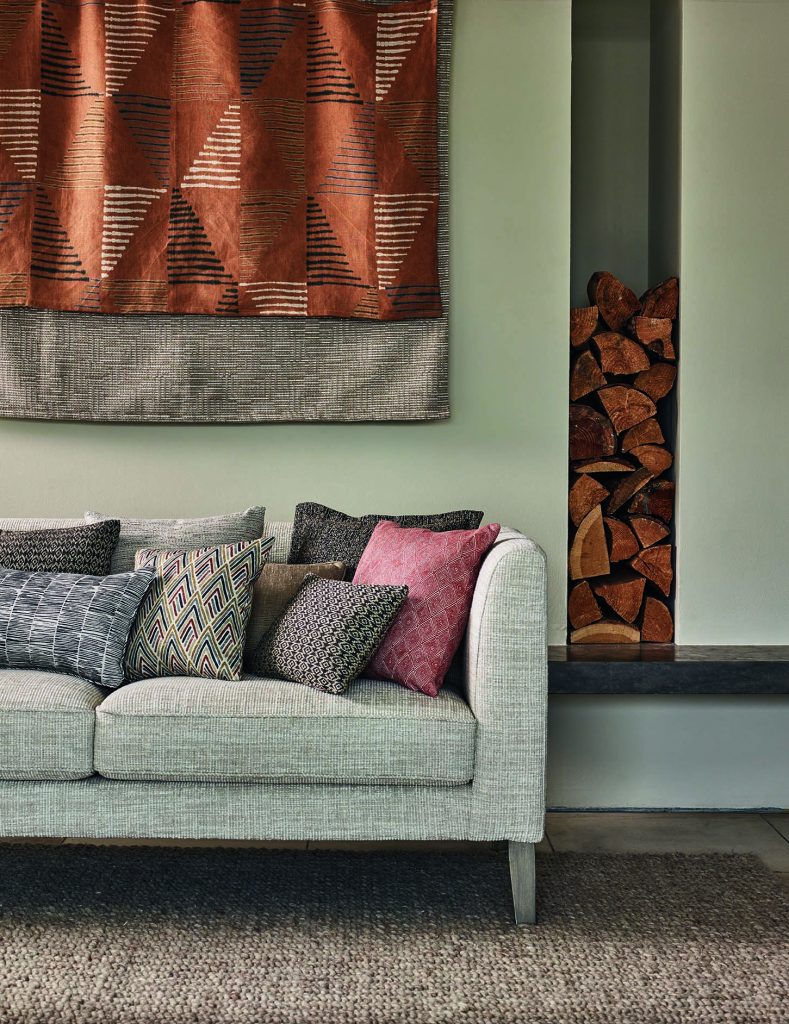 While natural textiles have been at the fore for many seasons, Autumn 2020 sees the trend get a sophisticated update. Moving away from the overwrought "boho" approach sees curvilinear lines take shape, a contrast of textures and a palette of neutrals punctuated by rust and pistachio for an elevated earthiness.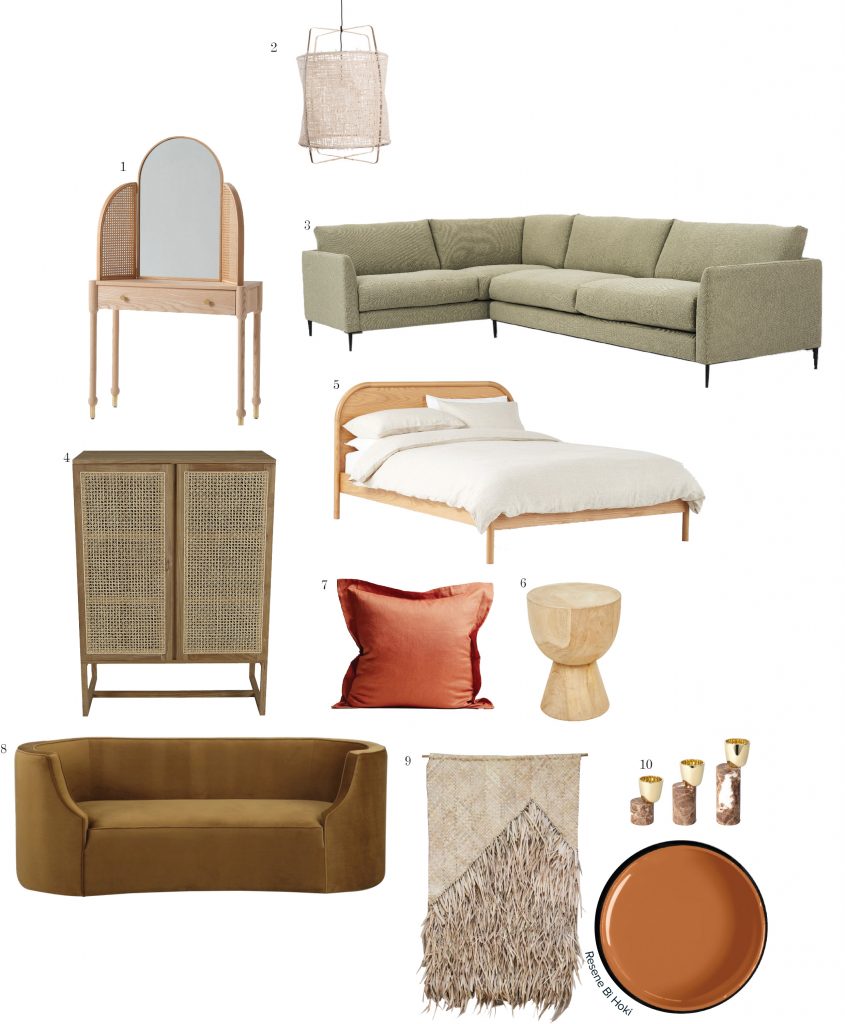 1. Vanity table $1990 and Mirror $1490 from Douglas and Bec. 2. Pendant by AY Illumnate, from $1080 at ECC. 3. Sofa from $8423 from Citta. 4. Cupboard $3995 from Nest. 5. Bed $3590 from Citta. 6. Side table $795 from Nest. 7. Pillowcase $110 from Thread Design. 8. Couch $2668 from Leopold Hall. 9. Wall hanging $349 from Nest 10. Candle holders by Skultana, from $220 from Simon James Store.
Style Tip: Branch out from plain neutrals with an injection of unexpected colour and texture such as nutmeg velvet or walnut rattan.
Little Women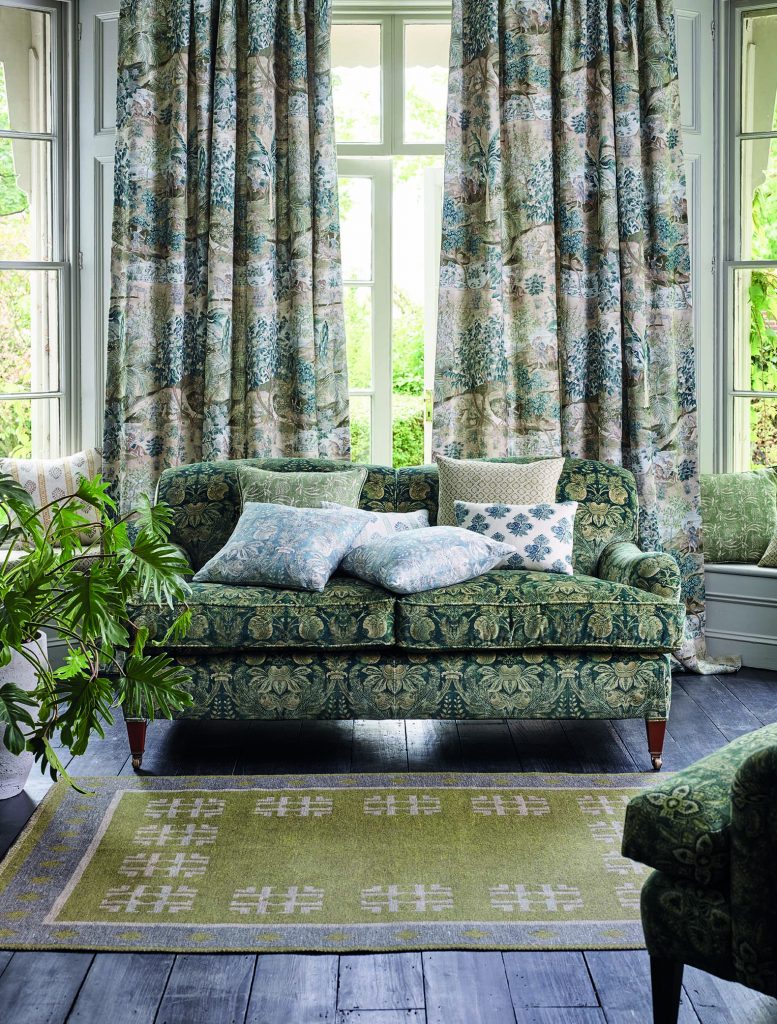 A juxtaposition of styles sees us taking interior inspiration from the latest adaptation of "Little Women". Cottage chic nuances and homely textiles blend with touches of opulence and romance, while a palette of harvest tones and glints of lush green evoke an abode perfect for a March sister.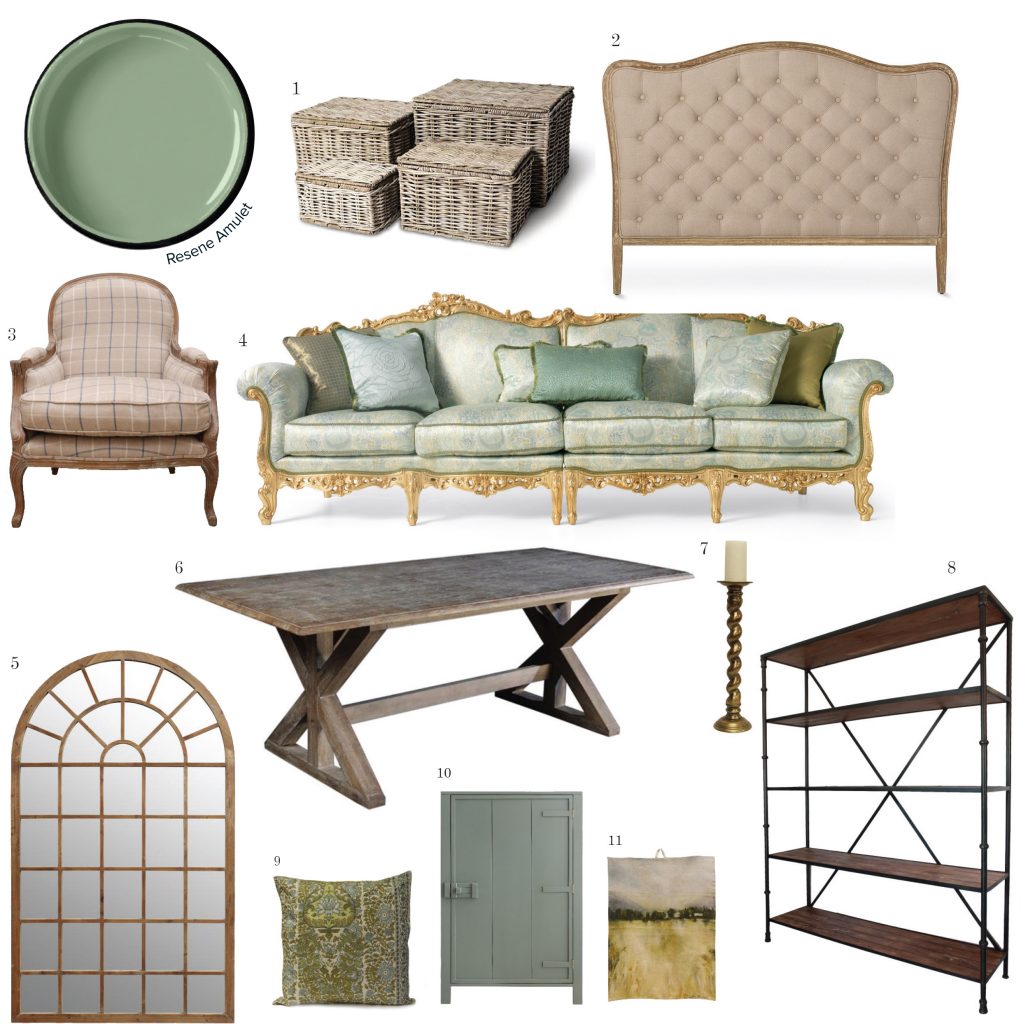 1. Baskets from Sempre, from $84 at Corso De' Fiori. 2. Bedhead from $1150 from Corso De' Fiori. 3. Armchair $1375 from Leopold Hall. 4. Sofa by Angelo Cappellini POA from Sarsfield Brooke. 5. Mirror $1516 from Leopold Hall. 6. Dining table by Le Forge, $1596 from Smith & Caughey's. 7. Candle holder $115 from French Country Collections. 8. Bookshelf $3275 from French Country Collections. 9. Cushion $140 from Partridge Design. 10. Cupboard $1795 from Nest. 11. Tea towel $29.99 from Thread Design.
Style Tip Team somewhat rustic furnishings with fresh, neutral walls for a look that's modern yet welcoming.
Retro Vision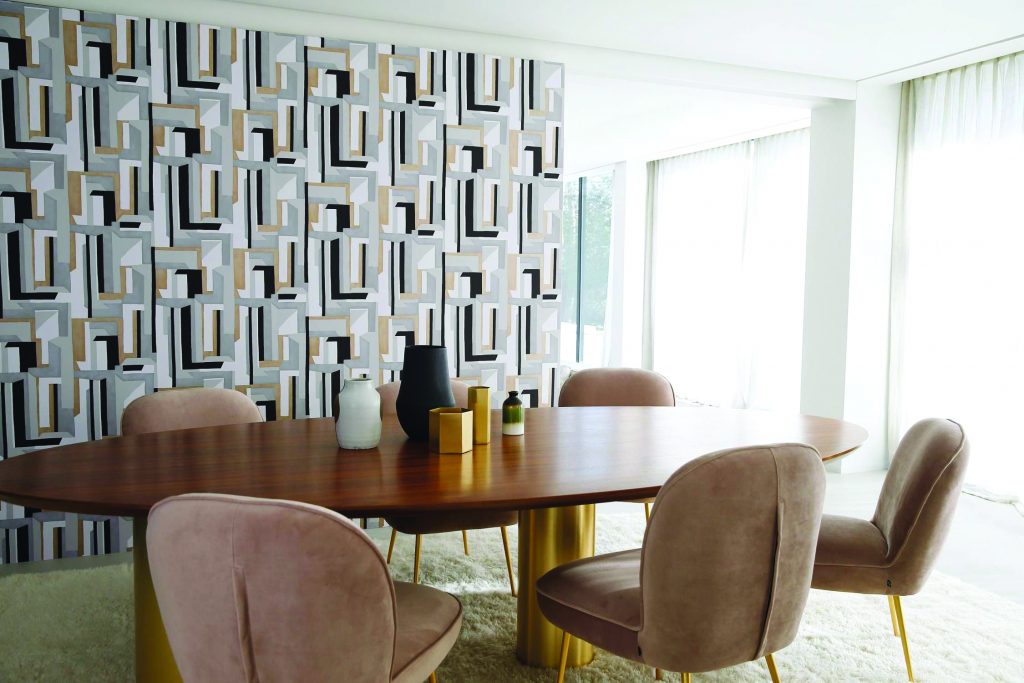 Let your hair down and step out of your comfort zone with pieces that reflect a bygone era. With elements of eccentricity from the 50s – 70s, metallic accents, flashes of orange, psychedelic prints and shag-pile textures bring a sense of whimsy and fun into the home.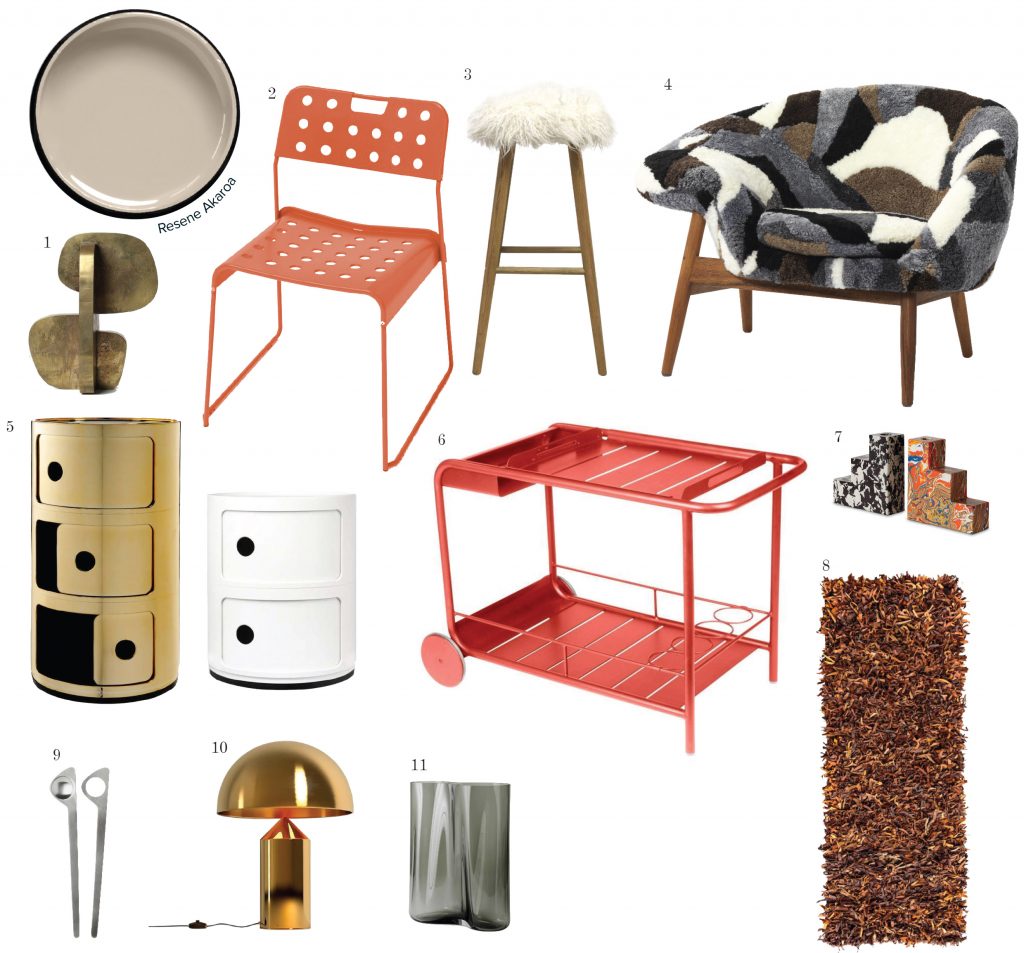 1. Brass sculpture by Gidon bing, POA from Good Form. 2. Chair by OMK, $525 from Good Form. 3. Bar stool $412 from Leopold Hall. 4. Armchair by Warm Nordic $8450 from Good Form. 5. Storage cabinets by Kartell, POA from Backhouse. 6. Bar trolley $1295 from Jardin. 7. Bookends by Tom Dixon, $585 from ECC. 8. Rug by Signature Rugs, from $149 at Smith & Caughey's. 9. Salad servers by Skelton, $178 from Simon James. 10. Table lamp by Oluce, from $2086 at ECC.
Style Tip: Investing in vintage is one way to be kinder to our environment, look to specialist retailers as well as in op shops and online for unique treasures.