Bri DiMattina is a second-generation Italian-Kiwi, a home gardener and trained chef who inherited her love of good food from her chef mother and her Italian nonna. After a career in the food industry, Bri moved to Māngere Bridge with her son and partner. There she began growing a 'food forest' using permaculture principles, finding joy in harvesting and cooking homegrown produce.
It's this Italian-inspired kitchen garden that has been the inspiration behind her cookbook Nostrana, which translates as homegrown. Arranged by the season, with growing notes on some of your favourite crops, Nostrana celebrates the quiet satisfaction of growing food yourself then creating something delicious with it.
M2woman spoke with Bri about her journey into food, the power food has to connect us and how we can start our own homegrown journey.
Food and fresh produce has been a part of your life from a young age, did you always think you would work with food? What did that journey look like?
Food and Fresh produce have been a big part of my life from a really young age – but in all honesty, I didn't realise it – it was a 'norm' as my grandfather grew fresh tomatoes (amongst many other veggies) in his own garden and as work – my mother had a café in Wellington and bought her ingredients from local small businesses and growers – I didn't know any other way. I remember berry picking in the summer in Nelson. For my grandparents, food was always about sharing – either produce from the garden or goodies from the kitchen. I used to work in the café for pocket money, and I think that naturally led to studying Hotel & Catering for several years – my part-time jobs were in the kitchen at The Grain of Salt in Wellington – and waiting at The James Cook. I worked in Hotels for many years after I finished studying – heavily on the Kitchen / Food & Beverage side of things – so it's been the base of my career – It's an industry of really long hours and not great pay – so you have to love something about it. Having said all this – there was a point when I was probably about 10 or 12 years old that working with animals was a big contender – yes my dog has meals cooked for him… and loves cheese too – so win/win.
Where do you find the inspiration for your recipes?
Definitely the garden, and whatever is in season – I spend far too much time swirling ideas/thoughts (daydreaming!!) of food around in my head – it's not unusual for me to start thinking about what I'll cook for dinner while I'm having my first coffee of the morning. Usually ingredient-led – and then what else I have (garden or fridge) and of course my pantry is Italian based – always olive oil, anchovies, tomatoes, cream – the main thing that I have found with the garden is that homegrown ingredients sing on their own – without a lot of encouragement from a million other ingredients.
Your new book is inspired by your Italian heritage, can you share some of the traditions or values of Italian culture that readers can expect to take away from this book?
The book has already come full circle with this question – I have heard from people that shared meals with my grandparents, and have reached out since finding the book – to share their stories and memories – and recognising the recipes – reminding me of snippets I had forgotten the coffee being roasted, or tomatoes or biscuit tins full of meringues and lemon slice – and I think that is the spirit of the title of the book Nostrana is about growing and sharing food – which is what my Grandparents naturally did.
Do you have any favourite recipes from Nostrana?
Yes – definitely a few that are heirloom recipes – the tomato sauce – is my great grandmothers' recipe – the Pizza dolce, a sliver for breakfast with coffee especially, but I think because of the memories that they hold more than anything – the oaty slice was a regular in my school lunch box and was a favourite at Elizas (my mother's café) and probably the most shared recipe before Nostrana.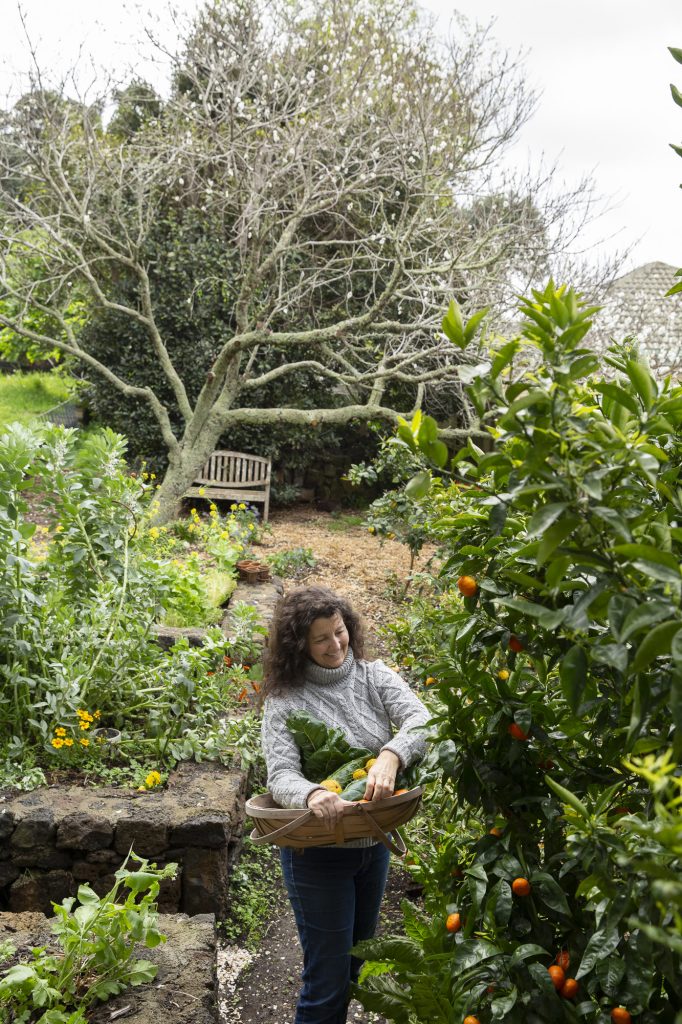 What do you love about gardening? What have you learned along the way?
I have learnt a lot along the way on the gardening journey – I love when the garden goes to plan, but that's not the norm – I know people probably expect to hear the 'calm and mindfulness' to be my why – but it is actually the first asparagus or the first passionfruit of the season that keeps me in the game – and then the gardening community – I've made so many friends along the way with gardening. Learning from a garden never actually ends, there is so much to learn – and other gardeners are, hands down, the best resource for this.
What are your favourite plants to grow?
Other than tomatoes (if I grow nothing else over summer there will always be a tomato plant) – as a gardener – perennials are my favourite – asparagus, rhubarb, anything that comes back every year with lovely large crops, with very little effort from me. The lazy gardener crops are the best!! Followed closely by things that self-seed well all year – perpetual spinach is my hero in this category.
Your garden is incredible, do you have any advice for those who might want to embark on their own edible garden journey?
Choose things you like to eat, you'll be more invested in the process and the results in taste will propel you forward to grow more – and start with just one or two items – learning about a dozen different plants all at once is overwhelming – herbs can also be a good place to start as they are less susceptible to weather, bugs and soil preferences – also quite expensive to buy at the supermarket – so the savings start. Most gardeners will say the same thing – start small, and add over time. See what grows well in your neighbours' gardens, as that will give you some insight into what does well in your area/climate.
Composting is becoming more common again in households today, any tips or tricks you can share?
my number one piece of advice here is to "just start" – a compost bin or worm farm are the easiest things to learn as you go – there is a lot of info out there and a million different methods, but it really is worth just getting over the initial hurdle of setting something up and starting – it's much easier than people realise. There are even a few community gardens that have compost bins that you can contribute to. It's one of those things that people think that it's 'good for the planet' as the main goal, which it is – but honestly good compost is straight-up, garden gold, for growing anything in your garden. Its always about the soil, the more you can do for it naturally the better your results will be.
What else are you inspired by, outside of the culinary world? Anything you do when you're not busy working in your garden?
Restaurants and Travel – especially a combination of the two – love discovering things – usually around food – a new flavour or way of cooking / making something – a little closer to home I enjoy street markets and farmers markets – the nearest market to me have a range of little stall holders with amazing choices in Asian herbs and greens – I'll often buy them out of curiosity and try to grow them in my own planter boxes – I'll often find something on these market stalls that I've grown up thinking is a weed and is actually incredibly tasty ingredient – magnolia petals is probably a good example of this in my book – not that I considered them a weed – just oblivious to their nutritional benefits – making jam from the petals probably undermines its 'weight loss' properties… but in jam form it might well add to the anxiety reduction benefits.
Tomato Caper Sauce with Parmesan Fish
This sauce is essentially a 'cooked salsa' to serve on fish, chicken or even beans, rather than as a pasta or pizza sauce (although go right ahead!).
It's a summer flavour bomb and goes with everything. Most memorable for me growing up was this sauce served on blue cod, so that's what I'm giving you here. If you like, make a bigger batch of the sauce and keep it
in the fridge or freezer to have on hand for a quick meal.
Serves 4
---
Ingredients
Plain flour, for dusting the fish
4 blue cod fillets
3 eggs
1/4 cup (60ml) milk
Chopped fresh herbs (such as
parsley, thyme or oregano),
to taste
1/2 cup (40g) finely grated
parmesan
Butter or olive oil, for frying
---
TOMATO CAPER SAUCE:
2 tbsp olive oil
1 onion, finely chopped
2 slices pancetta or streaky bacon
4 large tomatoes, chopped
5 garlic cloves, crushed
1 tsp lemon zest
1/2 tsp paprika
1/4 tsp cayenne pepper, optional
2 tbsp tomato paste
1 cup (250ml) water
1 cup (250ml) white wine
1 cup combined oregano and
parsley leaves, finely chopped
100g butter, chopped
1/4 cup (50g) capers
---
How To
To make the sauce, heat the oil in a large, deep frying pan over medium-high heat. Add the onion and cook until translucent, then add the pancetta and cook until crispy.
Add the tomatoes, garlic and lemon zest. Cook for a few minutes, until the tomatoes have reduced down a little, then add the spices, tomato paste, water, wine and half the herbs. Simmer for about 10 minutes, until it thickens. Add the butter and stir until melted and combined.
Remove from the heat and add the remaining herbs and capers (if you want, you could fry the capers in a little butter until crispy first).
Season with salt and pepper to taste and set aside.
Season the flour with salt and pepper then use to lightly dust the fish. I do this by placing a few tablespoons of seasoned flour to a bag, then adding the fillets and shaking gently to coat evenly.
In a shallow bowl, lightly whisk the eggs and milk together, then stir in the herbs and parmesan.
Heat the butter or olive oil in a large frying pan over medium heat.
Dip the fillets into the egg mixture and place into the pan (you may need to spoon a little of the herbs and cheese left in the dish on top of them). Cook for about 5 minutes each side, until lightly golden brown and just cooked through.
Reheat the sauce and serve with the fish on top.
NOTE: You could swap the blue cod for monk fish, or talk to your fishmonger for other alternatives.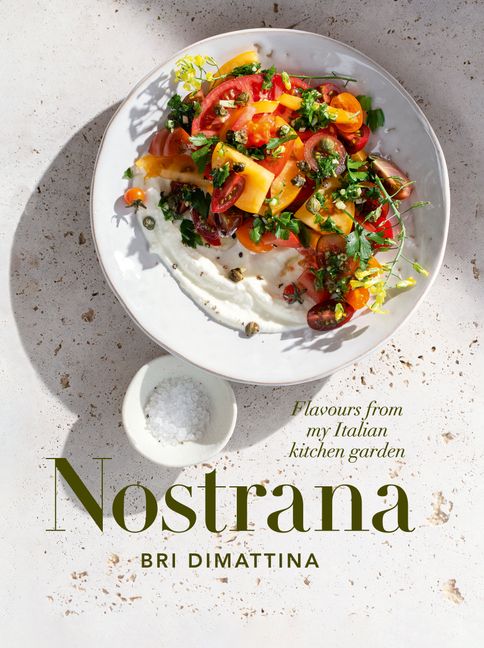 Nostrana: Flavours from my Italian kitchen garden, Author:
Bri DiMattina, RRP$55