Transport yourself to a hidden corner of the world. In a sumptuous palette of deep greens and earthy brick and clay, the Autumn/Winter collection of sumptuous linens and furnishings by Adairs creates a luxurious haven to escape to and unwind.
Available at Adairs
Deco Dance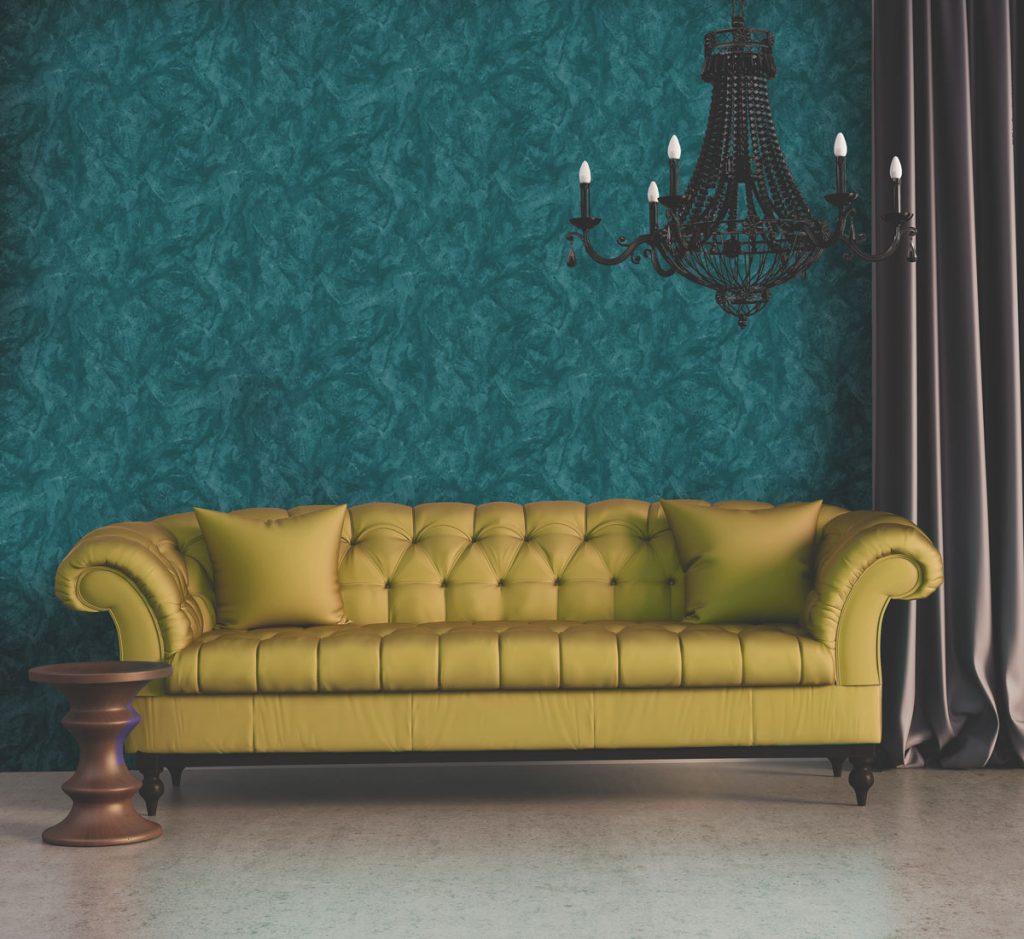 Give any space a touch of the old razzle dazzle with a nod to the roaring 20s. Glitzy, gilded accents and plush velvety finishes go hand in hand with subdued, retro elements inspired by the era of opulence and joie de vivre.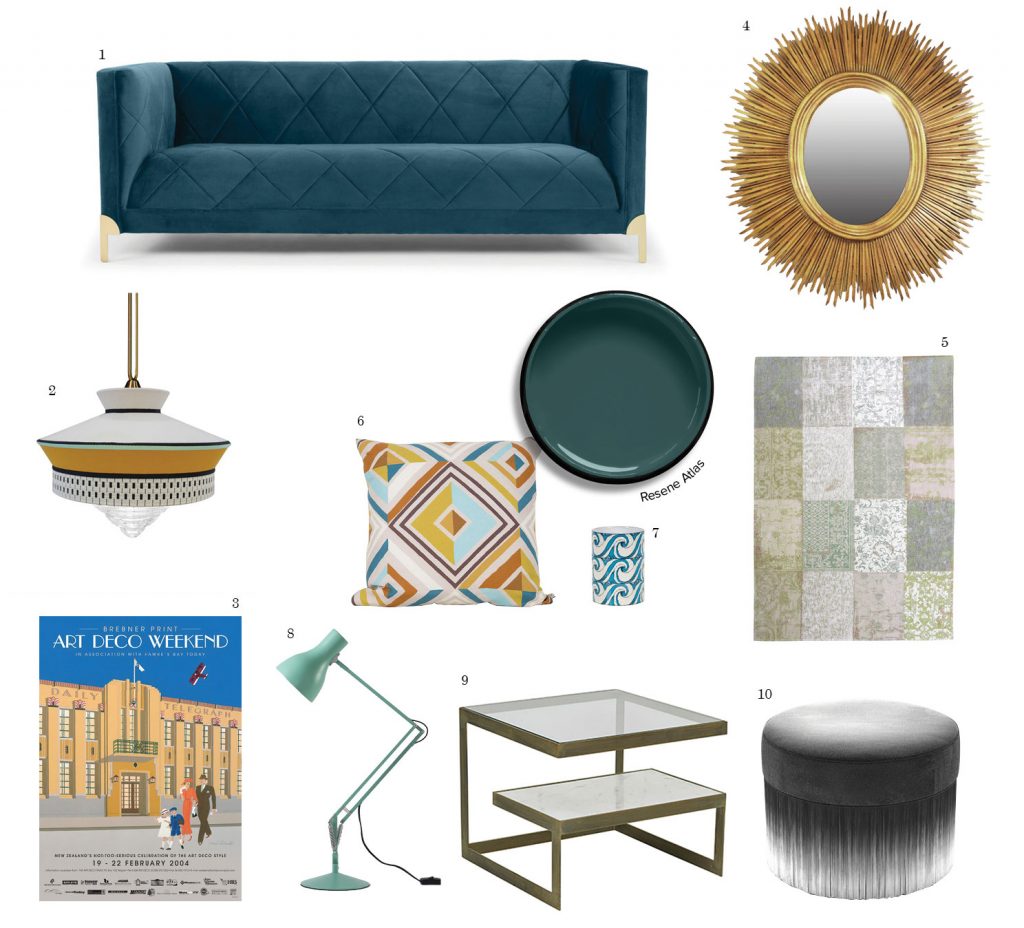 1. Sofa $3495 from Me and My Trend 2. Pendant by Contardi, POA from ECC 3. Poster $11.50 from The Art Deco Trust 4. Mirror $1438 from Leopold Hall 5. Rug by Signature Rugs, $2009 from Smith & Caughey's 6. Cushion by Rachel Carley Design, $385 from Tessuti 7. Vase by John Derian x Astier de Villatte, $265 from Tessuti 8. Desk Lamp $490 from Citta 9. Side table $1292 from Soren Liv 10. Poof by Moooi, POA from ECC
Style Tip
Sticking to a palette of 3 to 4 key tones with touches of metallics avoid a gaudy interpretation.
Pale & Interesting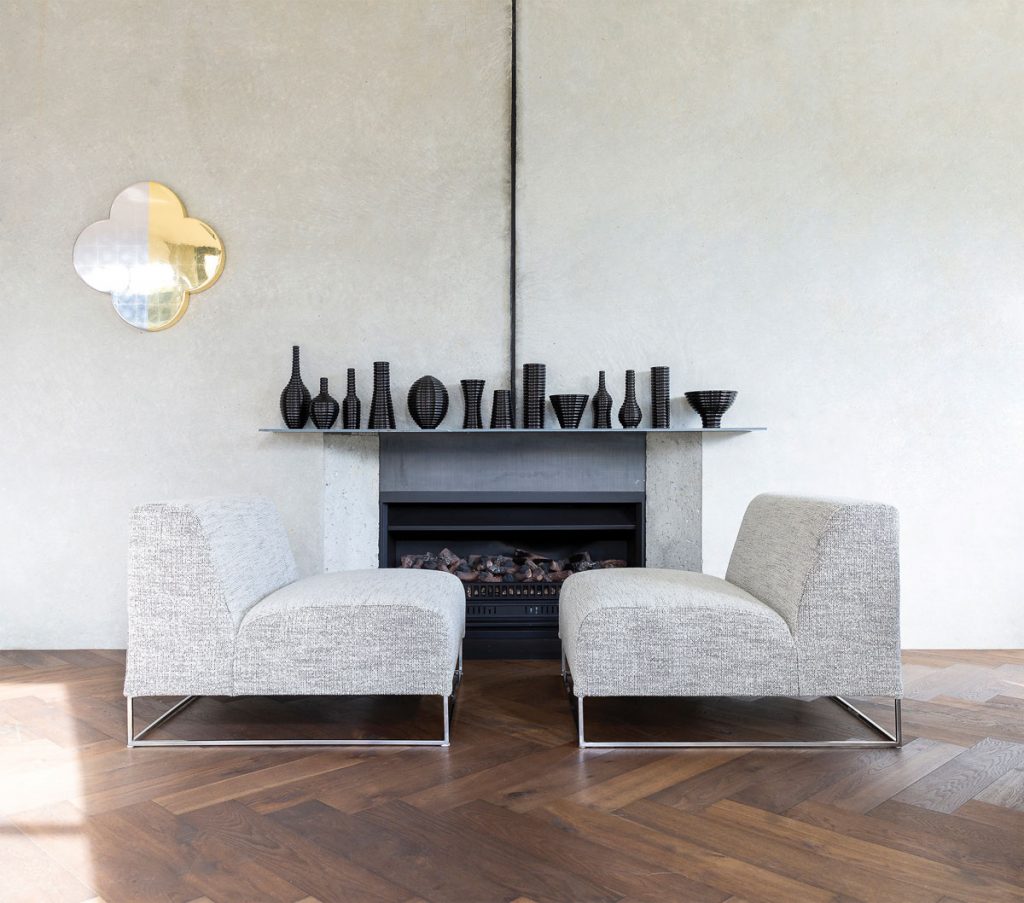 The best things in life are minimalist- so dial back the saturation and focus on form and function. A serene scheme of greys, white and neutrals draws attention to sleek, architectural lines for a balance of calm and sophistication.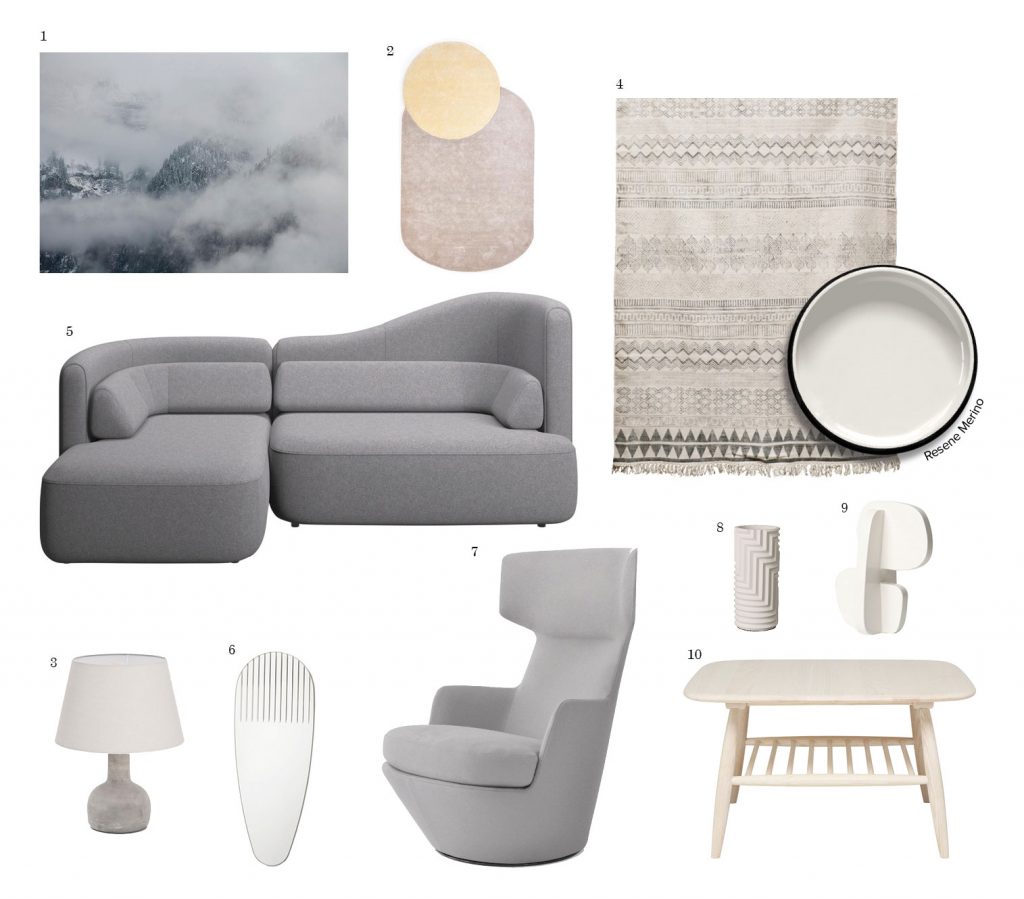 1. 'Fog' by Courtney Driscoll Photography, $1800 from Tim Webber Design 2. Rug $4565 by Nodi Rugs 3. Lamp $195 from Father Rabbit 4. Rug $182 from Leopold Hall 5. Sofa $7319 from BoConcept 6. Mirror by Warm Nordic, $475 from Mr Bigglesworthy 7. Lounge Chair by Bensen $4317 from Tim Webber Design 8. Vase by Phil Cuttance, $149 from everyday needs 9. Ceramic table sculpture by Gidon Bing, $185 from Mr. Bigglesworthy 10. Table by Ercol, $1295 from Mr. Bigglesworthy
Style Tip
When splurging on a statement piece, choosing a neutral hue takes it from just being trendy to always classic.
Flower Bomb
Draw inspiration from the spring couture collections with the likes of Valentino sending dreamy, hand-painted offerings down the runway. Add delicate floral touches in small accessories or go bold with artistic renderings from floor to ceiling.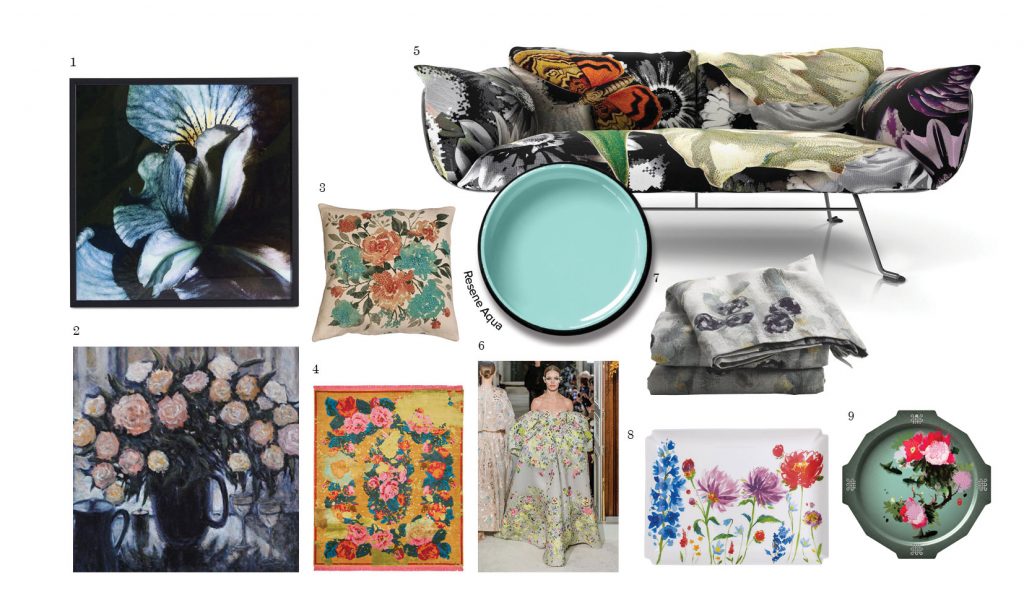 1.Print $65 from BoConcept 2. 'Zoe's Flowers' by Max Thomson, $1800 from Tessuti 3. Cushion $110 from French Country Collection 4. Rug by Jan Kath, POA from Artisan Collective 5. Sofa by Moooi, POA from ECC 6. Valentino Spring 2019 Couture Collection 7. Throw $325 by Thread Design 8. Platter by Vileroy & Boch, $149 from Smith & Caughey's 9. Tray by iBride, $169 from Corso De' Fiori
Style Tip
A full-length wall mural makes a dramatic statement, pick out accent hues in your surrounding furnishings to complete the effect.
South Of FRANCE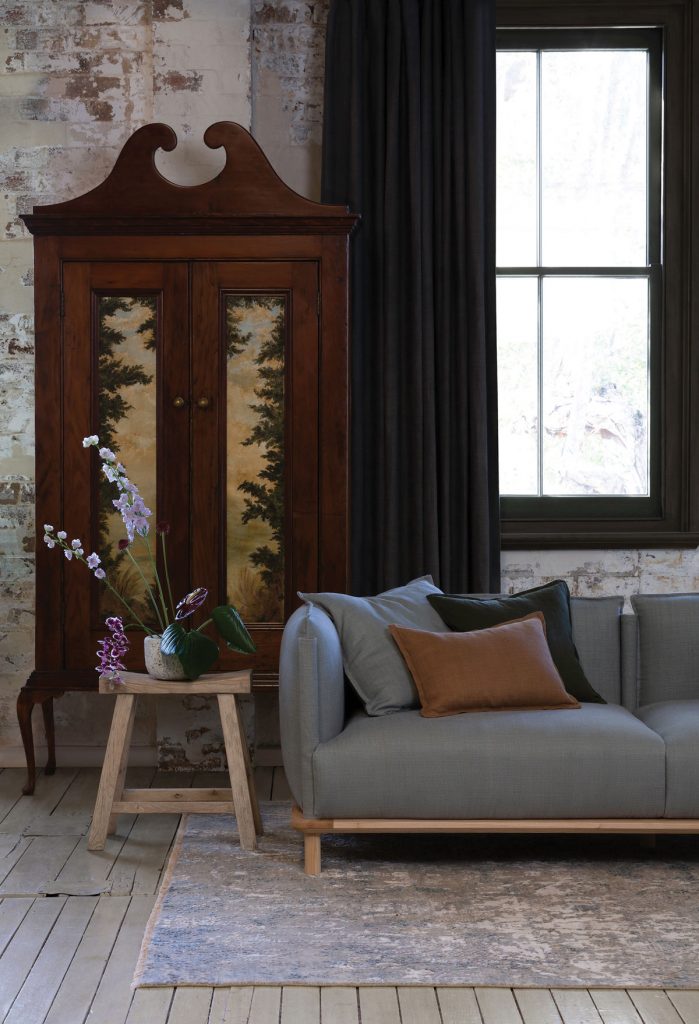 Idyllic and full of romance, it's no wonder our love affair with the south will never end. Allow yourself to be swept away by soft neutrals and painterly pastels while distressed woods and faded prints are offset by ornate details.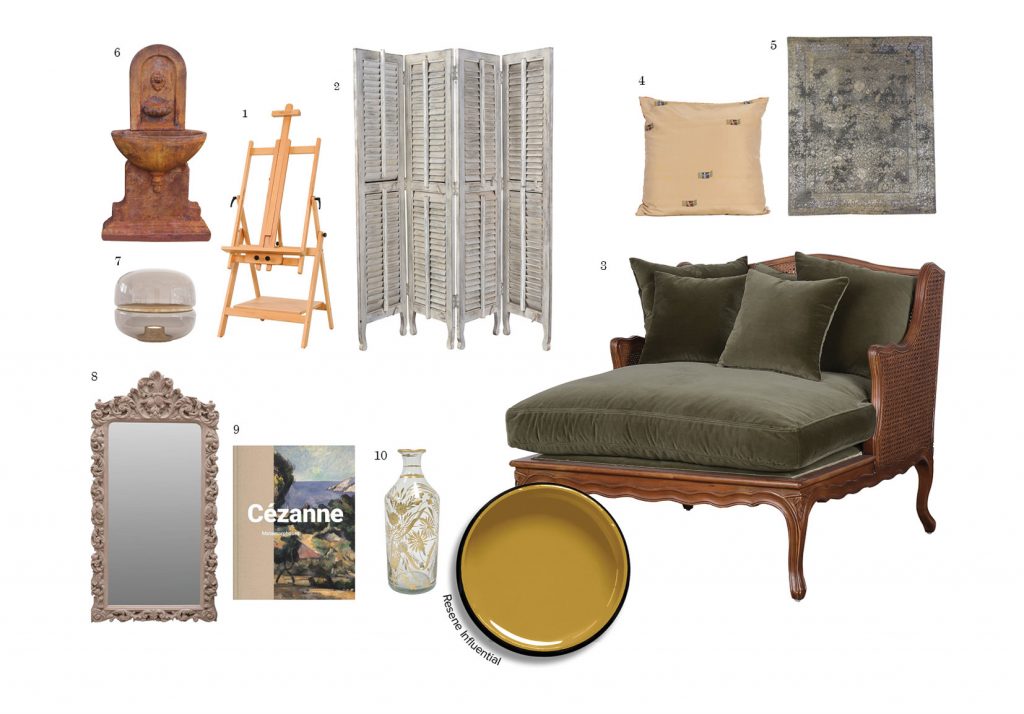 1. Easel $259.99 from Windsor & Newton. 2. Screen $1899 from French Country Collection 3. Chair $3699 from French Country Collection 4. Cushion by Rachel Carley Design $425 from Tessuti. 5. Rug POA from Artisan Collective. 6. Fountain $1395 from Leopold Hall. 7. Table light by Brokis POA from ECC. 8. Mirror $1286 From Leopold Hall. 9. Cézanne Metamorphoses $140 from Nationwide Book Distributors. 10. Vase $169 from Nest.
Style Tip
Look to the paintings of Cezanne, Matisse and Renoir for inspiration in desaturated, romantic colour palettes.
Living Coral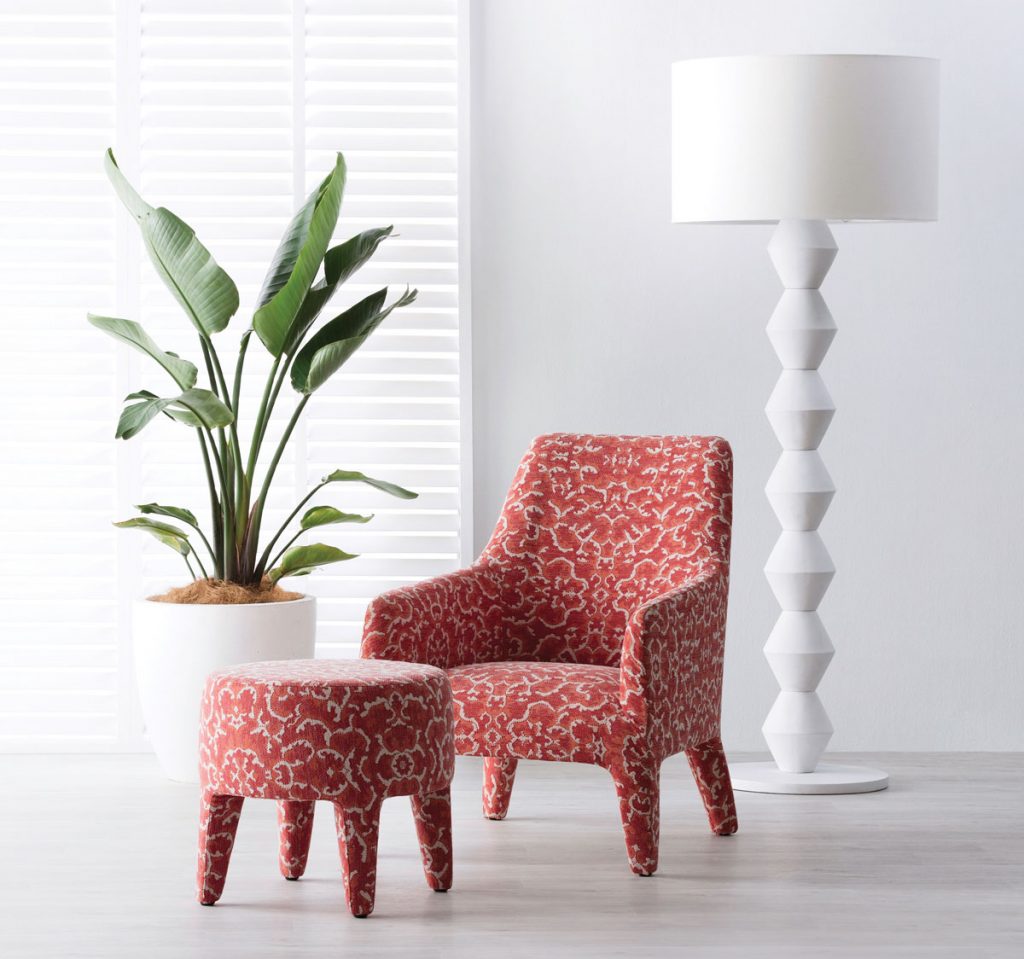 As ever, the highly anticipated Pantone colour of the year is set to shake things up.
Allegedly chosen as a response to the onslaught of technology and social media in the day-to-day, this vibrant shade injects energy inspired by nature as a contrast.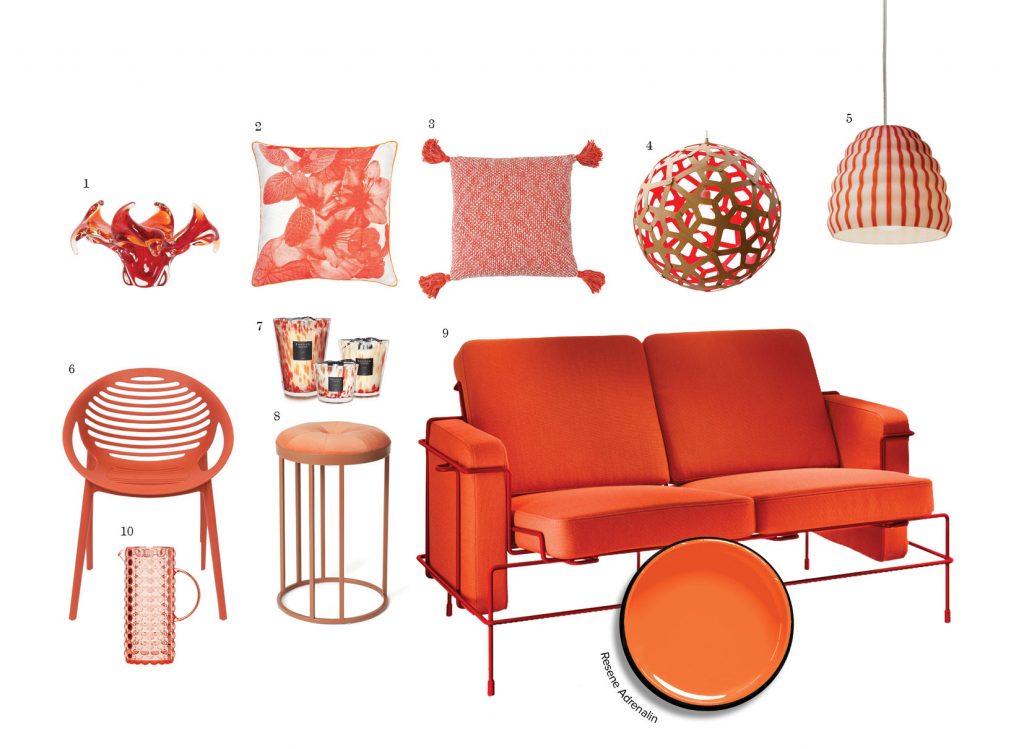 1. Glass Sculpture by Chalet $285 from Mr. Bigglesworthy. 2. Cushion by Bonnie & Neil $169 from Collected. 3. Cushion $69.90 from Nood. 4. Pendant $325 by David Trubridge. 5. Pendant by Established & Sons POA from Simon James Concept Store. 6. Chair $159 from Nood. 7. Candles by Baobab $149.90-$399 from Corso De' Fiori. 8. Stool by Warm Nordic $550 from Mr Bigglesworthy. 9. Sofa by Magis POA from ECC. 10. Pitcher by Guzzini $86 from Smith & Caughey's.
Style Tip
Opt for small accessories in this shade as a bold accent to invigorate a tired space.