On November 12, 1993, an inaugural eight-person tournament with no weight class, no time limits, no judges and very few rules took place in Denver, Colorado, which would forever change the landscape of the martial arts world. It would determine the superior fighter in any and every fighting style and martial arts discipline, and it was pretty spectacular.
Up until this seminal moment, Hollywood and "movie-fu" had done a good job of etching into the minds of the American populace, the Kung Fu craze spawned by the superhuman moves of Bruce Lee and choreographed stances the likes of Ralph Maggio's "crane kick" as the Karate Kid – out-of-context snapshots of time that were more about box office revenue than the authenticity of any particular martial arts style.
The single-elimination Ultimate Fighting Championship saw Royce Gracie, a slight Brazilian-born kid, perform a masterclass of the first iteration of Brazilian Jiu-Jitsu. A style that had been refined, developed and evolved by his family since being introduced to the art of Japanese Jiu-Jitstu in 1919 by Mituio Maeda, a Japanese judōka (judo practitioner) who brought his own style of ground-focused Judo (also known at the time as "Kano Jiu-Jitsu") to Brazil.
It was a showcase of the potential of a smaller or weaker person through proper technique, to successfully defend themselves and dominate a larger and stronger opponent. Tactical mastery, wielding leverage, tension and timing underscored the manoeuvres as opposed to speed or strength. "You can't lift a car, but when you use a jack, you can easily lift it," Gracie's grandfather and one of the main creators of Brazilian Jiu-Jitsu, Grandmaster Hélio Gracie explained in a family history called The Gracie Way adding, "I simply adapted the use of a 'jack' to every position of Jiu-Jitsu."
That night, Gracie competed in three fights against physically-imposing prize fighters, legendary American Mixed Martial Arts fighter Ken Shamrock, former Golden Gloves champion Art Jimmerson, and Dutch karate champion Gerard Gordeau. Using what is also known as "the gentle art", Gracie submitted all three opponents in a matter of minutes to win the tournament.
Based on grappling and ground-fighting, Brazilian Jiu-Jitsu is intensely and intimately physical – a meld of flexion, extension, torsion and traction mechanics and centre-of-mass displacement; a stylised struggle for survival if you will. Yet it is just as cerebral as it is about limbs being torqued and hyperextended with its David-beats-Goliath approach of tactical mastery over physical attributes seeing it often being compared to a game of chess.
Being likened to a "game of human chess", demanding strategic thinking and technical proficiency to defeat opponents, sets Brazilian Jiu-Jitsu apart for its inclusive nature. Its emphasis on technique and strategy over brute strength allows anyone regardless of size, age or gender to engage in the art with the potential to emerge victorious over physically-imposing adversaries. Beyond its physical aspects however, learning the art of Jiu-Jitsu is like a transformative journey, exposing practitioners to a rollercoaster of emotions that build not just physical strength but also mental and emotional resilience. Failure is embraced as an opportunity to learn and grow, making Brazilian Jiu-Jitsu more akin to a lifestyle than just a martial art.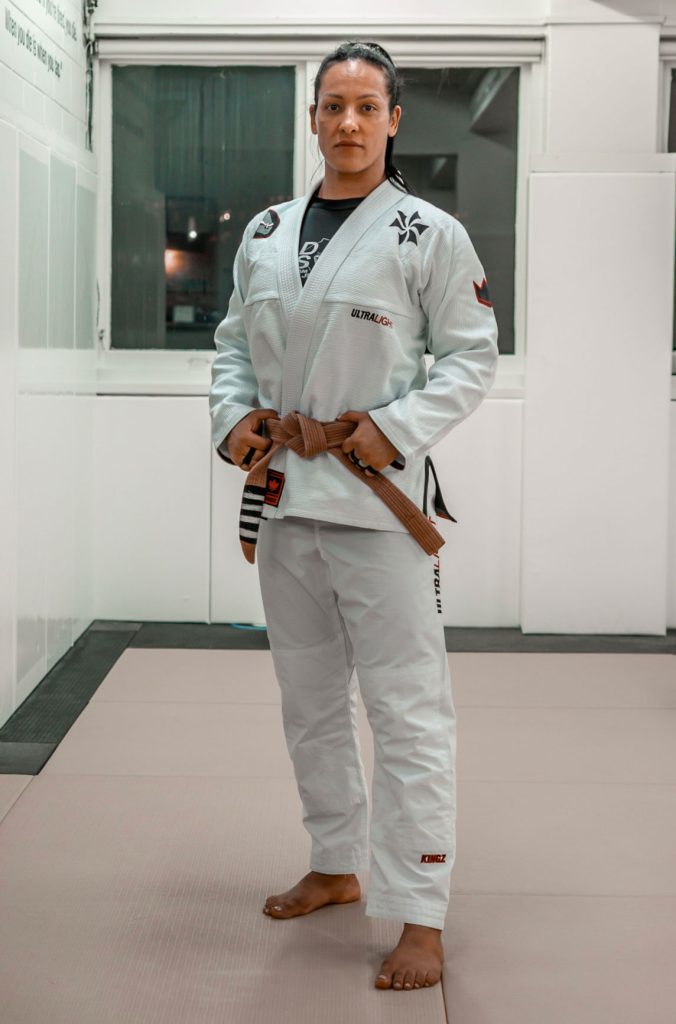 One individual who embodies the empowering journey of Brazilian Jiu-Jitsu is Auckland-based Patricia Rodrigues, whose foray into the world of Brazilian Jiu-Jitsu was initially inspired by her husband Douglas Santos, an IBJJF Brazilian 5th Degree Black Belt and founder of the DS Team Brazilian Jiu-Jitsu School. After witnessing some of her husband's Brazilian Jiu-Jitsu seminars, she recognised an invaluable opportunity to learn something meaningful. "The first time I heard about Jiu-Jitsu was when I met my husband. After approximately four years together, I wanted to try a class and felt intrigued. I paired with a girl smaller than me, and she controlled me effortlessly," reflects Rodrigues. "But what made me start to take it seriously in terms of commitment was after a trip to Tahiti, where my husband did some seminars and a lady looked at me and said, 'You are very lucky to train under him.' That made me realise that I was taking for granted the opportunity to learn something valuable. During that trip, I decided to take my training seriously. But I never thought that I would have come this far and Jiu-Jitsu would help me to deal with my mental health."
Rodrigues, who has numerous world titles to her name including winning the IBJJF 2019, Sydney Open, Double Gold at Worlds, and 4 Golds at Pan Pacific with total dominance, continues to push her limits, aiming for double gold in each belt level and taking on the challenges of attaining the black belt. For her, the allure of BJJ lies in finding order in the midst of the chaos and unpredictability on the mats. "What keeps me returning is the feeling of being on those mats, tasting myself under the chaos," says Rodrigues. "As Sensei Saulo [Ribeiro – six-time Brazilian Jiu-Jitsu World Champion] once said, 'When you step on the battlefield, you must free your soul and let go of anything that holds you back.'"
Preparing for the World Master IBJJF Jiu-Jitsu Championship this year, Rodrigues sheds light on the rigorous training required for professional competition. Under the guidance of her Sensei, she has embarked on a meticulously designed programme with a focus on both the physical and mental. "At DS Team, we like to compete under the only recognised Jiu-Jitsu federation in the world, the IBJJF. For us, getting into a tournament is to show how efficient the Jiu-Jitsu we teach is, so our primary goal is to perform well," says Rodrigues. "In order to do that, our Sensei has developed a training programme comprising different stages to get us physically, mentally, emotionally and spiritually ready for the battlefield."
The arduous training, culminating in what they call the "Red weeks" pushes Rodrigues to her limits, preparing her for the ultimate test of the tournament. "The most challenging stage of the camp is what we call the Red Weeks – hell weeks – during which time we push ourselves to the limit. With around nine to ten rounds of six minutes with no break in between and after that 100 push-ups, 100 sit-ups and 100 squats. At the end of the training, our body and mind will have reciprocated the same feeling we will have after our first match on tournament day," explains Rodrigues adding, "Trust in the process is a must!"
Outside the mats, Brazilian Jiu-Jitsu's impact on Rodrigues extends beyond physical prowess. A martial art that requires practitioners to leave their ego at the door, Brazilian Jiu-Jitsu is known for cultivating personal strength, confidence and a sense of belonging and respectful camaraderie with their peers. For Rodrigues, it has imparted a profound self-awareness, enabling her to understand her capabilities and embrace her uniqueness as an individual. "Through Jiu-Jitsu, I am becoming more confident. I can stand for myself without worrying about what others will think about me. I can say 'no' without feeling guilty. I have the confidence to protect myself if needed," says Rodrigues. "But the most important benefit for me is getting to know myself in all aspects. I can say it now that I truly know who I am and what I am capable of. I'm an ordinary person who can do extraordinary things!"
When asked to delve deeper into the nuances of training and practising what has been one of the fastest-growing martial arts in the world, it is the triumph of the mind that overcomes other attributes in achieving one's goals, according to Rodrigues. And while ambition might fuel the drive for success, it is discipline that ensures unwavering focus and commitment. Together, they pave the path to conquering dreams that may seem impossible to others. "For me, ambition gives you the drive to achieve your goals in life, combined with discipline, which can easily supersede talent and intelligence," says Rodrigues.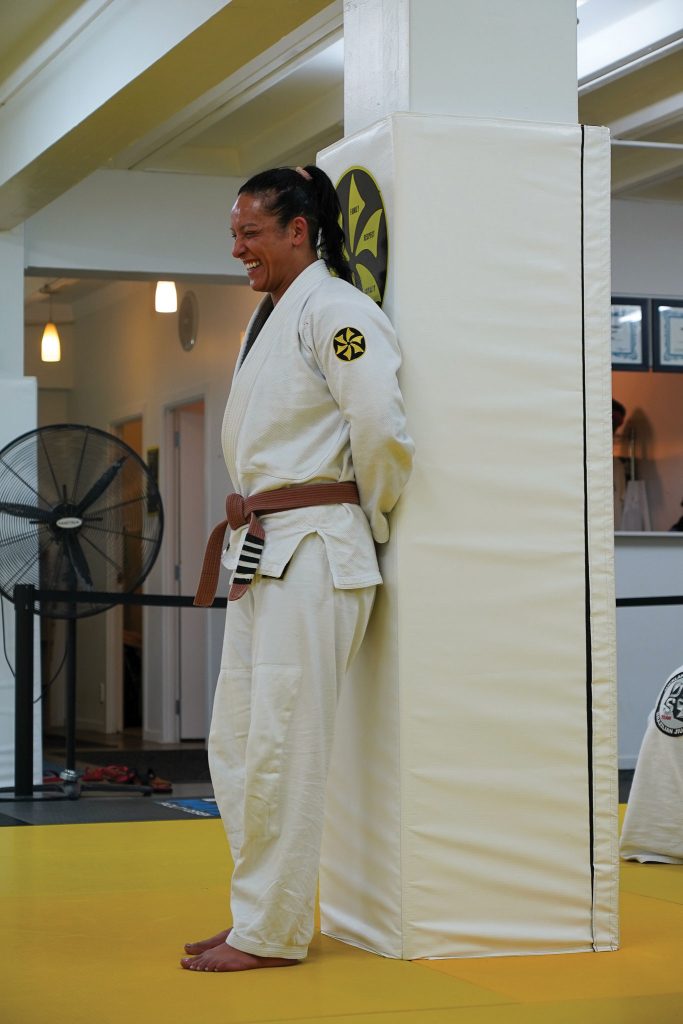 Jiu-Jitsu is also one of very few martial arts that are called "alive," meaning that the art requires its participants to make the techniques work on a resistant opponent. And it is being confronted with that resistance – that possibility of failure – on a regular basis, which leads to an unshakable belief in self. Some of Rodrigues' greatest challenges while competing on the mats are a testament to this attribute. "My biggest challenge on the mats was competing with torn ligaments in my right elbow at the World Masters [IBJJF Jiu-Jitsu Championship 2021]," recalls Rodrigues. "I got to the finals and I was winning the match when my elbow dislocated again as I basically had no tendons or ligaments. So by the rules, I couldn't carry on and ended up with a silver medal – that felt like gold though."
This self-assuredness has arguably played a part in the fact that Rodrigues has never yet had to use Brazilian Jiu-Jitsu in a real-life self-defence situation. "Jiu-Jitsu is a grappling ground system proved over and over again to be the most effective and efficient form of combat in a one-on-one situation, so knowing what I know, I feel secure and confident if it ever happens," says Rodrigues. "Fortunately, I never needed to get physical in any confrontation. Just my body language, my posture, and the way I present myself in an uncomfortable situation is enough to avoid a fight."
Rodrigues feels fortunate to have been surrounded by strong women throughout her life whose respective journeys of resilience have added to her strength. "The first inspirational woman In my life is my Mum. We struggled a lot financially when I was a kid, and Mum would do all she could to take good care of us, putting herself last always," says Rodrigues. "Then I have my sister, who is a fantastic mother and an example of resilience." She has also been greatly inspired by her mother-in-law, who has overcome countless challenges and exemplifies compassion and selflessness. "My role model off the mats is my mother-in-law, Salete. This lady has overcome many challenges since she was a kid; she came out of poverty, raised two children, and built a very successful business in her 40s," says Rodrigues. "And what fascinates me is that she is always willing to help others in any way she can with an open heart."
As she reflects on her journey, Rodrigues offers advice to beginners of the art – a path that is underscored by its profound way of viewing life, building a strong foundation, and recognising one's potential. "Start it, show up, accept the challenge and do not give up when you are tired, sore or frustrated. Don't wait to be motivated to show up for training and always give your best. Focus on simply getting better by one percent per day," says Rodrigues. She adds, "It's also important to ask yourself why you want to learn this martial art. Do you want to know techniques? Chokes? Locks? Or do you want to understand this amazing way to see life, become confident, and know what you can do? Do you want to understand how much you can take and to keep moving forward because there is always a way? Do you want to live healthily and have your mind, body and soul connected with a good purpose that can completely change who you are?"
On the subject of what constitutes success, for Rodrigues it lies in discovering one's purpose, leveraging your skills, and using them to make a positive impact on others. This alignment between passion and life pursuits is what truly defines a successful existence. "For me, success is to find your purpose, find your talent, and, through it, help others. Success is being able to do what you love and have an incredible life because of it," says Rodrigues.
"I strongly believe that your mind determines how your life will be. However, you need to be in charge of your mind. It's ok to fear, but you must face the challenges no matter what they are. And a strong mind can do extraordinary things," adds Rodrigues. "I had the amazing opportunity to do that extraordinary thing because of Jiu-Jitsu – my mind, my body, and my soul are now forged."