Trends in food may come and go, however baking with excess is forever. The idea of balance goes out the kitchen window when sugar, cream and butter are on the ingredients list, and the philosophy of 'more is more' is one followed by sweet tooths the world over.
Petra Galler is one such baker who is a steadfast proponent for this philosophy. Living by her father's mantra of, "Everything is moderation, including excess," Petra layers the extravagance of pastry baking with the traditions of her Jewish heritage. And with this in mind, it's no wonder the title of her new book pays tribute to a key ingredient in the world of decadent food. Butter, Butter takes nostalgic classics and adds a bold and spicy twist, using ingredients such as semolina, tahini and sesame to build depth and interest. Think Persian Love Cake or Rugelach, as well as Petra's versions of the more well-known carrot cake or brownie.
With no formal training under her belt, Petra's passion and skill came from a childhood where food and gathering around the dinner table was always an occasion, prefaced by hours in the kitchen spent planning and preparing. Crediting her grandmother, Zaza, for instilling a fervour for bringing happiness to people by way of good food, Petra views cooking for other people as a form of love.
Influenced by her family's Middle Eastern background and inspired by the sights and smells of the spice markets of Jerusalem, Petra's recipes in Butter, Butter urge the at-home baker to be daring with flavour combinations and experiment with new ingredients. Hoping to surprise the reader with bold yet achievable treats to add to their repertoire, Petra promises, "There is so much more to baking than banana cake".
M2woman spoke to Petra about the luxuriousness of pastry baking, how recipes can evoke memories, and getting inspiration from outside of the culinary world.
What first drew you to a career in the culinary arts?
I have always loved to cook; I started baking at age eight and food has always been a major event in our house. I remember every month when the latest issue of Cuisine magazine arrived, always on a Saturday, and dad and I would pour over it, work out what we were going to cook that night and who we were going to invite.
I went to university for a couple of years and it wasn't for me. I wanted to get a job and cooking was one of the things I really enjoyed. To be honest, I didn't expect to stay in the industry for as long as I have. Like a lot of people, I used to regard working in hospitality as the thing you do while you're looking for a 'real job'. I don't know what I would do now if I wasn't involved in some aspect of this industry.
You come from a family of academics who followed very traditional career paths. Were you ever tempted to stick with a safe, traditional career?
There was no pressure whatsoever from my parents to follow them into their respective professions, however I did place a lot of pressure on myself for a couple of years after school.
Looking back, it's pretty crazy to make a life long career choice at the age of 17! And as it happened, neither did my parents!
What is it about pastry baking that you enjoy so much?
It's so luxurious, extravagant and unnecessary but, in so many ways, deeply necessary! On the one hand, it can be so frivolous but it is also incredibly creative and challenging. It's about constantly inventing, reinventing, testing, improving, mixing and matching flavour profiles. It's absolutely endless and that is why I find it so much fun.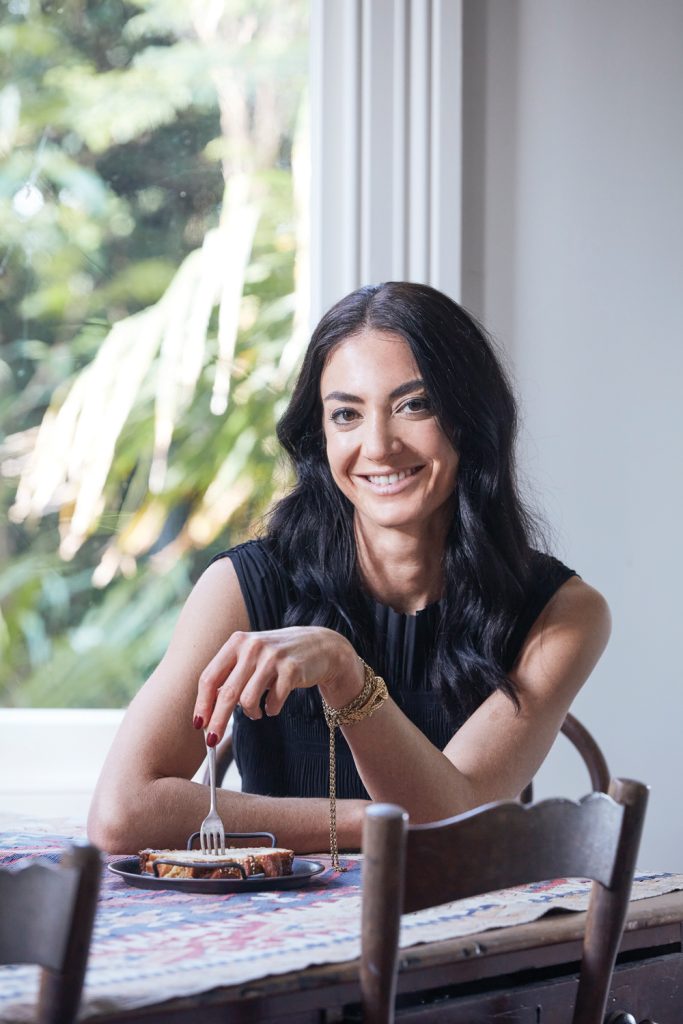 Your new book, Butter, Butter is inspired by your Jewish heritage. What are the hallmarks of Jewish baking and cooking?
Food has always loomed large in my family. Like most cultures, no significant event goes by without marking it with particular foods. Pesach, or Passover, has always been the most celebrated holiday in our family and it is a lovely coincidence that my book is coming out on the eve of this holiday. Pesach is all about family and food.
The greatest gift from my Jewish side of the family is the love language of food. It's about spoiling people, caring for people. Nothing says it better.
You have said the recipes in Butter, Butter hold strong memories of family, discovery and sheer joy. What recipe holds the most significant memory for you?
It is so hard to choose just one!
The Walnut and Coffee cake comes to mind first. Inspired by a cake my grandmother, Zaza, used to make at every opportunity (it was the only cake she could make really!).
I ate my first Rugelach at Sherman's Deli in Palm Springs on a wonderful family holiday when I was 20 and I'll never forget the melt in your mouth tenderness of the pastry.
Knafeh is very memorable. It was such a significant food experience for me. We had been travelling through Israel and Jordan and had Knafeh here and there, but had heard reports of Habiba's in Amman. It was the mothership.
Hordes of people swarming out of this tiny laneway, holding steaming plates of golden, syrupy heaven. I had never tasted anything like it.
Your philosophy of 'more is more' is very apparent throughout the book. Why do you think excess can be the key ingredient in baking?
To me, baking is all about excess. Let's be real; no one needs cake and tarts and biscuits. It's a luxury and a total treat so lets make it as luxe as we can. If you're going to eat cake, don't you want to really indulge? I know I do!
You favour bold flavours in your baking. What advice can you give to people who perhaps aren't used to baking with such powerful flavours?
My advice is to be adventurous, push your boundaries and just give it a go! There is so much more to baking than banana cake! There are some recipes in the book that may appear to be heavily spiced, but I really hope the readers will trust me and try it.
What flavour combination surprised you while recipe testing for the book?
I have grown up cooking with bold flavours, lots of spices; that has always been my normal, so for me developing these recipes has felt really natural. It wasn't so much the combinations of flavours that surprised me, it was the amount! More often than not, more was better!
You don't have any formal cooking or baking training. How did you develop your skills?
I've been cooking professionally for 11 years. I have worked in a range of different kitchens, and I have learnt by watching and doing. I am also a total geek when it comes to research. I can scour recipes and food articles for hours at a time. I'm always experimenting in the kitchen; that's the nature of the beast, you're forever learning.\
You recently posted a video on social media of much-lauded British-Israeli chef, Yotam Ottolenghi praising Butter, Butter – that must have been such a surreal moment for you! Who are your biggest culinary inspirations?
That was a major moment for me! I'm mortified to admit how many times I have watched that video!
He really is my biggest culinary inspiration. His food has always felt familiar to me in terms of its ingredients and generosity in flavour. I have every book, two copies of some of them, and I could eat that way for the rest of my life.
Claudia Roden is another huge inspiration. The Book Of Jewish Food is my first memory of a cookbook. Dad was constantly dipping into it and it is still a much loved go-to.
Julie Le Clerc must be mentioned as well. Her flavours are fabulous. I cooked so much out of her books when I was growing up. If you haven't tried her harissa, you need to get on that immediately. I eat it straight out of the jar with a spoon!
What else are you inspired by outside of the culinary world?
Travelling has always been a huge source of inspiration. It truly is one of the best things to do in this life. To immerse yourself in another country and culture, surrounded by a different language and cuisine; it is sheer bliss.
I have always loved the feeling of being anonymous in a big city; it makes me feel like I can do anything.
Italy is a place that I absolutely adore; so much about the way of life there is centred around pleasure. Family, friends, good food and enjoying beauty in all its forms is so celebrated there.
Flowers are another big inspiration for me, maybe due in part to growing up with a green thumbed mother! I absolutely adore them; the colour, smell, they are just so joyous. There have been weeks where I have spent more money on flowers than food, with not one hint of remorse!
What is your favourite recipe from Butter, Butter?
My favourite recipe is the one I'm baking!