Good friends are hard to find but Anna Mulvaney and Tom Fleetwood have one who is right up there in the mates' stakes. Not only did she put them in contact with the owners of their first house in Auckland (a villa they bought through private sale) but when she knew they were looking to build, she also showed them a brochure picked up in a Bunnings store with a Box™ house adorning the cover. "Naera is a close friend who I went to uni with," says Anna. "It's funny; she's like my agent."
From Town to Country
So began the couple's building journey – an adventure that would take them from the suburban streets of Onehunga to the countryside in Pukekohe East. "We both grew up rurally in the South Island on small farms so, when we had kids, we wanted a bit more space," explains Anna.
Tom is a rural bank manager and Anna an intensive care doctor who works irregular hours and cannot leave the hospital to attend to child-related requirements at the drop of a hat, so the couple decided to look for land closer to Tom's office. They knew the villa needed "100 things done to it" to be truly family friendly and, after a childhood in the country, it felt foreign to be able to reach out and touch the neighbour's fence. A decent primary school was top of the list and, again, someone Anna knew came up trumps. A colleague was selling a hectare in Paerata with two boundaries boasting established native planting that lent the land complete privacy. The sloping site culminated in a mini wetland and a bridge across a stream. It was a pretty slice of paradise.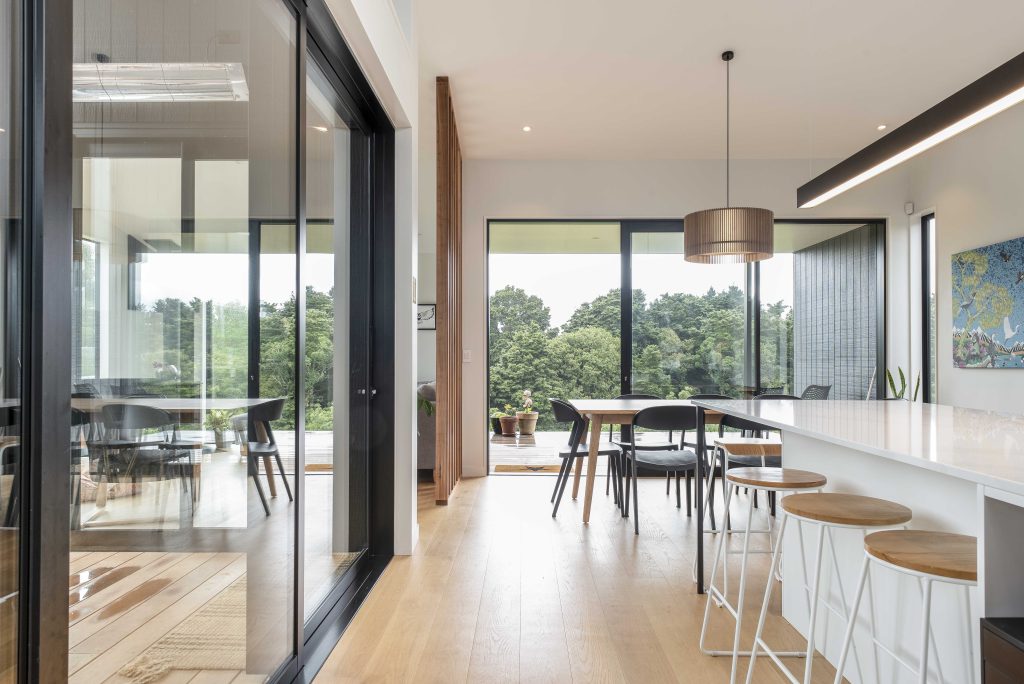 The Design-Build Choice
Their dream was to build something bespoke but they also realised they couldn't afford a full-blown design from an architect. Box™ occupies the middle ground using a combined design and building expertise combined with years of experience to personalise designs. As equal part architect, equal part builder, it made sense for the busy couple. "When we met them in the office, there was a lot that was appealing as a company," recalls Anna. They particularly liked that Box™ was on the same page re house size. "We didn't like the feel of a 300-400-square metre house, and the thought of cleaning it and, unlike other design-and-build companies, they were big on using good design within a small footprint and sustainable material choices."
Appearances are Deceptive
The day before Anna had their third son, Leo, the pair signed up for the project. This first summer in residence, little Leo (2) and his big brothers Harry (5) and Jack (6), are having the time of their lives splashing around in the pool, kicking a ball on the lawn and exploring the immediate landscape with their parents. The dwelling, at 170 square metres, is ample for the family of five. The low-profile home is low-key on arrival. "It looks like a very boring little house," explains Anna. It steps down the hillside in a split-level programme that incorporates four bedrooms, two living areas and a 'mud room' which facilitates a transition between outdoors and in. "With all these boy children it does get a bit dirty," laughs Anna. On entry, its true character is revealed. Anticipation is part of the arrival as stairs lead immediately down to the open-plan living zone where the ceiling rakes up to an incredible 4.2 metres and the glazing follows suit to allow the greenery surrounding the house hero status. The U-shaped form of the home embraces a covered central deck which faces west but also speaks to a north-facing one that leads out from the dining room and allows the second living room to connect directly with the pool.
Matt-black Weathertex cladding allows the angular form to recede into the bush. "We wanted to connect with nature, and to use as many natural materials as possible," says Anna. This commitment did mean some hard choices. When it came to the kitchen bench, Anna came to a philosophical impasse. "Clearly having natural stone in a house with three children, paired with not the biggest budget in the world, wasn't going to work." Despite the fact it went against her initial brief, the engineered stone they ended up with is functional and aesthetically pleasing.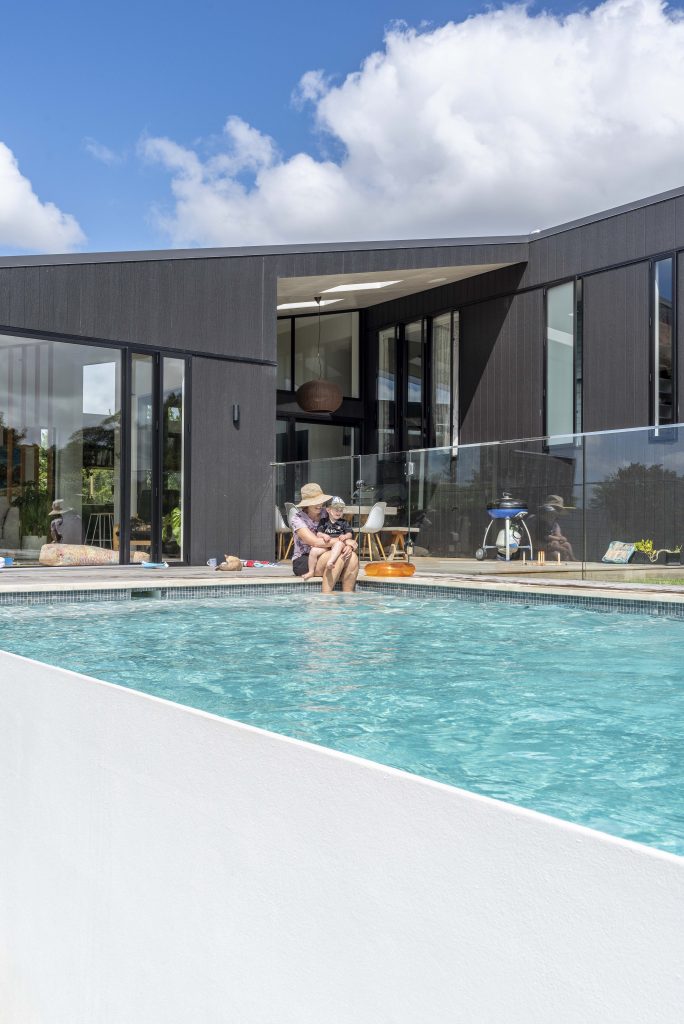 The Forever Home
Enjoying a close relationship with design lead Laura McLeod and quantity surveyor Stephanie Collingwood made the process so much easier. "It also helped that Tom doesn't have strong views about interiors," laughs Anna. With her role at the hospital and three young children, time was of the essence when making decisions. She ripped photographs out of magazines, went to many show homes and did a little research on the internet. "Truth is, I have a no-regrets policy," she says. When it came to the myriad decisions re flooring, tapware, tiling, vanities – the list goes on – she chose and then moved on. "Sometimes having limited time can be beneficial." One aspect she did relish was selecting the wall coverings. "I would have put wallpaper in every room if I could afford it," says Anna. Instead, an Emma Hayes paper is cloud-like in the main bedroom behind the bed, a gentle juxtaposition against robust black floor-to-ceiling joinery. And guests in the powder room get to experience Hayes' fluid graphics with dreamy wallpaper in tones of green and black. Colour kisses the bedrooms too with navy in the main suite, forest green in the flexi room which doubles as an office and media room, and a pinky peach tone in the spare bedroom. "Mum lives with us two days of the week to look after children so she gets to experience that room the most," says Anna.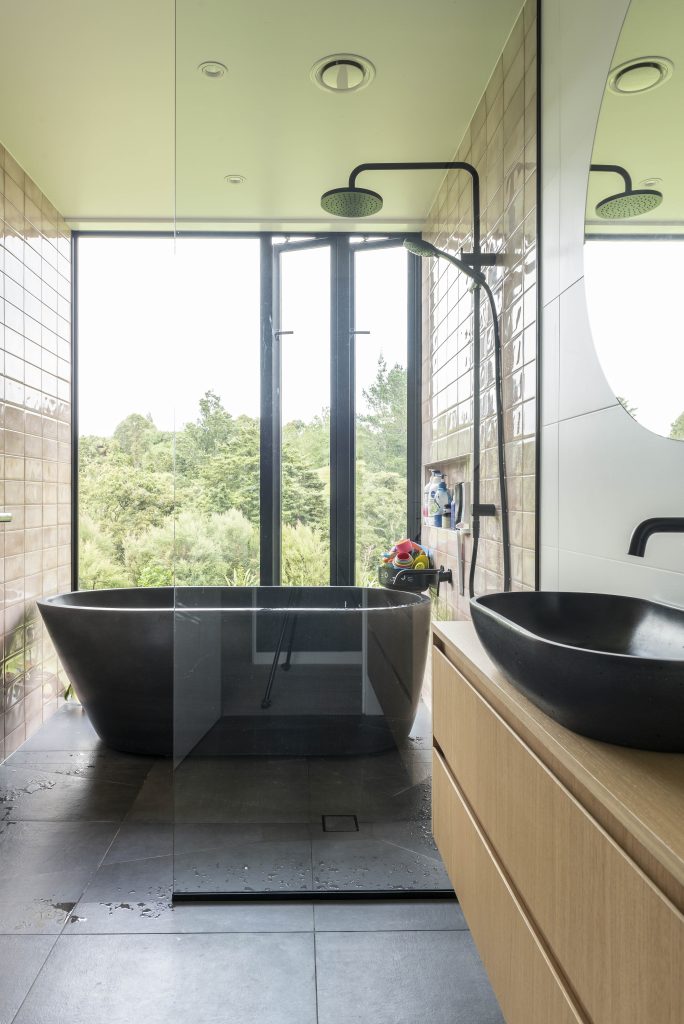 With room enough to enjoy the boisterous lifestyle that often comes with young children, there are also spaces to hide and relax. When it's not that easy to pop to the corner shop, a walk-in pantry keeps the larder well-stocked and, after the kids are in tucked up in bed, the en suite bathroom with its grandstand view of a manuka forest underplanted with flax beckons. "It's one of my favourite spaces and I thought bathing would be a nightly ritual," says Anna. Alas, mounds of washing need folding so it hasn't quite worked out that way. Still, there's time. That's the beauty of a forever home: it moulds around the dynamics of a changing lifestyle. The bath with a view will always be waiting.
Find out how Box™ – The Architect Builder, can design and build your next home.