The hotel world is abuzz with a whole swathe of mini-chains championing boutique comfort. The brainchild of historic legacy brands, these carefully curated offshoots are designed to appeal to new generation travellers who covet upscale warm and attentive service, state-of-the-art tech amenities, and gram-worthy surroundings.
In recent months, Auckland has been treated to the touch-down of one of Hilton's niche offerings in the picturesque rural town of Karaka, boosting the city proper as a sought-after luxury travel and staycation destination. We are referring to DoubleTree by Hilton Karaka, a veritable oasis of comfort for business and leisure guests alike, which has set up shop right on the cusp of the beautiful New Zealand Bloodstock grounds, ensconced in the natural beauty of the Karaka countryside.
DoubleTree by Hilton Karaka is a thoughtfully conceived brand-new build, offering 122 stylish rooms ranging from guest rooms and suites, which channel contemporary aspirational country living. To ensure guests can retreat from it all in relaxing style, the smartly-curated rooms are replete with Suite Dreams by Serta beds, 55-inch flat screen TVs, wireless phone-charging tables and therapeutic rain showers.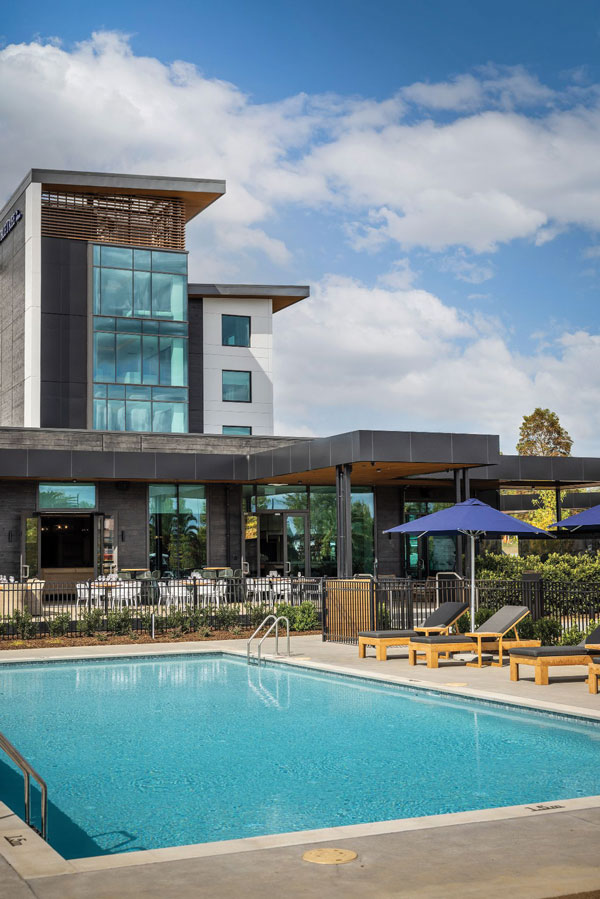 The architecturally designed hotel is also the only branded service property in the Karaka area, boasting a top-notch restaurant, signature Horseshoe Bar, 24-hour state-of-the-art gym facilities, and a fully-heated open-air swimming pool complete with luxe daybeds and its very own seasonal pool bar specialising in hand-crafted cocktails and light bites.
This urban oasis makes the most of the natural beauty of the Karaka countryside while maximising the natural light within in panoramic fashion with floor-to-ceiling glass windows housing a world-class function space with state-of-the-art technology. For cocktail receptions, conferences, seminars and banquets, guests can also select between two fully-equipped meeting areas with flexible theatre-style space catering up to 150 guests.
Very much a part of a new era for the hospitality game, DoubleTree by Hilton Karaka places style, comfort and welcoming service front-and-centre while retaining a unique regional identity born from an appreciation that business and leisure travellers alike, from the tech-savvy to the wellness-conscious, want it all – to experience a location physically and authentically, but to also feel like they can relax and rejuvenate, comfortably ensconced in the familiar and friendly; an upscale "home away from home."
As one would expect from Hilton and Karaka's warm hospitality, DoubleTree by Hilton Karaka entails the gold standard in comfort. This includes receiving their signature "warm welcome" at check-in, which has become synonymous with DoubleTree hotels around the world, being their ridiculously moreish Warm Double Chocolate Chip Cookie. Upon arrival with cookie secured, the lobby lounge connects, in seamless fashion, with the perfect place for getting settled into staycation mode – the classy Horseshoe Bar. This hotspot is the "lounge and living room" of the hotel, specialising in gourmet snacks, cocktails and artisan platters, so you can mix and mingle from daytime to nighttime.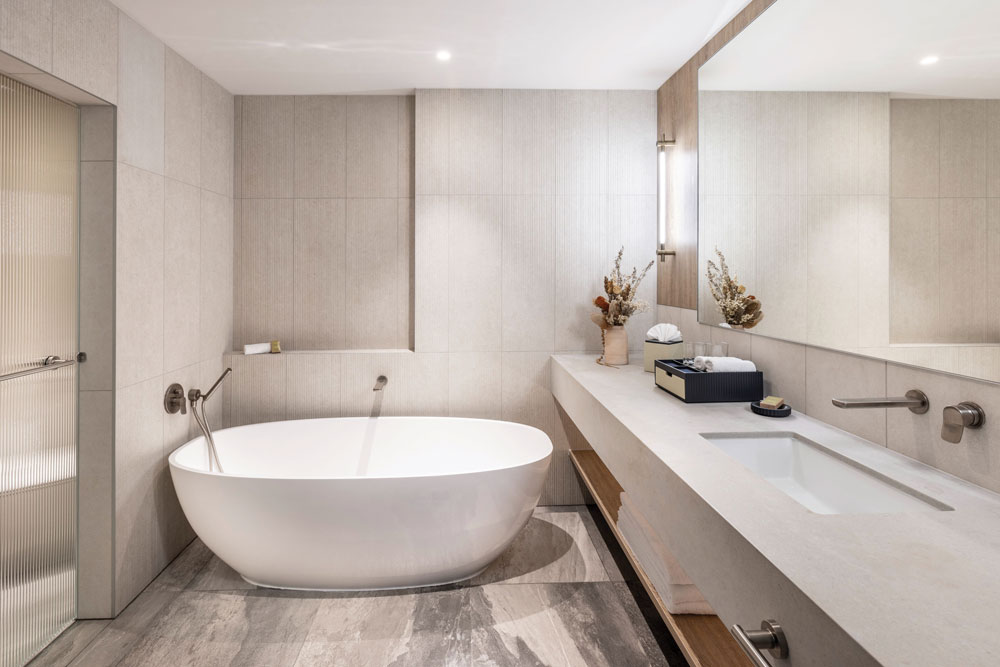 Being situated in the heart of Karaka and close to the boutique markets in the area, DoubleTree by Hilton Karaka has also made its mark as an ultimate foodie's haven in bringing on celebrity chef Mark Southon to helm food and beverage with a distinctly local flavour. With a nod to the region's bountiful produce, the flagship restaurant Ethereal / Artisan Kitchen works with local farmers to champion a farm-to-table menu, celebrating locally-sourced seasonal produce to create a regionally-attuned fine dining experience like no other.
The restaurant also features a live kitchen presiding over the space with a marble seating area for diners to witness the culinary action behind the scenes. There is also a fully visible charcuterie locker paired with an impeccably curated wine area, boasting local and national wines to complete the fine dining experience. For those wishing to dine out in the fresh air, the restaurant opens out into an alfresco dining area made cosy for the chillier months with an open fireplace and louvred shelter overhead for additional comfort.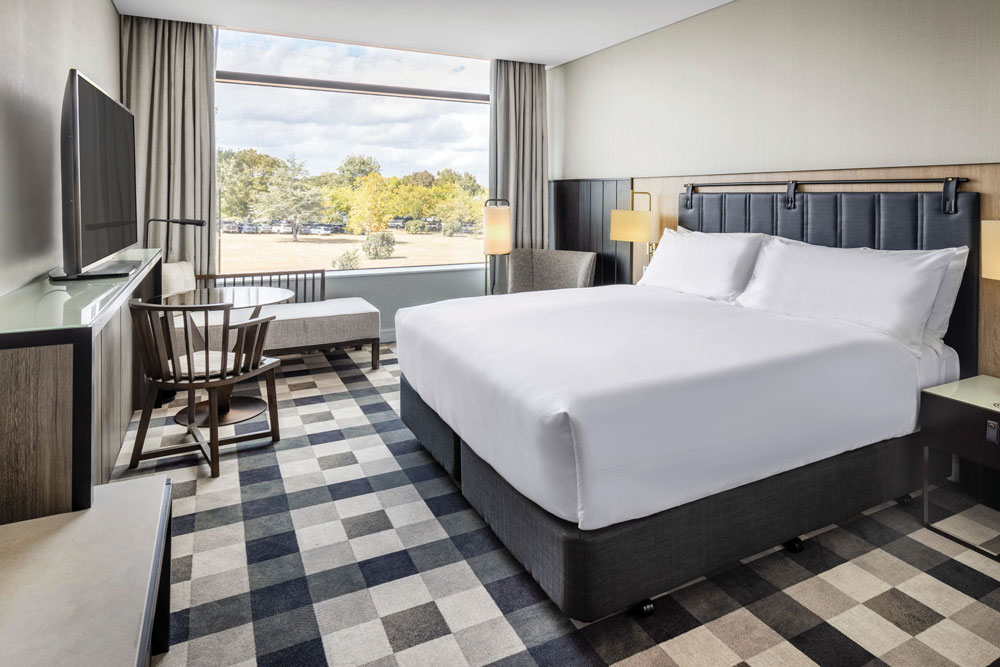 The beauty of DoubleTree by Hilton Karaka is that while it takes you far away from the hustle and bustle of the Auckland CBD, it remains close to all the action, being within easy driving distance of Pukekohe Golf Club, Rainbow's End Amusement Park and about 20-30 minutes from Hampton Downs Motorsport Park. It is also a convenient 30 minutes' drive away from the local entertainment and business districts, and a mere 20 minutes from Auckland Airport.
What also makes this haven of comfort, hospitality and natural beauty all the more appealing is that a stay here falls under Hilton Honors, Hilton's very own guest loyalty programme, offering benefits to members who book directly through preferred Hilton channels, including perks such as digital check-in with room selection, Digital Key room access and Connected Room enabling guests to personalise your stay from your mobile phone.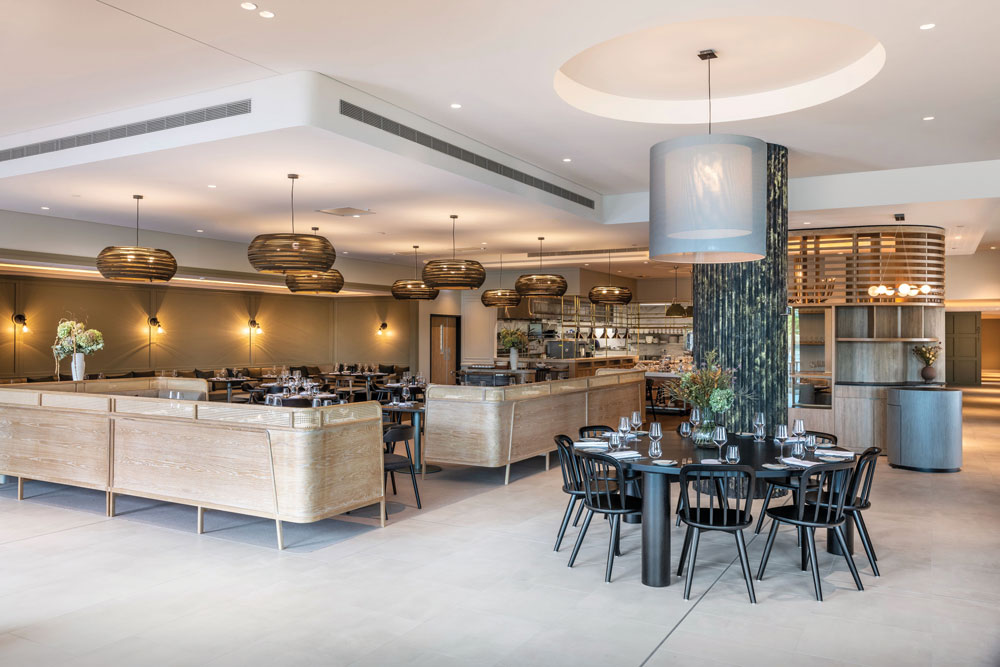 With staycations reaching a zenith of late, DoubleTree by Hilton Karaka is a veritable magnet for modern explorers who want a comfortable and inviting yet upscale hotel experience once removed from the bright city lights. It offers the perfect balance for travellers wanting to retreat from it all while taking the time to experience a location physically. As newcomers go, this is a hotel that deserves a reservation on your travel horizon.
Book a room with DoubleTree by Hilton Karaka here.