Just Dew It
The delicious and dewy dumpling effect requires a few bits of TLC that works from the inside out. Firstly, it's important to include the holy combo of collagen and vitamin C into your diet. They don't work without each other and so must always be consumed together. A super easy way to add collagen to your daily regime is to pop a couple of scoops of Dose & Co Collagen Creamer, $54.90, into your morning coffee.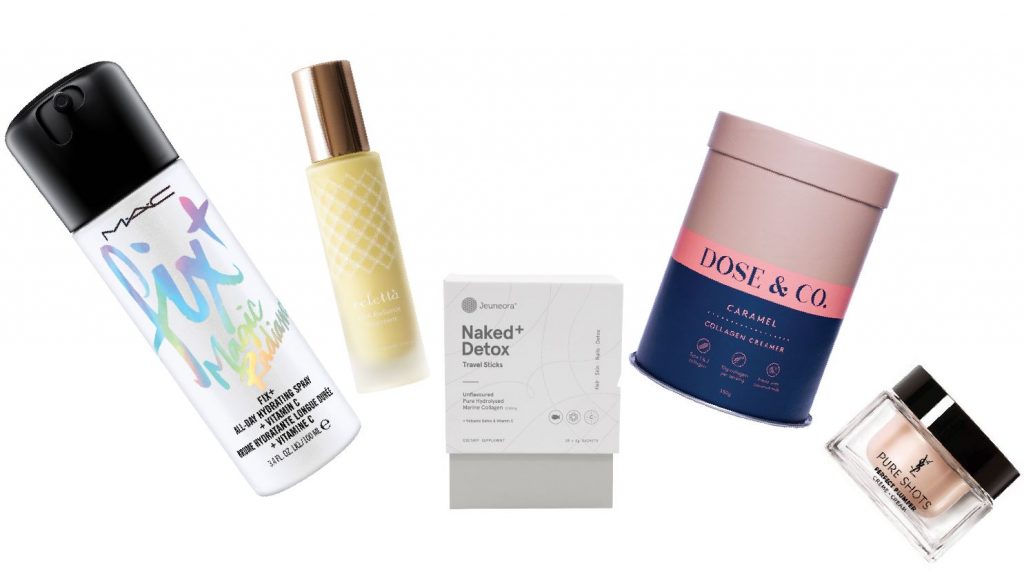 Jeuneora Naked+ Detox Travel Sticks, $89.95, includes Vitamin C and Zeolite, which makes it perfect for while you're out and about. To slough away rough texture and brighten the skin, Veletta Youthful Glow AHA Radiance Treatment, $135, contains 5% Lactic acid, Salicylic acid, Totorol and Vitamin E, to work its magic overnight. The new YSL Pure Shots Perfect Plumper Cream, $130, with its lightweight, micro-pearl infused formula, makes for a great moisturising makeup base. After completing your makeup, spritz M.A.C. Fix+ Magic Radiance, $45, to set it with a dewy glow.
Lux Locks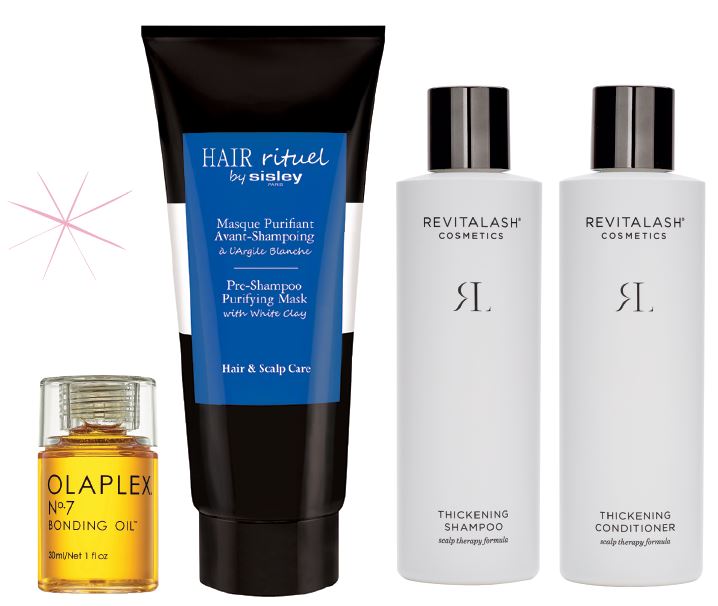 With new technology advancing at every turn and social media marketing coaxing us to purchase every pretty package, it's difficult to distinguish the good from the great. To maintain optimal scalp and hair condition, reset it once a week by cleansing away any product-buildup. Hair Rituel by Sisley Pre-Shampoo Purifying Mask, $130, uses the power of white clay to absorb impurities, pollutants and soothe the scalp before shampooing. For those with fine, limp and lacklustre hair, Revitalash Thickening Shampoo, $52.50; and Conditioner, $55, will fortify the scalp and add volume to your do. The hot new product on everyone's lips is Olaplex No.7 Bonding Oil, $55, and for good reason – not only does it strengthen, soften and add shine to the hair, it also provides heat protection and cuts down drying time – it's a must-try in my eyes.
Mask Magic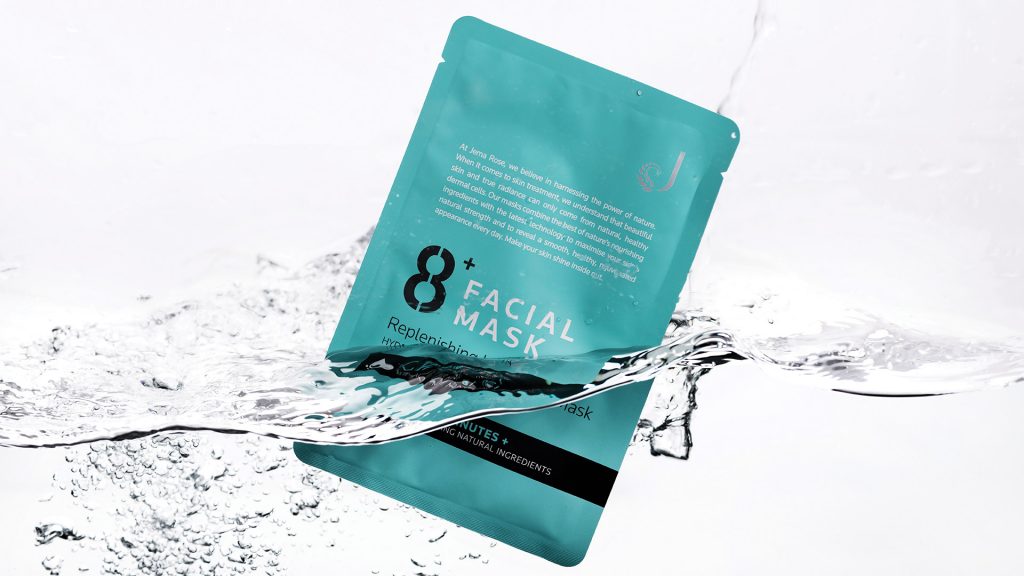 We are at a point in time where skincare is about reaching an understanding of skin health and utilising the right technological advances. After we've achieved both, it is the design of the product that makes it the very best choice for maintaining and improving your skin. 8+ Minute Facial Masks strike that balance perfectly and aim to be part of a new era of sheet mask usage.
Each mask is created with natural ingredients and the sheets themselves are created with micro plant fibres and designed in 3D to deliver optimal results. The key components of 8+ Minute masks are Hyaluronic acid, a natural substance that attracts almost a thousand times its weight in water; Hydrolysed Silk, proteins that increase moisture penetration and retention; Caviar, which has amino acids that slow ageing by producing better collagen; Tremella Mushroom, that can improve skin elasticity and complexion; and lastly Glycyrrhizate, derived from the liquorice root with the ability to soothe skin.
Included in the range is the 8+ Minute Replenishing Hydration Mask, which focuses on hydrating, toning and soothing. It lessens the appearance of fine lines by providing moisture and plumpness to the skin and can help with sensitivity or breakouts. In addition to this is the 8+ Minute Goat Milk Rejuvenating Mask, which leverages the lactic acid and complex vitamins to maintain skin elasticity. It also contains the support of antioxidants and caffeic acid from cherry blossoms to repair the natural barriers of the skin. The masks are easy to slip into your routine, just leave them on for 8+ minutes, massage the remaining serum in and you'll be good to glow.
For more info and stockists, check out jemarose.co.nz or email [email protected]
Save Face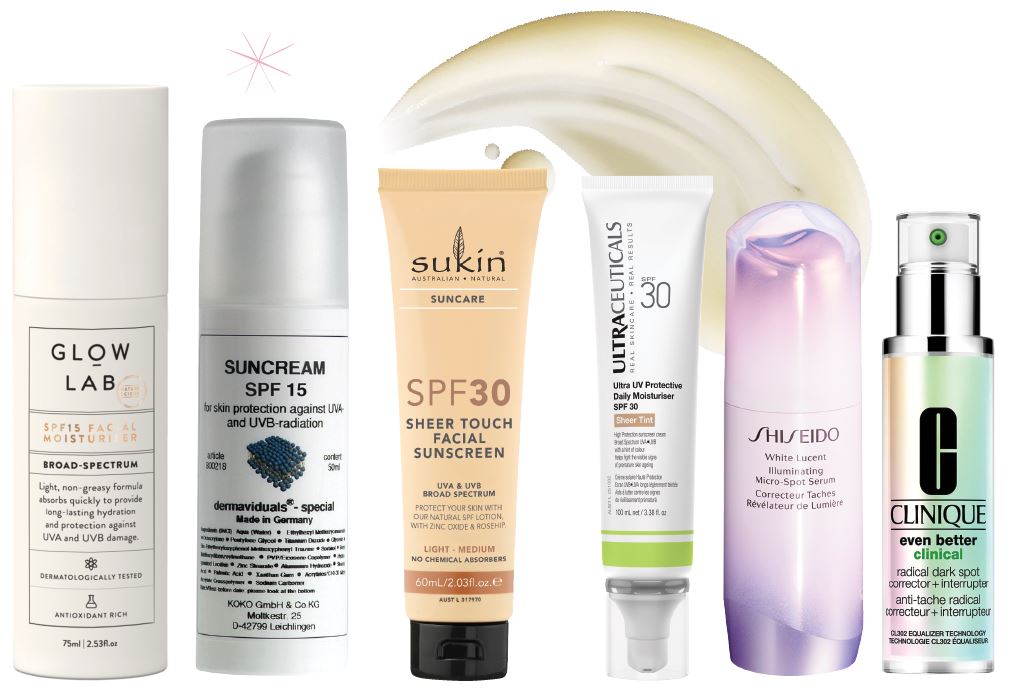 UVA rays cause photodamage and premature skin ageing and accounts for 95% of the UV radiation that reaches the Earth's surface. It penetrates through clouds and glass, so even though the sun becomes shyer, the best line of defence still remains to be protection. Always use an antioxidant-inclusive formula that's lightweight and non-greasy. And for some barely-there coverage that's right on the pulse, try a tinted moisturiser with extra hydrating qualities – they also work great as glowy makeup primers. To help undo the damage, use a correcting treatment to brighten pigmentation and dark spots.
Glow Lab SPF15 Facial Moisturiser, $20; Dermaviduals SPF30, $76; Sukin Sheer Touch Tinted Sunscreen, $3199; Ultraceuticals Ultra UV Protective Daily Moisturiser SPF 30 Sheer Tint, $89; Shiseido White Lucent, Illuminating Micro-Spot Serum, $189; Clinique Even Better Clinical™ Radical Dark Spot Corrector + Interrupter, $134.
Fighter Fuel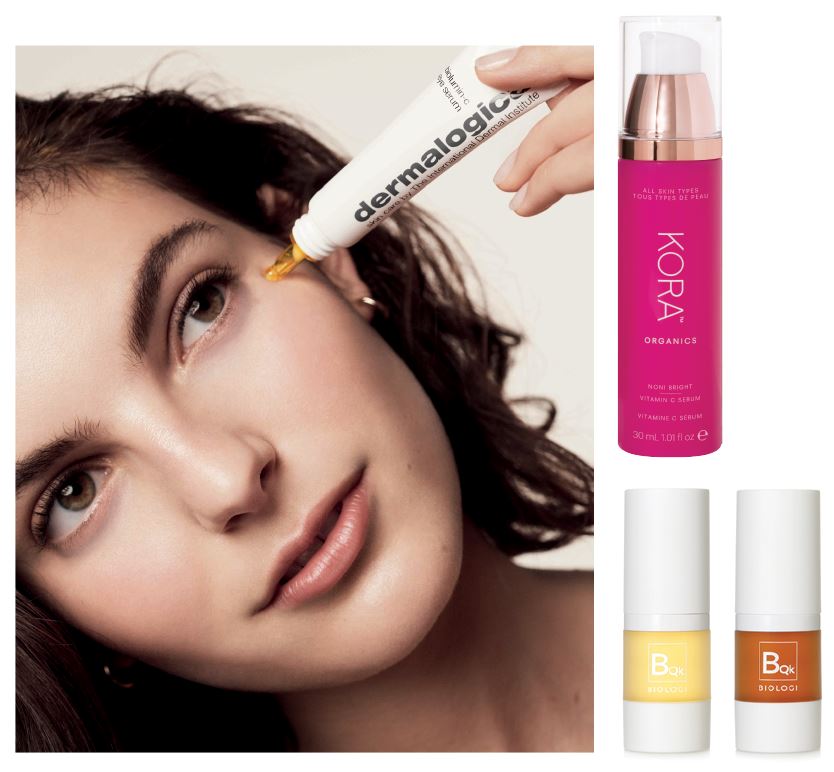 If there is one unique powerhouse ingredient your skin and body requires, it's Vitamin C. Cosmetic Chemist and Founder of Biologi, Ross Macdougald says, "Vitamin C is one of the best antioxidants to diminish hyperpigmentation, fine lines and visible sun-damage, as well as promote collagen production. It's a potent antioxidant that can neutralise free radicals and can aid your skin's natural regeneration process, helping to repair damaged skin cells. Because of this, it's a well-known brightening agent that encourages cell renewal and can be instrumental in reducing scars and spots." Biologi Bqk Radiance Serum, $149, consists wholly of the liquid matrix of kakadu plum and quandong – protecting the skin with potent antioxidants by day, and focusing on regenerative and repairing functions by night. Another product to harness the power of kakadu plum is Kora Organics Noni Bright Vitamin C Serum, $104. Made up of 12% Vitamin C blended with anti-inflammatory olive leaf extract, carotenoid-rich red pepper and sodium hyaluronate, this organic certified serum is one to put on the shopping list. To strengthen and firm the delicate eye area, Dermalogica BioLumin-C Eye Serum, $136, contains Palmitoyl Tripeptide, a synthetic fatty acid-linked peptide that helps repair skin damage.
Basics Covered
At first glance, it may not seem like primers do much, but preparing and priming the canvas is crucial for flawless artistry and complexion. Global Beauty Director for Laura Mercier, Jason Hoffman, gives us the low-down on how to use these functional formulas.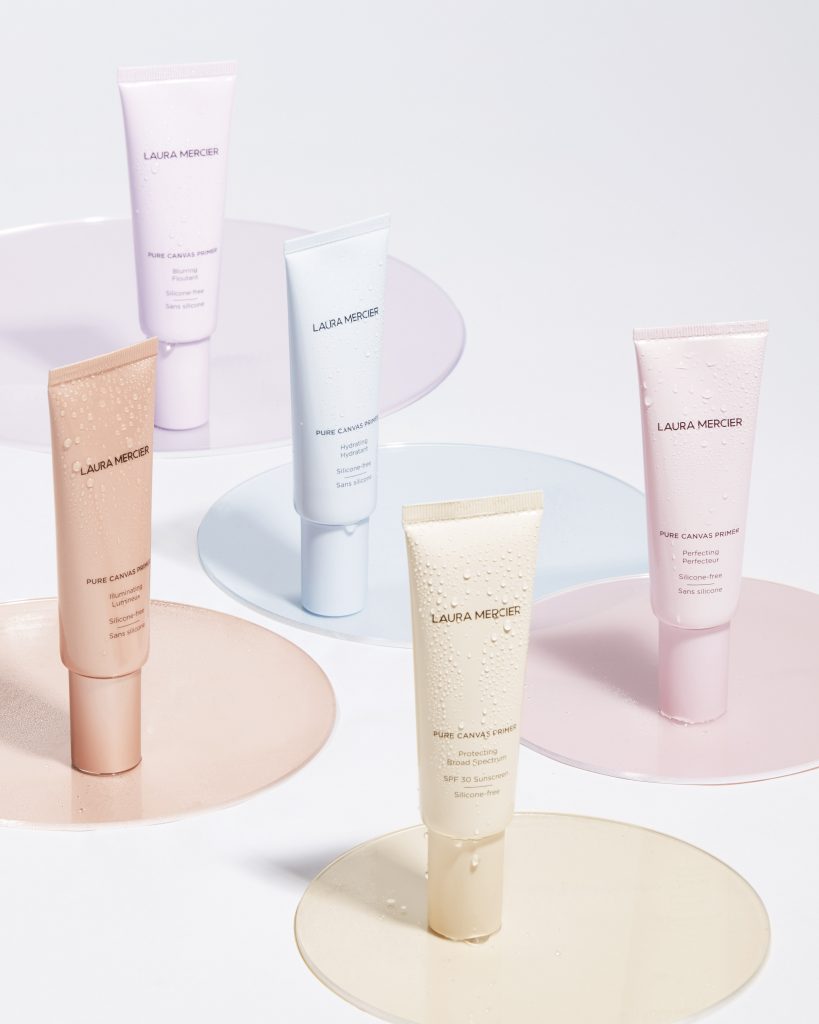 What is the best way to apply primer?
Primer should always come after skincare and before foundation. When applying, it's best to use a pea- sized amount and massage into the skin using your fingertips. Brushes will streak the product onto the skin and sponges will soak up the primer leaving little for the face.
Those who have multiple skin concerns can use more than one primer. For example, if you have dry cheeks and an oily T-zone, you could wear the Hydrating Primer on the cheeks and Blurring Primer in the oily areas. My favourite trick at the moment is tapping the Blurring Primer on at midday to absorb excess oils so that my skin looks fresh and matte. This can be done either on clean skin or over foundation.
Laura Mercier Pure Canvas Primer in Hydrating, Illuminating, Blurring and Perfecting, $65 each; Power Primer, $95.
Cool Tip: I love to keep the "Perfecting Primer" cold. It has aloe vera and combined with the coolness, it is perfect for calming and depuffing stressed or irritated skin. I often go to set with the Perfecting Primer in a travel ice-pack made for keeping medicines cool!
Sophisticated Minimalist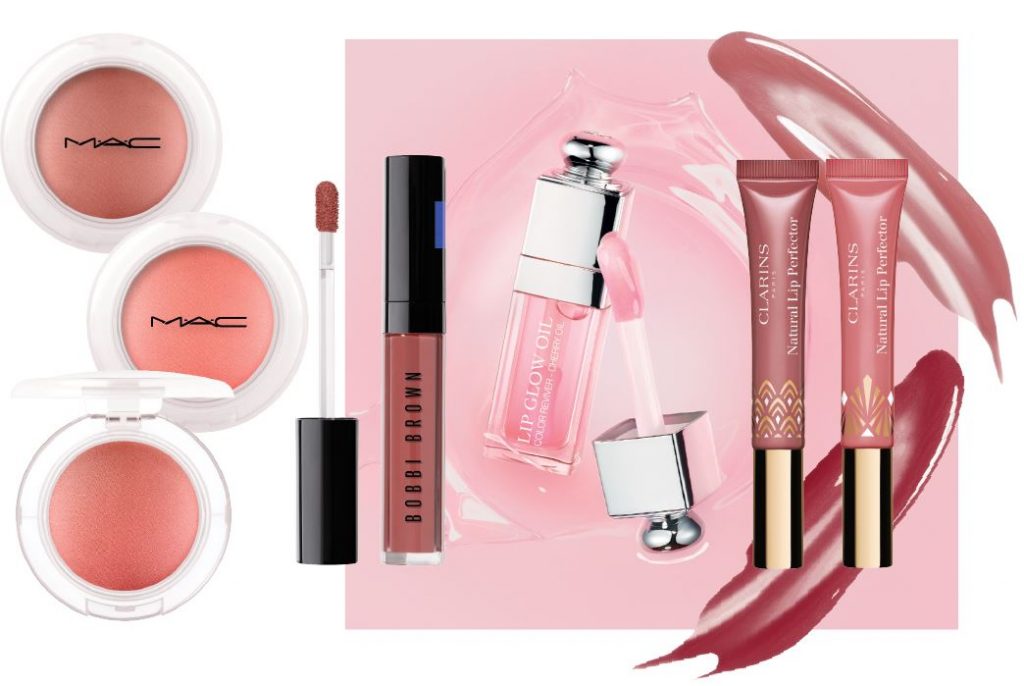 Keen on perfecting the no-fuss fresh-faced look? M.A.C. has released a bouncy jelly-cream textured blush that glides on effortlessly. Glow Play Blush, $49; can be used over the lips, eyes, nose and cheeks to create a super-speedy yet unified makeup look that will soon be your glow-to. And for the latest in gloss news, comfortable lightweight oils are in. Focusing on non-sticky formulas that have a touch of colour and maximum shine, these new choices are perfect to nail the natural look.
Bobbi Brown Crushed Oil Infused Gloss, $50; Dior Lip Glow Oil, $60; Clarins Natural Lip Perfector Intense, $40.
Fall'in Love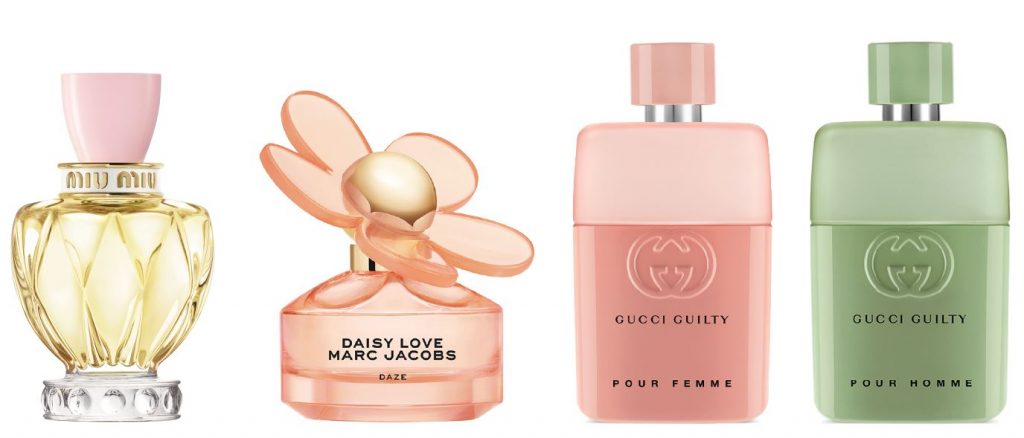 The latest revolves around fruity opening notes that slowly deepens into warm and creamy, woody aromas. In the next chapter of the Miu Miu Twist chronicles is the new Eau de Toilette, 50ml, $100. The soft yet sparkling mandarin and apple blossom welcomes us to its heart of white amber, cedar wood and sweet tonka bean. Adding a powdery fresh spin to the iconic Marc Jacobs Daisy chain is Love Daze, EDT, 50ml, $119, in which juicy apricot is heightened by blending with its floral counterpart, osmanthus. Gucci debuts a romantic duo that celebrates contemporary love – Guilty Love Editions Her, EDP, 50ml, $150; and Him, $125. In the retro pink Pour Femme fragrance, bergamot, grapefruit and raspberry elevate the narcisuss flower while violet, jasmine sambac and patchouli bring through the floriental aspects. Accompanying this is a spicy, green and citric scent filled with kumquat, ginger, lavender, geranium and rosemary, Pour Homme.
Holistic Living
There's a new wave of boutique skincare that encapsulates ethics, quality and aesthetics into one. Vegan, cruelty-free and handmade with simple yet striking packaging that celebrates the wide range of hues natural skincare has to offer, it's the amalgamation of everything we want and need as conscientious consumers. Since launching in 2018, RAWKANVAS was quick to become a global hit, selling a product every fifteen minutes. Sansceuticals is front-footing performance-driven body care. With skin sensitisation being so prominent, the Activator 7 Body Hair + Face Oil, $59, and Cellular Repair Body + Face Lotion, $55, work together as a powerful couple to hydrate, soothe and strengthen the skin. Scars and even atopic eczema have been proven to visibly improve with continued use. For an all-rounder face oil, Skinography Superfood, $75, is made up of cold-pressed organic and unrefined broccoli, tomato, goji berry and acai oils. Manganese, zinc, coppers and vitamins A, B, D work in an antimicrobial way to heal and nourish the skin and even works as a cystic acne treatment.